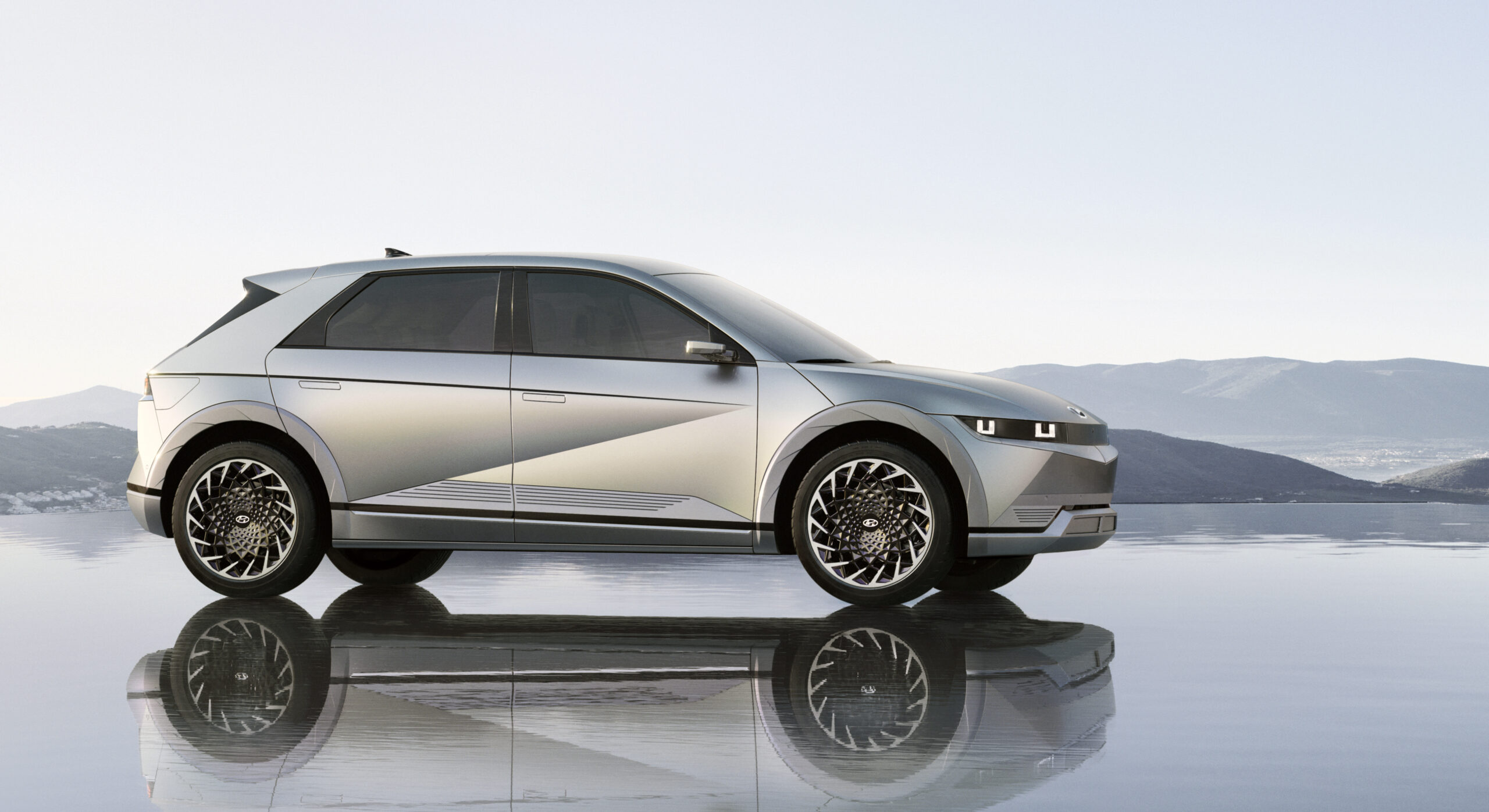 If its real-world performance and build quality match its looks and specs, the 2022 Ioniq 5 EV ought to ensure Hyundai a place in the top ranks of electric vehicle shoppers' most-wanted lists.
The first model in Hyundai's new Ioniq sub-brand for electric vehicles, the Ioniq 5 is a midsize crossover with modern good looks, a roomy and well-planned interior, tons of features, several powertrain options and a decent amount of cargo capacity and towing capability.
[A 7-min., 30-sec. read.]
It continues an electrification drive that already this year has seen a refreshed Kona EV and two new hybrid variants of the popular Santa Fe crossover. In all, Hyundai and its corporate sibling Kia Motors have vowed to bring 23 new EVs to market globally by 2025.
The Ioniq 5is scheduled to hit U.S. shores sometime this fall after summertime launches in Europe and South Korea.
Pricing hasn't been announced – that will come closer to the on-sale date. But Hyundai typically is quite price competitive. We expect the Ioniq 5 to start somewhere around $45,000 before any federal, state or local incentives.
For a time, at least, Hyundai will be selling the 2022 Ioniq 5 alongside the Hyundai Kona EV small crossover – there are no plans to rebrand the Kona as an Ioniq. But there are two more Ioniq models coming soon, a sporty sedan, the Ioniq 6, in 2022, and the Ioniq 7 large SUV in 2024.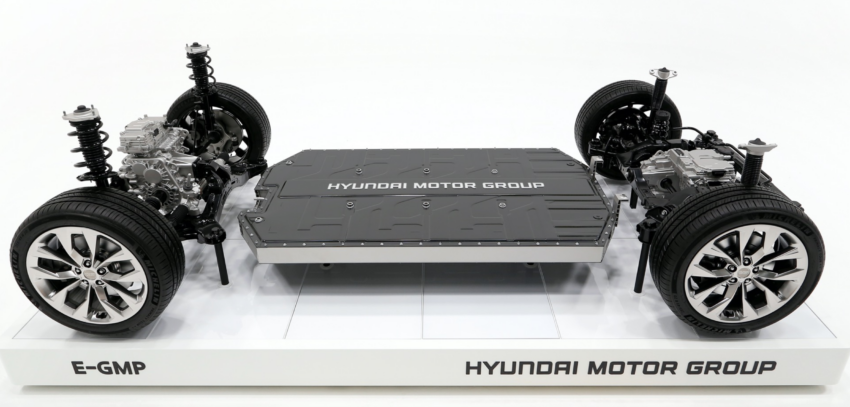 They all will use Hyundai's new modular EV platform – one designed specifically to house batteries and electric motors. It will allow for a variety of motor and battery combinations and a variety of body types. And because the Ioniq vehicles will be built on an EV-specific platform, they should deliver far better ride and handling, along with a lot more room, than EVs whose unique components are forced into a [platform originally designed for an internal combustion powertrain.
Batteries and Range
The Ioniq 5 will have two battery options – a standard 58 kWh pack and a long-range 77.4 kWh pack. The batteries will be stowed in a flat package beneath the floor and between the axles. It is unclear whether the smaller battery will be offered in the U.S. Given that range is a critical factor – the general rule of thumb for battery pack size in the U.S. is that more is better.
Hyundai hasn't released fuel efficiency or range estimates for the U.S. version of the Ioniq 5, but based on its 298-mile estimate for the European and Asian long-range versions, we're guessing the U.S. long-range model will come it at around 250-260 miles.
The difference is in part because U.S. safety rules likely will result in a slightly heavier car for the U.S. market. But the main reason the U.S. range likely will around 15 percent less than the estimated range in other countries is that the tests use to get those estimates are different.
The U.S. test, which results in the EPA range estimate posted on an EV's window sticker, uses more highway driving and higher speeds than the WLTP test used in Europe and South Korea, and that type of driving reduces range.
The standard Ioniq 5 will be a rear-wheel drive model, with an all-wheel drive option that will cut estimated range even more.
Charging Time
Hyundai has released details about the Ioniq 5's standard charging system – except to say it will be charge a depleted battery overnight.
All trim levels will have what Hyundai describes as "ultra-fast" DC quick-charge capability at up to 350 kilowatts on 400- to 800-volt chargers, which are rare now but are being installed along major routes to help satisfy consumer demand for hassle-free EV travel.
An 800-volt DC charger could take the standard range Ioniq 5 battery to 80 percent capacity from 10 percent in under 20 minutes – adding 50 miles of range every 5 minutes.
Hey, Good Lookin'
The Ioniq 5, for instance, has a wheelbase that's 4 inches longer than the full-size Palisade SUV's, yet the overall body length is 14 inches shorter than the Palisade's. Inside, that means more room for people and cargo. And because there's no mechanical drive shaft, the Ioniq 5's floor is flat.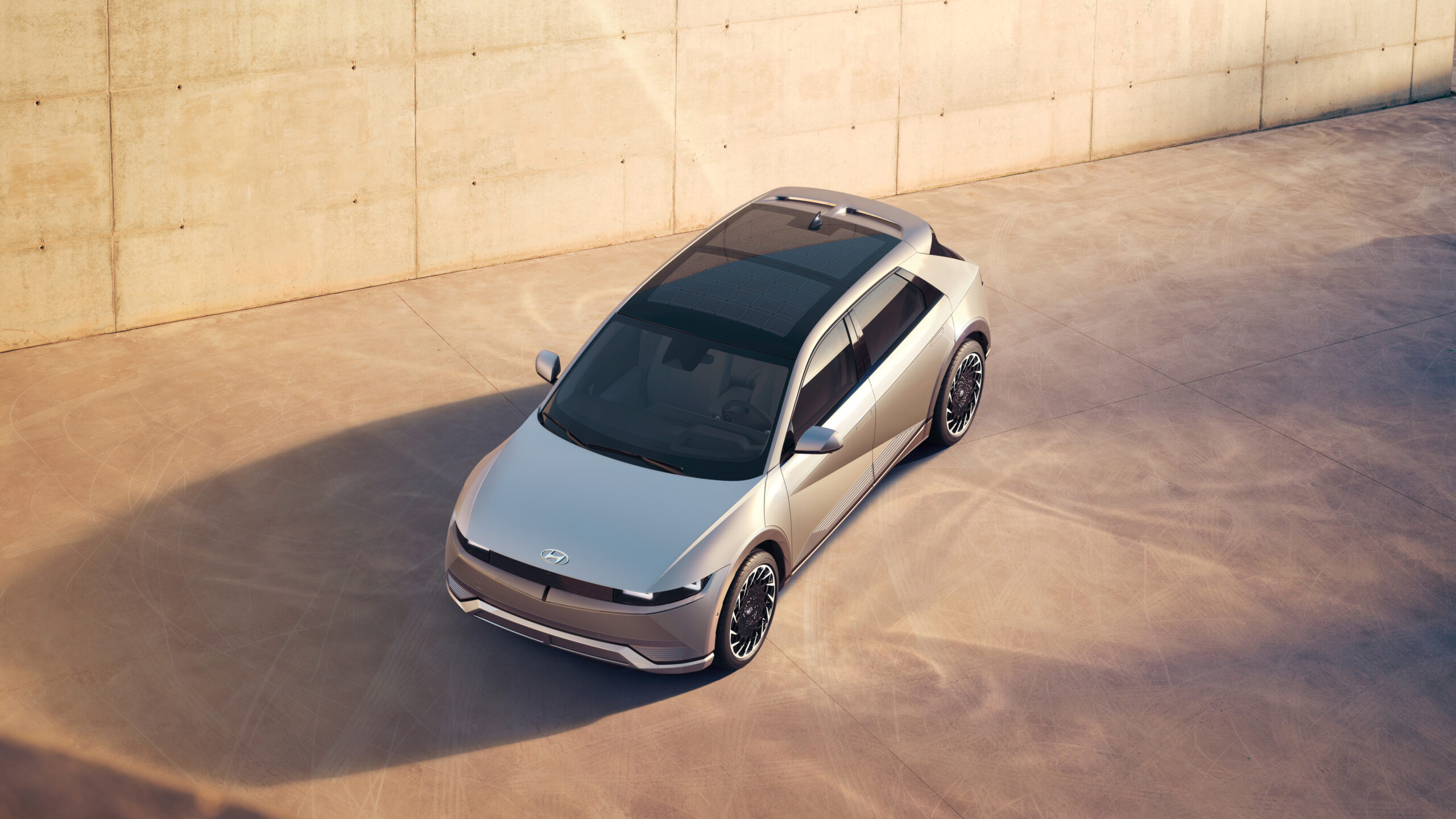 That allowed for sliding front seats and a sliding center console to facilitate easy rear-seat ingress and egress; it also enabled designers to deliver the interior space of a full-size sedan in a vehicle with a mid-size crossover's exterior.
That exterior features a refreshingly different design. The 2022 Ioniq 5 isn't anyone's boxy, SUV-like crossover, nor does it insult crossover shoppers with a sedan-like roofline that eliminates a lot of cargo-carrying utility.
Instead, Hyundai's design shop decided to pay homage to the past with the first EV from the automaker's forward-looking Ioniq marque, giving the Ioniq 5 a silhouette that evokes the original Hyundai Pony car of the early 1970s.
The Ioniq 5's stance is mildly aggressive – with the rear leaning forward and hiked up just a bit, like a sprinter straining in the starting blocks.
The flat roof slopes slightly toward the rear, the sides would be slabs were it not for sharp crease in the door panels that accentuate the forward lean.
Hyundai's first clamshell hood covers a small storage area where an engine would be if the Ioniq 5 were a gasoline burner. The hood's leading edge shields the rectangular LED headlights like the visor on a cap. There's no grille, and the front bumper is integrated into the fascia, not handing out front like an afterthought.
The rear fascia repeats the design elements of the front, including the integrated bumper.
Overhangs front and rear are minimal and the wheel arches are well-filled with 20-inch alloys – a combination that gives the Ioniq 5 a subtly powerful look.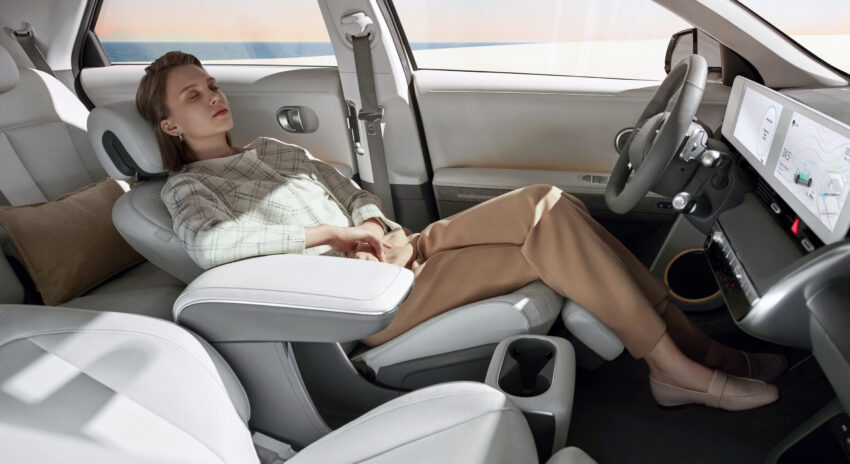 The floors are flat, the front buckets have extended leg rests o help drivers and passengers get comfortable during battery recharging sessions during road trips. The front seats slide up and back, as does the center console, to create more space for people to get in and out of the rear seating area and, in the case of the console, to give rear seat passengers easier access to cup holders, wireless phone charging and storage.
Inside, there's a minimalist dash with a pair of 12-inch screens – a driver information center directly behind the flat-bottom steering wheel and a center-mounted infotainment touchscreen that floats above a panel containing real knobs and switches for the Ioniq 5's audio and climate control systems.
Most interior surfaces are made of material derived from recycled plastics and covered with fabrics woven form natural wool and plant-based yarns. Leather seats are tanned and dyed with eco-friendly solutions.
Ioniq 5 Power
In models with the long-range battery, the 2022 Ioniq 5's muscular looks shouldn't be deceiving.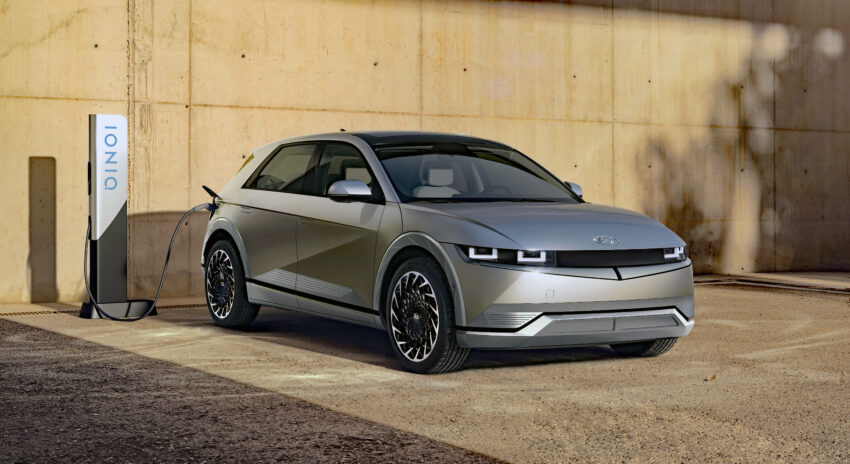 The rear-wheel drive version with the 77.4-kWh battery pack is rated by Hyundai at 231 horsepower and 258 pound-feet of torque. With all-wheel drive, which adds a second electric motor to drive the front wheels, that jumps to 302 horsepower and 446 pound-feet.
The 58 kWh battery models are rated at 166 hp and 258 pound-feet with rear-wheel drive and 214 horsepower and 446 pound-feet with all-wheel drive.
Hyundai says the long-range, AWD package will deliver an elapsed time of 5.2 seconds in a 0-62 mph sprint, while the slowest rear-drive version will turn in a still-respectable time of 7.2 seconds.
And More Power
The Ioniq 5 also will be equipped with a pair of 120-volt power outlets, one inside the car in the rear seating area, the other outside, in the charging port.
Hyundai calls it the V2L, or "vehicle to load" feature. It uses some of the battery's power to run 120-volt appliances such as electric tools, outdoor lights, external audio equipment, even electric skillets and toaster ovens at the camp site or during a power outage at home.
Making Driving Safer and Easier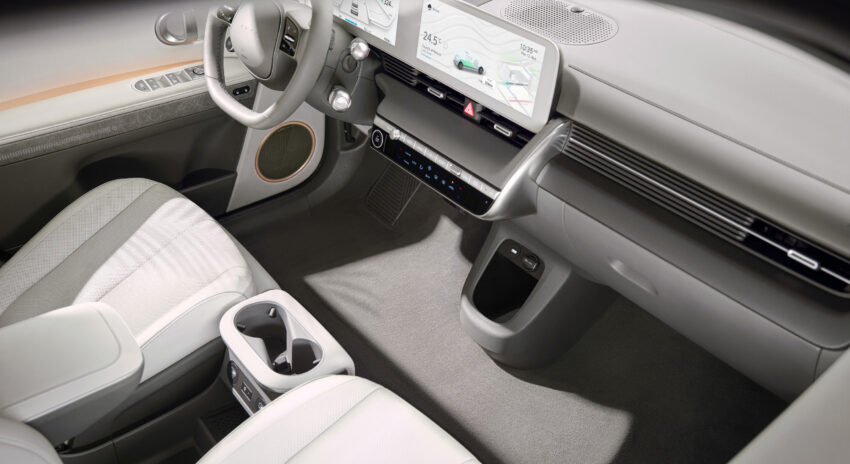 The Ioniq 5 gets all the latest in Hyundai's arsenal of driver assistance and safety features, including the automaker's first application of its augmented reality head-up display. It projects information including speed limits, navigation directors, road signs and upcoming obstacles onto a real-time, eye-level view of the road.
The new EV also will be the first to use Hyundai's Highway Assist 2 system, which keeps the car centered and following a vehicle ahead, with full stop-and-go ability and some automated lane and road changing capability. It is not, however, a hands-free system.
Other safety and assistance features include forward collision warning and pedestrian detection with emergency braking; rear cross-traffic and parking collision avoidance with emergency braking; a diver inattention warning system; a 360-degree surround view camera; a remote parking assist function that enables the car t park and pull out of tight spaces while the driver stands outside (to avoid having to squeeze through narrow door openings in tight spaces), and a safe exit assist that keeps the rear doors locked when the car is parked but oncoming traffic is detected.
Cargo
Getting rid of the gas engine makes room, and for the Ioniq 5 that means a smallish 0.8 cubic foot cargo space under the hood – an area popularized by Tesla as the "frunk," or front trunk.
The cargo hold behind the rear seats measure 18.1 cubic feet, which is competitive but not class-leading, and total cargo area exclusive of the frunk expands to 56.18 cubic feet when the rear seat backs are folded down.
For hauling even more, the Ioniq 5 is tow-rated at 3,500 pounds.
Tough Competition
Hyundai's original Pony didn't do well, but the automaker has come a long way since then.
The Ioniq 5 will have to duke it out with competitors that include the upcoming Volkswagen ID4, the Tesla Model Y, Nissan's Ariya, some versions of Ford's Mustang Mach-E and even corporate stablemate Kia's upcoming Kia EV6, which will share the same platform.
The growing set of players in the mid-size electric crossover segment promises to give consumers a lot to choose from, and Hyundai's entry appears quite capable of holding its own.