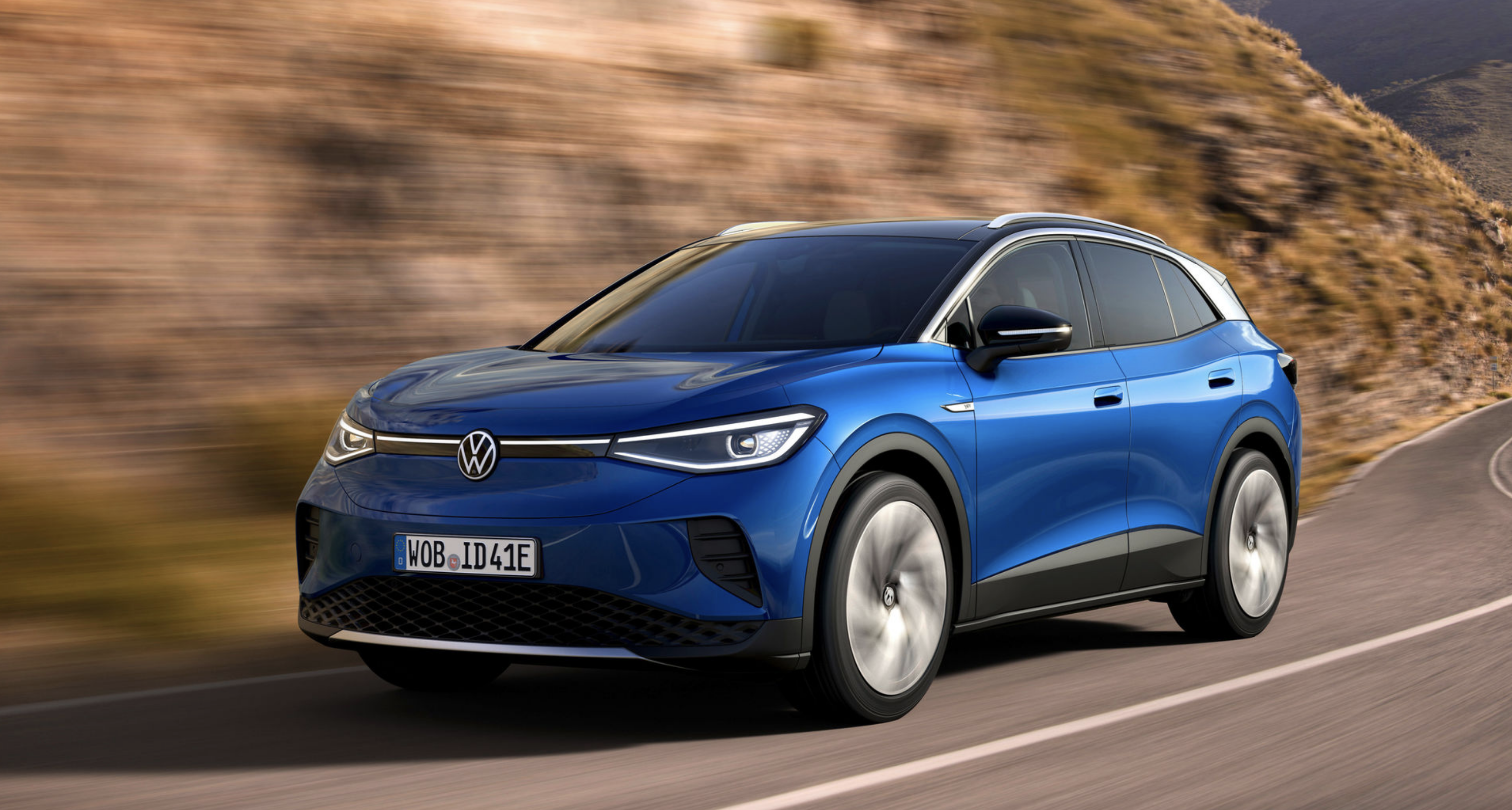 The VW ID.4, Volkswagen's global entry in the race to electrify private transportation, will hit the U.S. early in 2021, with inaugural pricing as low as $39,995 before incentives.
The compact electric SUV is first in a series of all-electric ID models that ultimately will include large family vehicles, a modern version of the iconic VW microbus and perhaps even a dune buggy.
[A 5-min. read.]
It launches initially as a rear-wheel drive model with up to 250 miles of range, three years of free DC fast charging and a 201-horsepower powertrain.
A dual motor, all-wheel drive version will follow in mid-2021, boasting 302 horsepower.
The VW ID.4 will tow up to 2,700 pounds in either configuration, better than most other elecrified small crossovers.
Availability
The ID.4 will be sold in all 50 states via an on-line reservation and configuration system – with a $100 refundable fee. Sales will be completed at local dealerships when customers are notified that their cars are ready to be picked up.
VW said all 650 of its U.S. dealerships will handle the ID.4 and its servicing.
A Trio of 4s
The ID.4 ultimately will be available in three levels.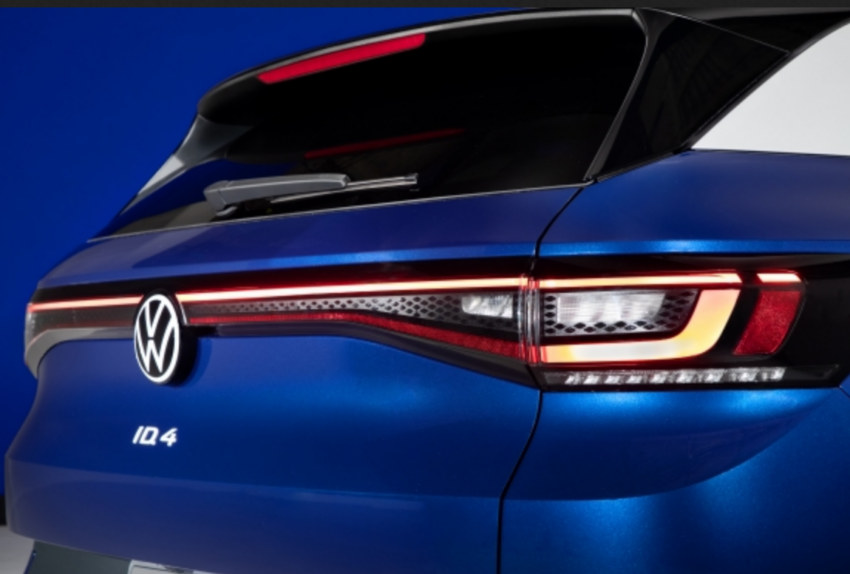 The Pro trim, at $39,995, and 1st Edition trim, at $43,995, will be available at launch.
The Pro trim with all-wheel drive will start at $43,695.
A Base trim, estimated at around $35,000, will be available sometime in 2022 – when VW's EV plant in Tennessee comes on line.
All that pricing is before incentives and doesn't include VW's destination fee – currently $920 for cars and $1,020 for crossovers.
The available federal tax credit can knock off up to $7,500 from the cost of any ID.4, and various state and local rebates and credits can lop off even more.
While it costs $4,000 more than the Pro trim, the 1st Edition trim adds $6,000 worth of equipment packages that are options on the Pro. They add goodies including include a 12-inch infotainment touchscreen, 20-inch wheels, imitation leather upholstery, a power liftgate and a panoramic sunroof.
Battery and Charging
The U.S. version of the ID.4 will carry an 82-kWh battery pack – 77 kWh usable – capable of delivering up to 250 miles, the company said in its on-line launch video.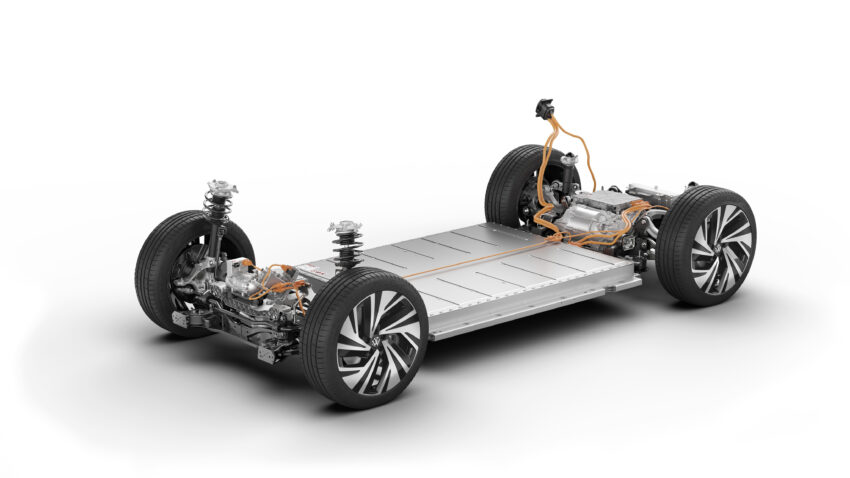 DC fast charging at up to 125 kW to facilitate longer road trips will be standard across the line, as will Level 2 and Level 1 charging for everyday battery replenishment.
VW says it is launching its own charging solutions package under the "We Charge" name, likely a service provided at dealerships. Home charging stations also can be purchased from a myriad of independent companies.
Level 2 home charging for the ID.4 can be as fast as 11 kilowatts per hour, or up to 33 miles of range per hour. At 11 kW it will take about 7.5 hours to recharge a fully depleted ID.4 battery.
As is common with modern EVs, VE mounts the ID.4 battery pack under the body for a low center of gravity.
Performance
So far, the only performance info for the VW ID.4 comes from the automaker, which says the rear drive model will be capable of an unimpressive 8.5 seconds for a 0-62 mph sprint. Top sped is 100 mpg.
No performance data has been provided on the more powerful all-wheel drive version.
In both configuration, the low center of gravity should help give the ID.4 fairly nimble handling.
VW said that the ID.4 will have 8.25 inches of ground clearance for "gentle off-road terrain."
Despite that SUV-like clearance, the ID.4 has a fairly aerodynamic design – it is more slippery than the average crossover or SUV but not as much a wind cheater as, say, the Toyota Prius or Tesla Model Y crossover.
Safety and Driver Assistance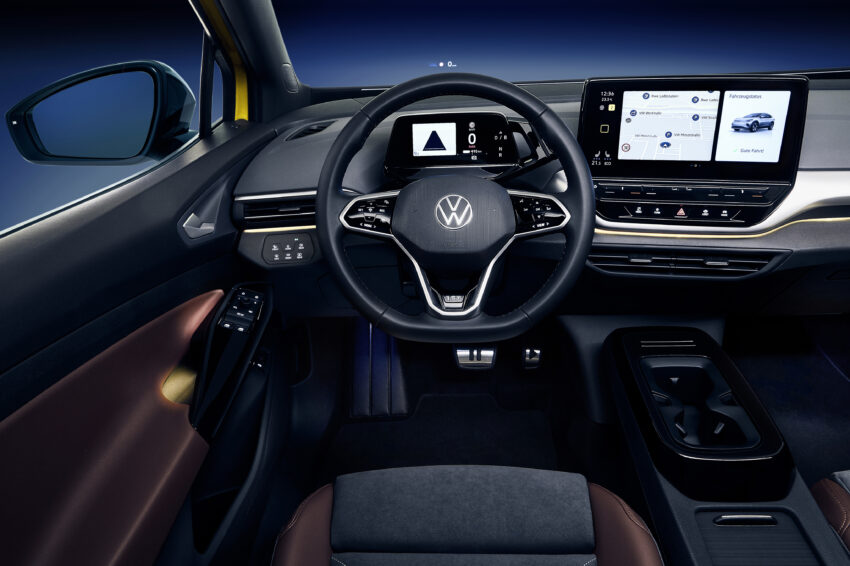 The VW ID.4 will come standard with its IQ.Drive suite.
Features include lane change and parking assist, lane departure warning, front collision mitigation and emergency braking with pedestrian detection, rear cross-traffic alert, adaptive cruise control and bind spot monitoring.
A light strip beneath the windshield provides colored light and sound prompts for a variety of situations – such as signaling the driver whether the doors are locked or unlocked, or prompting the use of brakes when the system deems closing distance to be too narrow.
Inside
The ID.4 interior is modern and minimalist, with digital instrumentation, a paucity of actual control knobs and switches, a driver-oriented center touchscreen – 10-inch diagonal in the standard trims, 12 inches in the 1st Edition trim – and cloth upholstery and a 6-way power front seats.
An optional package for the Pro trim adds the imitation leather upholstery and 12-way power front seats with massage and seat position memory functions that are standard with the 1st Edition.
Standard infotainment features include navigation, wireless phone charging, voice activated control for some features such as climate control,
Cargo
In addition to its impressive (for a small electric crossover) towing capacity, the ID.4 provides 30.3 cubic feet of rear cargo space with all seats upright and up to 64.2 cubic feet with the rear seat backs folded flat.
The 60/40 split rear seats officer a degree of cargo and passenger flexibility.
Not First – or Last – ID
While the first of the ID models to be sold worldwide, the ID.4 isn't the first vehicle in Volkswagen's new sub-brand for EVs. That honor goes to the ID.3 hatchback introduced this year in Europe.
VW, which aims to become one of the world's top EV sellers (in part to make up for its diesel missions cheating disgrace), created the ID band to market those all-electric vehicles. It also developed a new modular platform that can be stretched, shrunk, widened or thinned to accommodate a variety of body styles and battery-and-motor combinations.
The entire ID lineup hasn't been set in cement, but VW has shown concepts that became the ID.3 and ID.4. It has at least seven more ID concepts and has said several, including the ID. Buzz microbus, ID.Vizzion sedan and ID.Roomzz large SUV all will spawn production models.
Other ID concepts include a race car, a dune buggy, a station wagon based on the Vizzion sedan, and a cargo van based on the Buzz.
VW has said it intends to become a carbon-neutral company by 2050, a goal driven as much by its sense that electric vehicles are the future as by its desire to green up its image.
It said the ID.4 will be carbon-neutral from the start through purchased carbon credits and the use of renewable energy in vehicle and battery production.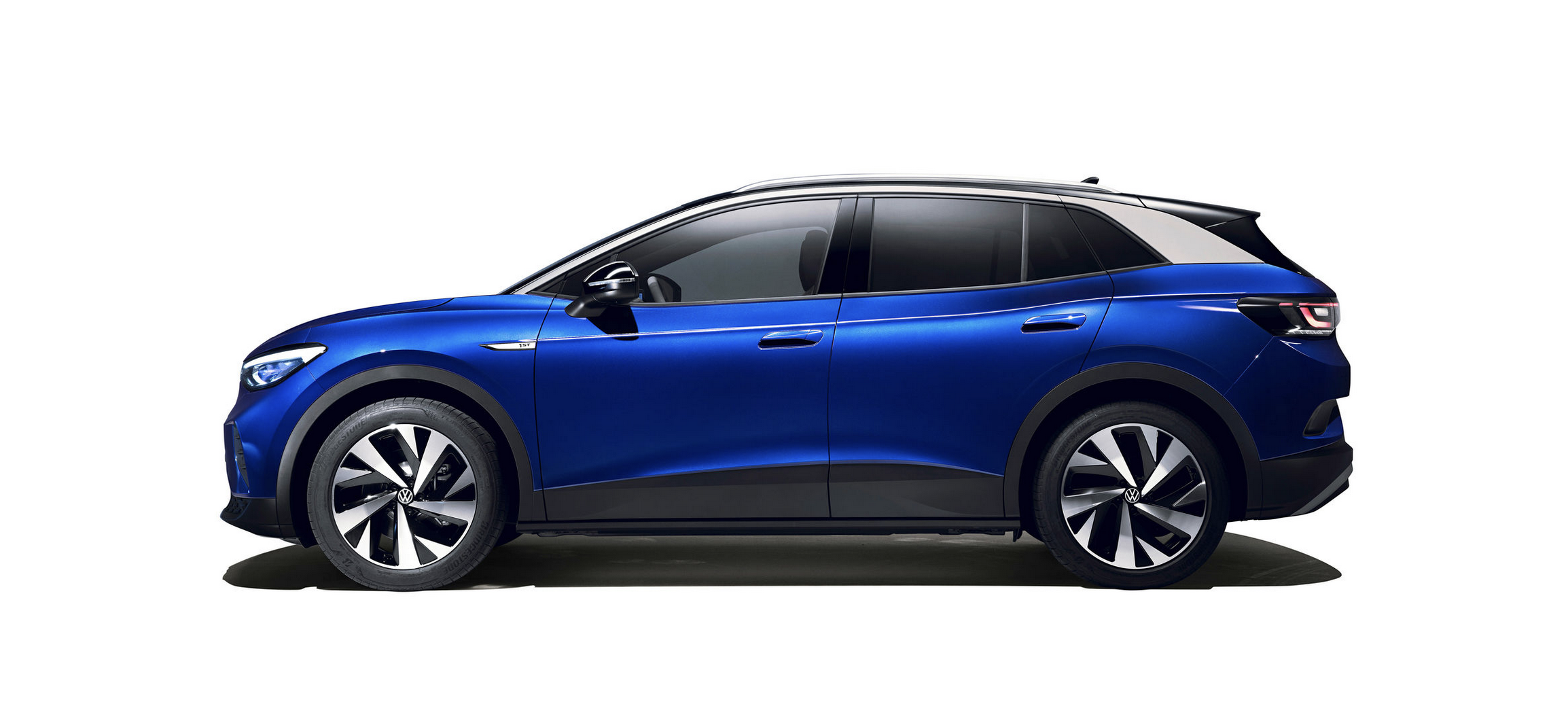 ———————————–
Photos courtesy of Volkswagen of America