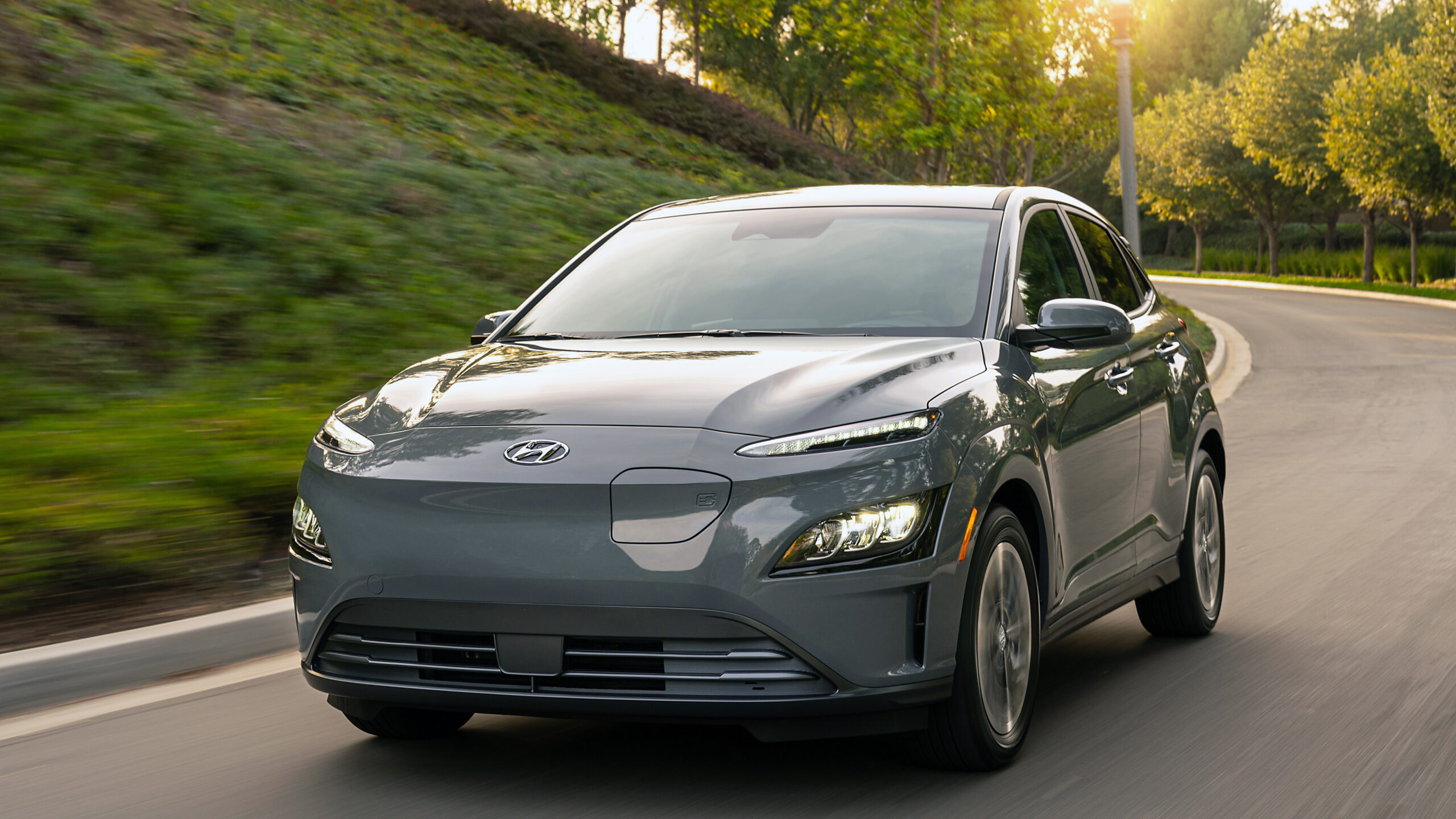 Hyundai's highly lauded Kona EV gets a nice refreshing for 2022, with new looks front and rear, an upgraded dash and center console and more safety features.
Underneath, Hyundai has tweaked the Kona EV's suspension and shocks for a more stable and comfortable ride.
[A 1.5-min. read.]
The exterior and interior changes aside, the Kona EV's powertrain remains the same. Its 201-horsepower electric motor drives the front wheels and when fully-charged its 64-kilowatt-hour battery pack can provide an EPA-estimated 258 miles of range.
Hyundai said that the recently announced recall of thousands of earlier model year Kona EVs for replacement of the battery packs due to a potential fire hazard won't affect the 2022 models.
More Availability
The 2022 Kona EV is scheduled to hit dealer showrooms in May and, for the first time, sales of the compact electric crossover will expand beyond California and the dozen other states that have adopted California emissions standards.
Sales will be "expanding, progressively," starting with the states that immediately neighbor the so-called ZEV states, a Hyundai spokesman said. Which states, exactly, apparently is still up in the air, though. "The rollout is progressive and dependent on the normal supply and demand factors as we move forward," the spokesman said.
The ZEV – zero emission vehicle – states are California, Colorado, Connecticut, Delaware, Maine, Maryland, Massachusetts, Pennsylvania, New Jersey, New York, Oregon, Rhode Island, Vermont and Washington.
Pricing for the 2022 Kona EV will be released closer to its on-sale date, the company said.
A Prettier Face
Like the rest of the 2022 Kona lineup, the Kona EV gets new front and rear fascia. Upfront, slimmer LED daytime running lights sit high on the smooth, Tesla-like nose, almost like eyebrows over the longer, narrower LED headlamp arrays.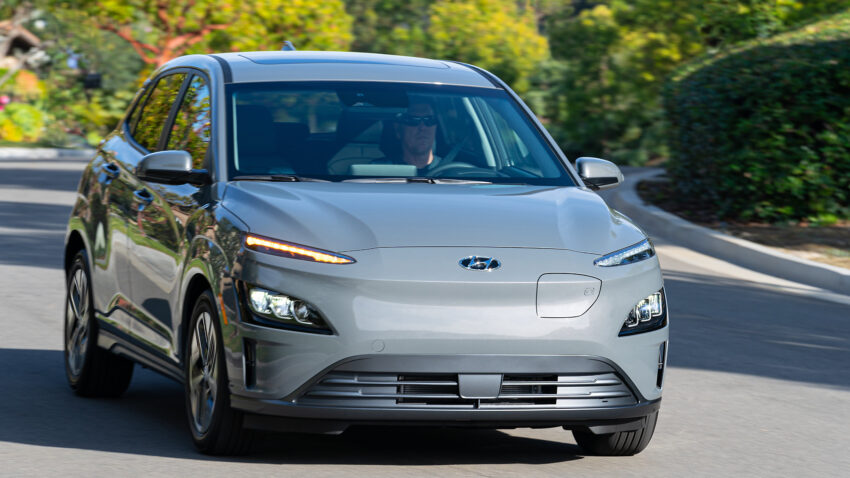 The EV's dimpled faux grille of previous years is gone. The front bumper and wheel arches are now body colored,. Rear-end features include redesigned taillights and a sleek new bumper fascia.
Outside, the Kona EV gains 1.6 inches in length thanks to the new fascia pieces.
A More Dashing Dash
Interior improvements are topped by a 0.6-inch gain in rear seat legroom. It doesn't sound like much, but the Kona's cramped rear seat legroom has been one of its weakest points, so any increase is welcome.
There's also a redesigned dash with a 10.25-inch dual-screen driver information display that uses a new generation of Hyundai's Blue Link telematics.
The EV's base SEL trim gets a larger 8-inch infotainment touchscreen, up from the current model's 7-incher. The 2022 Kona EV Utimate trim has been retired and the Limited trim is now top-of-line for the EV. All Limited trims – EV and gasoline – get a 10.25-inch infotainment touchscreen for 2022 (it was standard on the Ultimate EV).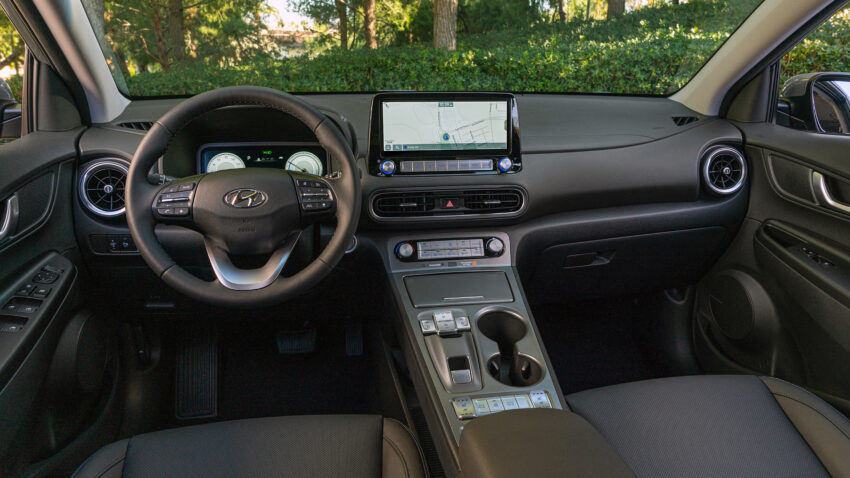 A "comfort" package for the Kona EV's SEL trim will add a power sunroof, battery warmer system, wireless smartphone charging, a digital key system, heated front seats and a power adjustable driver's seat. All of that is standard on the Limited EV trim, along with ventilated front seats, a heated steering wheel and a premium audio system.
Hyundai also added more sound-proofing insulation in the cargo area and behind the dash.
And Safer Safety…
An enhanced version of Hyundai's Safety Sense driver-assistance package remains is standard for 2022 Kona EV. It includes forward collision warning with pedestrian detection, lane keeping and lane following assist, blind spot and rear cross traffic alerts with collision avoidance assistance, a driver attention monitor, rear-seat occupant alert and a safe exit warning system that keeps doors locked when the Kona is parked and oncoming traffic is sensed.
The Limited trim also gets automatic high beams and adaptive cruise control with stop and go capability.