Expected to Deliver 30 Miles of All-Electric Range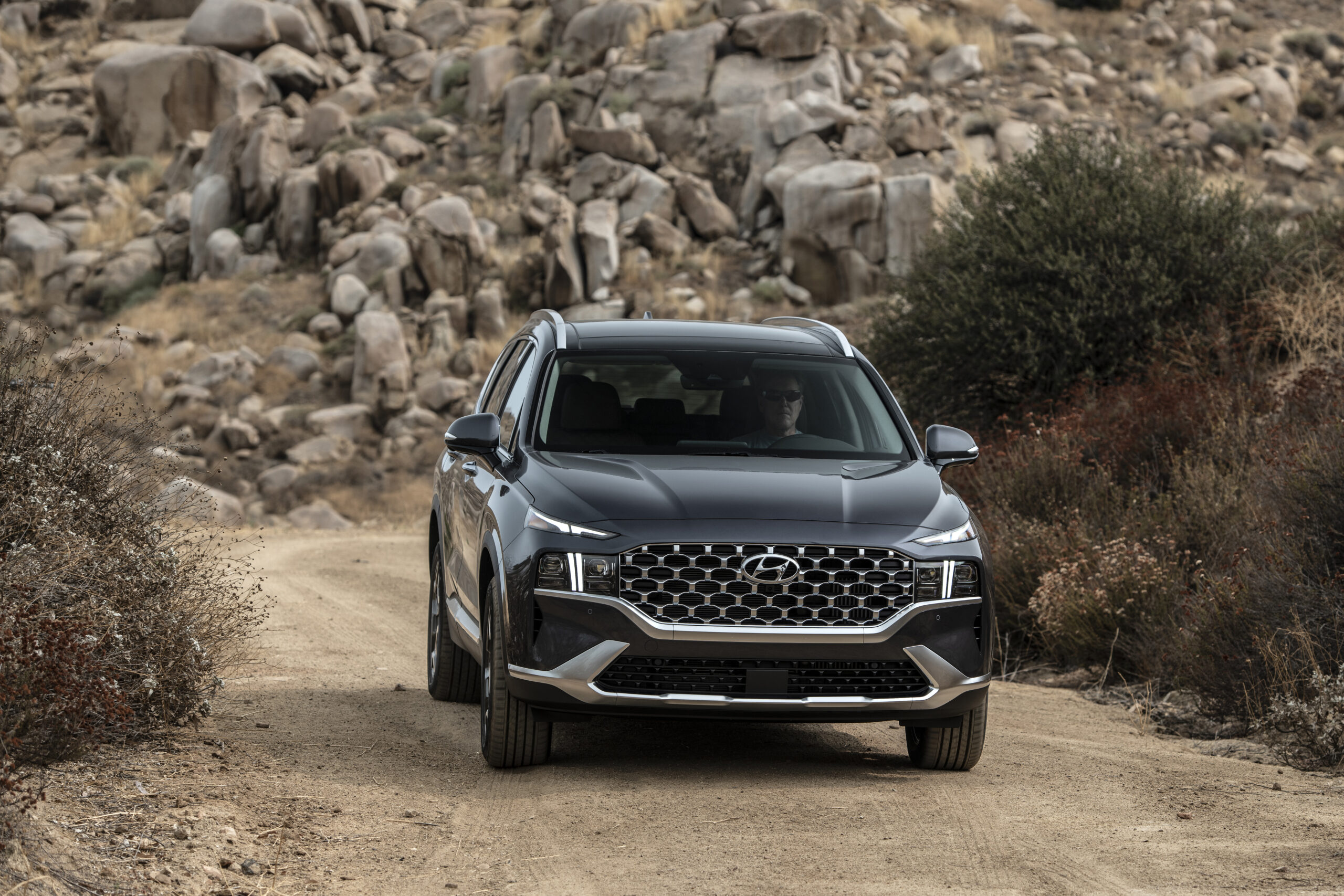 The 2021 Santa Fe PHEV, the fifth member of the non-luxury plug-in hybrid crossover segment, was announced by Hyundai last year; it finally arrives in the U.S. in July, the automaker says.
The mid-size crossover is the second hybridized Santa Fe after the standard hybrid, which hits showrooms in March.
[A 5-min. read.]
The plug-in Santa Fe will deliver 30 miles of all-electric range and 33 mpg fuel economy when its battery is depleted and it reverts to running in normal EV mode, according to Hyundai's internal figures. Official EPA estimates haven' been released, but automakers have all the EPA test protocols and, usually, better test equipment, so their own estimates are typically spot-on.
The 2021 Santa Fe got a facelift when the gas-only model was introduced last year and the two new hybrids share the same sheet metal and interior improvements.
Limited Availability
While the new Santa Fe Hybrid will be sold in all 50 states, Hyundai has decided to limit the plug-in hybrid to the so-called Sec. 177 states. Those are the ones that have adopted California's emission regulations , which are stricter than federal requirements.
The list changes from time to time as state legislatures decide to join or withdraw. Arizona, and New Mexico once were Sec. 177 states but now aren't, for instance – although New Mexico is on track to to readopt the policies after an change of governors.
Right now, the states are California, Colorado, Connecticut, Delaware, Maine, Maryland, Massachusetts, New Jersey, New York, Oregon, Pennsylvania, Rhode Island, Vermont and Washington.
Pricing for the hybrids and plug-in hybrids won't be announced until closer to their on-sale dates. Hyundai, however, is typically quite competitive on price.
While limiting active sales of the Santa Fe PHEV to the 14 Sec. 177 states, Hyundai says any dealer has the option of placing a special order for a customer.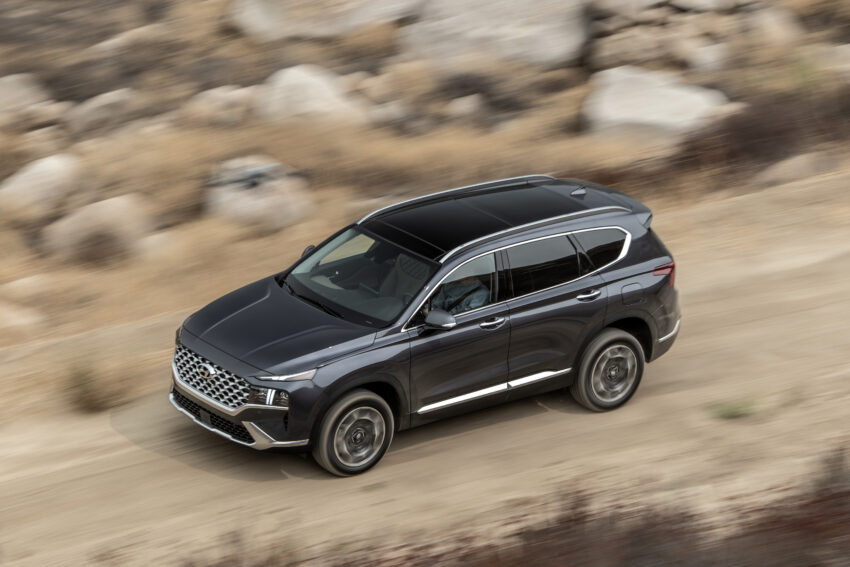 PHEV Package
The plug-in Santa Fe will use the same turbocharged, 1.56-liter gas engine as the regular hybrid, but coupled with a more powerful electric motor fed from a 13.8-kWh lithium-ion battery pack.
Total PHEV system output, according to Hyundai, is 260 horsepower – with the gas engine supplying 177 of those ponies. The standard hybrid Santa Fe makes 226 peak horsepower.
That makes the Santa Fe PHEV the second most powerful of the plug-in pack, trailing the 302-horsepower Toyota RAV4 Prime.
The Santa Fe PHEV's battery has about 12.8 kWh of usable capacity, with a roughly 1 kWh buffer to help prevent overheating. Its 3.3 kilowatt on-board charging system can replenish a depleted battery pack in about 4 hours when connected to a properly sized Level 2 – 240-volt – charging station.
Like most plug-in hybrids, the Santa Fe won't have DC fast-charge capability. Automakers find it too expensive to add to a vehicle that doesn't have to depend on a full battery to make it home. The exception is Mitsubishi's Outlander PHEV.
Competition
While we're mentioning competitors we might as well proved the full list.
While the Santa Fe is a midsize, there's aren't any non-luxe plug-in crossovers to cross-shop, so Hyundai figures – and TheGreenCarGuy agrees – that the likely rivals for shoppers' attention will be the RAV4 Prime, Ford Escape PHEV (which hits dealerships this spring after a long production delay), the Mitsubishi Outlander and possibly the Subaru Crosstrek PHEV.
The RAV4 Prime and Escape PHEV have greater all-electric range at 42 miles and 37 miles respectively, and better hybrid mode fuel efficiency, at 38 and 41 mpg respectively, than the Santa Fe PHEV's estimated 30 miles and 33 mpg.
Cargo and Towing
Because it is larger (almost 8-inches longer) than the competitors, the 2021 Santa FE PHEV offers more overall cargo space, 72.1 cubic feet with the rear seats folded down. That beats the RAV4 Prime's former segment-leading capacity by 2.3 cubic feet, or a little more than one airline carry-on bag. With the rear seat backs up, the plug-in Santa Fe's 36.4 cubic-foot cargo hold beats the RAV4's 33.5 cubic feet.
All of the crossover PHEVs can tow, with the Hyundai's hybrid system rated at up 2,000 pounds capacity, again trailing the RAV4 Prime, which is tow-rated at 2,500 pounds. The Outlander and Escape have 1,500-pound ratings and the Crosstrek finishes last with 1,000 pounds of tow capacity.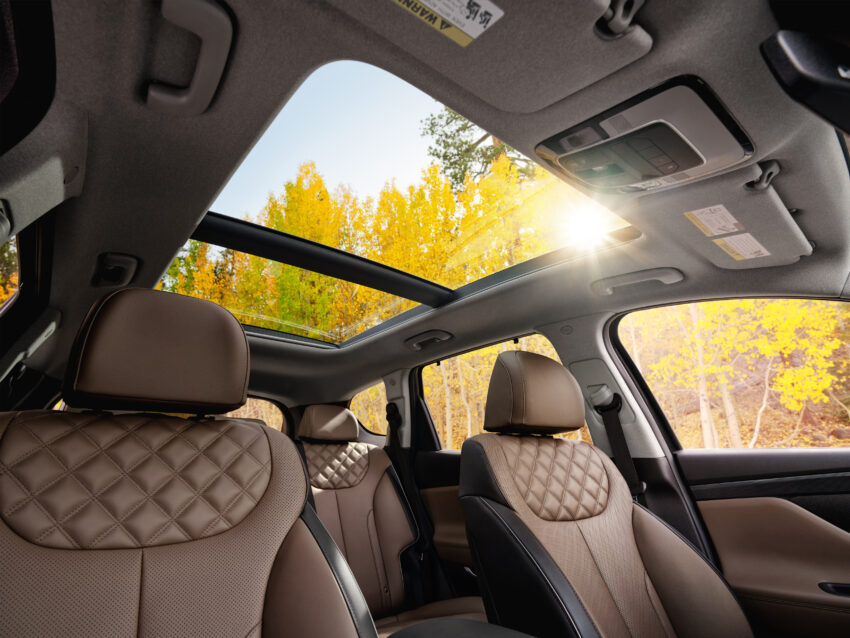 Trims and Features
The 2021 Santa Fe PHEV will come in SEL Convenience, and Limited trims. The standard hybrid gets three trim levels, Blue Convenience, SEL Premium and Limited.
The two base trims get 8-inch infotainment touchscreens, the other trims get 12.25-inch infotainment screens with navigation. All five trims get a 12.3-inch digital instrument cluster, or driver information screen. Apple Car Play and Android Auto compatibility is standard and wireless phone charging is available.
The top trims on the hybrid and PHEV models also get premium audio and a panoramic sunroof, leather upholstery, ventilated front seats and heated rear seats and steering wheel.
Safety Stuff
Hyundai's SmartSense driver-assistance package is standard across the board. It provides forward collision assist with automatic emergency braking and pedestrian detection, lane keeping and lane following assist, blind spot and rear cross traffic warning and driver attention warning. There's also a safe exit feature that warns of oncoming traffic so passengers don't get clobbered by unseen oncoming cars when getting out of a parked Santa Fe.
The Limited trims also get Hyundai's Remote Smart Parking Assist, which guides the driverless vehicle in and out of tight parking space so the driver doesn't have to squeeze through narrow door openings. The top trims also get a surround view camera with blind spot monitoring when the vehicle's in motion, and a parking distance warning system to help drivers avoid bumper damage when parking.