Refreshed 2022 Bolt EV Also Gets Hefty Price Cut.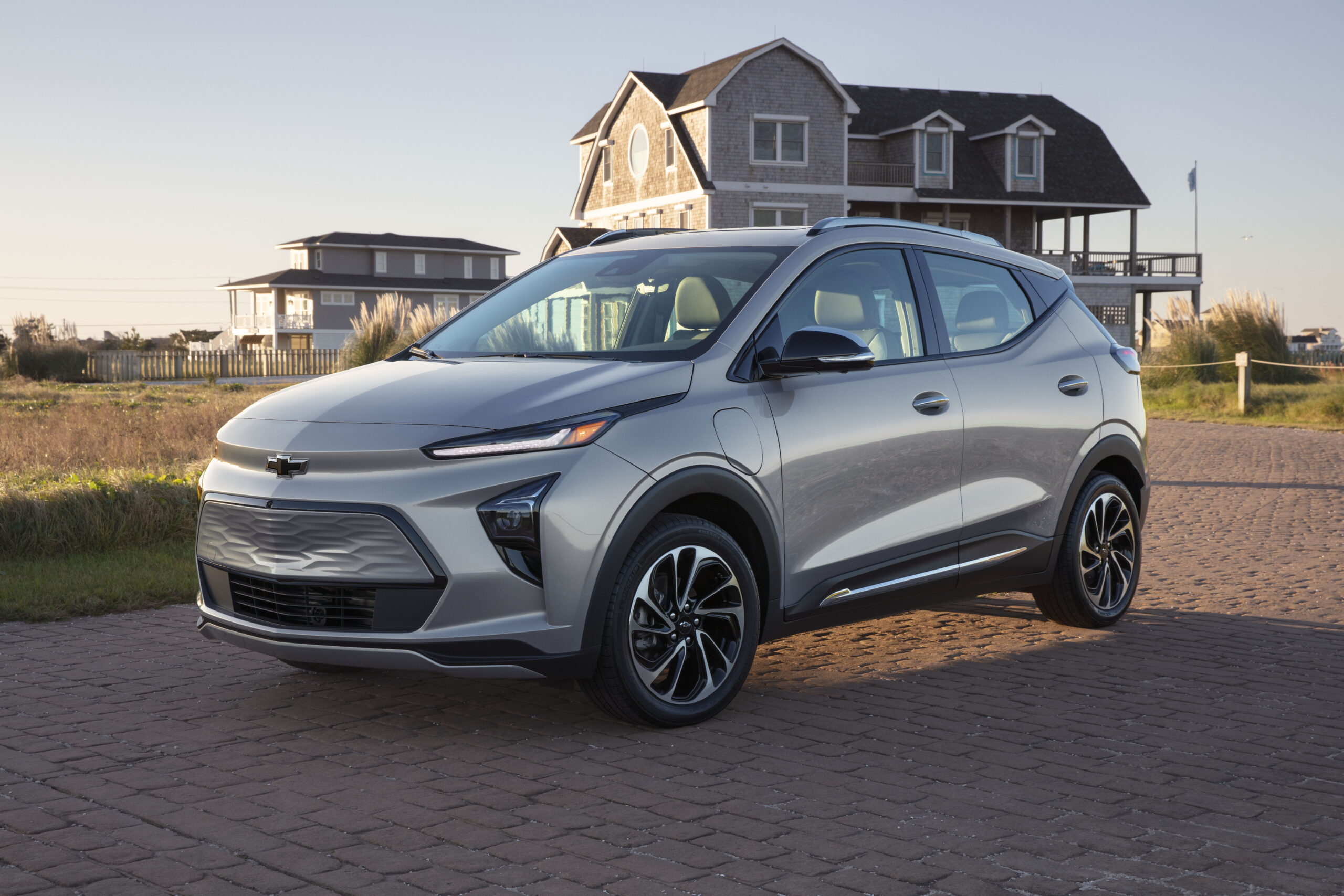 The wraps are off and the new 2022 Chevrolet Bolt EUV is revealed. Except GM pretty much revealed everything over the past month. The big secret released with the reveal is pricing.
It's a treat. The EUV starts at $33, 995 – $3,500 less than the 2021 Bolt EV. Better yet, the refreshed 2022 Bolt EV starts at $31,995, a full $5,500 less that the current model. That's thousands less than the starting price for competing small EVs.
[A 5-min. read.]
And the '2022 Bolts get improved interiors and a few extra standard features to sweeten the treat even more.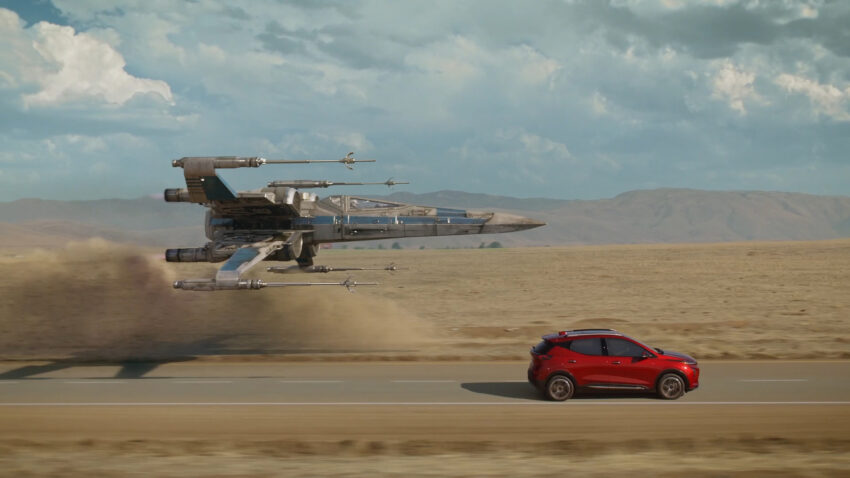 On top of pricing info, we've got new pix to share – including one with a Star Wars X-Wing fighter taken from the Bolt EUV launch video. Why Star Wars? Because Chevy has a relationship with the Magic Kingdom – a test track attraction at Disney World – and produced the 2022 Bolts' Valentine's Day launch video in collaboration with Disney, which owns the Star Ward franchise.
Besides, the message goes, electric cars, like X-Wings, are all about the future.
What's New?
The Bolt EUV – it stands for electric utility vehicle – is a new EV for the U.S. market, based on a Chinese-market Buick EV that GM recently introduced there.
It has a lot of exterior design similarities with the refreshed '22 Bolt EV, including the new face that sports a closed-off upper grille, and long, narrow daylight running lamps above trapezoidal headlight housings.
In fact, the EUV is built on the same platform as the Bolt EV, but stretched a bit.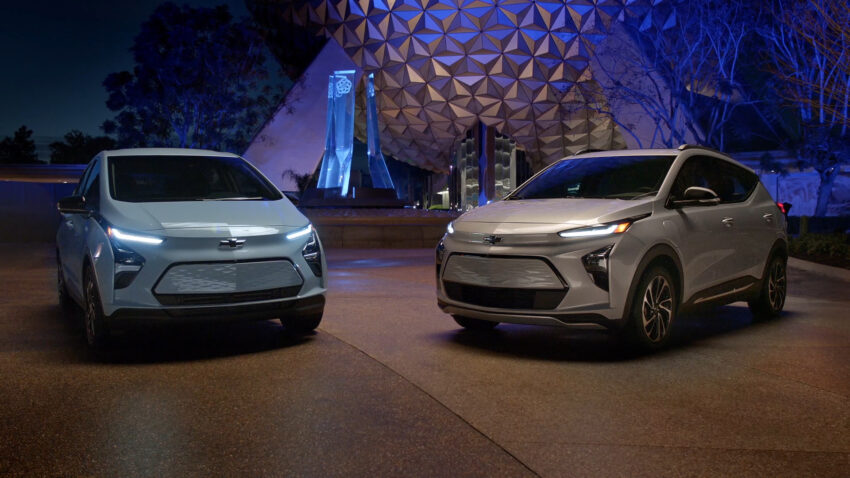 Outside the 2022 Bolt EUV is 6 inches longer and a few tenths of an inch taller and wider than the EV. The wheel base is only 2 inches longer than the EV's, though, and half the increase in overall length appears to be accounted for by exterior bodywork.
While Chevy is differentiating the two Bolts by calling the new one a "utility," it's not what you might think. Cargo capacity in the EUV is actually an airline carry-on bag smaller than in the EV. And the EUV doesn't have all-wheel drive or a hiked stance or more towing capacity.
What it does have is an extra 3 inches of legroom in the rear seating area, a response to cries from lots of Bolt EV owners who find their back seats too cramped.
GM listened to those complaints, as well as gripes about the Bolt EV's uncomfortably hard front seats and decidedly downscale interior, defined by lots of hard plastic surfaces.
So both 2022 Bolts – EV and EUV – get upgraded interiors with better seat padding, soft-touch surfaces and an altogether more upscale look.
GM couldn't do anything about the Bolt EV's rear legroom, so developed the EUV to provide more rear passenger room for those who want it.
The EUV also gets an optional sunroof, the first for a Bolt., as well as the first application outside the Cadillac family of GM's Super Cruise driving assist system. That's the one that permits hands-free driving on specified roads – about 200,000 miles of them in Canada and the U.S. It's the first-generation system, which doesn't permit hands-off lane changes.
What's Not?
The 2022 Bolt EV is a continuation of the '21 model, with a new face and that upgraded interior.
It also has a few new features, although nothing like the EUV.
The Bolt's electric powertrain is the same one that's been in use for a bit and was upgraded last year to boost the EPA range a bit – to 259 miles for the EV.
That stays the same this year. The EUV, which uses the same powertrain, is a bit heavier and a tad less aerodynamic than the EV, so its estimated range drops to 250 miles.
Otherwise, both versions of the 2022 Bolt are rated at 200 horsepower, 233 pound-feet of torque and 2,000 pounds towing capacity. The battery is a 66 kilowatt-hour lithium-ion pack – and is not the new Ultium battery that GM plans to use on its other EVs moving forward.
Trims, Prices and Availability
Each of the new Bolts comes in two trim levels.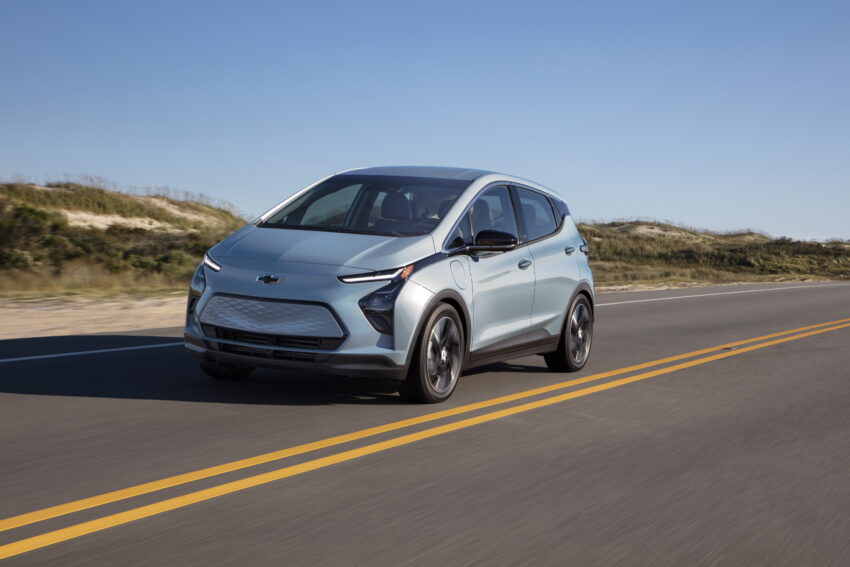 The Bolt EV starts with the 1LY, at the aforementioned $31,995 (including destination). The 2LT trim bumps that up to $35,195.
The Bolt EUV starts at $33.995 for the LT trim and jumps to $$38,495 for the Premium trim.
A limited production Launch Edition of the EUV Premium will be available – by advance order – for an unspecified amount of time. It is priced at $43,495.
All Bolt models and trims will go on sale simultaneously early this summer, in all 50 states, GM says.
Incentives
General Motors has hit the limit set by Congress for federal tax credit eligibility for its plug-in vehicles (it sold more than 200,000, and some would say, gets punished for being successful). It and Tesla are the first automakers to find themselves in that boat. Buys of competitors' EVs still can claim a one-time, year-of-purchase tax credit to offset their federal income tax by up to $7,500.
There are a number of state and local incentives, including cash rebates, that Bolt buyers in the right places can claim. (Click here for more about state and local incentives.)
To help shoppers who can't get that federal credit, Chevrolet is providing qualified 2022 Bolt buyers with free installation of a 240-volt outlet in their garages (or other appropriate spot) to help with home charging.
The offer covers standard installations – so if, for instance, you live in a 100-year-old house with a 50-amp fuse box for electrical service, you'll have to pay to upgrade your service to modern standards.
The outlet will facilitate use of the charging cord that is standard with the 2022 Bolt EUV and an option for the EV, or it would serve as the receptacle for plugging-in a wall-mounted charging station for those who prefer to go that route.
On a properly sized 240-volt charging system, the Bolts can be charged at speeds of up to 11 kilowatts an hour, adding about 43 miles or range per hour to that 66-kEWh battery pack.
(There's much more about EV charging in our "What You Need to Know" feature.)
Equipment
Chevrolet hasn't revealed much about features and equipment on the various trim levels. Here's what we do know:
Standard with the 2022 Bolt EUV and an option for the EV is a new dual-level charging cord-set capable of trickle charging at 110 volts (household current) or at 240 volts with the proper circuitry. The cord-set will only charge at 7.7 kilowatts an hour, so filling an empty battery would take about 10 hours.
Chevy Safety Assist, with automatic emergency braking and pedestrian detection, forward collision alert and lane keeping assist is standard throughout. Additional driver assistance and safety systems, including active cruise control and rear cross-traffic alert, is available depending on model and trim.
DC fast charging capability is standard on all models and trims and can add about 100 miles of range to a depleted battery in 30 minutes.
Instrument panels, controls and seats are new for both models at all trims.
Both also get the Regen on Demand and One-Pedal Driving features carried over from the '21 Bolt.
The EUV Premium gets embedded navigation along with the available Super Cruise package and optional sunroof.
The Bolt EUV also can be had with heated and ventilated front seats and heated rear seats – in the outboard positions.
Wireless Apple CarPlay and Android Auto capability is standard on both models, wireless phone charging is standard on the EUV and an option on the EV.
Cargo
While the 2022 Bolt EUV doesn't offer anymore cargo capacity than the Bolt EV, it does offer competitive capacity versus other small EVs such as the Tesla Model Y, Hyundai Kona, Nissan Leaf and Kia Niro electrics.
Here are the numbers: The EUV provides 56.9 cubic feet of cargo space with the rear seats folded down; the EV boasts 57 cubic feet; with rear seatbacks up, the EUV's cargo hold has 16.3 cubic feet of capacity and the EV has 16.6 cubic feet.