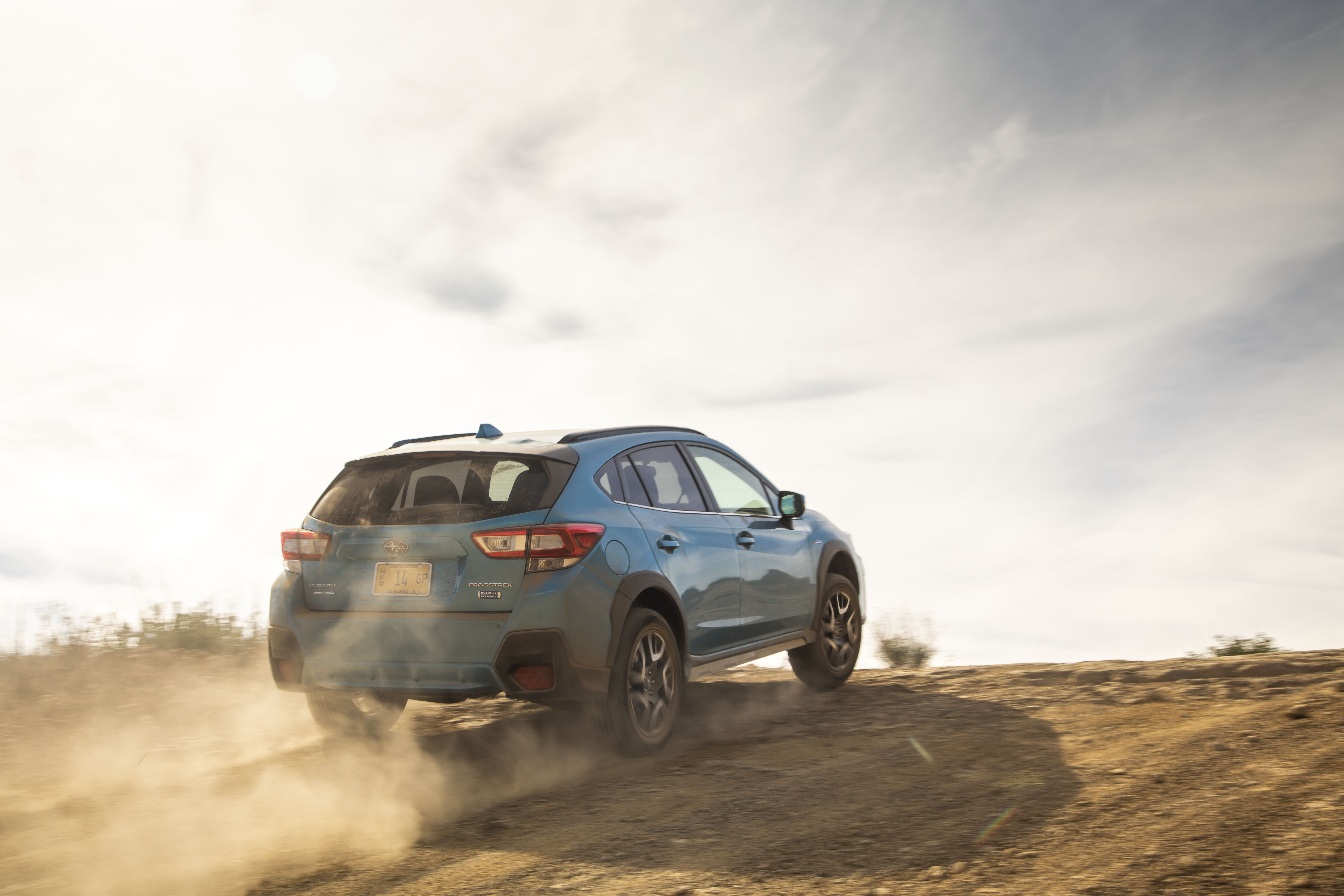 We liked the 2019 Subaru Crosstrek Hybrid when we first reviewed it, but that was based on a mere three-hour drive.
While those press preview programs sufficient for first impressions, they don't provide enough time behind the wheel to really get a feel for a new car. It's always better when you can give it a real-world whirl.
So, TheGreenCarGuy asked for a longer-term loan and recently got a 2019 Crosstrek Hybrid from the press fleet for six days
What we wanted to know what whether Subaru's first plug-in-hybrid would really deliver on its EPA-rated 35 mpg fuel economy estimate, would be a good road car (we already knew it would behave well off-road, as most all Subies do) and whether its diminished cargo capacity might make it a non-starter for most buyers.
We put 840 miles on the odo, a tally that included a good mix of city and highway driving and a bit of mild off-road work. The middle of the week was devoted to a 670-mile road trip.
The verdict? The Crosstrek Hybrid won't be a good choice for everyone.
But it well could fill the bill for shoppers seeking better fuel efficiency than the typical Subaru delivers, along with a lot of creature comforts, an excellent slate of driver assist safety systems and the off-road capabilities– and improved handling in icy, wet, or snowy conditions – of a very good all-wheel drive system.
Dislikes
While solidifying our initial likes, the extra time with the jacked-up hatchback didn't change our initial disappointments, either.
The Crosstrek Hybrid wasn't designed from the ground-up to be a plug-in car. Its battery pack and electric drive components had to be force-fit onto the standard Crosstrek platform.
That ate up more than 20 percent of the cargo area, added almost 500 pounds to the vehicle's weight and delivered a compromised PHEV experience.
To save space, the battery couldn't be made large enough to provide an impressive amount of all-electric drive. The EPA rating is just 17 miles. To make that happen, Subaru limits EV driving to speeds under 65 mph. The gas engine always kick in at 65, and also comes to life whenever you get aggressive on the accelerator pedal – you can't lock into an EV-only mode.
Add to that the Crosstrek Hybrid's price premium – $7,800 more than the comparably equipped Crosstrek Limited – and you might wonder why anyone would want one.
(Some dealers on the West Coast, noting Subaru's painfully slow delivery of the new Crosstrek Hybrid, have even started asking for scarcity premiums, usually listed as "market adjustment" on the price sheet. Subaru officially frowns on dealerships jacking up the price, but dealers are independent and the factory can't dictate pricing. TheGreenCarGuy strongly recommends that shoppers refuse to pay those extortionate prices – if no one nibbles, they'll go away.)
Mitigating Factors
The Crosstrek Hybrid's manufacturer-recommended price, or MSRP – reflects the cost of the plug-in hybrid system. It is partially offset by a federal income tax credit of up to $4,502. In most of the 10 states in which it is actively sold, the 2019 Crosstrek Hybrid's cost can also be made more manageable by state and/or local incentives.
In parts of California, for instance, a $1,500 state rebate and utility rebates of up to $1,000 can be added to the federal tax credit to almost entirely wipe out the technology premium. A dealership's "market adjustments" of course, can wipe out most of the incentive savings for buyers who choose to pay.
Crosstrek Hybrid owners also will save money on fuel, as EPA-rated efficiency for the 2019 Crosstrek Hybrid is close to 20 percent better than for the gas-only Crosstrek.
Some maintenance items also could bring cost savings. Regenerative braking systems, for instance, use the electric motor, not the mechanical brakes. That means brake repairs and replacements are few and far between on most EVs and PHEVs.
While cargo room inside is limited, we found it quite sufficient for two people on a long trip.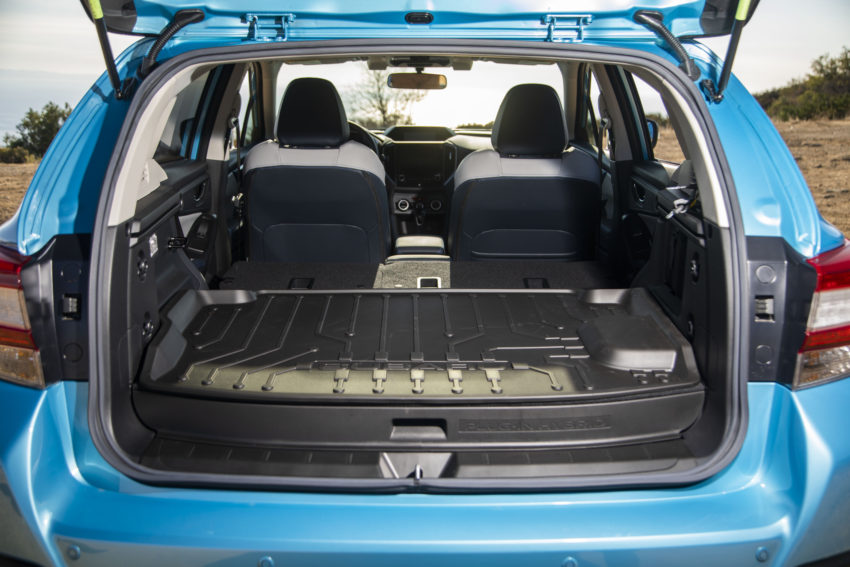 A pair of airline carry-ons, a large duffel bag and an assortment of coats and hiking boots fit – snugly – in the area behind the rear seats. And when those seats were folded away, the amount of room more than doubled. That allowed us to add a large ice chest and, on the way home, a few cases of wine from some of our favorite Central Coast vintners.
A family of four might find it difficult to use the Crosstrek Hybrid for a weekend getaway without a roof rack or hitch-mounted cargo carrier. Fortunately, the car can accommodate both, and also is tow-rated for 1,000 pounds.
Fuel Efficiency
EPA ratings for PHEVs are a bit different: No city/highway figures. Instead, the important numbers are all-electric range and "gasoline only" operation – which, for a plug-in-hybrid, really means standard hybrid mode.
For the 2019 Crosstrek Hybrid, those numbers are 17 miles of all-electric range and 35 mpg in gas-only operation.
Leaving the garage with a full charge of the 8.8 kWh battery plus a full 13.2-gallon gas tank and driving until both are empty will net 480 miles, per the EPA ratings. That makes the Crosstrek Hybrid the most efficient car in Subaru's stable.
Hardly anyone, of course, gets EPA mileage.
For our 670-mile road trip, we weren't able to charge the battery after we left home. Our fuel economy for the trip averaged 29.5 mpg. That included about 40 miles of off-road driving and 500 miles of high-speed freeway driving.
But overall fuel economy for the full six days we had the car was 32.8 mpg. It likely would have been even closer to the EPA estimated of 35 mpg had we not been in test mode, which demands a lot of lead-footed acceleration and hard braking. Both are horrible influences on fuel economy.
Shorter trips and frequent battery charging improve a PHEV's fuel economy.
Drive 52 miles in the 2019 Crosstrek Hybrid, starting with a full battery, and you'll have traveled 17 miles in all-electric mode plus 35 miles in standard hybrid mode. The Crosstrek Hybrid's battery pack holds the energy equivalent of 0.26 gallon of gas, so your total consumption would be the equivalent of 1.26 gallons. Fuel efficiency for the trip, if you get the EPA rated efficiency, would be 41.25 mpg.
An 87-mile drive, which is far more than most American typical non-vacation daily travel, would consume the equivalent of 2.25 gallons of gas, for average fuel economy of 38.7 mpg. Do that every week day with a 480-mile weekend trip and efficiency would be close to 37 mpg, per the EPA ratings.
On the Road
A late afternoon trip through the local Southern California foothills when the Crosstrek Hybrid was delivered strengthened our initial impressions that this is a small car with good road manners, adequate power and a very comfortable and well-appointed interior.
A freeway jaunt the next morning to visit a nearby EV plant (that's another story) let us get familiar with Subaru's Eyesight driver assist package, which came in handy later in the week.
We left that same afternoon on a drive to the Central California coast and then to the Carrizo Plain National Monument for some wildflower hunting and mild off-road driving. The plain, bordered on the east by California's San Andreas fault, is the last natural grassland in the state. In a spring following a very wet winter, the pace was awash in native wildflowers.
The best views were along rutted and ribbed dirt roads, and we drove about 40 miles of them.
The 2019 Crosstrek Hybrid is quite capable in dirt, and mud. It complies without fuss and bother when asked to roll over deep ruts, navigate rocky surfaces, cross shallow watercourses or climb or descend hills without benefit of asphalt.
It has the same 8.7- inches of ground clearance as a "regular" Crosstrek, and uses Subie's standard AWD system. There's a mechanical linkage between the engine and rear wheels, so their operation isn't dependent on battery power as it is in most hybrids with all-wheel drive.
The system shifts power from wheel to wheel as needed to maintain traction, and Subaru's X-Mode with hill-descent control is standard on both trim levels.
Back on asphalt, the Crosstrek Hybrid's electric motor assists when accelerating, and the extra torque it provides makes the hybrid the quickest Crosstrek in the lineup. It is about a second faster from 0-60 mph than the standard Crosstrek.
While no race car – it still takes a good 8 seconds with the accelerator pedal mashed to the floor to get to 60. But the new Crosstrek Hybrid has sufficient acceleration to hit the freeway without worrying about being flattened by the semi that's coming up as you merge into traffic.
The gas engine gets a bit whiny hauling up steep hills or when tasked with passing on the open road, but it gets the job done.
Except for that whine, the cabin is pretty quiet. Subaru did a good job with sound-deadening material.  The engine noise you can hear isn't annoying enough to make driving the Crosstrek Hybrid an unwelcome chore. Especially if you like to listen to music while driving.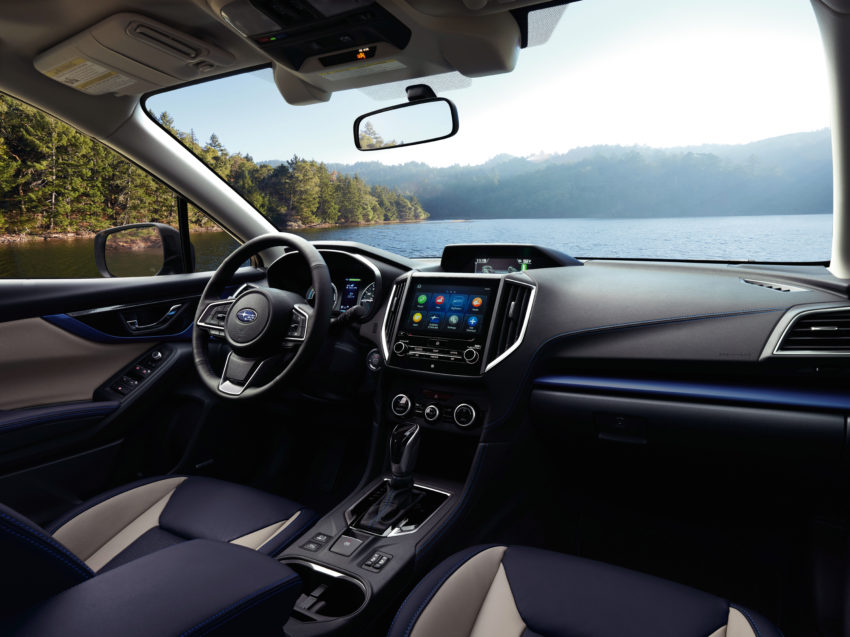 The 2019 Crosstrek Hybrid's interior is well-appointed, with clean lines and a simple, driver-oriented dash and instrument panel layout. The seats – front and back – are supportive, and there's plenty of leg and head-room, even with the optional sunroof. The ride is comfortable over long distances, and the car is nice looking.
Subaru's Eyesight suite of safety and driver assist features are standard on the new Crosstrek Hybrid. The warning buzzes for lane departure and blind spot t aren't overpowering, the rear cross-traffic alert is handy in parking lots and the full-function cruise control can make rush-hour driving almost tolerable.
We exploited that particular feature during the tail end of our road trip, which, in a feat of really bad timing, was completed at the peak of LA's late afternoon traffic crush.
Eyesight let us relax. Once we got used to letting the car's brain make stop and go decisions, it handled most of the braking and accelerating for a 60-mile trek though LA and Orange counties in end-of-workday traffic.
We arrived home still impressed with the small Subie's overall performance and fuel efficiency. We also arrived without the sore legs and cramped shoulders that so often are the result of a stressful rush-hours drive.