RX500h F-Sport Performance turbo-hybrid will be most powerful member of the RX family.
RX450h+ to be a plug-in hybrid.
RX350h becomes base hybrid model.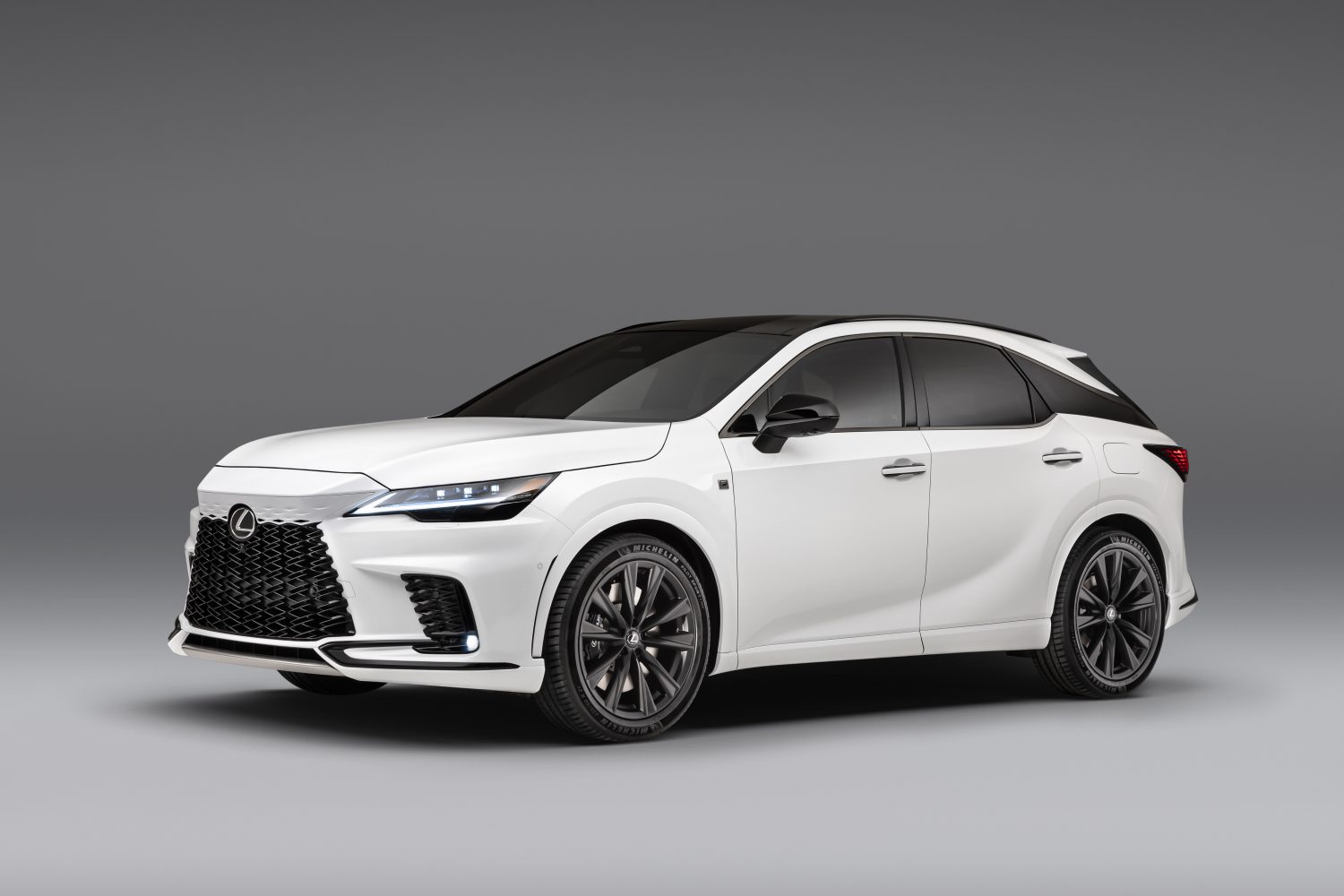 Lexus, the first luxury brand to market a hybrid – the 2005 RX 400h – is boosting its electrified fleet with its second plug-in hybrid and two new conventional hybrid trims, one of them a high-performance model, all in the redesigned 2023 Lexus RX crossover family.
Plug-in hybrid details are being held back until a bit later this year but we know the new model will be called the RX450h+ (and likely will use a variant of the PHEV powertrain introduced with the 2020 Toyota RAV 4 and migrated to the Lexus line for the 2022 NX450+ small crossover.
The new base Lexus RX hybrid will be the RX 350h with standard all-wheel drive. There will no longer be an RX 450h conventional hybrid. Top of the line will be the RX500h F Sport Performance with what Lexis calls an advanced electronic all-wheel drive system.
The RX line sits on a new platform for the 2023 model year, increasing rear seat legroom and cargo capacity, lengthening the wheelbase and introducing a new multi-link rear suspension. The new platform, designed to underpin Lexus' mid-size and full-size cars and compact and mid-size crossovers, also allowed designers to lower bottom lip of the RX's cargo bay opening, making for lower loading height.
The 2023 RX hybrid lineup is expected to go on sale in the U.S. near the end of 2022, but introduction of various powertrains could carry into calendar 2023. Lexus hasn't released pricing for any of the 2023 RX hybrids.
The RX 350h will be offered in Standard, Premium, Premium+ and Luxury trims. Toyota hasn't yet released details of RX 450h plug-in hybrid trim levels. The RX500h F Sport Performance is a single-trim model.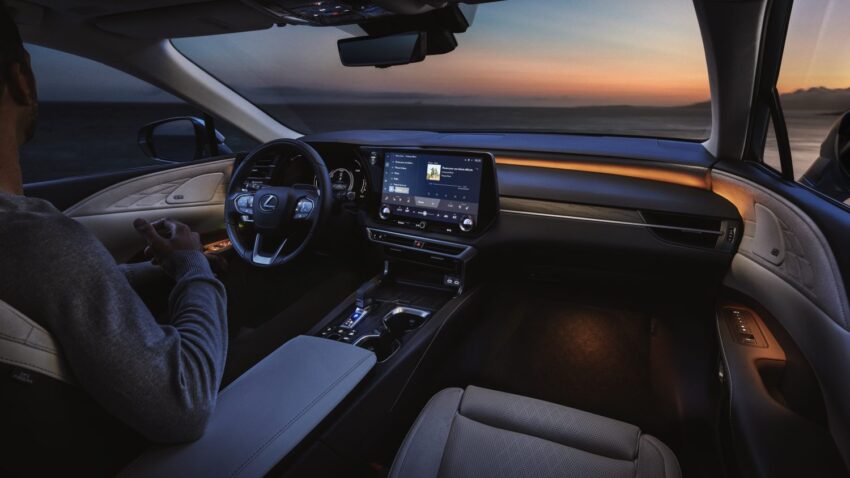 Hybrid Power
The RX350h will use a front-mounted 2.5-liter gas engine and integrated motor-generator coupled with a continually variable automatic transmission, or CVT. Lexis says the unit is rated at 246 horsepower and 233 pound-feet of torque. That's 11 percent less horsepower and 26 percent less torque than the non-electrified RX350's 275 hp and 317 lb.-feet.
Lexus is estimated combined city-highway fuel efficiency for the RX 350h at 33 mpg, versus 24 mpg in the non-electrified model – nice news in a year when gas prices nationally are at record highs.
The RX500h F Sport Performance will use a 2.4-liter turbocharged gas engine and motor-generator coupled with a six-speed automatic. A separate electric motor drives the rear wheels and an electronic controller rather than a physical driveshaft connects front and rear axles to automatically adjust power and torque delivery.
The new system, called Direct4 AWD, is biased toward front-drive in normal conditions but can shift as much as 80 percent of the torque to the rear wheels as needed for cornering, acceleration and improved traction on slippery surfaces.
The hybrid RX500h F Sport Performance is rated by Lexus at 367 horsepower and 406 pound-feet. Fuel efficiency with all that power and extra weight drops to a Lexus-estimated 26 mpg for combined city and highway driving – 4 mpg better than the 2022 model year non-electrified version.
The hybrid F Sport Performance will ride on 21-inch aluminum alloys and stopping power will be supplied by six-piston disc brakes.
Safety
All 2023 Lexus RX models will come with the Lexus Safety System 3.0 suite of advanced safety technologies. It includes front collision warnings and emergency braking, intersection monitoring and alerts, pedestrian and motorcycle detection, all-speed active cruise control with curve speed management, lane departure warning with steering assist, lane keeping assist and emergency stop that brings the vehicle to a stop should the driver monitoring system detect loss of consciousness.
A parallel and perpendicular parking assist system – with forward and back-up parking capability – is an available option.
PHEV and More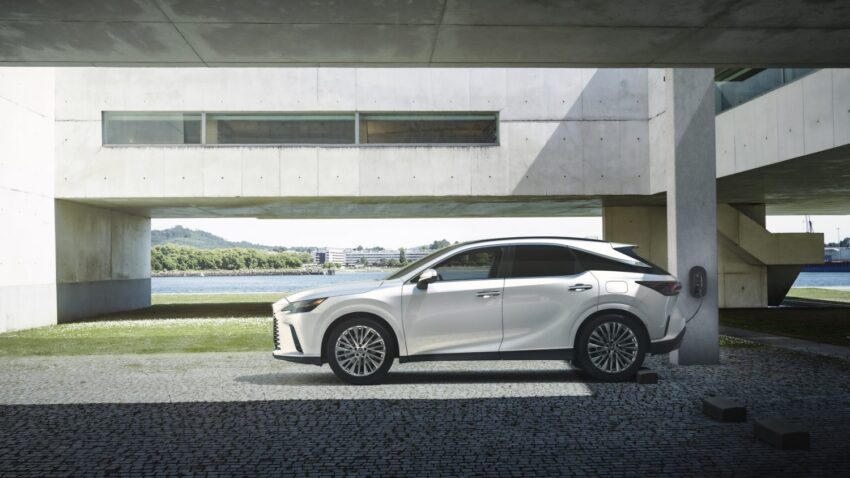 The 450h+ PHEV initially was slated to go on sale in 2021, but component shortages and Covid-related plant shutdowns have delayed a number of launches all across the industry.
Lexus originally had promised a number of electrified models, including more PHEVS and several all-electric vehicles, by 2025 – with its first all-electric model to launch this year. But the timelines have changed and the company hasn't yet announced new on-sale dates for those vehicles.
As part of the Toyota corporate lineup, Lexus has been late to embrace electrification and intends to continue making conventional and plug-in hybrids a major piece of its electrified fleet going forward – unlike some automakers, including General Motors, Genesis, Volvo, Jaguar and Bentley – that have vowed to drop internal combustion engines altogether.