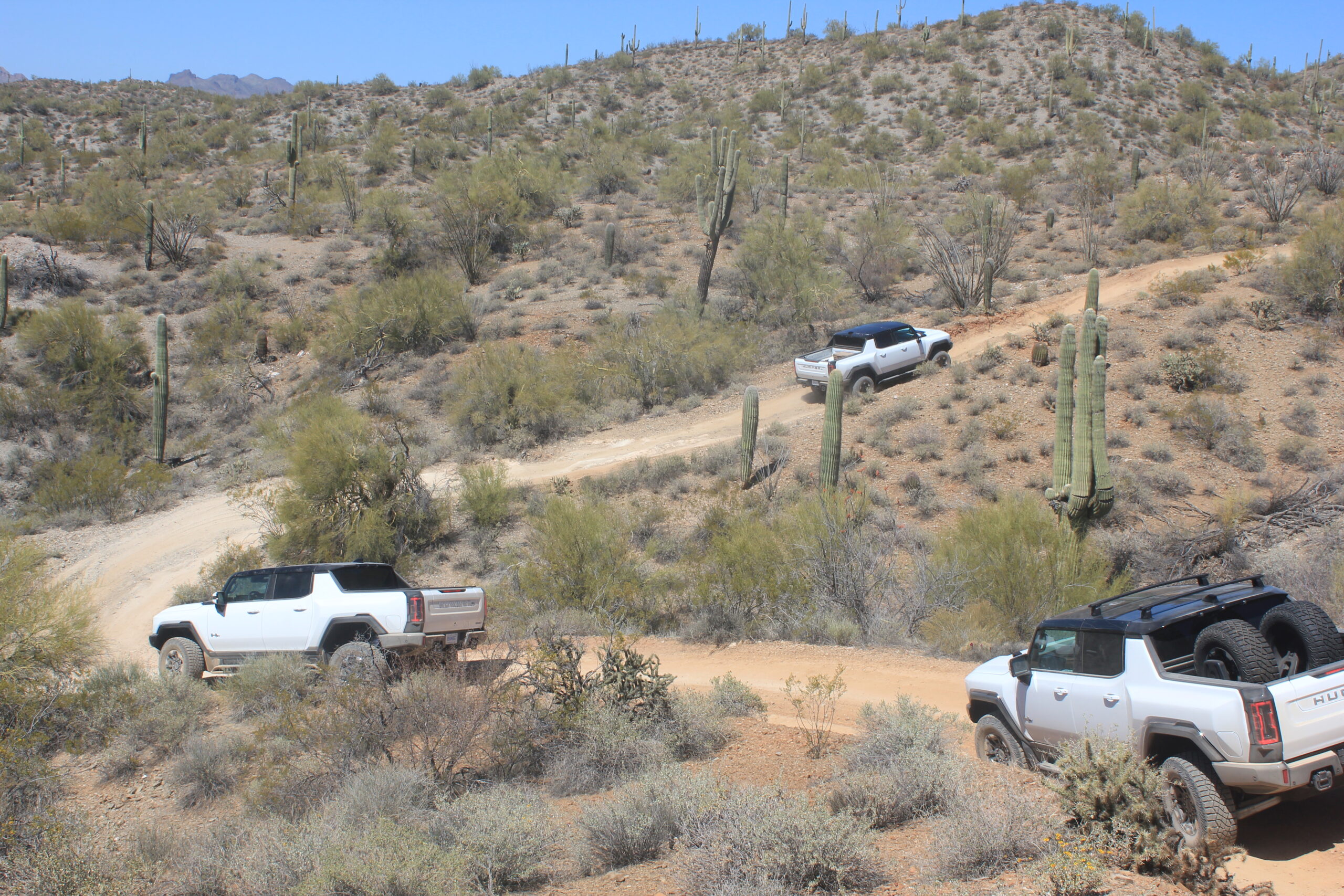 At a bit over 9,000 pounds, 18 feet in length, more than7 feet in width and carrying a $110,295 price tag, GMC's 2022 Hummer EV is one heck of a truck. It's also a pretty good one, especially for those who like to go off-roading in comfort.
It's one other thing as well: exuberant extravagance on wheels.
[A 10-minute read.]
It is really big, really bold, really fast, really packed with goodies – there's more tech on board than most of its owners will ever use – and really expensive, although it could be argued that it's not overpriced for the punch it packs.
A version of this review also appears at TrueCar.com
While the Hummer EV is configured as a pickup, on the highway its luxurious ride and – yes – nimble handling make it a dream to drive. Off-road it is even dreamier, although it is probably a bit too gentrified for hardcore enthusiasts who prefer building their own rigs.
It is pretty thirsty too, gulping electrons at a fearsome pace. Fortunately, it carries a big battery pack. With 50-mpg gasoline equivalency, it beats every internal combustion truck on the road in efficiency. But among EVs it is the least efficient by far..
With three motors, 1,000 horsepower, 1,200 pound-feet of torque, 212 kilowatt-hours of usable battery capacity and a GMC-estimated 329 miles of range, the 2022 Hummer EV gobbles 64.5 kWh per 100 miles.
That's more than half again that of the previous inefficiency champ, the Audi e-tron GT sport sedan, and almost 90 percent more than the average EV consumes.
It may also be guilty of information overload. Its 13.4-inch central touchscreen is home to scores of dials and widgets and icons allowing drivers and navigators to check on and-or set multiple drive modes and ride heights, navigation maps, 18 different camera views including several from underbody cameras that have their own lens washers, virtual wheel locker engagement in back, mechanical locker engagement in front, pitch and roll angles, compass headings, suspension travel, tire pressures, torque allotment, energy usage and much, much more.
The five-seat, four-door 2022 Hummer EV debuts later this year in the already sold-out "Edition 1" trim with that $110,295 price tag. A trio of slightly less expensive versions will follow into 2024, when the base $81,590 trim will arrive.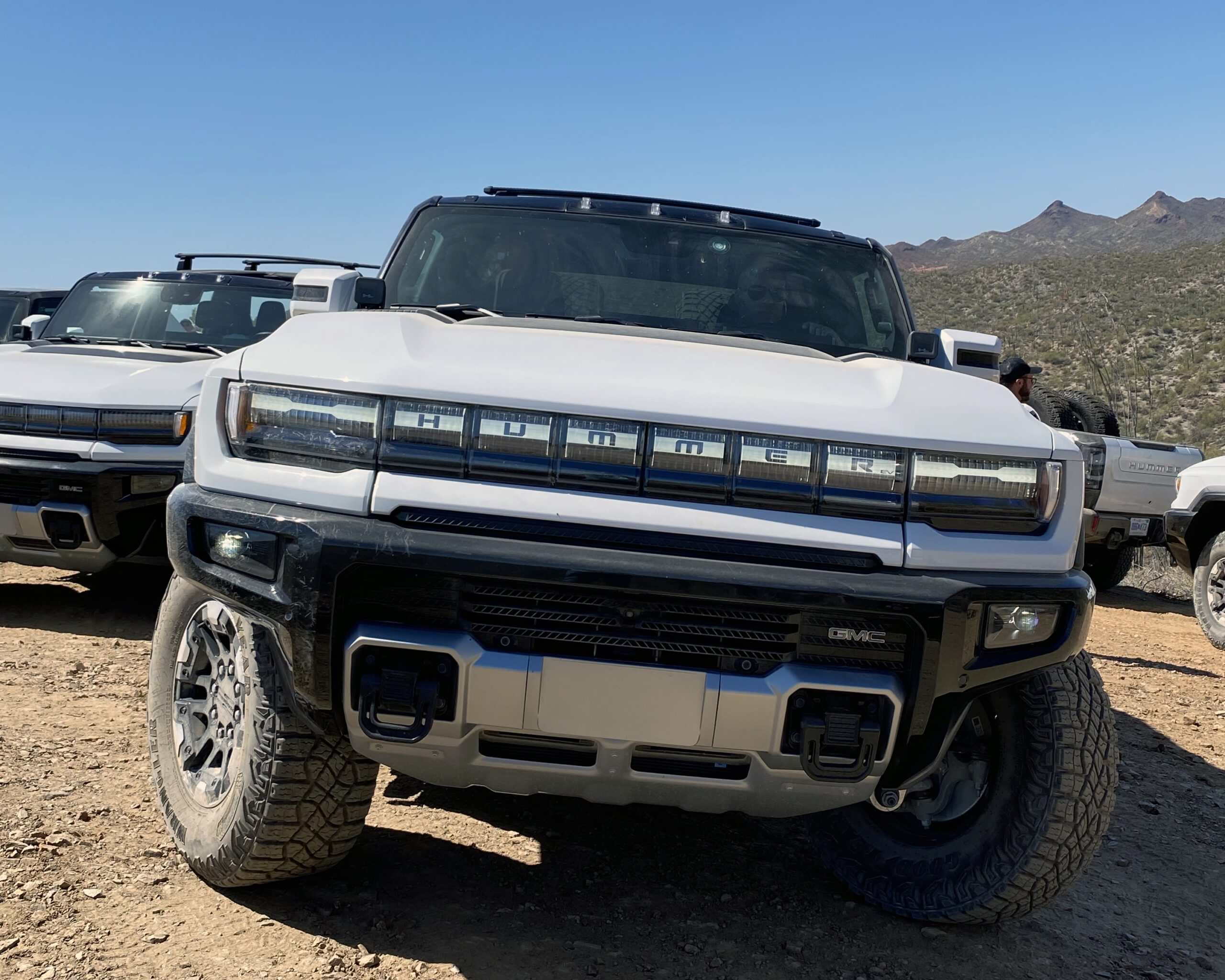 How's the Hummer EV Stack Up?
Touting it as the "world's first all-electric super truck," GMC would like to think the heavyweight Hummer EV has no real competition.
But while other electric pickups are smaller and lighter, several, including the Rivian R1T can tow more and carry more and likely can hold their own in many off-road trail situations – although the Hummer has mountain goat abilities on steep ascents and can climb over rocks and other obstacles that most competitors shouldn't tackle.
Proving that size isn't everything, the 9,063-pound Hummer EV Edition 1 can tow only about 7,500 pounds.
The 7,148-pound Rivian R1T boasts an 11,000-pound tow rating. Chevrolet says its 2024 Silverado EV will be able to pull 10,000 pounds and the upcoming Ford F-150 Lightning, which weighs in at a mere 6,171 pounds, can pull up to 7,700 pounds with its standard range battery pack and 10,000 pounds with the extended range pack. Tesla's Cybertruck, if it ever comes to market, reportedly can tow up to 14,000 pounds.
The Hummer EV also trails most other announced electric pickups in payload capacity – the combined weight of cargo and passengers.
Its 1,487-pound payload rating will beat the upcoming Silverado EV's 1,300 pounds, but is outdone by the Rivian, at 1,760 pounds, the Ford F-150 Lightning at 2,079 pounds and the Cybertruck at 3,500 pounds.
No electric pickups can brag much about payload, though – the weight of the battery packs they must carry to give them decent range eats up a lot of cargo capacity, and the 2022 Hummer EV Edition 1 battery is a knee-buckling 2,923 pounds. That's like hauling around a Honda Civic.
Long range…on asphalt
Those batteries, though, can deliver decent on-road range.
The 2022 Hummer EV Edition1 boasts up to 329 miles per charge on asphalt. The F-150 Lightning tops out at 320 miles, the Rivian at 314 miles and Chevrolet says at least one version of the Silverado EV will be outfitted with enough batteries for 400-mile trips. Tesla claims 500 miles-plus for the top trim Cybertruck.
Those range figures, however, are for unloaded trucks that aren't towing. Rivian recently said that towing an 11,000-pound trailer would cut the R1T pickup's range in half. We didn't get to tow with the Hummer, but suspect that it, and other electric pickups, will have the same issue.
The big drain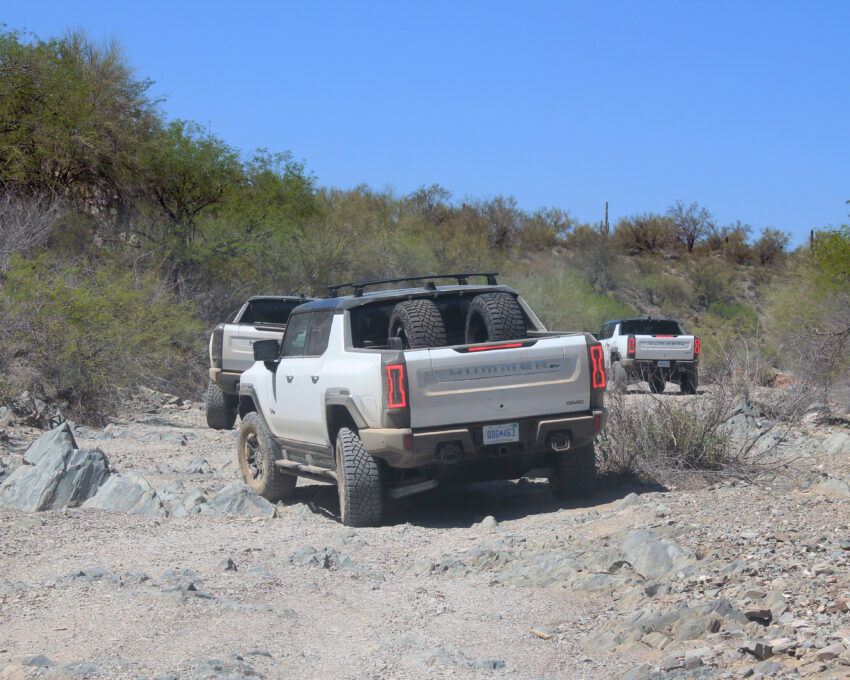 Going off road doesn't help, either, even though off-roading involves fairly slow speeds and lots of braking, which should aid an EV's efficiency.
On a recent 2-hour, 18.6-mile trek on rutted dirt-and-gravel trails with several fairly imposing – and rocky – climbs and descents, our 2022 Hummer EV Edition 1's range plummeted 60 percent, from its nominal 1.5 miles per kilowatt-hour to just 0.5 miles per kWh. The truck carried a pair of spare tires, mounted on 18-inch alloy wheels, but was otherwise empty save for its two occupants.
We did have the AC on, and that ate up a bit of battery – but AC on an off-road run on a sunny Arizona desert day is a necessity for the non-masochistic.
At the energy consumption rate we measured, an Edition 1 with a full battery would deliver about 100 miles on the trail – less if it were carrying the typical off-roader's load of spare parts, camping gear, food and water. And that's the maximum supposing it arrived at the trailhead with a full battery – unlikely unless it was towed there – and could charge again before heading home.
Charging the Hummer EV
Several companies have begun installing Level 2 charging near some popular trailheads, and we were shown a portable hydrogen fuel-cell generator that was used to charge the Hummers for our event and could be adapted for wilderness installations.
But until trailhead charging is common, off-roading in a Hummer EV – or any other electric truck – probably is best suited for shorter day trips.
On road trips, the Hummer's 800-volt system allows it to add up to100 miles of range in 10 minutes on a 350-kW DC fast charger. It comes with a portable 7.4 kW, Level 2 charging cord for home and opportunity charging, and with a more powerful 11.5 kW home station can charge at a rate that adds 16 miles of range per hour – but takes 16.5 hours to bring a battery from 20 percent of capacity to 100 percent.
On the trail
The 2022 Hummer EV First Edition we tested rode on the standard 35-inch all-terrain tires. Mud tires are an option and if the stock 10.1 inches of ground clearance – 11.9 inches in "Terrain" mode – isn't enough, 37-inch wheels and tires can be bolted on with no modifications needed.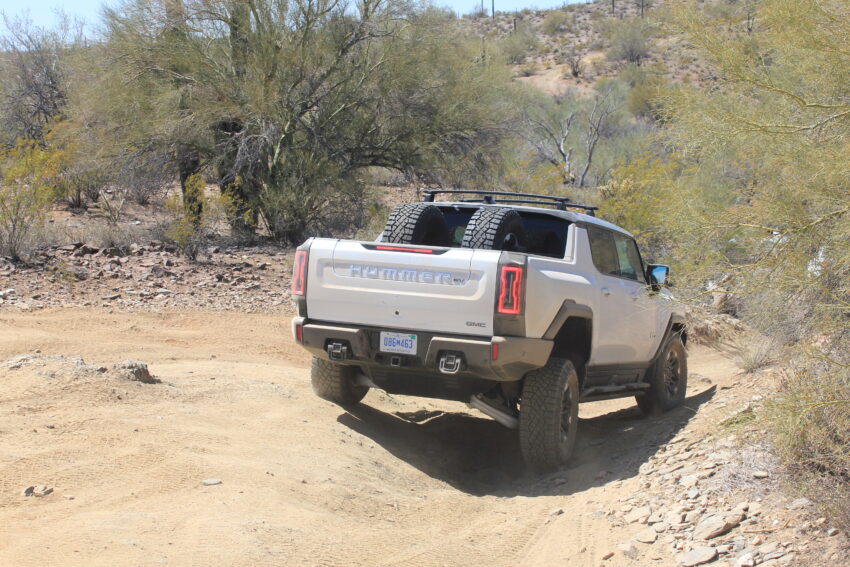 Independent front and rear suspension and an air suspension system combined to smooth out most craters, humps, bumps and washboard surfaces and delivered a luxuriously smooth ride. While most of the trail we were on cold have been handled by the average Subaru, there were some pretty nasty ascents and declines that showed off some impressive off-road chops.
In a pinch the Hummer's "Extract" mode will raise the body nearly six inches above stock height for a total ground clearance of 15.9 inches.
The Edition 1 trim uses three motors – one in front and two on the rear axle – that combine for 1,000 horsepower and 1,200 pound-feet of torque, all of which can be directed to the wheels in various combinations to keep the Hummer moving.
There's 13 inches of suspension travel – enough to clear most obstacles and make one forgive GM's decision to omit a sway bar disconnect system. It can ford a stream that's almost three feet deep and has five skid plates to fully armor the underside. It can walk up and over an 18-inch vertical wall.
There's an off-road mode as well as that terrain mode – the latter for the tougher bits of trail – and a complex, computer-supervised combination of regenerative braking, mechanical braking, torque vectoring and differential locking for precise control.
All trims but the base have rear-wheel steering, and as we experienced with the Edition 1, it switches from a gentle 0.3:1 ratio on the highway to a pretty aggressive 0.6:1 ratio off-road, effectively giving the 18-foot Hummer EV the nimbleness of a Jeep. In fact, GMC claims the Hummer EV has a turning radius that's four feet less than the 4-door Wrangler's, and the Wrangler is more than two feet shorter than the Hummer.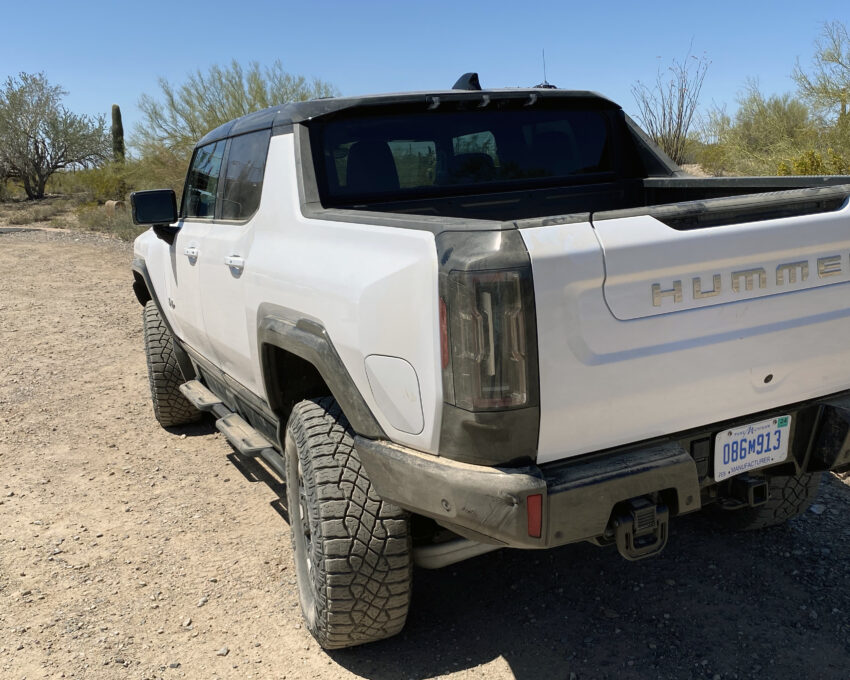 And, of course, there's the vaunted "CrabWalk" mode in which all four wheels gently turn in the same direction, allowing the Hummer to drive diagonally away from obstacles – if the trail is wide enough to accommodate its nearly 7-foot 3-inch width.
Road warrior
The time GMC gave us with the Hummer didn't involve much in the way of regular roadwork – just an hour's drive on smooth, flat highways to the trailhead from our base in the Phoenix area, an hour's drive back.
There was no city driving, no curbside or shopping mall parking, no traffic jams to fight through, no twisty country and mountain roads to roam. In short, we didn't experience any of the little daily driving things where a really good vehicle can shine and a bad one can smell to high heaven.
What we can report is that the big beast rides wonderfully well on the highway. It is quiet, has very comfortable seats, plenty of leg, shoulder, hip and head room front and rear, a nice sound system and a great climate control system – albeit a fairly thirsty one that was responsible for as much as a third of our Hummer's energy consumption as we rolled along.
The 12.3-inch driver information screen is bigger than the main infotainment screen on many cars and is driver configurable with three separate areas for graphic images and information.
It handles like a well-balanced car at freeway speeds and rode well with little body roll on the few curves and corners on our route. Visibility was good although the optional dual spares mounted in the bed created a pretty narrow tunnel when we weren't using the rear camera view.
It will do the promised zero-to-60 mph sprint in a gut-wrenching 3 seconds in its unbridled "Watts to Freedom" mode.
On the downside, the face of the centrally mounted 13.4-inch infotainment touchscreen wasn't oriented toward the driver and was situated too close to the seats – requiring eyes-off-the-road glances when it needed to be viewed. A spare tire isn't standard – odd for a truck being marketed largely on its off-road competence – and the optional bed-mounted spare takes up a lot of cargo space.
Can the Hummer succeed?
Those who think there's not much market for such a big truck with less-than-lustrous hauling and carrying capacities and a voracious appetite for electrons have another think coming.
The Hummer EV isn't for everyone but the audience seems pretty large. GMC says that it has received more than 66,000 refundable advance reservations so far for various Hummer models – there's a Hummer SUV coming in 2024 – with the Edition 1 pickup all sold out.
Orders so far are breaking about even between the EV, or pickup, and the SUV, but the automaker expects the bias to swing, ending up in a 40/60 split favoring the SUV as 2024 draws closer.
Most of the reservations – a full 33 percent – are coming from just three states: California, Texas and Florida. GMC says that 70 percent of those making reservations are new to EVs and 75 percent are new to the GMC brand.
Only around a third of reservation holders say they plan to go off-road, tow or engage in other "outdoor activities" with their Hummers at least once a month, reinforcing our suspicion that its formidable off-road capabilities will be wasted on most.
Requests for the pickup are heavily favoring the Edition 1 and the 2022 Hummer EV 3x, a slightly less extravagant three-motor version priced at $101,590 and due late this year or early next.