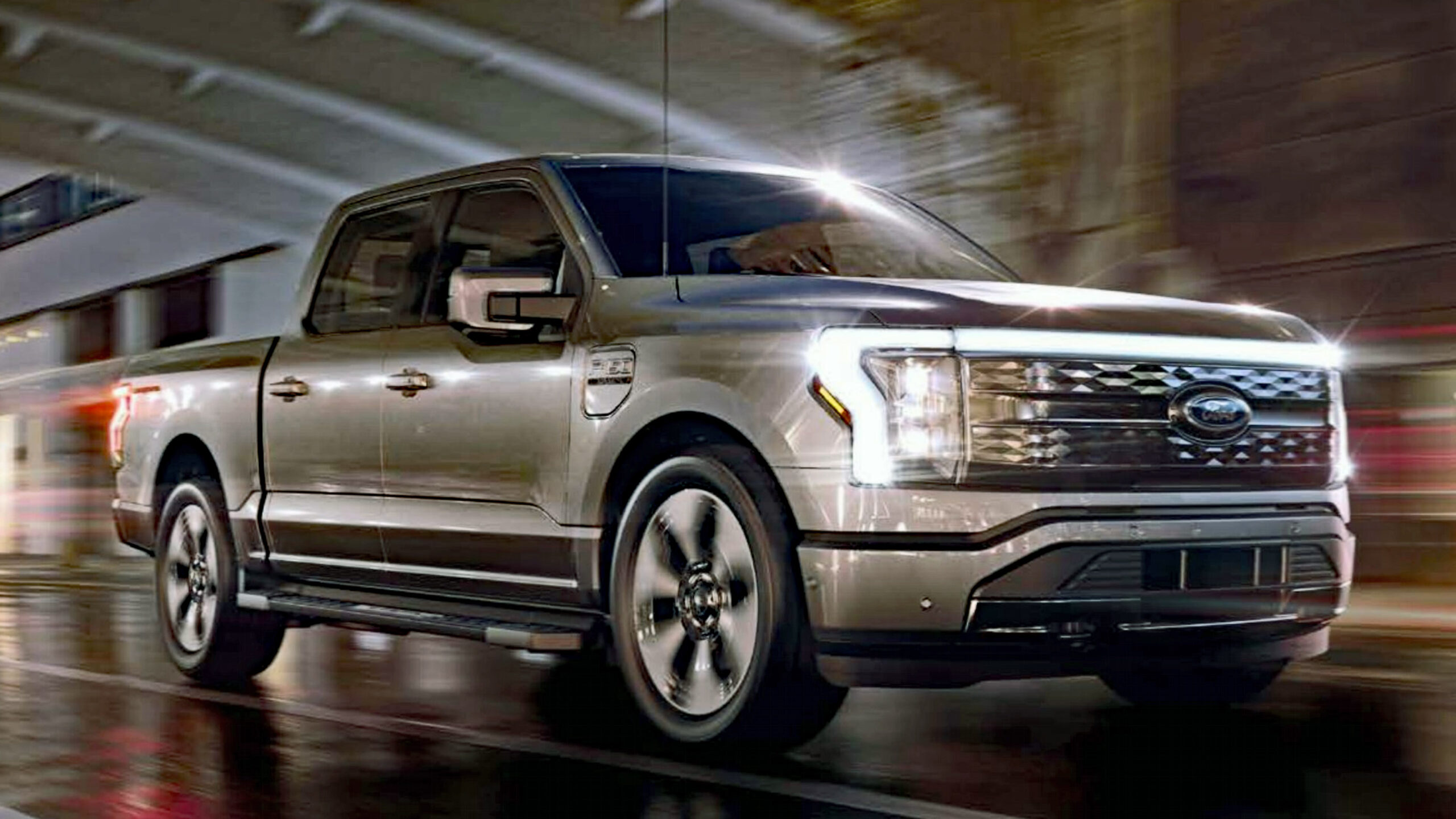 Ford appears to have another electric hit on its hands, with more than 44,000 advance orders for the electric F-150 Lightning pickup placed in the first two days after the on-line reservation desk opened. That's a faster pace than for the Mustang Mach-E.
As with any new vehicle, there's always a risk – have they taken orders for the first 50,000 or the only 50,000? But with the F-150 name and reputation behind it, and the number of electric pickup competitors entering the market giving credence to the whole idea of a plug-in pickup truck, it's a pretty safe bet that for Ford's electric F-150 Lightning it's the first 50,000.
[A 6-min., 30-sec. read.]
Tesla gets loads of well-deserved credit for helping a reluctant America start accepting EVs. But most Teslas are sold on the coasts and are thought of by most as kind of exotic.
Pickups get sold everywhere and a well-done, mainstream electric pickup could open the whole country's eyes to the possibility of an EV in the garage.
Ford's entry in the e-truck segment is far more mainstream in appearance than the others set to be released soon. It is pretty much a regular F-150 but with different wheels and badging, electric charger ports instead of gas fillers and a fancy LED light bar that runs across the top of the grille and drops down on either side to frame the headlamps. On higher trims, there's also a bar connecting the taillights and a pair of charger ports- one on each side just above and behind the front wheel cutout.
All 2022 F-50 Lightnings will be dual-motor electric with all-wheel drive, but there will be two power and range choices: 426 horsepower and 775 pound-feet of torque with a Standard Range, 230-mile battery, and 563 horsepower, 775 lb.-ft. and 300 miles with the Extended Range Battery – except for the top "Platinum" trim, which will be heavier because of its load of standard features.
Those range numbers are Ford's own estimates. Official EPA ratings haven't been released.
As usual, driving style, payload, ambient temperatures and terrain all will play a big role in how close individual drivers get to the claimed range numbers.
Like any good pickup, the F-150 Lightning also will be able to tow – up to 10,000 pounds with the Extended Range battery on properly equipped models; a 7,700-pound maximum for models with the standard battery.
Maximum payload is 2,000 pounds with the standard battery and 1,800 pounds with the heavier Extended pack.
For even more cargo hauling, and because there's no engine, the F-150 Lightning's hood and grille lift as a unit to reveal a 400-liter (14 cubic feet) capacity "frunk" storage area.
It can hold up to 400 pounds of cargo and is roomy enough for eight 50-pound bags of concrete mix, a medium suitcase and two carry-on bags, or two sets of golf clubs. It also is plastic-lined and has a basin and drain in the floor in case your preference is hauling iced-down foods and beverages instead of suitcases or clubs.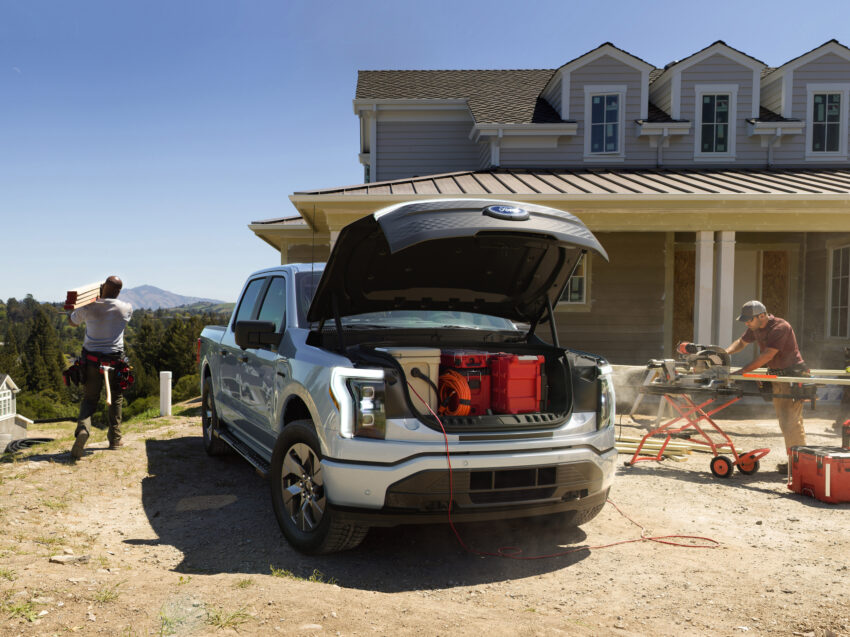 Trims and Prices
Actual sales begin in the spring of 2022 and the electric F-150 Lightning will be sold nationwide through more than 2,300 dealerships. Two of the four trim levels will be available initially.  Ford said the base model – the Lightning Pro built with contractors and other work-users in mind but available to anyone with the down payment – will have an MSRP of $39,974 before the destination charge. An XLT trim will start at $52,974.
The present destination charge for F-150s is $1,595 but Ford hasn't said whether that stays the same for 2022 and for the Lightning. If it does, the real price before options and incentives would be $41,569 for the Pro and $54,569 for the XLT. 
The F-150 Lightning has a steel frame and aluminum body and pickup box. It will come only in the SuperCrew configuration with a 5.5-foot bed. Outside, it is almost 2 inches taller and an inch longer than the gas-burning F-150 but has the same width and wheelbase. It boasts 8.9 inches of ground clearance – half an inch less than the 9.4 inches Ford claims for the internal combustion 4×4 F-150 SuperCrew with a 5.5-foot bed.
Like most EVs, the F-50 Lightning should qualify for the federal clean vehicle tax credit of up to $7,500 as well as for any state and local incentives being offered at the time sales start.
Trims coming later next year are the Lariat – expected to start at close to $58,000, and the Platinum, likely to come in at or around $70,000. Ford said that a fully loaded Platinum model could cost upwards of $90,000.
Lightning Versus…
Those prices keep the 2022 F-150 Lightning quite competitive with other electric trucks expected in the next year or two.
Rivian's RT1 electric pickup will start at $67,500 but the first trim to hit market, the Launch Edition due this summer, will be a cool $75,000. Bollinger Motors has said its B2 pickup, due late this year or early in 2022, will cost $125,000; GMC's Hummer electric pickup will start at $79,995 – but that version won't be available until 2024, with the inaugural Edition 1 trim launching this fall at $112,595. Tesla's Cybertruck, now expected sometime in mid to late 2022, will start at about $40,000 for the single motor version with more powerful and longer distance models priced at $50,000 and $70,000. Teslas no longer qualify for the federal income tax credit.
General Motors hasn't talked launch dates or pricing for its recently announced electric Silverado, or Stellantis and Toyota for the expected electric Ram and electric Tundra pickups, but it's a good bet none of them will hit market until a year or more after the F-150 and that their pricing, as with their gas models, will hew close to F-150 levels.
Tech
The F-150 Lightning will be a well-connected, tech-heavy electric truck, with over-the-air software updates and features – many at extra cost – such as Onboard Scales, Pro Trailer HitchAssist, which automatically back the truck up to a trailer's hitch, and Backup Power, which turns the Lightning's powerful battery pack into a power source to help keep the house lights on and the 'fridge and TV running during power outages – for as long as three days, Ford says. Note, though, that after three days' service as a household generator, the Lightning won't be able to go anywhere until it gets juiced up again.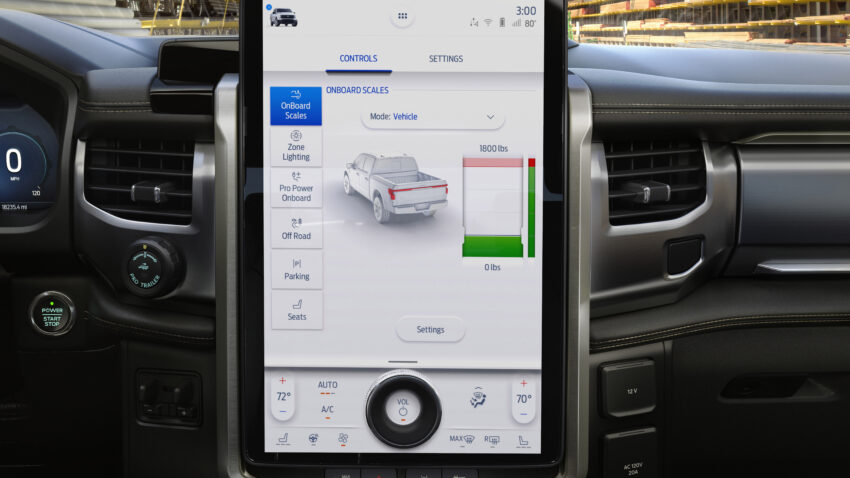 Onboard Scales, by the way, isn't a skin disease. It's an option that enables the Lightning to weigh the cargo load as it is being piled into the cab and bed, and display the weight on the dashboard touchscreen. The system also adjusts estimated driving range when cargo is loaded or a trailer is attached, and that, too, is displayed on the screen so drivers will know in advance whether they can make their destinations without looking for a charging station.
About that touchscreen: 12-inches is standard on lower trims; the upper trims get a 15.5-inch screen mounted vertically in the center of the dash – just like the Mustang Mach-E.
The big touchscreen will run the most recent version of Ford's Sync entertainment and communications system – Sync 4A. It permits a lot of personalizing and supports both Apple CarPlay and Android Auto, wired or wirelessly. Best of al, early reviews praise the quality of its vocal recognition system, critical for actually using voice controls with positive results.
Also available will be Ford's BlueCruise system, which enables limited hands-free driving on 100,000 miles of North American highways
All trims will have Ford's Pro Power Onboard system that uses the battery pack to power on-board outlets for appliances, power tools and electronic equipment.
A word to the wise: the more power consumed by tools and TVs, the less available to power the truck for the trip home.
Charge It
That, of course, brings us to the issue of charging those batteries. Ford hasn't disclosed battery capacities yet, but they are big and will require lots of juice.
(TheGreenCarGuy's EV charging primer.)
The F-150 lightning will be capable of taking on a 240-volt Level 2 charge – typical for home and workplace installations. The Lariat and Platinum trims with the Extended Range battery get an 80-amp home charging system – about twice the electron flow as the typical home station – as standard equipment. It can take an extended battery to 80 percent of capacity from 15 percent in "about eight hours," the car maker said.
The base and XLT trims get a 32 amp charger capable of an 80 percent from 15 percent recharge of the Extended Range battery in 19 hours. An optional 48 amp system will do the job in 13 hours. With the standard battery, recharge times drop to 14 hours with the 32 amp system and 10 hours on the 48 amp system. Standard battery models don 't have the dual on-board chargers that permit speedier 80-amp charging sessions, so recharging sessions will still be 10 hours even on an 80 amp system.
On longer trips that require interim charging, the electric F-150 has DC fast-charge capability and, plugged into a 150-kilowatt quick charger that's operating at full capacity can take an 85 percent discharged Extended Range battery back up to 80 percent replenished in 41 minutes, adding an average of 54 miles of range every 10 minutes.
On a DC quick charger working at 50 kilowatts – more common with today's systems – Ford says it will take 91 minutes to get an 80 percent charge for a standard battery and 122 minutes with the Extended Range battery.
(A note about the left- and right-side charge port doors evidenced in the photos Ford has provided: There is only one charge port door on the Lightning, located on the driver's side. The passenger-side port shown in photos of the Platinum trim used with this article was added for "design" purposes and won't be present on the production trucks, a Ford spokeswoman told TheGreenCarGuy.)
On the Road, Hypothetically
Ford hasn't begun loaning Lightnings to the media for testing, so its performance and handling are matters of conjecture, informed by the specs Ford has provided.
For those who just want quick, it promises to be the fastest F-150 ever, with the 563-hp Extended Range versions achieving a Ford-claimed 0-60 time in the mid 4.0-second range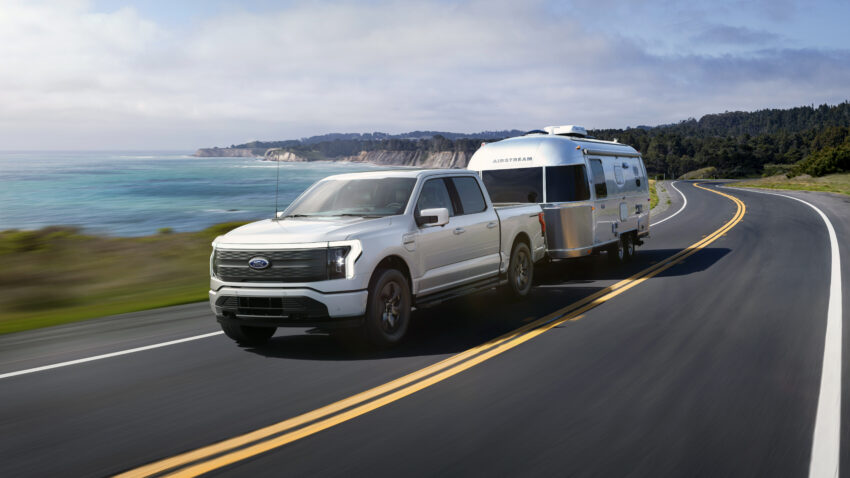 To help keep it in the best place for road conditions, the truck will come with four driver-selectable operating modes. Normal, for everyday driving and maximum efficiency; Sport for those times you need to show the guy in the next lane who's boss; and Off Road and Tow/Haul, which speak for themselves although Off Road in this truck's case doesn't mean full-bore rock hopping but rather moderate off-road work such as running fire trails, plowing around construction sites before any pavement's been laid and navigating the rutted dirt and gravel track down to the campground.
With electronic all-wheel drive, independent rear suspension, a ton (well, 775-lb.-ft.) of torque, 8.9 inches of ground clearance and its under-floor battery pack providing low center of gravity and some pavement-hugging heft, the 2022 F-150 Lightning ought to be a well-handling joy to drive – on the highway or off.