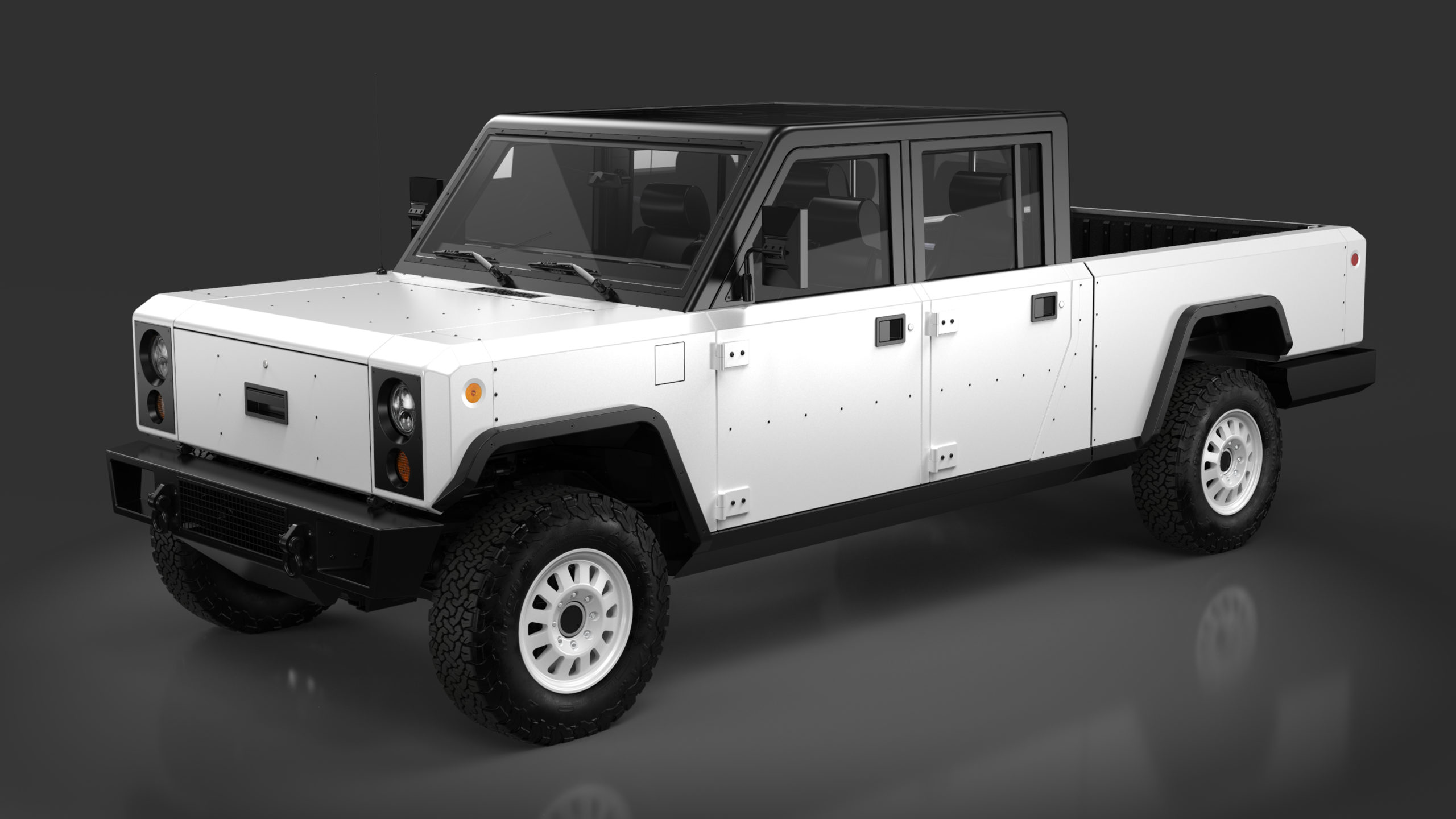 Bollinger Motors – remember them? – has rolled out production-intent models of its all-electric Bollinger B1 SUV and B2 pickup, due to start being delivered to customers sometime in 2021.
With their utilitarian styling – if a box can be called style – and a price that starts at $125,000, almost $12,500 more than the most expensive version of the upcoming GMC Hummer EV – Bollinger's trucks aren't likely to set sales records.
[A 2-min., 30-sec. read.]
But the company certainly has come a lot farther than many believed possible in 2017, when founder Robert Bollinger – a trained designer who made his fortune in advertising and the organic cosmetics business – showed the first prototype he and a small crew built by hand on his farm in New York's Catskill Mountains.
A Niche Player
Bollinger has told TheGreenCarGuy that he doesn't see the company as a mass market competitor. Instead, he is aiming for a niche market of work truck users and well-to-do outdoor enthusiasts who want vehicles that can take them far off road and into the roughest terrain.
Earlier this year, Bollinger said he has "pre-sold" almost all of the company's planned first-year production. He hasn't disclosed that number but in the past has said that Bollinger Motors can be profitable with "well under 100,000" sales a year.
The production versions of the B1 and B2 that were rolled out this month don't appear a first glance to differ from the early prototypes.  They still look a lot like the early Land Rover Defender but built of riveted aluminum panels.
Production-intent models are close to what a company intends to bring to market, but still subject to minor changes before actual production locks in design and features.
Subtle Changes
A closer look at the photos Bollinger has supplied of its production-intent models shows a number fo subtle but important alternations.
The headlight housings have gotten narrower.
Bollinger has redesigned cooling the batteries and motors and gotten rid of the intake vents that had surrounded the lamps. That made room for a much wider front gate – a flat panel that replaces the traditional grille and opens to expose a large front trunk – or "frunk," and a cargo tunnel that extends from nose to tail. Elimination of the intake grilles also makes for a smoother, less industrial looking front end.
The belt line, too, has been changed, raising the hood line slightly to visually bulk up the body mass and physically increase the capacity of the frunk.
Bollinger also has narrowed the vehicles' front door openings slightly in order to enlarge the rear doors for easier back seat access.
And on the pickup version the bed's sheet metal has been separated from the cab to improve off-road flexibility.
Gone, too, iws the preproduction versions' matte charcoal finish, replaced by a glossy black over white color scheme.
E-Truck Competition Grows
Bollinger's trucks re the most rugged looking of a spate of electric pickups and SUVs expected to hit the market between 2021 and 2024.
Others include the Hummer EV, Tesla's Cybertruck, the Rivian SUV and pickup, an electric Ford F-150 and a battery-powered light pickup from GM.
One other possible entrant, the Nikola Badger, initially slated to be built for Nikola Motors by General Motors, is apparently out of play now that GM has dropped Badger production from the supplier deal it is negotiating with Nikola.