Nikola Corp. says it is concentrating on its commercial truck business and is dropping the Badger EV electric pickup.
In a statement released this morning, the Arizona-based fuel-cell and battery-electric truck developer, said it is continuing to pursue a previously announced supplier deal with General Motors Corp. but that GM will no longer take an equity stake in Nikola or engineer and build the Nikola-designed Badger.
[A 3 min., 30 sec. read.]
All deposits made by potential Badger purchasers will be refunded, Nikola said.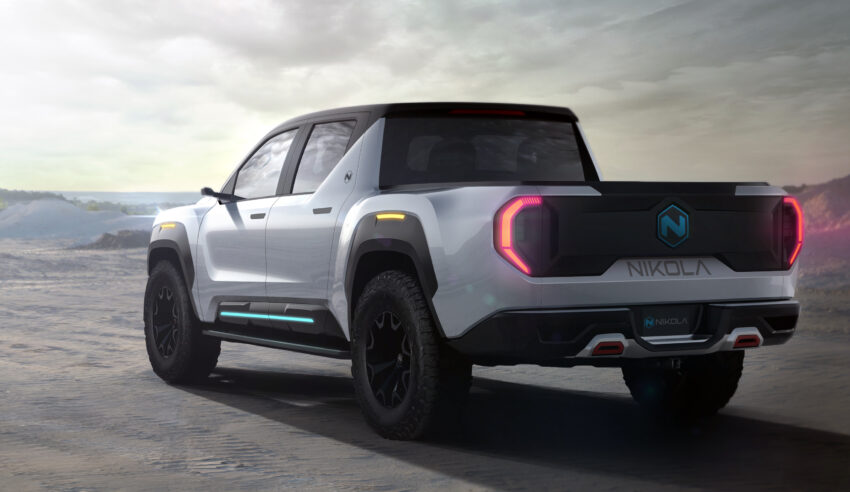 "Nikola is concentrating on commercial trucks," a spokeswoman told TheGreenCarGuy when we asked about the Badger's future and whether there were plans to pursue other avenues to get it built.
A tentative agreement in September for GM to become an equity partner, build the Badger EV and supply Nikola with fuel-cell systems and battery pack components was tossed on the junk heap after a research firm published a blistering report alleging that company founder and chief executive Trevor Milton had built Nikola on a foundation of lies about is capabilities.
The research firm, Hindenburg Research, held a short position in Nikola stock, meaning it profited if the stocks value fell – and Nikola shares plummeted in the wake of the report. While denying the accusations, Milton resigned his positions and separated himself from the company in an effort to stop the market slide – which was slashing the value of his 91.6 million shares of Nikola stock by billions of dollars.
The stock, which had once traded as high as $93 a share, fell to $10.27 just before Milton's resignation. It has since climbed into the mid-to-high $20s. In midday trading Monday after the revised GM deal was announced, it had tumbled to just over $20 a share from from Friday's close of $27.93.
Shortly after Milton resigned, Nikola said its September agreement with GM was still open and under discussion. In early November, the company said the talks were ongoing and still included GM development of the Badger EV.
Now, Nikola says, it has signed a non-binding memorandum of understanding for a "global supply agreement" with GM.
"Under the terms of the MOU, Nikola and GM will work together to integrate GM's Hydrotec fuel-cell technology into Nikola's Class 7 and Class 8 zero-emission semi-trucks for the medium- and long-haul trucking sectors," the company said, adding that the memorandum "supersedes and replaces the transaction announced on September 8, 2020."
The agreement "is subject to negotiation and execution of definitive documentation acceptable to both parties" and "does not include the previously contemplated GM equity stake in Nikola or development of the Nikola Badger," the company said,.
Nikola hasn't addressed the future of several other consumer vehicles it has touted – an electric all-terrain vehicle and an electric personal watercraft. But in Monday's announcement, CEO Mark Russell said that "heavy trucks remain our core business and we are 100 percent focused on hitting our development milestones to bring clean hydrogen and battery-electric commercial trucks to market."