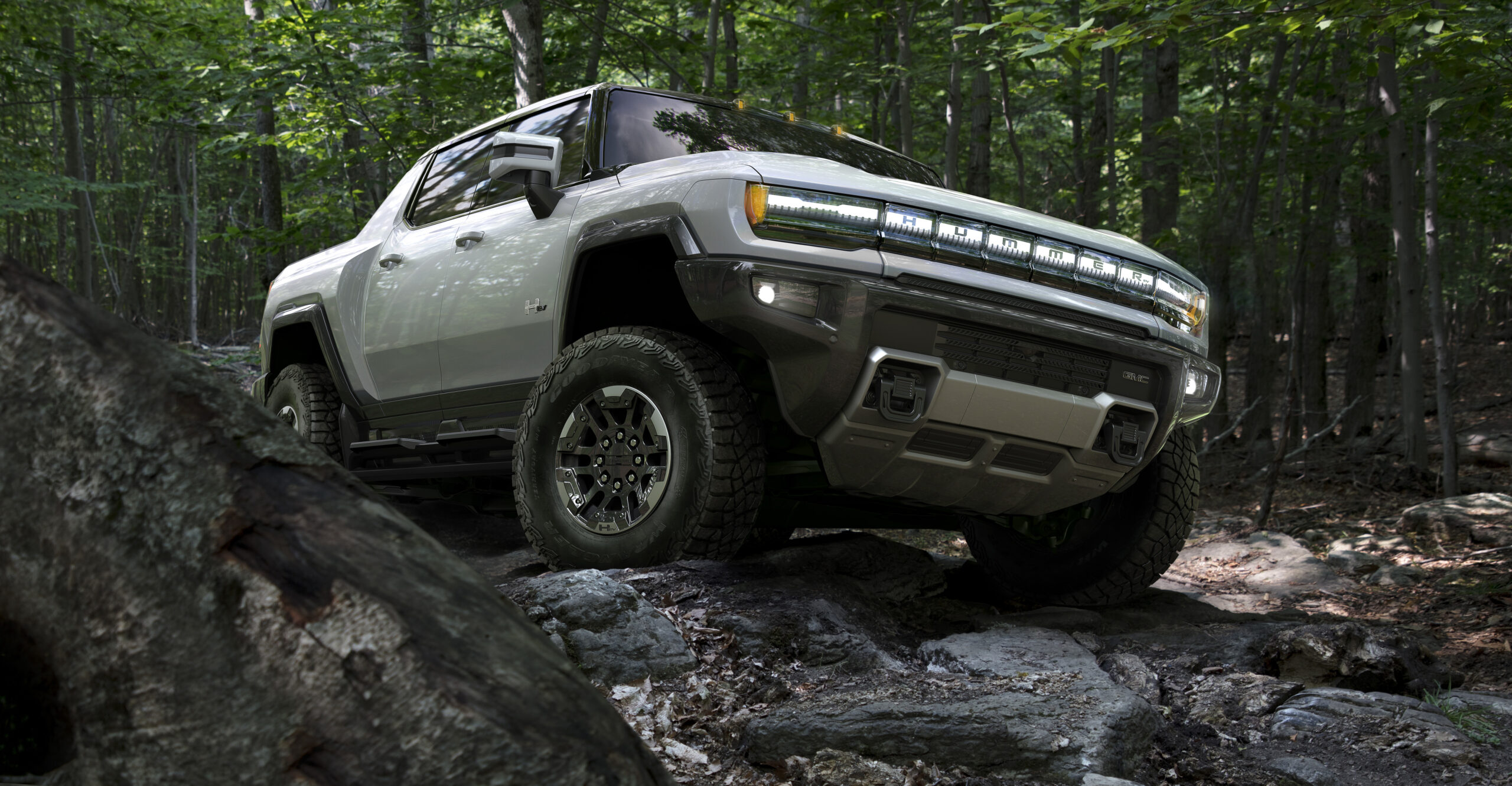 GMC's beefy 2022 Hummer EV – an electric pickup with major off-roading capabilities – got its first public showing Tuesday, along with word that it will debut as a $112,595 special edition.
The thousand-horsepower, crab-walking Hummer EV Edition 1 is slated to begin production late this year. General Motors, of course, is taking orders early and opened up its order line simultaneously with the truck's television debut.
[A 4-min. read.]
"Crab-walking," by the way, refers to a feature using four-wheel steering to allow all of the truck's wheels to turn at a slight angle – right or left of center – so it can slowly creep diagonally away from an obstacle the driver would rather not try to power over or through.
It is a feature intended for off-road use and is available only on four-wheel drive versions of the Hummer EV.
Tough Competition
The Hummer EV likely will compete with conventional full-size pickups – especially those set up for off-roading – as well as with electric SUV and pickup offerings from developers such as, Tesla, Rivian and Bollinger.
Each of those has revealed prototype trucks that have garnered loads of publicity and, reportedly, tens of thousands of advance orders.
Ford Motor Co, also has announced an electric F-150, and GM is in negotiations with fuel-cell and electric commercial truck developer Nikola Motors to build a Nikola-designed battery-electric pickup called the Badger, although Nikola's recent troubles may have jeopardized that deal..
All are expected to begin delivering their first production models by 2024, when the last of the Hummer EV pickup trim levels will go on sale.
What We Know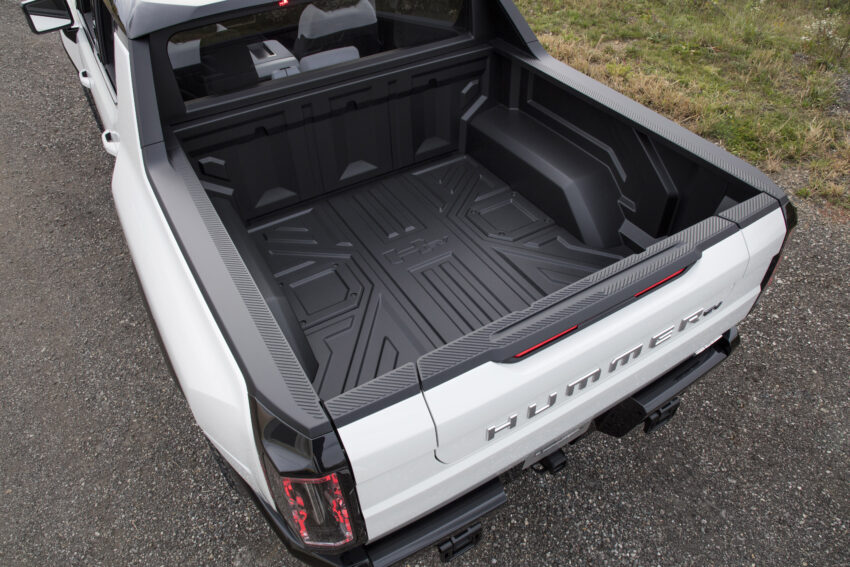 The Hummer EV is a pretty traditional-looking, if slightly oversized, beefed-up pickup with a four-door cab, short bed and a retractable rear window.
The massive grille design is borrowed from the diesel- and gas-gulping Hummers of old, as are the oversize 35-inch wheels.
GMC, General Motors' upscale truck and SUV division, will introduce the Hummer EV in a special, fully loaded "Edition 1" trim.
The Hummer EV3x, with much of the same equipment and powertrain features and a nearly $100,000 starting price, is slated follow in late 2022, with two other editions coming in 2023 and 2024.
Those hoping for the less-expensive version won't be happy to know that the cheapest, the Hummer EV2, will start at almost $80,000 and not be available until the spring of 2024.
Up First
The 2022 Hummer EV Edition 1will feature a three-motor, electronic four-wheel drive system with the CrabWalk feature. GM is estimating maximum output at 1,000 horsepower with a 0-60 acceleration time of 3 seconds.
The company claims up to 11,500 pound-feet of torque for the Edition 1. But that apparently is accomplished by multiplying the torque from the motors by the transmission gear ratio.
Torque typically is measured at the motor – for both gas internal combustion and electric vehicles. Several non-GM reports have estimated "real" torque for the Hummer EV – comparable to the numbers other truck makers post for their vehicles – will be in the neighborhood of a still-hefty 750-1,000 lb.-ft.
The Hummer EV Edition 1 Package
Other features of the 2022 Hummer EV Edition 1include: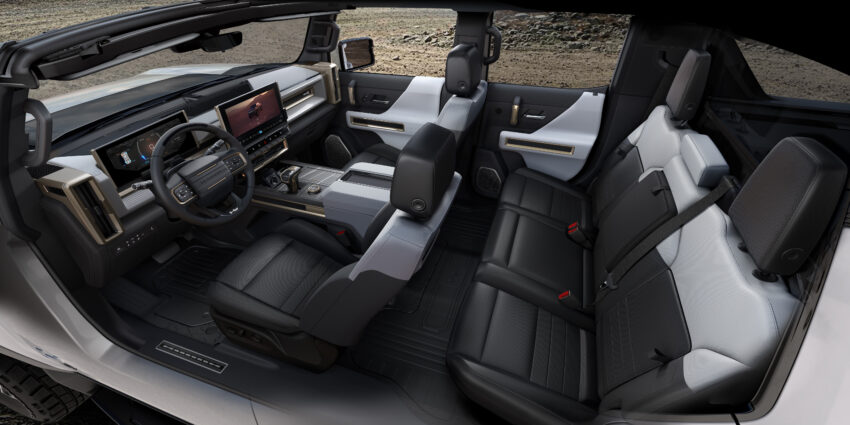 GM's latest 'Super Cruise" driver assistance system that offers hands-free driving with automatic land changing on more than 200,000 mils of roads;
A 200 kWh GM Ultium battery pack capable of delivering a company-estimated 350 miles-plus of range on a full charge;
Fast-charge capability at up to 350 kilowatts, for charging speed that can add almost 100 miles of range in 10 minutes;
Multiple drive mode controls that include settings for off-road and on-road conditions, front-to-rear torque split and a terrain mode that raises ride height by 2 inches;
An "armored" underbody protected by steel plating;
Front and rear underbody cameras to help drivers navigate off-road;
A suite of off-road "widgets" that display various bits of info including pitch and roll angles, torque output,
Standard 35-inch tires with the capability to move yup to 37-inchers;
Air suspension with an optional "extraction mode" that provides an extra 6 inches of body lift to help in deep water and when clambering over boulders;
A removable glass "infinity" roof, with glass panel storage in the under-hood front "frunk" compartment;
Power retracting rear window;
Power tonneau cover for the pickup bed;
Apple CarPlay and Android Auto connectivity and a 13.4-inch infotainment screen.
Three More Trim Levels Coming
GM said that other Hummer EV trims will be introduced over a nearly two-year period beginning in late 2022 with the Hummer EV3x, starting at $99,995. The Hummer EV 2x will follow in spring 2023, with an starting MSRP of $89,995. The base Hummer EV, starting at $79,995, will arrive in the spring of 2024.
Working from the base up, standard equipment on the Hummer EV2 will include Super Cuise, the UltraVision camera system with underbody views, 35-inch diameter mud and harsh terrain tires; the see-through Infinity roof, power retractable rear window, and a two-motor drive system.
The 2x trim adds Adaptive air suspension and the Extract Mode and CrabWalk features.
The Hummer EV3x will add a three-motor drive with torque vectoring and the Edition1's power-burst mode GM calls "Watts to Freedom," that provides maximum acceleration and the claimed 0-60 time of 3″approximately" three seconds.