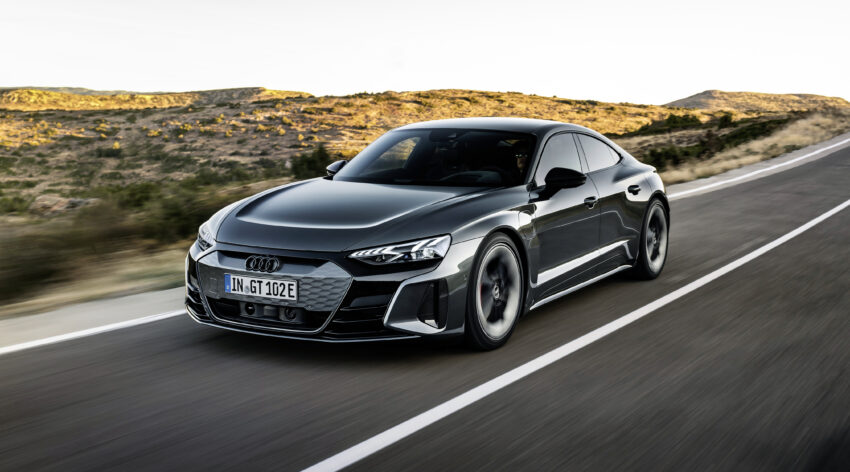 The 2022 e-tron GT, Audi's third EV after the e-tron SUV and sportback, looks to be a marvelous machine.
But at a starting price that tops $100,000, it's not the EV for the masses that most everyone who wants to see EVs succeed says has got to come soon to fire up middle-income car shoppers around the globe.
[A 4-min., 30-sec. read.]
Nope, this is another one for those on top of the economic heap. Let's hope that it does that other job of helping making EVs look so good that when the EV für alle does arrive, the rest of us will want to park one in our garages.
The specs are impressive.
Power Defines the e-tron GT
The 2022 Audi e-tron GT will come in three trim levels with two dual-motor powertrain choices. The base GT produces the electric equivalent of 522 peak horsepower while the RS-GT churns out up to 637 ponies.
The GT uses a 235-horseower front motor and a 429-horsepower rear motor; the RS-GT shares the same front motor but has a 450-horsepower rear motor.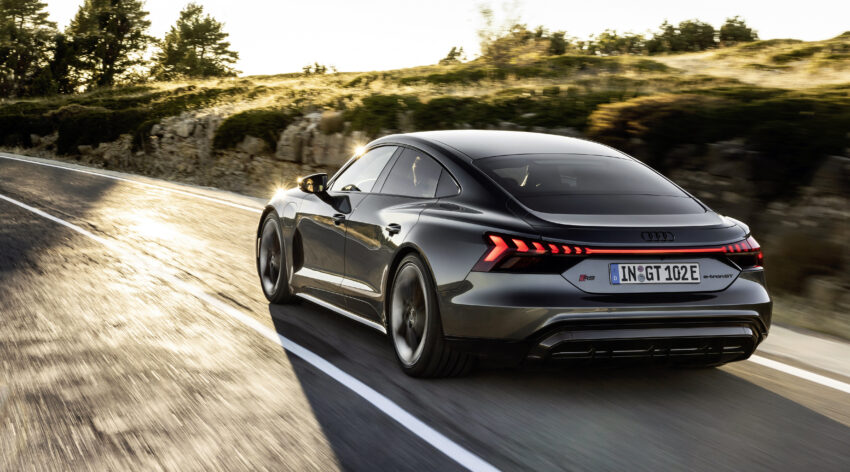 In normal use, the GT's motors crank out a combined peak 469 horsepower and 464-pound-feet of torque. In a special overboost mode using the launch control function, the motors will spin a little more for up to 2.5 seconds of 522 horsepower and 472 lb.-ft.
Audi's claimed acceleration for the e-tron GT is 0-60 mph in 4.1 seconds. Top speed is 152 mph.
The RS-GT's normal stats are 590 horsepower, winding up to 637 horsepower in overboost. Torque is 612 lb.-ft. in either case.
The RS-GT boasts a 0-60 mph elapsed time of 3.1 seconds and a top speed of 155 miles per hour – elevating it to the level of Audi's V-10 powered R8 gas-burner. 
Range? It Ranges
Both e-tron GT powertrains are fed juice from a 93.4 kWh lithium-ion battery. Of that, 85 kWh is usable.
Audi has published a range estimate of 302.6 miles using Europe's WLTP test standard. But the U.S. uses a different test to account for the faster speeds and longer drives that are common here. That typically results in lower range figures. We figure the e-tron GT likely will get a U.S. range rating of between 230 and 250 miles when the EPA figures are published.
The EPA range rating for the 2021 Audi e-tron SUV, which is less aerodynamic, less powerful and has almost the same usable battery capacity, is 222 miles.
Most EV-industry specialists insist ranges need to hit or exceed 300 miles before American shoppers will start taking EVs seriously.
Maximum range in any EV, as with petrol-fueled cars and trucks, of course, depends on multiple factors including range depending on driving styles, terrain and climate conditions and cargo and passenger loads.
Charging the e-tron GT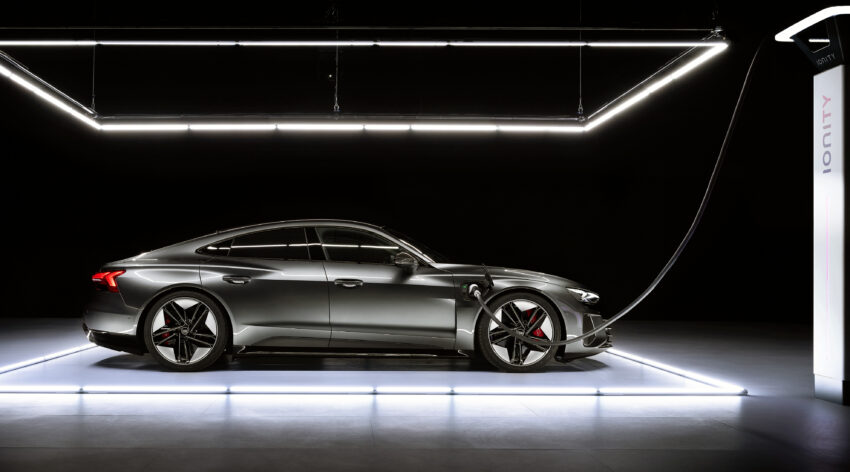 While not quite in Tesla territory, the e-tron GT's range is competitive with other performance-oriented EVs. 
Porsche's Taycan, for instance, is rated at 192-203 miles, depending on trim, and the Polestar 2 has a 233-mile range rating.
Because range is heavily dependent on conditions including how often a driver insists on mashing the accelerator pedal to the floor – few EV drivers ever achieve real-world range that's within shouting distance of  the maximum EPA rating for their vehicles.
That makes charging times a big part of the EV equation.
Initially, the e-tron GT will come with 11 kW Level 2 charging capability for home charging, good for a 7- to 8-hour replenishment of a nearly empty battery. Shortly after launch, a 22-kW option will be available, according to Audi. That would cut charging time to under 5 hours.
All trims will have DC fast-charging capability, though, at up to 270 kW – sufficient to take a battery from 5 percent to 80 percent capacity, or from 22 to 192 miles of range, in 22 minutes.
Trim Levels, Pricing and Availability
Audi says the base model, the 2022 e-tron GT quattro Premium Plus, will start at $99,900 before destination charge, dealer charges, taxes, options and such.
The e-tron GT quattro Premium will start at $107,100, with the RS e-tron GT topping the charts at $139,900 before all that other stuff.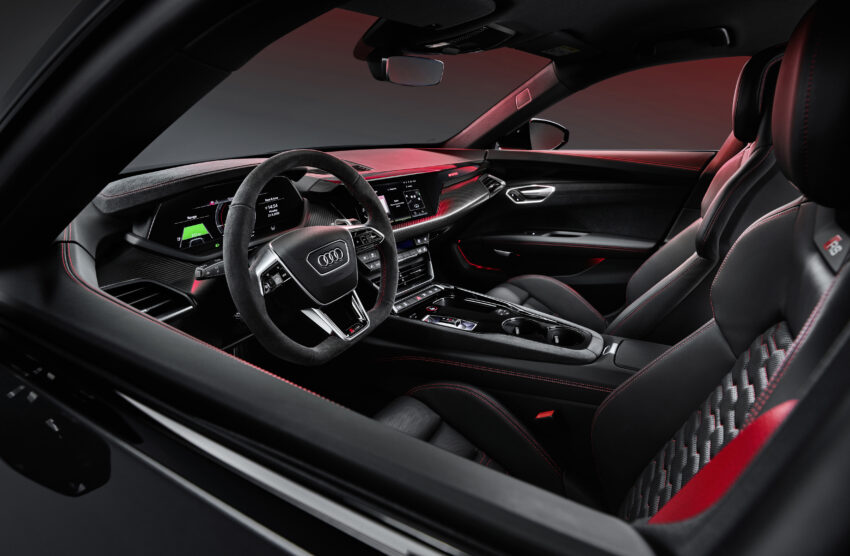 All three trims likely will qualify buyers for the full $7,500 federal tax credit plus any state and local incentives.
The 2022 Audi e-tron GT is expected to be available in the U.S. this summer and Audi promises more info on features, options including all-wheel steering, and various trim-level packages as launch date draws near.
What we do know is that there will be three seat variants, leather-free interiors, 20-inch alloy wheels, LED lighting, all-wheel drive (Audi's Quattro system), and a configurable 12.3-inch "virtual cockpit" driver information screen and a 10.1-inch touchscreen with navigation for the Audi MMI infotainment center.
The RS-GT also gets a lightweight carbon-fiber reinforced plastic roof, an Audi first.
EVs and Audi
Audi is a member of the Volkswagen Group and as such will play a big part in VW's electrification plan.
The company says another Audi EV – the electric Q4 e-tron – is slated to be introduced this year as well as Audi moves to have 30 percent of its offerings in the EV and plug-in hybrid segments by 2025.
VW has said it intends to become a carbon-neutral company – that includes Audi and its vehicles and production facilities –  by 2050. It is a goal driven as much by a sense that electric vehicles are the future as by the company's desire to green up its image.