Volvo will offer its T8 plug-in hybrid powertrain as one of three available engine choices with the new 2018 Volvo XC60 crossover, due in the U.S. later this year.
[Estimated Reading Time: 1 minute, 10 seconds.]
The T8 plug-in system, first introduced on the 2017 XC90, uses a turbocharged and supercharged four-cylinder engine coupled with an electric drive system – the electric motor powers the rear wheels, the gas engine drives the front wheels. Total system output for the 2018 XC60 plug-in hybrid is rated at 400 horsepower, same as in the larger XC90.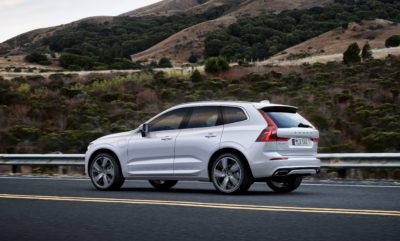 All-electric driving range from the XC60 plug-in hybrid's lithium-ion battery hasn't been disclosed yet – although Volvo suggests that it will be close to 30 miles. The larger, heavier 2017 XC90 T8 is EPA-rated at 14 miles of all-electric range.
The XC90T8 has an EPA rating of 54 mpg-equivalent in combined gas-electric driving. The 2.0-liter gas engine itself is rated at 25 mpg in combined city/highway driving. Overall numbers for the XC60T8 should be better because of its lighter weight and greater all-electric range.
Styling-wise, the new XC60 is sportier, with a more rakish roofline and lower stance than its predecessor. The interior has been completely redesigned.
Volvo says the 2018 XC60 it is 2.4 inches longer, half an inch wider and half an inch lower than 2017 model. It offers a bit more passenger room, although cargo space is slightly less for 2018.
Productions starts next month in Sweden, but the first US models won't arrive until fall.