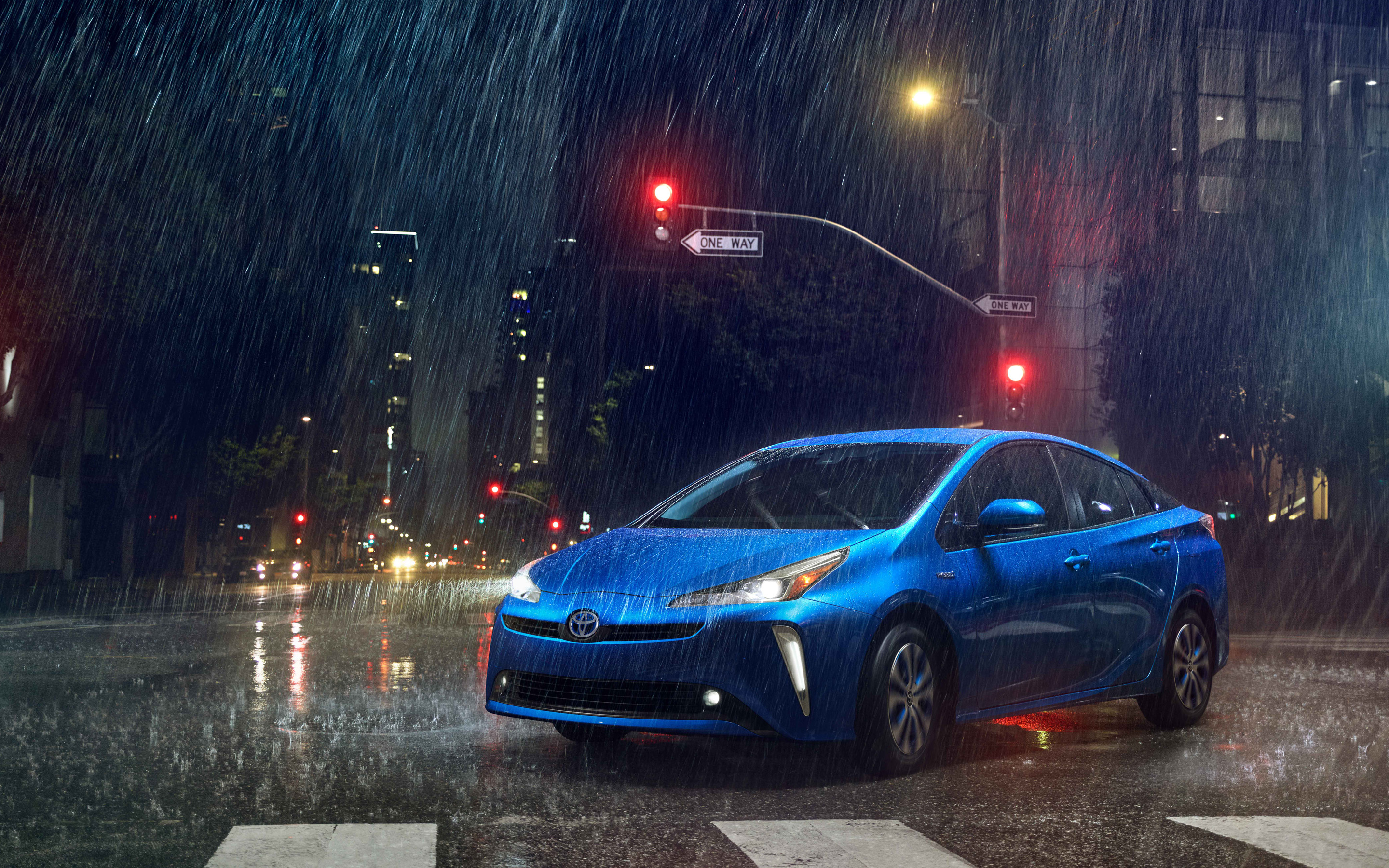 Toyota is upping its game with the 2019 Prius, giving it a facelift, part-time all-wheel drive option and a new naming scheme to bring the hybrid into sync with the rest of Toyota's lineup.
The all-wheel drive Prius has been around for a few years now it Japan. The AWD-e system uses a Toyota-first magnet-free electric motor to independently drive the rear wheels at very low speeds after taking off from a stop, and at moderately higher speeds when the computer decides all-wheel drive is needed.
[Estimated Reading Time: 2 min. 30 sec.]
In addition to the AWD versions, the Prius  – all trims and models – gets a new front fascia and rear-end treatment.
It is a sleeker, cleaner look with narrow horizontal headlights and vertical running lamps embedded in the faux air intakes on either side of the grill. The look is a modified version of the Prius Prime plug-in hybrid's fascia, and that's a look many reviewers have found to be much more appealing than the standard Prius'.
It's not clear from the art and information Toyota provided in advance of the 2019 Prius debut at the Los Angeles auto show whether it also gets the Prime's creased and curvy rear window. Nor has Toyota said anything yet about the anticipated re-do of the 2019 Prius V wagon. Speculation is that it will look a lot more SUV-like.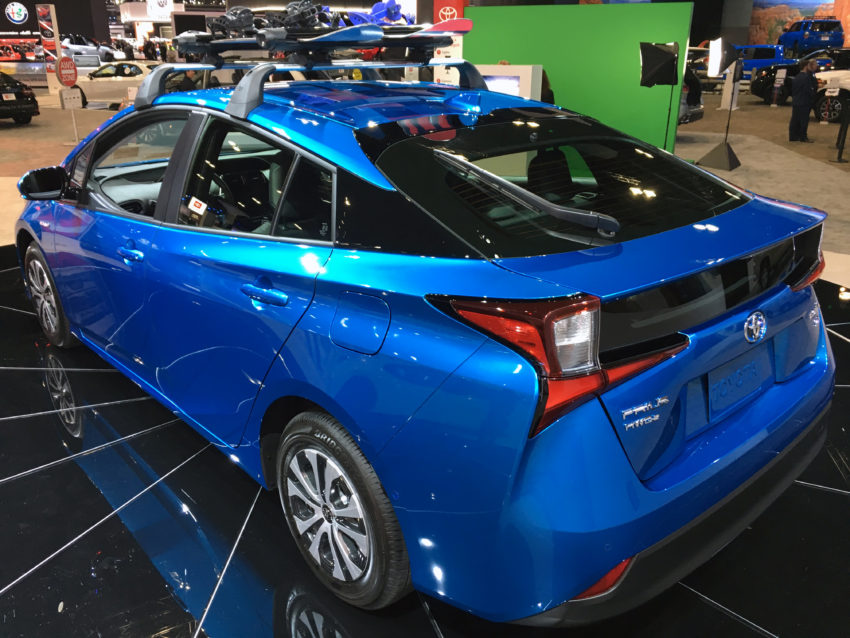 UPDATE:  It doesn't get the curvy rear glass from the Prime, but the 2019 Prius does get a much cleaner rear design, with rectangular taillights instead of the 2018 sedan's vertical boomerangs and silly spoiler. Combined with the less cluttered front end treatment, the 2019 Prius, while still identifiably a Prius, looks more like a standard sedan and less like a Startrek fanboy's interpretation of what a car would look like on the planet Zorg.
Toyota made the Prius AWD a part-timer to preserve fuel efficiency. The all-wheel drive models get a Toyota-estimated 50 mpg combined – 52 mpg in the city, 48 on the highway.
Fuel efficiency ratings for the front-wheel dive Prius sedans remains unchanged from 2018. The Eco trim should have a 53 mpg combined and Toyota's expecting 52 mpg combined ratings for the rest.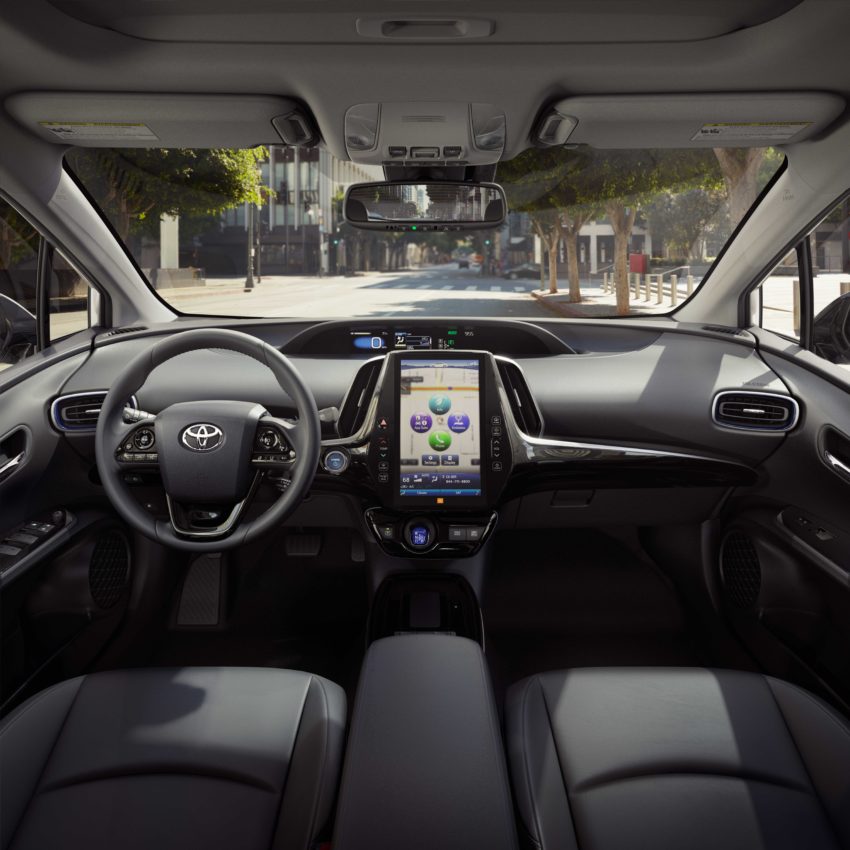 Nomenclature-wise, Toyota's thinning the herd. Instead of the 7 sedan trims available for 2018 (Prius One, Two, Two Eco, Three, Three Touring, Four and Four Touring) there will be just four: L Eco, LE, XLE and Limited. The LE and XLE trims will be available with either front-wheel or all-wheel drive.
That AWD system is fully automatic – no drivers'  choices available.
It is always on from 0-6 mph, for power pulling away from a stop. After that, it can work at speeds of up to 43 mph, but only when the car's computer decides that condition warrant powering-up all four wheels. Fuel economy dictates no AWD at speeds in excess of 43 mph or when the pavement is dry and extra traction isn't needed.
The 2019 Prius AWD gets a newly developed compact nickel-metal hydride battery designed for cold weather performance; the front-drive Priuses get a lithium-ion battery.
Cargo room in both AWD and FWD is the same, a maximum of 65.5 cubic feet with the 60/40 split rear seats folded flat.