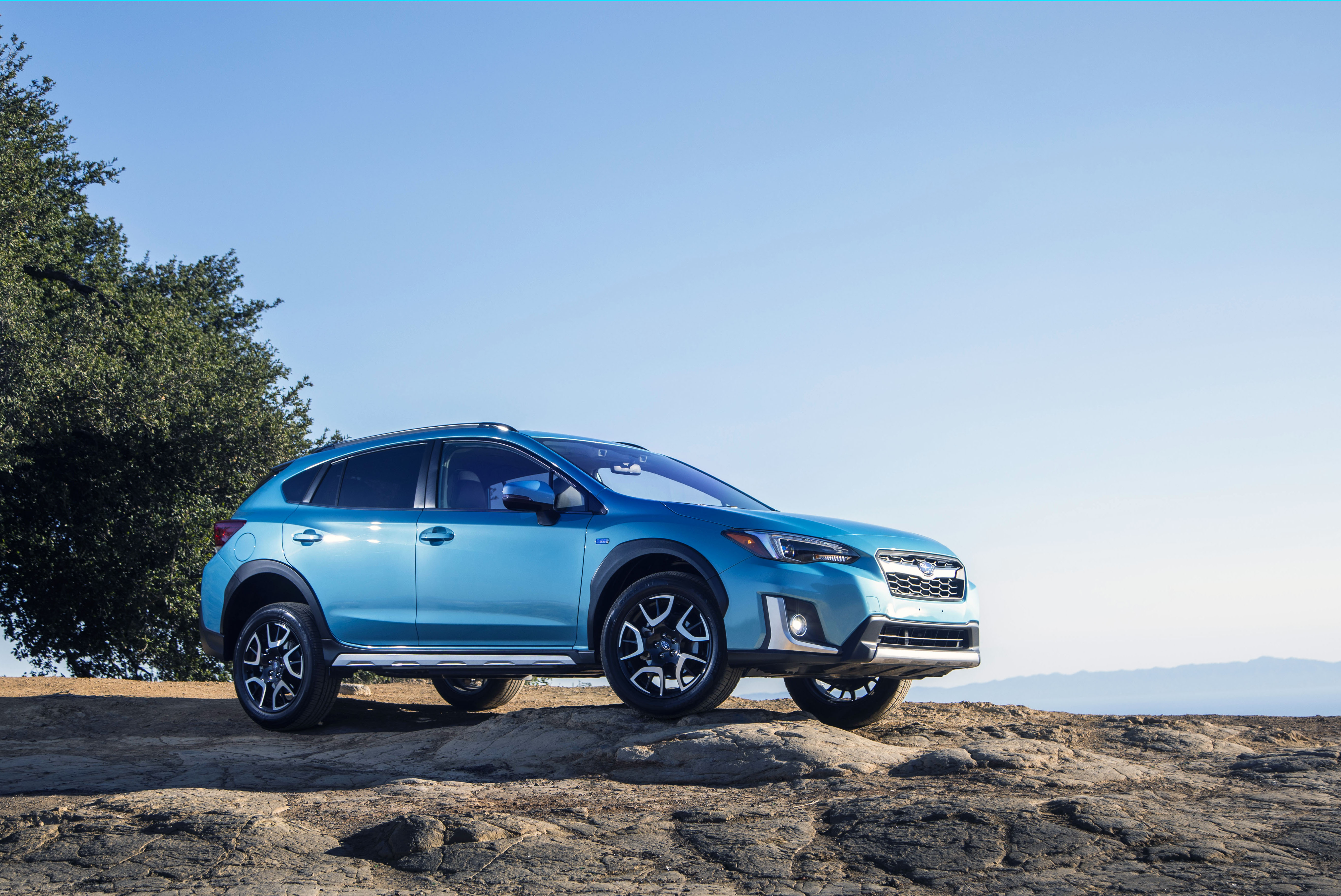 (UPDATE: Parts shortages in Japan have slowed 2019 Subaru Crosstrek Hybrid production. Deliveries to U.S. dealerships, originally slated for late December or early January, won't start until late February or March, the company says.)
The Subaru 2019 Crosstrek Hybrid – a plug-in hybrid, but Subaru doesn't want to scare people off by mentioning the plug – will begin arriving at dealerships in California around mid-December. Shipments to the nine other states that adhere to California's zero-emission vehicle rules will follow around the end of the year, we're told.
It replaces the original Subaru Crosstrek Hybrid, a mild-hybrid canceled a few years ago for poor sales – its price was high and fuel economy gains minimal over the standard model.
Things should go a bit better this time around.
[Estimated Reading Time: 6 min., 15 sec.]
The 2019 Crosstrek Hybrid is, first of all, a Subaru.
The all-wheel drive system is Subie's, ground clearance is a healthy 8.7 inches, off-road capabilities are undiminished, and the gas engine up front is a Subaru Boxer flat-four. Subaru's Eyesight driver assistance suit is standard.
A navy-blue and gray leather upholstery scheme, silver and blue trim highlights, lightweight 18-inch alloys, LED fog lamps and low-profile roof rails all are exclusive to the hybrid model, as is a very blue "Lagoon Blue" exterior paint choice. You can also get it in white pearl, black metallic and solid gray – all with the same navy and gray interior.
The plug-in hybrid system adds costs and eats up a bit of cargo space. It raises the cargo floor several inches, which drops cargo area behind the back seats to 15.9 cubic feet versus the standard Crosstrek's 20.8 cu. ft. With the back seats folded flat, total cargo area grows to 43.1 cu. ft., down from 55.3 cu.-ft. in the standard model. The extended cargo floor isn't flat when those rear sears are down, either. There's a good 8-inch drop from the cargo floor to the seat backs.
Still, Subaru executives say that you can carry your mountain bike inside. And the roof will hold 150 pounds on its integrated rails (crossbars are extra) when moving, and up to 700 pounds – a rooftop tent and its occupants – when parked on flat ground.
The Crosstrek Hybrid also can tow, although capacity is reduced by the hybrid's overall weight. It tips the scale at 483 pounds more than the gas-only model. That cuts towing capacity to 1,000 pounds from the standard model's 1,500 lbs.
(Read TheGreenCarGuy's 2019 Crosstrek Hybrid first-drive review.)
Price
The 2019 Crosstrek Hybrid isn't cheap – it costs to add a complete hybrid system to the existing intenral combustion powertrain. But it is loaded with just about everything in Subaru's portfolio of comfort, infotainment and safety features. Subaru says it is the "high-end" model in the Crosstrek lineup, adding a number of  hybrid-exclusive items to the fully-equipped Crosstrek Limited's long list of features.
The base model is $35,970 including Subaru's $975 shipping fee.
The only options, power moonroof,  heated steering wheel, an 8-speaker Harmon Kardon stereo system and built-in navigation,  come as a package – you can't get them individually. That package adds $2,500 to the price, bringing a fully optioned Crosstek Hybrid to $38,470.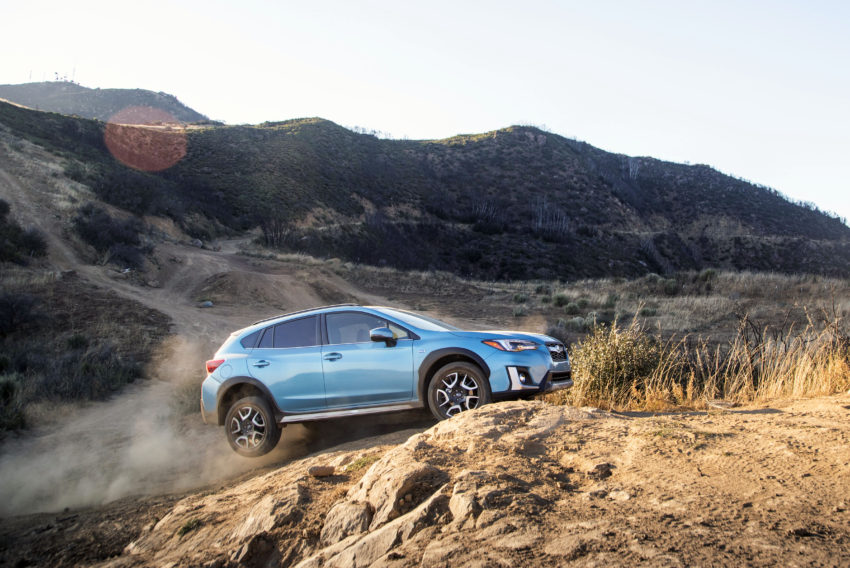 Incentives
On the plus side, the 2019 Crosstrek Hybrid qualifies for a federal income tax credit of up to $4,500. Buyers in some states also will be able to get state and local incentives.
California's basic "Clean Vehicle" rebate for a plug-in hybrid, for instance, is $1,500. That can climb to $3,500 for buyers whose incomes fall below certain levels.
(California's income rules go the other way, too. Buyers who file single taxpayer returns with annual incomes exceeding $150,00, or joint filers with annual incomes topping $300,000, are not eligible for the state's clean car rebate).
HOV Sticker
The 2019 Crosstrek Hybrid will qualify for singe occupant access stickers for carpool lanes in several states including California, New York and Maryland.
Fuel Efficiency
The new Crosstrek Hybrid's EPA-estimated all-electric range is noting to write home about, just 17 miles. But its "normal" fuel efficiency – what it gets when the battery is fully depleted from its initial charge and it is running as a standard hybrid, is 35 mpg. That's almost 21 percent better than the gas-only Crosstrek's 29 mpg rating.
The hybrid's gas tank holds 13.2 gallons, and total range – including the 17 miles of all-electric travel – is 480 miles (which works out to 36.4 mpg). As usual, your mileage will vary depending on a host of conditions including cargo load, terrain, temperature and driver lead-footedness.
Increased city driving with lots of stop-and-go traffic to increase regenerative braking will improve things; blasting along the highway nonstop for hours on end will lower the numbers.
Charge the battery at least every night – at every opportunity if public chargers are handy – and unless your daily commuting racks up tons of miles, overall fuel economy should be easy to live with.
Start off with a full battery and your first gallon of gas should get you about 52 miles down the road. Two gallons will get you 87 miles, or 43.5 mpg. Three gallons is good for 122 miles, or 40.6 mpg – an on it goes, all the way to 13.2 gallons, 480 miles and 36.4 mpg.
The Hybrid System
Subaru calls its plug-in hybrid system "StarDrive." It combines a 2.0-liter Subaru "boxer" engine with a two-motor electric drive system, a newly designed gear-driven CVT and Subaru's Symmetrical All-Wheel Drive system. Power for the electric motors comes from an 8.8-kilowatt-hour lithium ion battery pack.
When depleted, the battery takes 2 hours to charge with a Level 2, 240-volt system and 5 hours on a Level 1, 120-volt circuit. Regenerative baking while driving also sends juice to the battery pack, as does the engine under certain circumstances.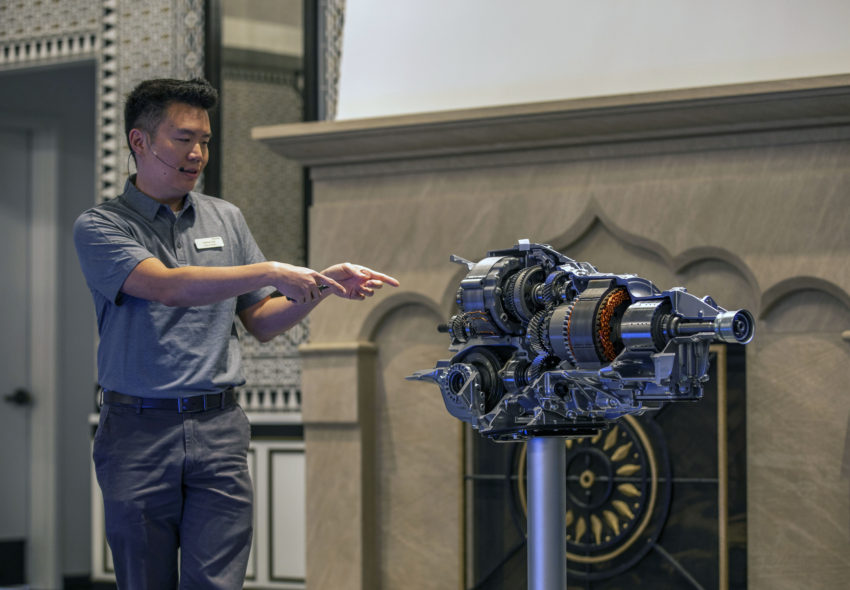 Initial reports had the plug-in hybrid system using components borrowed from Toyota's Prius Prime, but Subaru engineers say that's not the case.
The system was developed in cooperation with Toyota (a Subaru shareholder). But the two motor-generators are from the Camry Hybrid. The battery uses some Prius components but was designed by Subaru. So was the power split system that sends power to, and apportions torque between, the front and rear wheels. The Lineartronic CVT, and the packaging of the motors and CVT also are all Subaru.
In the system, motor-generator 1 functions as an engine starter and power generator. Motor-generator 2 is the electric drive motor and also supplies power to the battery during regenerative braking. The CVT is sandwiched between the motors and uses a planetary gear-set instead of a belt or chain. The entire set up – motors and transmission – fit into a case about the same size and shape of a standard gas model's transmission case.

Power
The new two-motor plug-in hybrid system  uses more battery and bigger motors than the original gas-electric Crosstrek. That pays off in acceleration, something that's been  sorely lacking in the Crosstrek family.
The 2019 Crosstrek Hybrid still is no WRX. According to Subaru of America, it strolls from 0-60 in 9.3 seconds.
But that's a full second faster than the official Subie time of 10.3 seconds for the gas-only model.
And note, please, that Subaru's pretty conservative in its acceleration figures.
Motor Trend magazine clocked a standard Crosstrek at 9.0 seconds. If the plug-in hybrid version shaves a full second off of that, its 0-60 acceleration hits the average for new cars in the U.S.
At optimum output, with both electric drive motor and gas engine wailing away, the 2019 Crosstrek Hybrid pumps out 148 horsepower and 149 pound-feet of torque.
The gas engine has been tuned for hybrid duty and loses a few steps to its gas-only cousin. The hybrid's engine is rated at 137 horsepower and  134 pound-feet of torque, versus 152 hp and 145 lb.-ft. for the gas model.
The electric drive-motor's 118 ponies and 149 lb.-ft. help get things back on an even keel. The motor's instant torque at launch is what lets the hybrid pare the gas-only Crosstrek's 0-60 time.
The Crosstrek Hybrid also uses Subaru's SI Drive engine performance management system that modifies pedal response for a sportier feel in "Sport" setting and for fuel efficiency in the  Intelligent" mode. Buttons on the steering wheel let the driver select and shift between the two modes.
A console mounted switch engages X-Mode with hill descent control, which lets you take your feet off the pedals while the on-board computers figure out how to handle steep descents on rocky, slippery and otherwise unfriendly off-road surfaces.
There are three driving modes: HEV for maximum all-electric  propulsion; Save, which reserves electric propulsion for later use – when you are cruising in a scenic area and want to eliminate engine noise, for instance; and Charge, which directs the engine and motor-generators to pump as much juice as possible into the battery pack.
In Charge mode, you can fully recharge a depleted battery in about an house of drive time, but t will cost you a gallon of gas, which cuts down on fuel efficiency.
Subaru also has set things up so that the Crosstrek Hybrid's gas engine always kicks on at speeds of 65 mph and above, no mater what mode you're in.
Availability
The car will be in short supply initially; the first boatload to arrive from Japan will have only about 200 Crosstrek Hybrids on board. But the pipeline is filling up and by end of year things should be looking good.
After the first deliveries in California, where about 60 percent of all plug-in hybrids are sold – Subaru will begin sending the new hybrid to dealers in the following states (alphabetically, not in the order they'll be getting cars): Connecticut, Maine, Maryland, Massachusetts, New Jersey, New York, Oregon, Rhode Island, and Vermont.