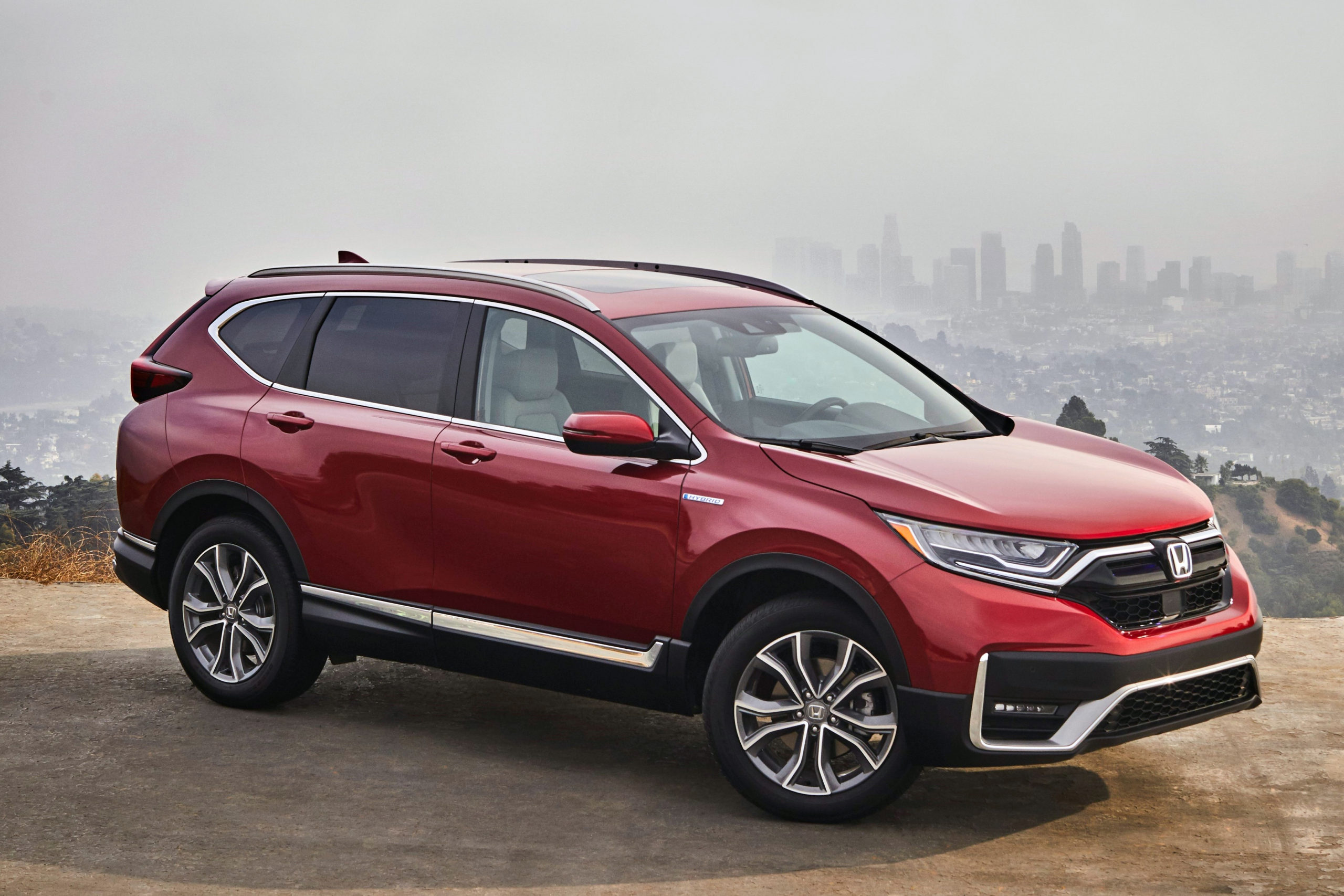 (Updated 3/14/20 to amplify AWD description and correct cargo area specifications.)
Honda's first gas-electric SUV for the U.S. market, the 2020 CR-V Hybrid, has begun arriving at dealerships across the country.
Starting price for the compact crossover is $28,870 for the base LX, topping out before any options at $37,070 for the top-of-line Touring.
The EPA has rated the 2020 CR-V Hybrid at 38 mpg overall (40 mpg city, 35 mpg highway). That's a couple of miles less than its prime competition, the 40 mpg Toyota RAV4 hybrid, but for many the Honda will make up for that with its slightly lower price points. The RAV4 Hybrid starts at $29,470, $600 more than the gas-electric CR-V.
[Estimated Reading Time: 3 min.]
Like the standard CR-V, the CR-V Hybrid comes in four trim levels, LX, EX, EX-L and Touring.
Unlike the standard gas-only models, all CR-V Hybrid models get standard all-wheel drive.
Also standard on the 2020 CR-V Hybrid models: The Honda Sensing driver assist and safety package; automatic climate control, and LED headlights with automatic high-beams.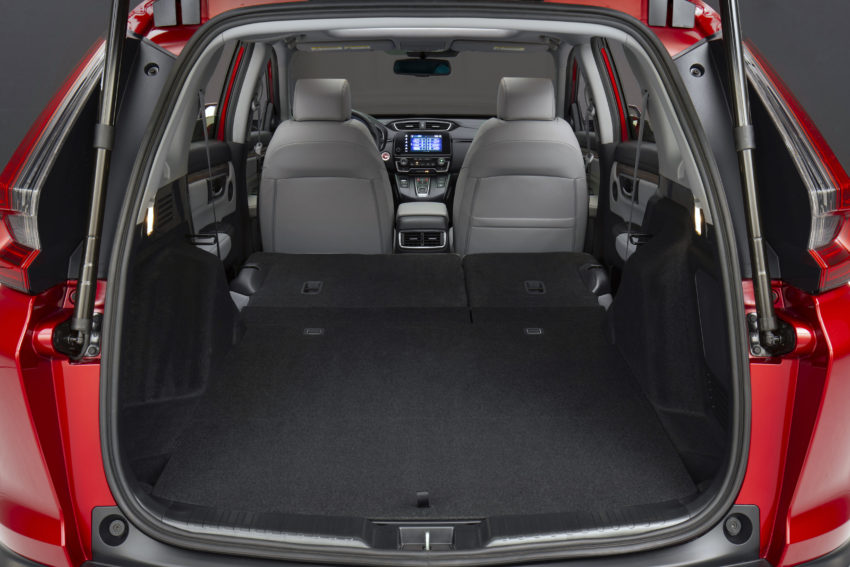 Power, Etc.
The CR-V's i-MMD hybrid powertrain, similar to the one used on the Accord Hybrid, teams a 2.0-liter gas engine with a pair of electric motors. One is used primarily for battery charging and engine start-up, the other for propulsion. The motors also function to regulate power flow from the engine to the wheels, so the system doesn't use a conventional transmission.
At peak performance, the system churns out 212 horsepower and 232 lb.-ft. of torque. That's an impressive improvement over the gas-only CR-V's 190 ponies and 179-lb.-ft.
Fuel Economy
The all-wheel drive CR-V Hybrid's 38 mpg combined fuel efficiency rating is 31 percent better than the 29-mpg (combined) gas-only CR-V with optional AWD, and 26 percent better than the 30 mpg front-wheel drive CR-V.
Cleaner Electric Motors
To give Honda the props it deserves, its hybrid system's electric motors are the first in the industry to use magnets free from rare-earth metals.
That's important because rare earth metals are toxic and mining them creates substantial levels of environmental damage.
China is the world's largest producer of rare earth metals, followed by Australia, Russia and Brazil. The U.S. and Canada both have sizeable reserves but do little rare earth mining a present.
(Rare earth metals actually aren't rare – they are far more abundant in the earth's crust than gold, for instance. They're called rare because while there are a lot of them, it is hard to find a large concentration in one spot.)
Many Modes
The Honda hybrid i-MMD designation stands for intelligent Multi-Mode Drive. The CR-V's power control unit decides whether the car will be most efficient in all-electric, hybrid or engine drive modes. The driver has no say in which mode is being utilized.
In all-electric or EV Drive, the electric propulsion motor powers the car drawing current from the storage battery. It us used during low-speed cruising, when taking off from a stop and during braking.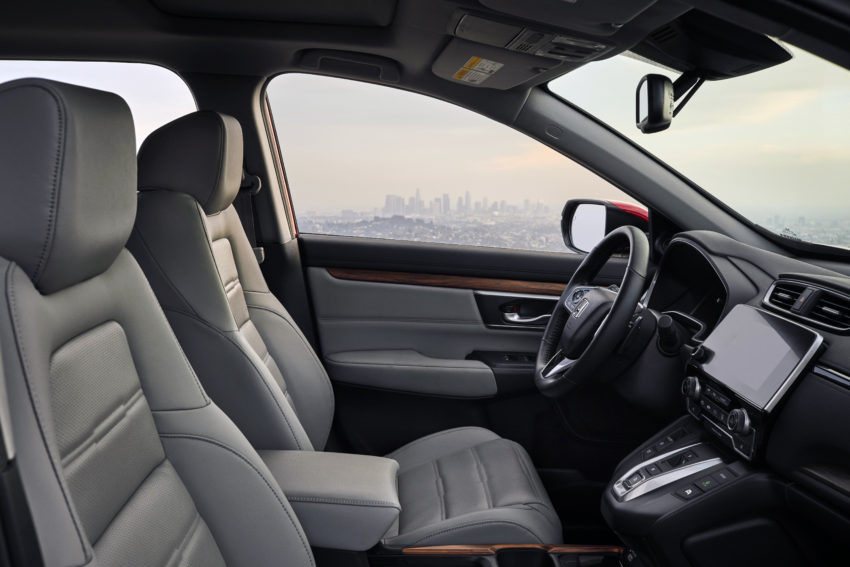 Hybrid mode uses the gas engine to generating power for the electric drive motor.
Engine mode, typically used for high-speed cruising, relies primarily on the gas engine but can kick in the electric propulsion motor to help when more power is needed – for climbing hills or passing slower traffic, for instance.
The driver can select among Sport, EV and Economy modes, which variously maximize power or fuel efficiency.
EV mode only works while the small hybrid system battery is charged. In Economy mode, the driver can select among several degrees of regenerative braking to help maximize charging and reduce use of the conventional brakes.
Electric AWD
The 2020 CR-V Hybrid uses Honda's computer-controlled, mechanical all-wheel drive system.
The crossover defaults to a two-wheel, front-drive mode. But when the onboard computer senses that traction is needed at the rear wheels, it sends electric propulsion motor power rearward.
The system increases or decreases the amount of torque being sent to the rear as conditions dictate ad can send as much as 40 percent of available torque to the rear. It doesn't do individual rear wheel torque vectoring. however.
Safety Systems
The Honda Sensing suite includes collision mitigation braking and forward collision warning, pedestrian sensing, lane departure warning and lane keeping assist, and full-range adaptive cruise control.
Cargo and Towing
The 2020 CR-V Hybrid boasts a spacious 68.7 cubic feet with the rear seats folded flat; 33.2 cubic feet with the rear seats in place. That trails the RAV4 Hybrid by 4.3 cu. ft. behind the rear seats – the Toyota is measured at 37.5 cu.ft. – but is in a virtual tie with the RAV4's total cargo area (rear seats down) of 68.8 cu. ft.
Most hybrids, the CR-V included, aren't made to tow – the extra load puts too much strain on their downsized engines and isn't all that great for fuel economy. Honda could be at a disadvantage here as both its competitors in the non-luxury small crossover hybrid category are tow-rated: The RAV4 at 1,750 pounds, and the new 2020 Ford Escape Hybrid at 1,500 lbs.
Pricing and Features
The 2020 CR-V lineup starts with the LX, with remote entry, 17-inch alloys, the Honda Sensing driver assist suite, a 5-inch infotainment display screen and cloth seating, at $28,870.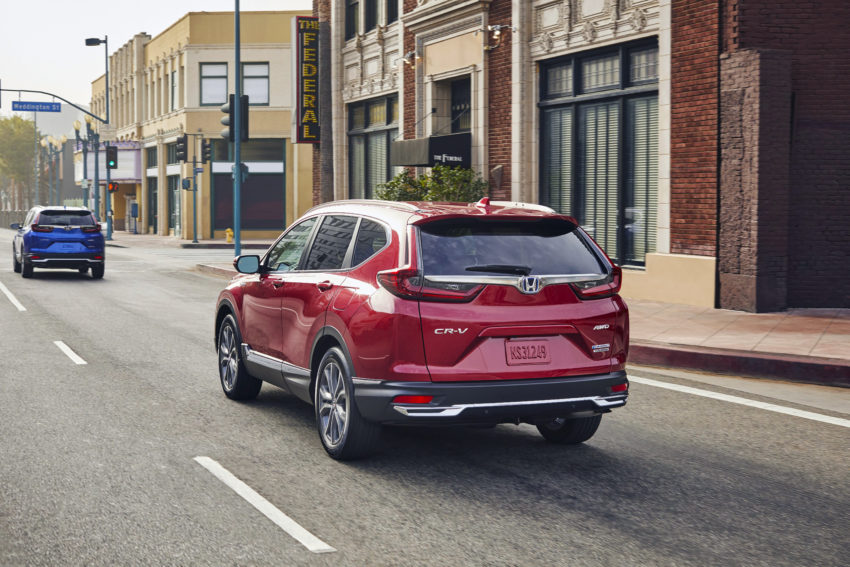 The EX, which adds 18-inch alloys, blind spot monitoring, a 7-inch display screen and Apple CarPlay and Android Auto, starts at $31,380.
Base price for the EX-L, which also gets you leather-trimmed seating and steering wheel, a power liftgate and power front passenger seat, auto-dimming rearview mirror and a heated steering wheel, is $33,820.
The Touring model adds 19-inch alloys, roof rails, parking sensors, a hands-free tailgate, wireless phone charging, a 9-speaker audio system and navigation. It starts at $37,070.
All pricing includes Honda's mandatory $1,120 destination charge.