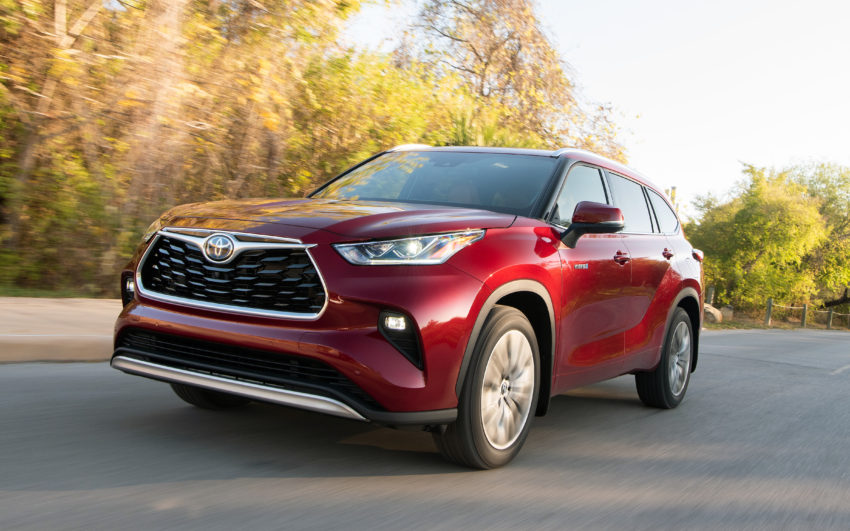 Toyota's redesigned 2020 Highlander Hybrid SUV will hit dealerships in February with a huge improvement in fuel economy and a base price of $39,320 for the model's first front-wheel drive version and $40,920 for the all-wheel drive version – a bump of less than $400 from thre 2019 base prices.
The midsize crossover SUV market is a cutthroat one, with two dozen competitors – 16 with three-row seating – battling for market share. The Highlander, first introduced in 2001 with the segment's first hybrid in 2006, has been market leader, with a 9 percent share and more than 230,000 sales so far this year .
The redesign, while keeping the same safe, familiar Highlander profile, has softened its boxiness, added muscular flanks and a Tacoma-like grille to appeal to the truck buying audience.
That, combined with Toyota's broad market appeal and the improvements in handling and – on the hybrid side – in fuel efficiency, are likely to keep the Highlander high atop the rankings for 2020.
For the fourth-generation Highlander hybrid, Toyota has dropped the V6-based gas-electric system in favor of a 2.5-liter gas engine with a new generation of the company's familiar two-motor hybrid drive, beefed up to handle the 2020 model's heft and power requirements.
The 2020 Highland Hybrid powertrain – a beefier version of the new RAV4 system – pushes the midsize 2020 Highlander Hybrid to the top of its class in fuel efficiency at 36 mpg in combined city and highway driving. All-wheel drive drops that to 35 mpg.
[Estimated Reading Time: 4 min., 45 sec.]
In either case, that's a significant 21-24 percent increase from the outgoing 2019 Highlander Hybrid's 29 mpg combined fuel economy rating. All 2019 models were all-wheel drive.
The 2020 hybrid's fuel economy also represents a 63 percent jump from Toyota's estimated combined city-highway efficiency for gas-only versions of 22 mpg with front-wheel drive, 21 mpg with all-wheel drive.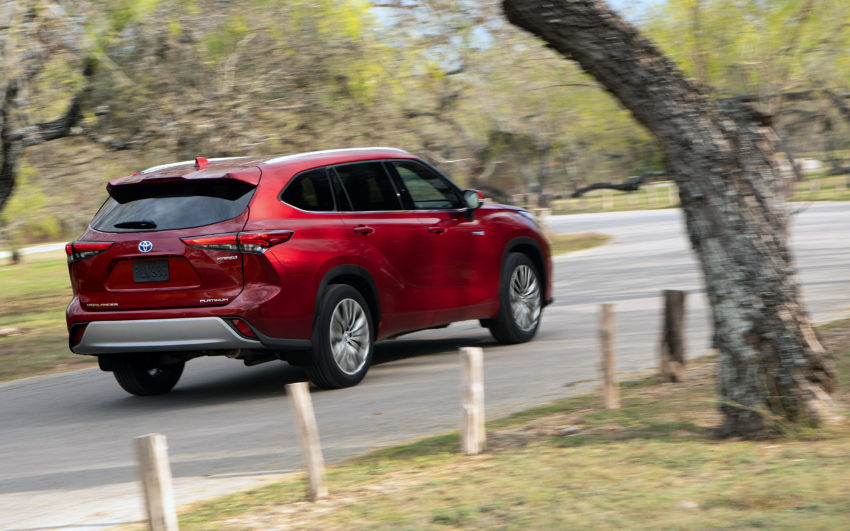 Toyota previously had estimated the 2020 Highlander Hybrid at 34 mpg combined, but gained the 2 mpg improvement from what engineers called "last minute tweaking." While a manufacturer's estimate rather than an official EPA rating, carmakers have all the EPA test protocols and don't usually release fuel economy estimates until they know that's what the EPA rating will be.
The hybrid also provides the same cargo capacity as the gas-only models because the battery pack is installed under the rear seat rather than beneath the cargo floor.
The redesign places the 2020 Highlander hybrid and gas models on a new platform – shared with the latest RAV4, Camry and Avalon models – that's designed for better ride and handling. It also added 2.36 inches to the big crossover's length – all of it in the cargo area.
The crossover now is 16-feet, 2.9-inches long. It also gained 0.2 inch in width and now measures 6-feet, 4-inches across the middle. Height remains the same at 5 feet, 8.1 inches. Ground clearance alsd is unchanged at 8.0 inches.
All 2020 Highlanders will have three rows of seating, configured for eight in the L and LE trims and for seven in the XLE, Limited and Platinum trims. The XLE and Limited trims have optional seating for eight, created by replacing the second-row captain's chairs with a bench seat.
Cargo area with all three rows of seats in position is 16 cubic feet. Folding away the third-row seats boosts that to 48.4 cubic feet, folding down the second-row seat backs as well allows for an impressive 84.3 cubic feet. That's enough for about 48 standard airline carry-on bags.
The base L trim is not available as a hybrid; all other trims are.
All 2020 Highlander hybrids carry a $1,400 technology cost premium over similarly equipped gas-only models.
Hybrid Power
The 2020 Highlander Hybrid will use a 2.5-liter, four-cylinder gas engine bolstered by a dual electric motor system that has been redesigned to be more compact and more efficient than the previous generation.
It is essentially a beefed-up version of the system used in the RAV4 when it was redesigned and re-engineered for the 2019 model year.
Toyota engineers said they mounted the two hybrid motor-generators coaxially instead of in-line as in the past, a design that reduces the size of the housing.
Motor-generator 2 works with the gas engine to provide propulsion power and with motor-generator 2 to generate electricity for the hybrid battery. All-wheel drive models get a third electric motor mounted on the rear axle to drive the rear wheels.
The hybrid CVT transmission has also been redesigned and is more compact that in previous generations.
Combined output provides for maximum 243 horsepower for the 2020 Highlander Hybrid. The hybrid's gas engine alone is rated at 186 hp and 175 pound-feet of torque. Toyota doesn't provide average or maximum torque output for the combined gas-electric system but engineers said that the 2020 Highlander Hybrid has 10 percent more torque than the 2019 models.
The gas-only Highlander models use a 3.5-liter V6 rated at 295 hp and 263 lb.-ft. of torque. Engine power is delivered through an 8-speed automatic transmission. That powertrain is carried over from the 2019 model year.
All Wheel Drive
Toyota's hybrid all-wheel drive system is electronically controlled to shift torque between front and rear axles as the need arises, as much as 80 percent of available torque can be applied to either axle.
The front and rear axles are not directly connected. The gas-electric powertrain drives the front wheels and an independent electric motor drives the rear wheels.
A "Trail" mode modifies rear-wheel braking to send more power to the wheel with the most traction.
Hybrid Trim Levels and Pricing
The base hybrid model, the LE, starts at $39,320 with front-wheel drive, $40,920 with all-wheel drive.
Standard equipment includes 18-inch alloy wheels; 3,500-pound tow capacity; 3-row seating; fabric upholstery, 3-zone automatic climate control; LED lighting with automatic high beams and LED fog lamps; an 8-inch infotainment system touchscreen; Apple Car Play, Android Auto and Amazon Alexa compatibility; Wi-Fi Connect (with the proper subscription); 4.2-inch driver information display; rear backup camera washer; height-adjustable, power liftgate; power adjustable driver seat; leather trimmed steering wheel and shift knob; bench seats for the second and third rows; blind spot monitoring and rear cross traffic alert, and the Toyota Safety Sense 2.0 suite of driver assist features including full-range adaptive cruise control, lane departure warning, lane centering assist and automatic high beams.
Toyota's 10-year or 150,000-mile hybrid battery warranty is also standard.
The Hybrid XLE, at $42,120 for front-wheel drive and $43,720 for AWD, adds a power adjustable front passenger seat; heated front seats; a 7-inch driver information display; captain's chairs for second-row seating; SofTex synthetic leather seat and door trim, and a power tilt and slide moon roof.
The Hybrid Limited, starting at $46,170 with front-wheel drive and $48,120 with AWD, adds 20-inch alloy wheels; LED projector beam headlights; heated and ventilated front seats; a driver's seat memory system; leather seat upholstery; hands-free rear liftgate; wood interior trim; a 120-volt power outlet, and a premium JBL sound system with an integrated navigation system.
To all of that, the Hybrid Platinum trim – $49,370 for front-wheel drive and $51,320 with AWD – adds heated second-row seating; a 12.3-inch infotainment touchscreen-a first for Toyota; a bird's-eye view 360-degree camera; self-leveling headlamps; a digital rear view mirror; a color head-up display; rain-sensing windshield wipers, and a panoramic power moon roof.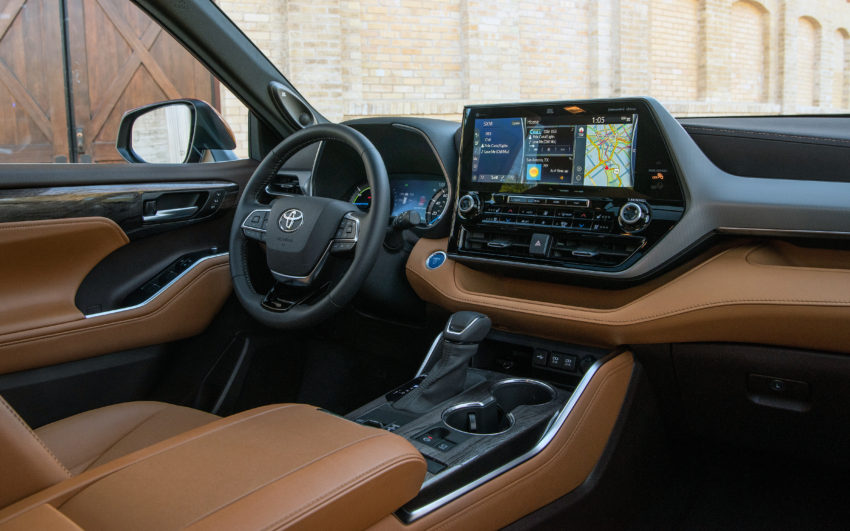 Options packages can add second-row bench seating for the XLE and Limited trims; JBL audio with integrated navigation for the XLE trim and the 12.3-inch touchscreen and bird's-eye view camera for the Limited trim.