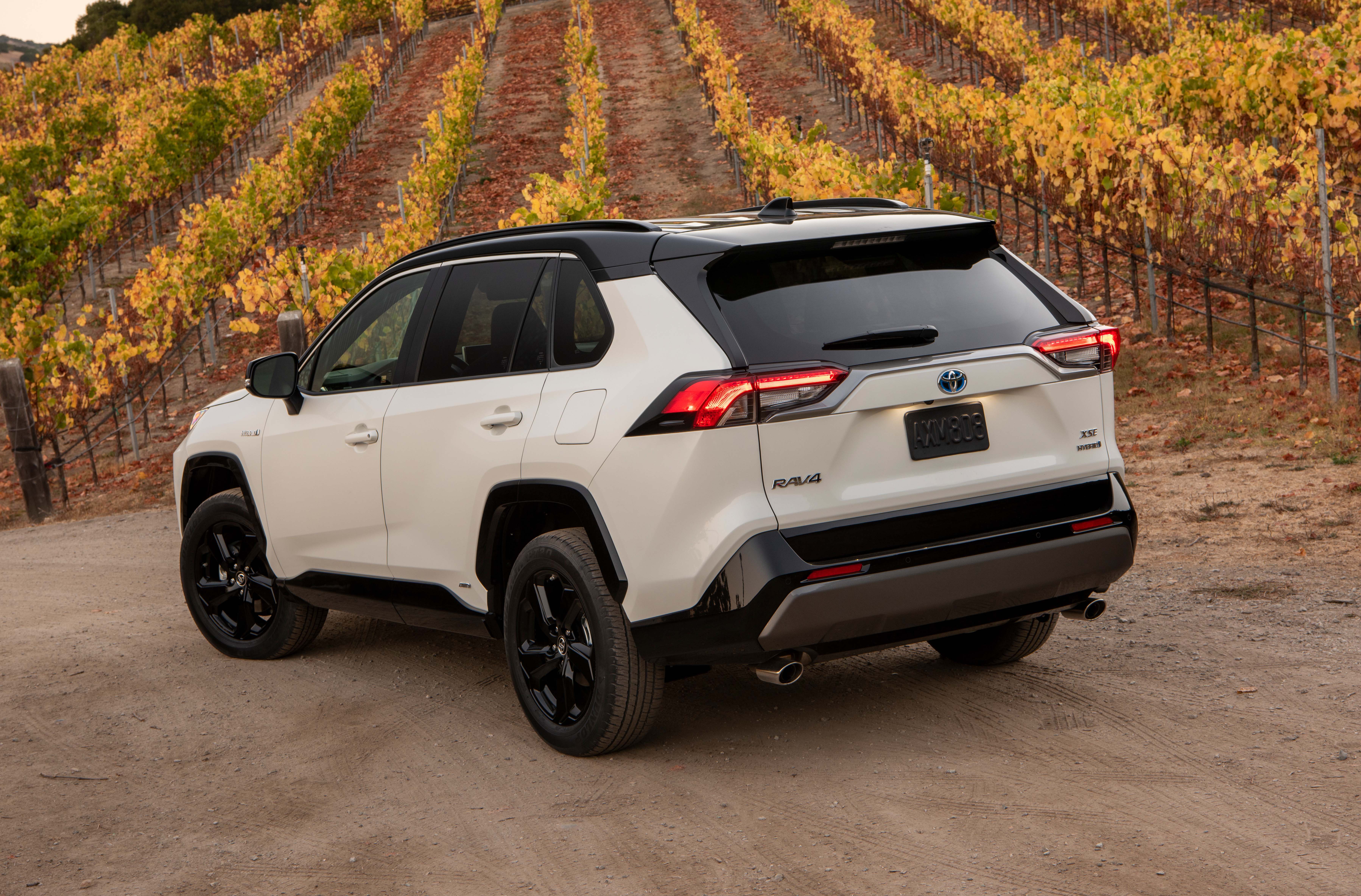 It took a bit of soul searching, but after nearly a decade of driving cars with plugs, my wife and I recently went plugless with one of our vehicles.
We purchased a 2019 Toyota RAV4 Hybrid.
I have an acquaintance who maintains that buying any car that is not all-electric is a crime against humanity. While intellectually I agree, in reality our budget just won't allow us the EV we'd have to get to meet our transportation needs.
[Estimated Reading Time: 9 min.]
Going plug-in electric this time (we leased an early Nissan Leaf, back in2011, and have had a Ford C-Max Energi plug-in hybrid since the Leaf lease expired in 2014) would have meant downsizing the car and making sacrifices I'm just too selfish to make.
We bought the Toyota hybrid because we were down to one car after selling an aging natural gas Honda Civic. We needed something with more cargo space than the Ford, with a long roof line and all-wheel drive to help support my pastime of kayaking.
The pickings are slim when you are looking for an electric SUV or crossover that will meet those demands and fall within a retired journalist's budget, even one fleshed out with a bit of freelance work.
I had been intending to get a 2019 Subaru Crosstrek Hybrid, even ordered one in February. But August came and the car still hadn't arrived and by then we'd reconsidered and decided the Subie would be too small for our needs.
I'd reviewed the 2019 RAV4 Hybrid earlier in the year and liked it then. And the Toyota hybrid cost a little less than the smaller Subaru PHEV and was EPA rated for almost the same fuel efficiency (discounting the Subie's 17 miles of all-electric range).
Actually, the 2019 RAV4 Hybrid list price was a lot less that the Subaru's, but the dealer larded it up with more than $1,200 worth of add-ons – like running boards and door moldings – that I'd not have purchased if I had a choice.
I accepted the extras as the lesser of two evils. Most Toyota dealers in my area were demanding a huge premium for the particular trim level I bought – the XSE – and I was able to get mine at MSRP plus those extras.
It's been 4 months now, and we've put 5,000 miles on our RAV4 Hybrid.
We've made scores of local trips, all of which involve climbing a fuel-sucking, mile-long, 12 percent grade to get back home.
Helping a relative buy a new home and move into it involved half a dozen 150-mile round trips including two pulling a small trailer.
We also made a 1,200-mile round-trip drive to visit friends and a few wineries in Northern California.
After logging that seat time, here's what I've found to like, and dislike, about our 2019 RAV4 Hybrid:
The Plusses
Efficiency. Lifetime fuel economy was 33.1 mpg when the odometer was last checked, at 5,025 miles.
The EPA rates the RAV4 Hybrid at 40 mpg combined (41 city and 38 highway). But few drivers actually achieve EPA estimates.
As noted above, we live on a steep hill and drive a lot in hilly terrain and we've made two longish trips pulling a trailer. Additionally, most of our driving's done at highway speeds, not in stop-and-go city traffic where the hybrid's regenerative braking would help boost efficiency. 
I figured I'd be happy if I could wring an average 30 mpg out if the RAV4, so I'm doing better than expected.
Room. There's plenty of headroom, even with the small moonroof that's standard on all 2019 RAV4 Hybrids, and lots of leg, hip and shoulder room as well – in the back seat as well as the front of the cabin.
Comfort: The front buckets are supportive and comfortable on long trips. My wife particularly enjoys the seat heater – something I rarely use so can't comment on. The rear seat backs are adjustable, a feature not offered in a lot of compact crossovers and SUVs.
The heater and AC work well and the vents can be angled so the air flow doesn't dry out your eyes.
Convenience: There are plenty of cup holders, map pockets and cubbies nicely lined with anti-slip material – although why there's no pocket on the back of the driver's seat is beyond me.
There's also lots of useful of rear cargo space, and even more when the rear seat backs are folded down.  We recently stuffed a 6-foot dresser and the foot board for a queen-size bed inside the RAV4 Hybrid. I had to move the front seats all the way forward and tie the tailgate down – it missed closing completely by about an inch – but still, that's a decent-size cargo bay.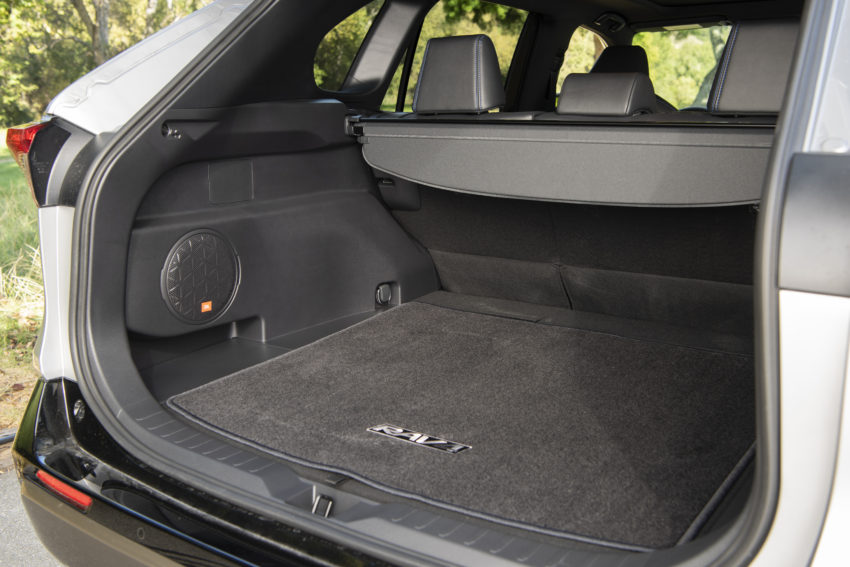 And, it tows. Not a lot – the hybrid RAV4's tow capacity is rated at just 1,750 pounds – but that's better than many hybrids and 250 pounds more than the gas-only RAV4. The frame is pre-drilled for trailer hitches, which makes buying and mounting your own a breeze if you'd rather not pay dealership prices.
Great driver assistance features. Toyota's Safety Sense 2.0 and other standard safety features make a nice package of generally useful driver assistance systems.
I haven't had to use the pre-collision with pedestrian detection system, and hope I never do. I turned off the lane departure warning with steering assist function because I found it too intrusive. But the rest – road sign display, blind spot monitoring, rear cross traffic alert, automatic high beam dimming and full-range adaptive cruise control with lane centering , are quite helpful – especially the full-range cruise. In heavy LA rush-hour traffic I lock onto the car in front of me and then I simply steer and pay attention to surrounding traffic conditions while the car's brain does the rest of the work. It automatically follows, brakes – to a full stop if necessary – and accelerates while I keep my feet on the floor and the usual rush-hour tension drains away.
Decent performance. With standard electronically-controlled all-wheel drive and a 219 horespower hybrid drive system, the 2019 RAV4 Hybrid gets out of its own way. Until the 302 horsepower 2020 RAV4 Plug-in Hybrid is launched late next year, the conventional hybrid is the fastest RAV4 in a 0-60 sprint (7.6 seconds with a good driver at the wheel) so there's no drama when merging onto a fast-moving freeway.
I drive mostly in the "econo" setting, which saves fuel by dulling down accelerator response. It also cuts heater, AC and seat heater output –but in Southern California that's rarely an issue. There's a "sport" setting, too. Whenever I hit a decent set of twisties I dial it up. Steering is noticeably quicker and the wheel feel firms up nicely to give more feedback; accelerator pedal response is faster, too.
The RAV4 Hybrid cruises comfortably at speeds that are well-above the posted limits – and returns good fuel economy while so-doing! On our 1,200-mile round trip from Southern to Norther California and back late this summer, lifetime fuel efficiency actually increased by two-tenths of a mile per gallon although almost all of the driving was done at freeway speeds.
The hybrid drive's electric motors also help with acceleration at speed, for ease in passing or climbing steep hills.
On wet and slippery surfaces, the all-wheel drive works well, keeping things stable and sure-footed. We haven't gone very far off road yet, but haven't experienced any difficulties on the few loose-dirt and gravel trails we have traversed.
There's a "trail" function that supposedly kicks in rear-wheel brake vectoring to increase power to the driven wheel in slippery conditions, but I haven't used it yet. Some reviewers in snowy climates have reported experiencing very little difference in the AWD system performance between the "normal" and "trail" settings.
What I Don't Like
No plug. Yes, it is efficient, but after years of driving vehicles that offered at least a modicum of all-electric range from their rechargeable battery packs, it sucks to always have an engine whining or growling away (there is an EV mode on the RAV4 Hybrid, but typically its good for speeds under 20 mph and then for only a few seconds at a time).
Our 2019 RAV4 Hybrid is getting 33.1 mpg. But our Ford PHEV's lifetime fuel economy at 61,000 miles is 49.7 mpg – and that's with a battery pack that's lost almost 40 percent of its capacity in the past two years.
Gas tank that won't fill up. This is a problem Toyota has acknowledged (there are hundreds of complaints posted on various Toyota user sites and with NHTSA) but hasn't yet found a fix for.
The RAV4 hybrid has a 14.5-gallon tank, but for some reason the filler tube chokes up and triggers the automatic cutoff on the gas nozzle at about 10 gallons – no matter how low the fuel gauge reading. Fortunately, overall fuel efficiency is good enough that range between gas station stops is well over 300 miles, even with only10 gallons of fuel to burn.
Still, having a plugless hybrid, no matter how good the fuel economy, means more gas station stops than havng a PHEV (and infinitely more than with an EV). Toyota's faulty fuel system increases the number of gas station stops and makes a big lie of the RAV4 Hybrid's EPA estimate of 580 miles of range.
I find it difficult to grasp how one of the world's largest automakers , with tens of thousands of engineers at its disposal, can't figure out why the gas tanks of one model won't accept a complete fill.
Entune. I admit to being somewhat incompetent when it comes to setting up and fully utilizing electronic devices. That said, I haven't found any use for Toyota's Entune system that isn't already available via my smartphone using Toyota's standard Apple CarPlay connectivity (Android Auto is also standard). At the Entune 3.0 Audio Plus level supplied with the 2019 RAV4 Hybrid, it seems that every useful service, such as remote start, comes with an added-on monthly fee. Our 2014 Ford provides features such as remote start at no extra cost. I haven't tried the Toyota+Alexa feature yet, though, and might find that somewhat useful once I get it set up.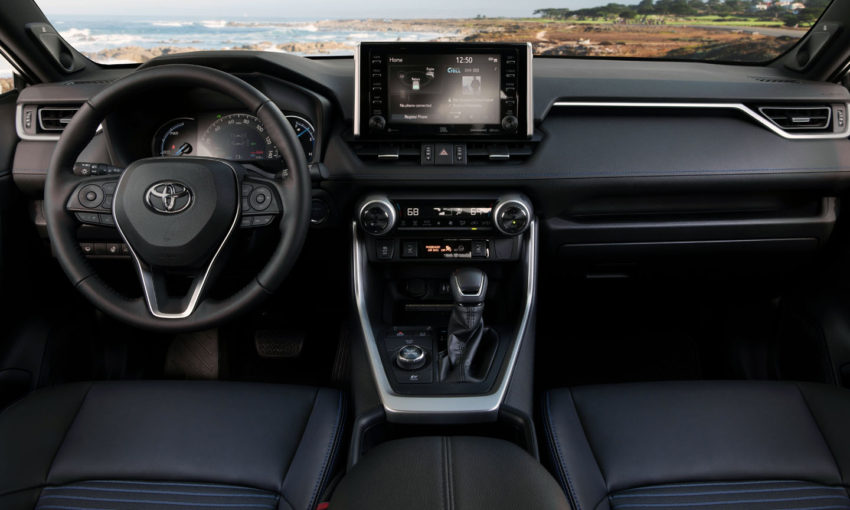 The door lock system. It's a nice keyless remote system, but when you use the "touch-to-lock" feature as you are leaving the car, everyone has to be out and all the doors closed or it won't work. I've had other cars, and tested many more, that set the locks with the feature whether the passenger doors were open or closed. It's not terribly important one way or another, just irritating.
Useless Dealer Add-Ons. Granted, I could have told the dealer I'd wait until the scarcity factor no longer applied and I could get an XSE trim outfitted as I wanted, not as the dealer decided was most profitable. But I needed a car, wanted that particular model, and didn't want to wait several months more to get it, so I grudgingly took what was available.
Because I did, I got stuck with more than $1,200 worth of stuff I wouldn't normally have ordered or could have ordered for less than $700 from an on-line Toyota parts supplier and done my own installation. I paid:
$549 for a set of running boards that are too narrow to for the average human foot and would have cost only $340 to order on-line and install myself if I'd actually wanted them.
$315 for a pair of Toyota roof rack crossbars, available for $171 on-line, that I can't use because they don't work for my kayak carrier system.
$209 for body-colored side moldings that actually are useful for door-ding protection but would have cost me only $114 to order on-line.
$140 for a set of body-colored door edge guards that are available for under $70 on-line
I also wound up with carpeted floor and cargo area mats I didn't want. They were the same price as the rubberized all-weather mats I would have preferred, but the dealer insisted that they couldn't be switched because they were installed at the port and not at the dealership. To protect the cargo area, I tossed the carpeted mat and installed an all-weather cargo-area liner from WeatherTech that fits perfectly. (Toyota sells a separate all-weather cargo area liner, but after being forced to pay for a carpeted mat I didn't want, I wasn't about to give the dealer any more of my money – plus, the WeatherTech liner was cheaper than the Toyota version.)
Digital mirror. Toyota's digital rear-view mirror (it uses a rear-mounted, wide-angle, high-def camera) is promoted as a gee-whiz tech feature. Indeed, the images are sharp and pretty to look at and there are a bunch of adjustments to change angles, field of view and brightness. But every time I try to use it, the images initially are blurry and out of focus when I switch my field of vision from road to "mirror." It's like trying to see through a pair of glasses that belong to someone with really bad vision. It may well be my eyes and not the mirror, but it remains a function I can't use. Fortunately, the system reverts to a standard rearview mirror with the flick of a switch.
Last Words
Overall, the pluses well outweigh the minuses.
While I'd rather have had an all-electric crossover, or the upcoming RAV4 PHEV with its claimed 39 miles of all-electric range, our bank account is happier and, truth be told, I'm satisfied, with the conventional hybrid model.
(Note: Except for a $200 price bump, the new 2020 RAV4 Hybrid models are almost identical to the 2019s.)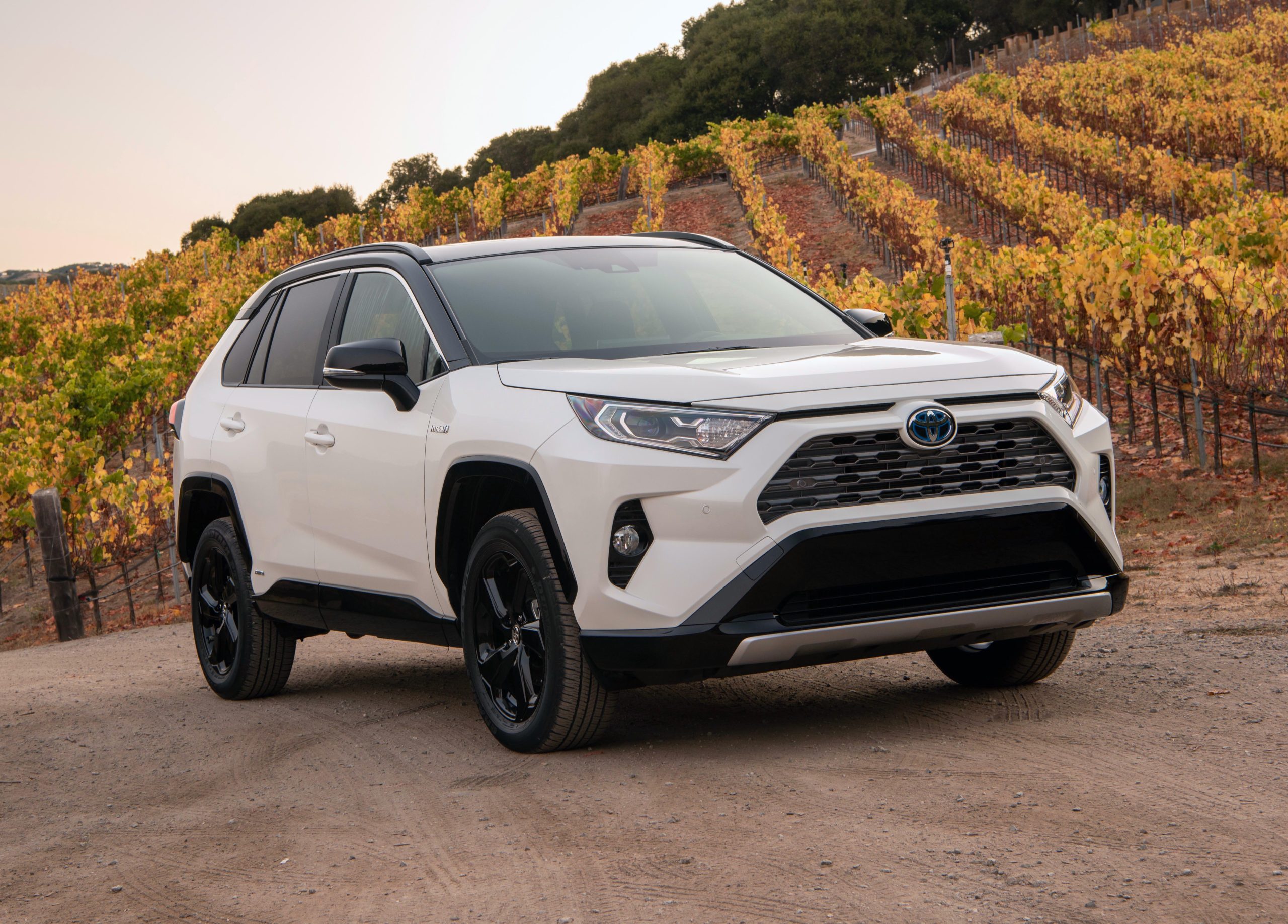 Photos courtesy of Toyota