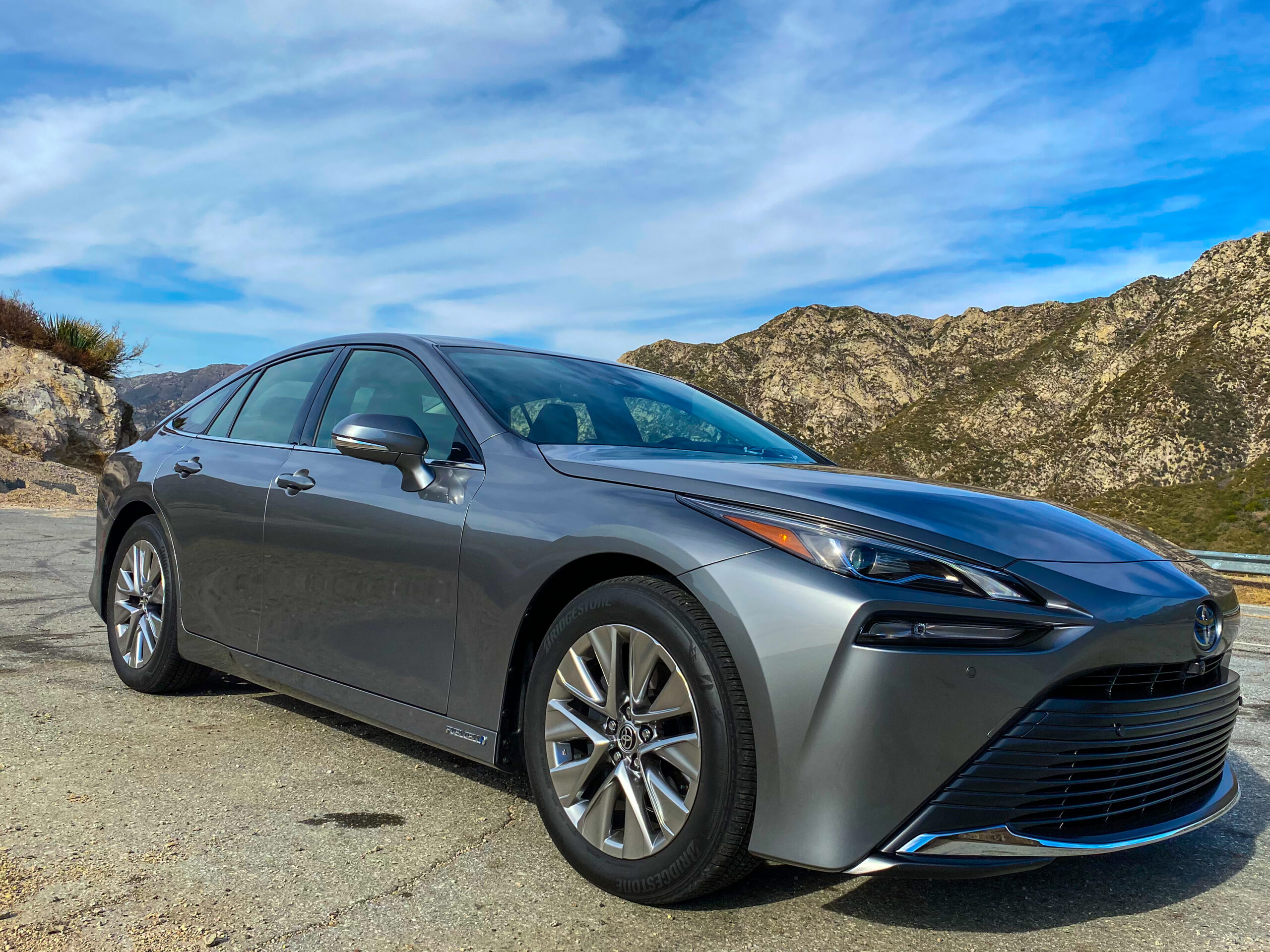 (Article originally posted 1/23/21. Updated 2/10/21 to include federal tax credit information.)
Toyota remains a rare champion of hydrogen as a future source of transportation fuel and with the redesigned 2021 Mirai has finally developed a car that could carry the hydrogen message to a largely unknowing public.
Unlike its predecessor, the first-generation Mirai marketed from 2016-2020, the new Mirai is a car most people could aspire to own, although right now only Californians and Hawaiians can get one.
[A10-min. read.]
It is good-looking, offers tons of creature comforts and up-to-date driver assistance and infotainment technology, handles well and knows how to get out of its own way.
Gone are the first-gen Mirai's ungainly proportions and front-wheel drive, economy-car underpinnings. Gone also the sluggish performance and the nearly $60,000 price of entry.
2021 Mirai: Road Manners
The new Mirai fuel cell electric vehicle – or FCEV – carries a lot of equipment to make its hydrogen fuel cell electric system work, and the end result is a car that tips the scale at 4,255 pounds in base trim.
But its stiffer new platform with independent suspension, low center of gravity and 50:50 weight distribution, along with the more powerful electric drive system, make up for the gain of nearly 200 pounds from the old model.
On the road, the 2021 Mirai acts like the well-balanced electric car that it is. Acceleration is quick, it is nimble – almost graceful – on corners and twisty country roads, and while not in the sport-car class, steering is responsive and gets a tad tighter in the Sport setting, which also improves accelerator pedal response. Let's call it sporty, but not sports car.
It is not Tesla-class in performance, but holds its own quite well compared to most other mainstream EVs. Toyota estimates a 0-60 mph acceleration time of 9.2 seconds and that's pretty much what we experienced and what other reviewers have found. It is about the same as the old Mirai, although its initial torque – from 0-20 mph – makes it feel a lot quicker.
Trims, Prices and Subsidies
The 2021 Mirai comes in two trim levels.
The base XLE, which by most standards is fully loaded, starts at $50,495 (including Toyota's mandatory $995 destination fee). Available credits and rebates can cut that by up to $12,500.
Opting for any available color other than black will add $425, and an advanced-tech package that adds a bird's-eye-view camera and front and rear parking assist with automated braking will pile on $1,410 more.
The Limited, which adds things that increase the posh level, will set you back a cool $66,995 before incentives.
The once-dead federal tax credit for fuel cell vehicles was revived and extended through Dec. 31 as part of the last Covid relief package, so buyers can get a credit of up to $8,000. For those who lease and thus aren't eligible for the credit, Toyota offers subsidized leases of $449 a month for the XLE and $549 a month for the Limited.
California also provides a $4,500 cash rebate to most fuel cell vehicle buyers through the state's Clean Vehicle Rebate Project.
Additionally, Toyota provides a fuel card good for up to $15,000 worth of hydrogen (because there's no economy of scale yet for fuel-grade hydrogen, the stuff retails for around $16 a kilogram), spread over three years for lessees; buyers get up to six years to spend it.
Limited Availability
Here's the rub: The 2021 Mirai FCEV initially is only available in California and on Oahu in Hawaii. 
That's what it is a car that "could" carry Toyota's pro-hydrogen massage to good effect, but probably won't.
In addition to its very limited geographic availability, Toyota only expects to build about 3,500 Mirais this year.
Toyota hopes the car will help build word-of-mouth about fuel cell vehicles, but with such small numbers it likely will be more like a whisper campaign, leaving much of the rest of the nation in continued darkness about the technology.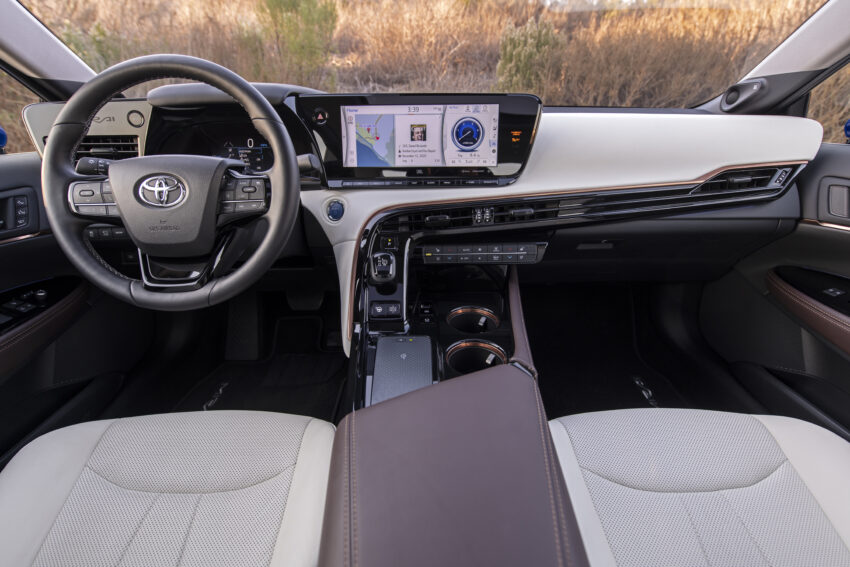 2021 Mirai Fuel Efficiency
The EPA has rated the base 2021 Mirai XLE at 76 mpg-equivalent (mpg-e) in city driving, 71 mpg-e on the highway and 74mpg-e combined. That drops to 65 mpg-e combined (67 city/64 highway) in the heavier Limited trim.
The 2021 Mirai can hold up to 5.6 kilograms (12.3 pounds) of hydrogen gas compressed at 10,000 psi. It is held in three linked, pressurized, reinforced polymer tanks – one in the front of the car, one in the rear and one in the center tunnel. A fill-up from empty takes approximately 5 mins. One kilogram of hydrogen at 10,000 psi provides the energy equivalent of one gallon of gasoline.
But range, not miles per gasoline-gallon equivalent, is what matters when the fuel isn't a readily available petroleum product.
The EPA rating for the XLE is an impressive 402 miles, dropping to 357 for the Limited.
EPA range and mileage estimates for electric cars – including fuel cell electrics – are notoriously generous, though.
In reality, drivers who aren't hypermilers can expect much less of the new Mirai – probably something in the range of high-50s to low 60s for mpg-e and 325-375 miles of range, depending on trim level.
Our tester was a 2021 Mirai XLE, and let's acknowledge that our first objective when testing is not fuel efficiency. We push a car a lot harder than we would if it were our everyday vehicle.
That said, we averaged– per the Mirai's computer – 48 mpg-e on a 127-mile run over a number of Southern California surface street and freeways including a 40-mile jaunt up the twisty Angeles Crest Highway in the mountains above Pasadena. On a few shorter around-town trips, we averaged 49.2 mpg-e.
The Competition
If you are looking for a fuel cell vehicle, you probably aren't looking for anything else, so competition is limited: There are only two others on the market, both available, like the Mirai, only in California.
Honda's Clarity FCEV is a lease-only mid-size sedan that comes in just one trim level, starting at $379 a month for 36 months. It is rated at 68 mpg-e for city or highway driving but 67 mpg-e for overall efficiency. Range is estimated at up to 360 miles.
Hyundai's Nexo is a small SUV-styled crossover starting at $60.120, or leasing at $379 monthly. It comes in two trim levels, each with their own fuel efficiency ratings. The base Nexo Blue is rated at 61 mpg-e combined (65 city and 58 highway) with up to 380 miles of range. The Nexo Limited starts at $63,570 and is rated at 57 mpg-e overall (59 city/54 highway) with up to 354 miles of range.
2021 Mirai vs 1st Gen: Apples to Oranges
Overall there's no comparison – except for the name – between the first- and second-generation Mirai.
The 2021 is built on a rear-wheel drive platform shared with the Lexus LS luxury sedan. Its predecessor was built on a front-wheel drive platform shared with the Prius.
The new Mirai's exterior is Lexus-like as well. It is not uncommon when driving around in one to be asked how come that Lexus has a Toyota badge. The first-generation looked more like a distant runner-up in a "let's draw a spaceship" contest.
The fuel cell electric powerplant is an upgraded version of that used in the first-generation, with a more powerful electric motor and greater output from the fuel cell stack.
It offers almost 20 percent more peak horsepower – 182 ponies – but maximum torque drops by 10 percent to 221- pound feet.
The new platform made room for more hydrogen storage, so range increases by 30 percent.
The redesigned fuel cell stack is 20 percent smaller, 50 percent lighter and 12 percent more powerful than the first-gen stack.
At 16.3 feet long, 6.2 feet wide and 4.8 feet tall, the 2021 Mirai is longer by 3.3 inches, wider by 2.8 inches and lower by 2.5 inches than its predecessor.
The weight ratio is a near perfect 50:50, versus the old model's front-heavy 58:42 imbalance.
To top things off, the new platform and overall design give the 2021 Mirai a lower center of gravity than its predecessor, which helps improve ride quality and handling.
Bigger, but…
About the only carryover is the relative lack of cargo capacity. While the new Mirai is bigger than the old, its hydrogen tanks and electric motor take up a lot of trunk space, cutting it to a scant 9.6 cubic feet, versus 17 cu. ft. in the Lexus LS that shares the same platform. Toyota says that's enough for three golf bags and we found that it fit a couple of carryon bags quite easily.
The new design also places a fuel tank down the center of the car, giving lie to Toyota's claim that the new model is a five-seater, versus the old model's four seat capacity.
While technically true – there is middle position in the rear, sandwiched between two comfortable outboard seating positions – very few people would willingly volunteer to be the fifth passenger.
Occupants of that rear center seat would have to sit with legs straddling the tall structure that covers the center tunnel fuel tank or plant their feet atop it and sit with knees level with their chests.
Inside the 2021 Mirai
The new Mirai's interior doesn't quite live up to the promise its Lexus-like exterior would seem to make. It is very upscale Toyota, but not Lexus luxurious.
Most touchable surfaces are covered in a nicely padded pseudo-leather material Toyota calls SofTex, and the overall design is eye-pleasingly minimalist.
A 12.3-inch touchscreen infotainment center rules over the dash and the driver can get more info than most of us would ever want from an 8-inch digital cluster. The Limited trim also provides a color head-up display.
Seats are well-padded and the front buckets are quite supportive – and heated.
The standard audio is a 14-speaker JBL system that offers nice sound but has a couple of quirks: There's no volume knob and the embedded navigation system will show you where all the nearby gasoline stations are, but doesn't have the ability to list hydrogen stations
Fuel Cell? EV?
A brief time-out here for a quick review of the Mirai's powerplant and fuel system technology.
First, it is an electric car. Power to the wheels is delivered by an electric motor and there is no internal combustion mechanism on board.
But you don't plug it in. It makes its own electricity in a thermo-chemical process that draws electrons out of pressurized hydrogen gas.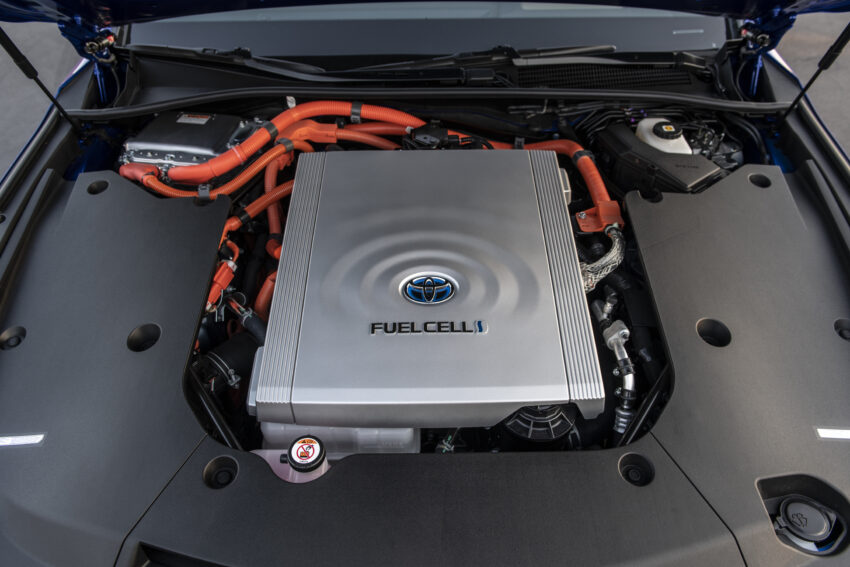 (Learn more about fuel cell technology here.)
The hydrogen is mixed with oxygen in the Mirai's fuel cell stack – which fits under the hood – and the process creates electricity to power the car and water (which consists, after all, of two parts hydrogen and one part oxygen) to cool the system.
That water is the fuel cell system's only waste product, or "emission," and there's a nifty purge button on the dash that allows the driver to dump the excess H2O so it doesn't drip and puddle in the garage or on the driveway.
Power flows directly from the fuel cell to the electric motor with a bit shunted aside to a 1.24 kWh lithium-ion battery to be held in reserve until needed to provide extra boost when needed while accelerating or climbing steep grades.
Where's the Hydrogen?
The hydrogen gas a fuel cell vehicle uses comes from commercial filling stations, which are in very limited supply. There are 44 active in California, four in Canada – three of them in British Columbia and one a 3,200-mile drive to the east in Quebec – and one each in Hawaii and Connecticut as this is being written, according to the federal Department of Energy Alternative Fuels Data Center.
More are on the way, though, and with hydrogen expected to be used as the principal fuel source for the long-distance electric trucks most heavy truck builders are developing, Toyota – which is testing its fuel cell system in heavy trucks right now – sees a day when coast-to-coast and border-to-border travel in a fuel cell electric car is as easy as in a gasoline-burner today.
Equipment
At base level, the Mirai XLE is a very well-equipped vehicle.
The package includes 19-inch alloy wheels; all-LED lighting; power folding exterior mirrors with built in turn signal, puddle and blind spot warning lights; heated power-adjustable front seats, power telescope-and-tilt steering wheel; remote keyless locks; power windows, dual zone climate control' Qi wireless charging; 14-speaker JBL audio system with navigation, Android Auto, Apple CarPlay and Amazon Alexa capability; hill start assist, active cornering assist and individual tire-pressure monitoring.
The standard Toyota Star Safety System 2.5+ includes pre-collision alert with pedestrian and daytime cyclist detection, lane departure alert with steering assist, full-range dynamic cruise control, lane keeping assist, blind spot monitoring with rear cross-traffic alert and automatic high beams.
The optional Advanced Technology package for the XLE includes a bird's eye camera system with overhead and curb views and front and rear parking assist with a front camera view and automated braking.
The Limited trim gets all that and adds trim-specific 19-inch alloys; a fixed panoramic moonroof; ventilated and cooled front seats; a front seat memory system; a leather-wrapped steering wheel; a three-zone automatic climate control system with a touchscreen controller for the rear compartment; rear side sunshades and a powered rear window sunshade, a digital mirror with Homelink and Toyota's automatic parking assist feature.
A Few Last Words
The 2021 Mirai is a very nice car that only a very few people will experience. It is a rolling test bed and display vehicle for Toyota's fuel cell technology and it is not a car that, in most circumstances, can be justified on purely economic grounds.
But if you live in California and have a burning desire to participate in the advancement of alternative fuels and/or to help improve the state's air quality, or just to have the neatest new tech on the block, the new Mirai is certainly not going to disappoint.