Opinion: GM, Biden Make Big Commitments, But Can They Deliver?
[A 3-min read.]
Two pieces of news this week have a lot of people in the green car community dancing in the streets.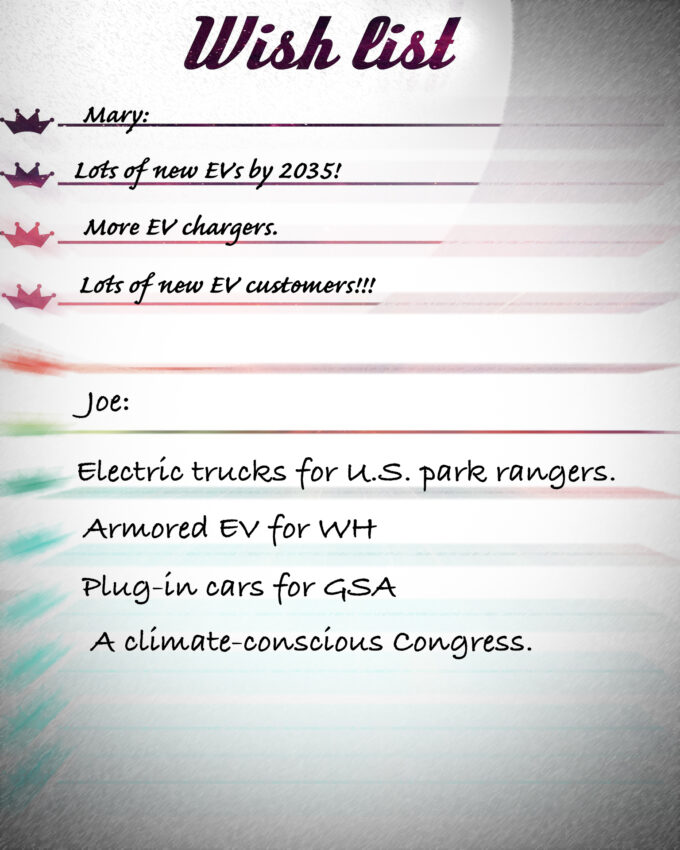 First, President Biden signed an executive order directing that the light vehicles in the vast federal fleet be replaced with American-made EVs over time.
Then General Motors said it is aiming to do away with tailpipe emissions from its light vehicles by 2035.
But all the excitement, happy headlines and effusive back-slapping over these EV promises may be a bit premature.
It's a Long Way From Want to Done.
Let's tackle GM first.
When CEO Mary Bara made the announcement, she said GM plans to be carbon neutral by 2040 and aspires to eliminate tailpipe emissions from new light-duty vehicles by 2035.
The key words here are "plans" and "aspires."
GM definitely is on the EV bandwagon and is pushing hard to get electrified versions of all of its cars, crossovers and light trucks into the market in the next 15 years.
But aspiring to do something – sell only zero emission vehicles after 2035 – is a long way from promising that something will be done.
There are still a lot of market forces that GM – and other automakers – have to deal with.
Not the least of them is widespread public ambivalence toward EVs. A lot of us like the idea, sure, but when it comes time to go shopping there seem to be a lot of reasons why an EV just won't work
Part of that is due to lack of information about EVs and how they can fit into most peoples' lives. And a big part of that lack of information has got to be laid at the doorstep of the auto industry, which until very recently has viewed EVs as a nuisance, not a necessity.
It is still true, a decade after the launch of Nissan's Leaf – the first mass market EV – and Chevrolet's Volt – the first plug-in hybrid – that in many auto dealerships, dare I suggest in most of them, there is total ignorance of EVs, or even outright animosity toward them.
So, let's cheer on GM – and any other automaker with lofty zero emissions goals.
But let's also note that in the same announcement of aspiring to go to zero emissions by 2035, GM also said it "will also continue to increase fuel efficiency of its traditional internal combustion vehicles in accordance with regional fuel economy and greenhouse gas regulations."
The only way we can be sure GM will be able to live up to its aspiration, keep its EV promises and stop making those internal combustion vehicles is to push harder to educate the populace about EVs so that sales will increase. As demand increases, economies of scale do, too, and that will enable automakers to finally start building EVs that the average family can afford.
Getting after our congressional representatives to keep supplying meaningful plug-in vehicle purchasing incentives won't hurt, either.
Federal Hopes
Now, about President Biden's fleet electrification order.
It sounds good at first glance, and would certainly give a boost to US-based, light-duty EV makers like GM, Ford, Tesla, Rivian, Bollinger Motors and Lordstown Motors.
After all, the feds have a fleet of neatly 650,000 light-duty cars and trucks – that's a lot of EV sales and it would put a lot of EVs out there on the streets for the public to see.
That's important because a first step toward making a new technology acceptable, and EVs still are "new" to most Americans, is to make it familiar.
But Biden didn't provide any timetable for electrifying the fleet, nor did he address the cost or the willingness of Congress to agree to find the funds necessary to foot the bill.
So again, let's cheer him on and hope he can make his EV promises come true. But let's also lobby Congress to see the wisdom of the president's plan.
And let's prepare for this to be a long-haul effort, not something that's going to occur overnight.