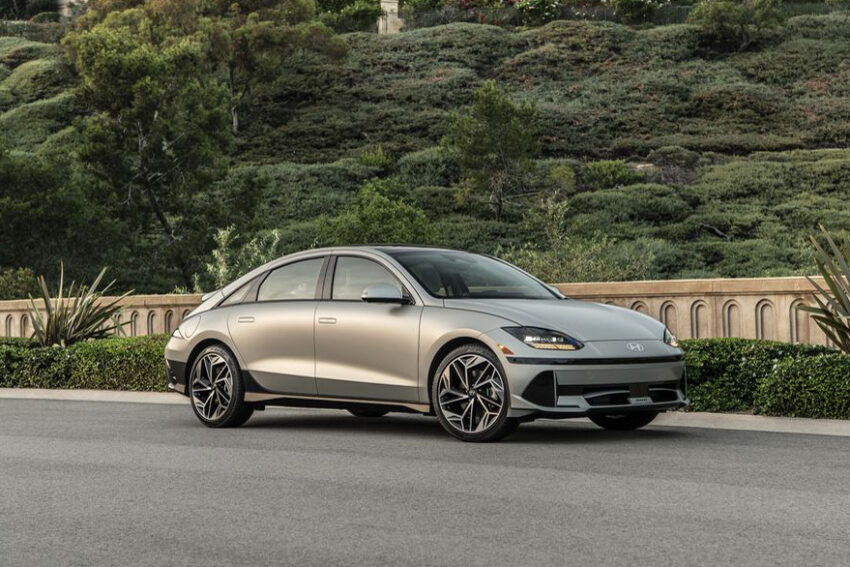 Hyundai has released final EPA fuel efficiency ratings for its upcoming 2023 Ioniq 6 sedan, and they look pretty good.
The base Ioniq 6 SE with rear-wheel drive, long-range battery pack and 18-inch wheels leads the pack with a 361-mile range estimate and a fuel efficiency equivalency of 140 miles per gallon.
That ranks it third in range among all EVs now on sale in the U.S., trailing only the Lucid Air and Tesla Model S – both of which cost tens of thousands of dollars more than the base Ioniq 6 is expected to come in at.
Other range rivals are the GMC Hummer EV pickup and some trims of the Mercedes-Benz EQS and Tesla Model 3 and Model Y.
All of the Ioniq 6 variants slated to go on sale initially in the U.S. this spring will use a 77.4 kWh battery. An SE trim with a 53 kWh battery, less range and lower cost will be introduced later in the 2023 model year.
The 77.4 kWh trims will have 225 horsepower in single-motor, rear-drive configuration, and 320 horsepower with the dual-motor AWD powertrain.
In all there are six variants of the streamlined, five-seat EV, with range and mpg-equivalency ratings dependent on powertrain, wheel (and tire) size and vehicle weight.
Working up the trim ladder from the 361-mile SE long range with rear-drive, the other five Ioniq 6 trims and their EPA figures are:
SE long-range all-wheel drive with 18-inch wheels – 316 Miles and 121 mpg-e;
SEL rear drive and 20 -inch wheels – 305 miles and 117 mpg-e;
SEL AWD and 20-inch wheels – 270 miles and 103 mpg-e;
Limited rear-drive, 20-inch wheels – 305 miles and 117 mpg-e;
Limited AWD, 20 inch-wheels – 270 miles and 103 mpg-e.