Volkswagen will show its first electric sedan, the ID.7 – but still wrapped in camouflage – during the Consumer Electronics Show (CES) in Las Vegas later this week and has decided to give it an advance push by releasing this teaser shot.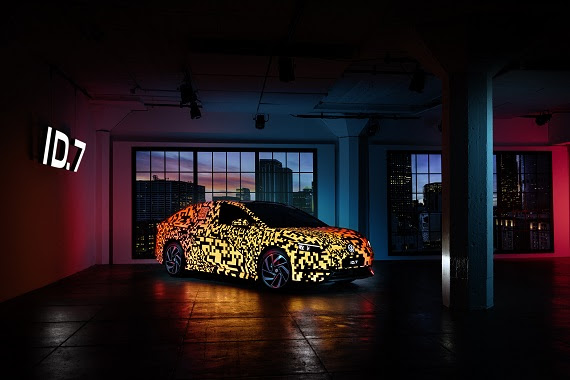 The new sedan part of Volkswagen's family of EVs. Siblings include the ID.4 crossover, on sale in the U.S. since early 2022, and the ID. Buzz, a modern take on the iconic VW bus, that's slated to go on sale 2024 after a launch late this year in Europe.
The ID.7, based on the ID. Aero concept unveiled last year, also will go on sale in the U.S. in 2024, VW said.
The electric sedan initially will be built in Germany. Under current federal clean vehicle tax credit rules, German-made models won't be eligible for any part of the $7,500 maximum credit if purchased, but would be eligible if leased and the leasing entity agrees to pass on the savings to the consumer.
But VW already builds the ID.4 for U.S. distribution at its plant in Chattanooga, Tenn., has said it plans to build other electric models in the U.S. as well. That would restore tax credit eligibility for ID.7 models produced there and purchsed, rather than leased, buy car shoppers. The automaker also has facilities in Mexico and clean vehicles made there, as well as in Canada, also qualify for tax credit eligibility undeer the revised program rules approved in August and effective as of this year.
The ID.7 will replace the internal combustion Arteon sedan – in the company's U.S. lineup at least – as Volkswagen moves toward fulfilling its promise to someday build only zero (tailpipe) emission vehicles.