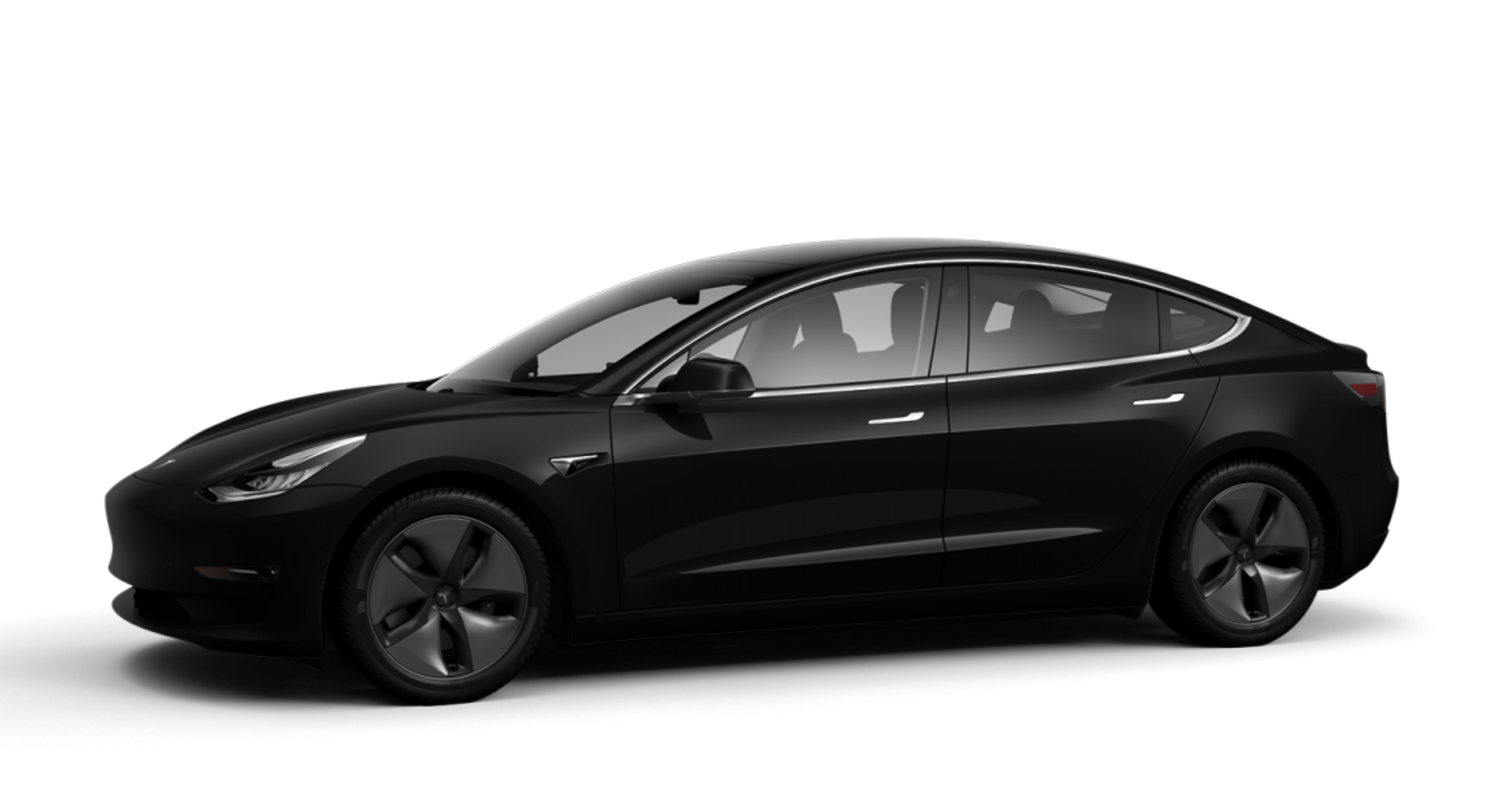 Tesla has finally committed to that long-promised $35,000 Model 3, opening on-line orders for the car late this week.
Available options can add up to $15,000.
The base "Standard Range" model is pretty bare-boned – manually adjusted front seats, cloth upholstery, a "basic" audio system, no smartphone docking and only one exterior/interior color scheme – black.
[Estimated Reading Time: 3 min. 15 sec.]
The base trim, as do all Model 3s, comes with tinted glass roof, a driver memory system for various features such as seat adjustment preference, and auto-dimming, power folding, heated side mirrors.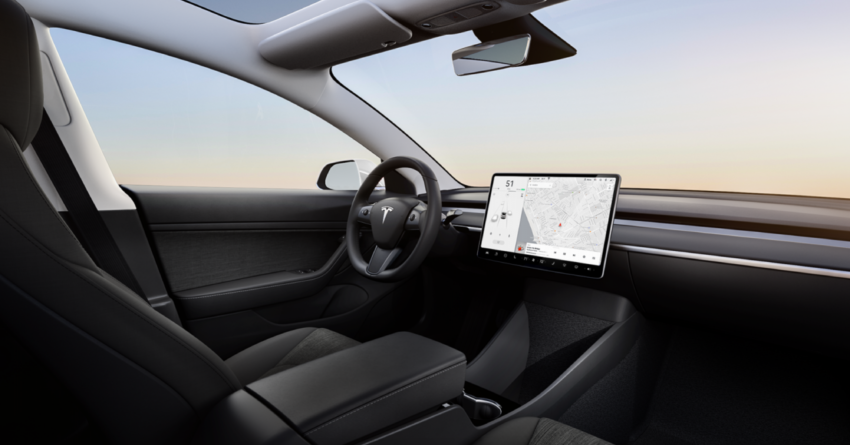 The operating numbers for the rear-wheel drive, 5-seat Standard Range Model 3 sound good: 220 miles of range, 0-60 in 5.6 seconds, 130 mph top speed.
Delivery, per Tesla's on-line order form, is in a month or less from the order date. A $2,500 deposit is required.
Stepping Up
One rung up from the standard range, standard interior Model 3 is the new 240-mile "Standard Range Plus" trim, which costs $2,000 more – $37,000 before incentives.
In addition to the 20 additional miles of range, the "Plus" offers slightly quicker acceleration, 0-60 in 5.3 seconds, and a 140-mph top speed.
It comes with what Tesla delightfully calls a "partial premium" interior.
That adds heated, 12-way power front seats; "premium" synthetic leather upholstery and interior trim materials (black is standard, white is the only option and adds $1,000); upgraded audio; a pair of smartphone docking ports in the center console, and LED fog lamps (which aren't part of the interior but still get listed there on Tesla's "Design Your Model 3" web page).
That extra $2,000 also speeds up delivery, which is listed on the order page as "within two weeks."
Cutting Back
You won't be able to do a test drive, though.
To help trim operating costs and enable the new $35,00 base price as well as an across the board average price cut of 6 percent for other Tesla models, the company is closing almost all of its showrooms.
A few facilities in high traffic area will remain open as information centers, the company said.
All ordering will be on-line only.
To make up for the absence of test-drive cars, Tesla is offering a free return policy: Buy a car, take delivery, drive for up to seven days or 1,000 miles – whichever comes first – and return the car for a full refund if you aren't satisfied.
Incentives
Because all Teslas now get a reduced $3,750 federal tax credit, the real cost to buyers, excluding any state and local incentives, will be $31,250.
In Colorado, a $5,000 state rebate for EVs will lower that to a budget-pleasing $23,750.
A handful of other states also have tax credits or rebates. Among the tops are California, Massachusetts and Oregon with $2,500 rebates, Connecticut and Maryland with $3,000 state incentives, and Delaware, which offers $3,500.
Options
For both new Model 3 trims – standard and standard plus -the only exterior color available at no extra cost is solid black.
The Standard Plus can be had with a white interior for $1,000 more.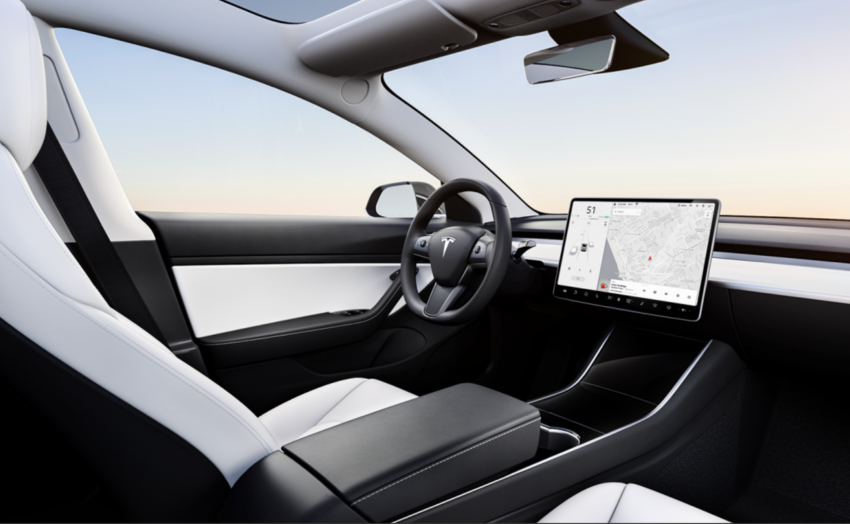 Other exterior color choices – silver metallic, blue metallic, pearl white and red multi-coat, will run from $1,500 to $2,500.
The base black alloy wheel is standard, multi-spoke silver sport wheels add $1,500.
Other options are Tesla's Autopilot driver assistance system, $3,000, and, for $5,000 more (a total of $8,000), Tesla's "Full Self-Driving Capability" (which works at present on the highway from on-ramp to off-ramp).
The full package includes auto-parking and car summoning, so you don't have to walk to your parked car after it parks itself and instead can have it come to you.
Tesla says the "full" system will add traffic signal and stop sign recognition and city-street automatic driving functions later this year.
Incentive Phase-Out
Because it has sold more than 200,000 EVs, Tesla's federal tax credits are going away, barring a Congressional vote to change the phase-out rules.
Buyers now get a $3,750 credit on Teslas – all models – through June, then $1,875 for cars purchased Jul1 through Dec.31. The federal credit for Tesla disappears altogether on Jan. 1, 2020.
State incentives aren't affected by that rule, but can change regularly depending on legislative whims and cash availability.