The all-electric Audi E-tron crossover is set to launch next month when the automaker unveils the production model and starts taking $1,000 reservations for the 5-seater with a reported 200-plus miles of range.
Customers will start seeing the E-tron (don't confuse it with the A3 e-tron Sportback plug-in hybrid that's been in the market for several years now) sometime in early 2019.
[Estimated Reading Time: 2 min. 15 sec.]
The automaker announced back in 2016 that it would be launching at least one electrified model a year starting with an all-electric crossover in early 2018, so early 2019 deliveries of the Audi E-Tron EV would just miss the self-imposed deadline.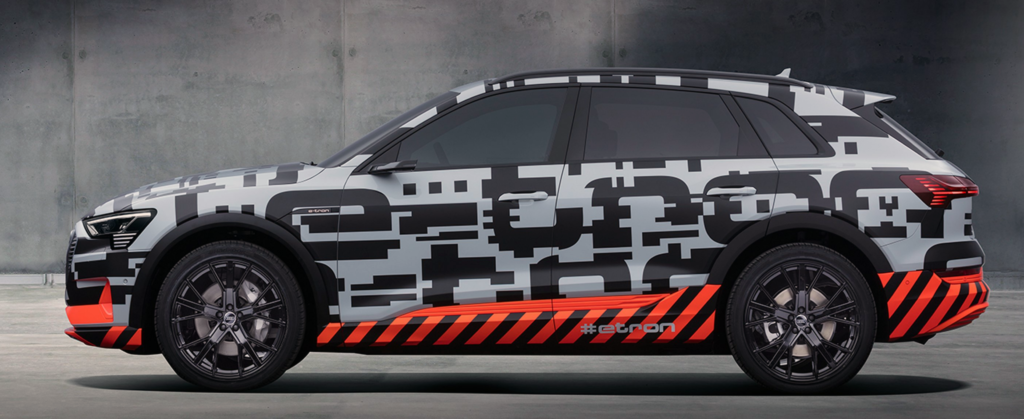 The company says the new electric crossover will have a 95 kWh battery, all-wheel drive and dual electric motors – one for each axle.
It also will have a 9.6 kW on-board charger and be equipped to handle DC fast charging at up to 150 kW, for an 80% recharge in 30 minutes roles. Overnight home charging with a Level 2 EVSE will require a dedicated 40 amp, 240-volt circuit.  (Check out TheGreenCarGuy's guide to EV charging.)
The Audi E-tron's regenerative braking system is said by Audi to be a unique design, capable of capturing and storing 90 percent of the energy from braking. It will contribute the power to supply up to 30 percent of the E-tron's range, according to the company.
Other details, including price, range, towing capacity and cargo capacity, are expected to be released next month when the company unveils the production model.
A prototype driven at the recent annual Pikes Peak hill climb while still wrapped in camouflage boasted 402 horsepower (300 kilowatt) and 413 pound-feet of torque. That's good for 0-60 mph acceleration in under 6 seconds, according to Audi engineers.
The Audi E-tron will compete with other luxury electric crossovers such as the Jaguar iPace and Telsla Model X.
That might give some hint of what U.S. price and range will be.
Jaguar's iPace starts at $70,495 and has a 90 kWh battery that's EPA-rated at 240 miles.
The base Tesla Model X starts at $80,000 and has a 75 kWh battery rated at 237 miles. The $96,000 Model X 100 D has a 100 kWh battery and a U.S. range rating of 295 miles.
Audi says the E-Tron's estimated range is 248 miles under the new European unified test protocol, which has yielded results for other electric cars that are close to U.S. EPA estimates.
Audi requires a $1,000 deposit to reserve an E-tron and says it will be refunded if an order is canceled or, for fulfilled orders, "upon purchase and delivery of the vehicle,"
Like most battery-electric cars sold in the U.S., the E-tron will qualify for a federal tax credit of up to $7,500 as well as for various state and local incentives.
(Check out TheGreenCarGuy's guide to plug-in vehicle incentives.)
Next Read: Audi's E-Tron Unveiled.