(Originally posted 2/21/19; updated 3/4/21 with active link for VIN listing of stickers issued prior to 2017 and a DMV phone number for checking on stickers issued in an after 2017.)
The question's become a burning one since California kicked a few hundred thousand solo-occupant plug-in, fuel-cell and natural gas vehicles out of the carpool lanes at the beginning of 2019.
Did that used EV, plug-in-hybrid , fuel-cell or natural as car or truck I'm now looking to buy as a replacement ever have a California Clean Air Vehicle decal?
[Estimated Reading Time: Short Version, 15 sec.; Long Version, 2 min, 15 sec.]
Well, we can finally offer a way to find out! All you need is the VIN of the otherwise qualified vehicle you are thinking of buying.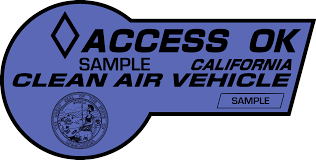 For those who know the background, or just can't wait, go ahead and click here: Cars with Previously Issued California Clean Air Decals.
It's a list of VINs that were isued stickers prior to Jan.1, 2017. If you are looking at a newer used EV – one that couldn't have gotten a sticker until Jan. 1, 2017 or after, you'll have to call the DMV's overworked consumer line, 916-657-8035. It's a soul-deadening task that can eat up hours of "on hold" time. Sorry.
If you're not quite sure how this works, read on:
The clean air vehicle sticker is the decal that lets drivers of qualified vehicles use the state's carpool lanes again without having a passenger along.
For a whole lot of commuters, being able to use the carpool lanes and shave big chunks of time off daily trips to and from work was the principal reason for owning a green car.
Getting one of the green or white California Clean Air Vehicle stickers also helped make the higher cost of those carpool-lane eligible vehicles a lot more palatable.
But cars and trucks with clean air stickers issued before Jan. 1, 2017, lost their eligibility on Jan. 1, 2019.
That affected an estimated 225,000 vehicles and those who drove them.
Many of those drivers are looking for cars that meet the clean air vehicle guidelines and can get them back into the carpool lanes.
To do so, the vehicle either has to be a new one or a used one – from within or out of the state – that never was issued one of California's clean air stickers.
TheGreenCarGuy has received scores of emails from people wanting to know how to find out if a car they're thinking of buying used ever had a sticker.
Until now, prospective buyers of pre-2017 vehicles had to trust the sellers' word if the vehicle didn't have a visible sticker or show signs of having had one that was removed.
That works if the seller is trustworthy and knows the sticker history of the car. But sometimes sellers don't – or aren't.
Several people have complained that when they applied for a sticker for a just-purchased used car that the seller said had never had a sticker, word came back from the California Department of Motor Vehicles that a decal had been issued, so the car wasn't eligible.
That's not a good situation – particularly if you've just shelled out $70,000 for a used Tesla you bought only because you thought you could get a decal.
Now, though, the DMV has put together a VIN list that let's you check to see if a car or truck you are interested in – and that would otherwise qualify for a clean air sticker – ever had one.
The list is long – 222,937 entries at last count. Remember, this are for stickers that were issued prior to Jan. 1, 2017.
But if you copy down the VIN of the vehicle you are thinking or buying, you can scroll through it to see if you'll be able to score a current sticker.
To get started, just click on this link: Cars with Previously Issued California Clean Air Decals. If you don't find the VIN, chances are you'll be able to get a new one.
We say "chances are" because the DMV notes that the list is not all-inclusive and is subject to change. So there's no 100-percent guarantee that you'll be safe if you don't see your VIN there. But with almost 223,000 VINs, the odds in your favor seem pretty good.
If, however, the EV you are looking at is post-2017, the list won't help.
You'll either have to rely on the seller's word that the vehicle never had a California Clean Air Vehicle sticker or you'll have to call the DMV hotline and, when you finally get through, ask them to check the VIN to see if there's a sticker associated with it.