California regulators have posted the plan for plug-in and fuel-cell electric car owners to get a new single-occupancy HOV sticker – also called a Clean Air Vehicle (CAV) decal  – after the present crop expires on Jan. 1.
(Article updated Oct. 12, 2018)
The new stickers will only be issued for otherwise qualified vehicles that have never had a Califormia CAV decal  or that have green or white stickers issued  on or after Jan, 1, 2017 (plus the handful of cars sold earlier than were never issued the decals).
[Estimated Reading Time: 1 min.]
For owners of qualified vehicles already issued a green or white Clean Air Vehicle decal, the process will be easy. The state will mail pre-filled applications for a new HOV sticker to those owners – and lessees – at the address that is on their original application.  The new decals will be good until Jan. 1, 2022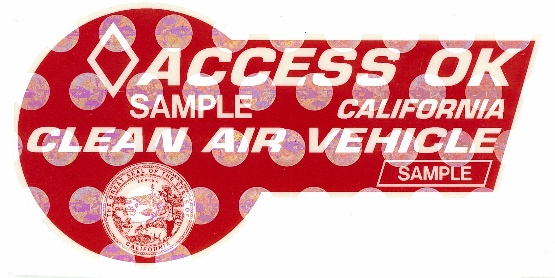 Mailings are supposed to begin this month.
Owners who received a red HOV sticker – they have been issued for cars sold since March, 2018 – won't have to do anything. Those stickers also are good until Jan. 1, 2022.
Stickers issued in 2109 will be a new color (it hasn't been disclosed) and will be good until Jan. 1, 2023.  The state apparently will change the color annually through 2024, and decals will expire on Jan. 1 of the fourth year after the year in which they were issued (2019 stickers expire on 1/1/23; 2020 stickers expire 1/1/24, etc.)
The program and any stickers still valid at the time will expire Sept. 30, 2025, unless extended by the legislature
(Here's more detail on the changing Clean Air Vehicle decal rules.)
Remember, only qualified vehicles – mainly EVs, fuel-cell vehicles, plug-in hybrids and dedicated natural gas vehicles  – with stickers issued on or after Jan. 1, 2017, or with no stickers, can qualify. Vehicles with stickers issued before then are out of luck.
The legislature is kicking about 223,000 cars with previously issued Clean Air Vehicle decals out of the carpool lanes  – unless occupied by 2 or more people – after Dec. 31st.
Note: This article was updated 10/12/18 to amplify the CAV decal information and expiration dates and to correct an error: It originally said only vehicles sold on or after Jan. 1, 2017 could get new stickers: In fact, new decals can be obtained for a qualified vehicle no matter when it was sold, as long as it had not previously been issued a California Clean Air Vehicle decal, or has a green or white decal that was issued on or after Jan. 1, 2017.