The 2017 Chevrolet Bolt EV has been named the North American Car of the Year, the first all-electric model to be selected.
[Estimated Reading Time: 40 seconds.]
The award is bestowed annually by an independent panel of 60 automotive journalists for the U.S. and Canada. It is considered one of the premier new car awards.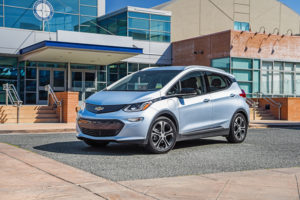 Previous electrified winners include the Toyota Prius Hybrid in 2004, the Ford Fusion Hybrid in 2010 and the Chevrolet Volt plug-in hybrid in 2011.
The Bolt EV, which is priced at $37,495 before incentives and has an EPA range-rating of 238 miles per charge,  outscored the second-place Hyundai Genesis G90 sedan by a 3-1 margin in final voting.
The Bolt is the first in a new generation of electric cars with larger,more powerful batteries capable of delivering 20 miles of more of range on a single charge.
Others that have announced longer-range EVs include Nissan which will launch a new generation of the Leaf EV soon, with at least one 200-mile (or more) model, and Tesla, whose Model 3, expected in 2018, is rated by the company at 215 miles per charge.