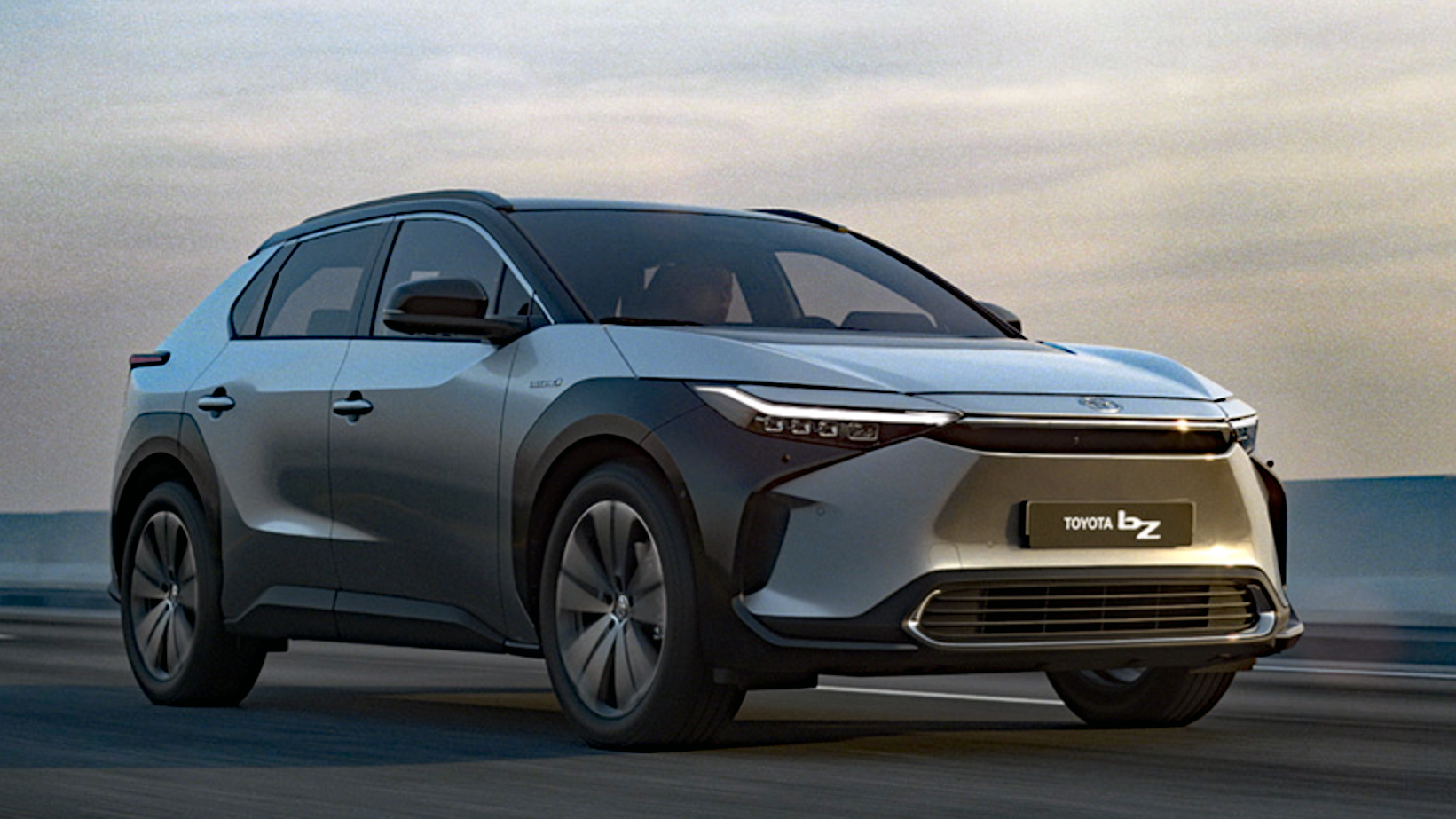 Toyota says its all-electric bZ4X crossover – and it looks like the ungainly name will stick – hits dealerships in the U.S. in mid-2022.
It will be the automaker's first long-range, mass-market EV, with the single-motor version capable of delivering close to 300 miles on a fully charged battery
Externally, the new electric crossover is about the same size as the poplar RAV4. But the bZ4X's wheelbase is six inches longer, which should make for a more spacious interior.
Lots of Electrics
Toyota still hasn't enthusiastically embraced the idea of battery-dependent EVs and says it believes the industry is rushing into electrification too rapidly. While other automakers are declaring intent to drop internal combustion engines altogether, Toyota sees a mix of battery-electric, fuel-cell electric, gas-electric hybrid and combustion-only vehicles in its future for years to come.
Still, the company has said it it plans on launching 15 new all-electric models globally by 2025.
Of that total, seven will be in the "Beyond Zero" line, of which the bZ4X is the first. The bZ4X moniker stands for "Beyond Zero small crossover" (the "4" is a size designation, "X" is shorthand for crossover). Other members of the Toyota family will add eight all-electric models.
Toyota's long been a proponent of hydrogen fuel cells for passenger vehicles and says its electrification plans also call for it to expand its fuel cell electric lineup beyond the Toyota Mirai sedan now offered in California and Hawaii.
The company expects battery-electric and fuel cell electric models to account for 15 percent of sales by 2030.
Skateboard, and a Yoke for China
The bZ4X will be built on a so-called skateboard platform that packages the batteries and other critical electric power components, along with the suspension and drivetrain, in a flat rectangular package that looks a bit like a thick skateboard and can support a variety of body styles.
Toyota developed the platform, which it calls the e-TNGA (electric-Toyota New Generation Architecture), in conjunction with Subaru, a company in which it owns a substantial stake.
Subaru, which brings all-wheel drive expertise to the partnership, will use the platform – which it calls the e-Subaru Global Platform – to underpin its own battery-electric crossover, the Solterra, also due 2022 as a '23 model.
Toyota is garnering lots of press for the yoke-type steering it showed on a prototype bZ4X, but says that the yoke will be introduced in China first and might migrate to other markets in subsequent years.
Tesla introduced a yoke on its updates of the Model S and Model X this year and has drawn a lot of criticism from reviewers who contend the design makes it difficult to safely operate a moving vehicle.
Toyota's yoke, like Tesla's, resembles a squared-off steering wheel with the top section removed.
But Toyota says its yoke actuates an electronic "steer-by-wire" system that will continuously alter the steering ratio to ensure that drivers won't need to change hand positions to make a full lock-to-lock turn. Tesla's system uses a constant steering ratio and needs two to three complete rotations of the yoke – requiring several hand-over-hand maneuvers – for a full turn.
Toyota says the yoke system allows for improved instrument panel visibility, better legroom and easier ingress and egress for the driver.
Power, Range and Stuff
The bZ4X will be available in either front wheel drive- with a single electric motor – or all-wheel drive, with one motor for each axle.
Both will use liquid-cooled 71.4 kilowatt-hour battery packs (figure around 68 kWh usable). The single motor version dishes up 201 horsepower and 195 pound-feet of torque. The dual motor version will offer 215 horsepower and 248 pound-feet.
Toyota says the single motor, front-drive bZ4X will deliver up to 310 miles per charge on the European WLTP test cycle, with the all-wheel drive, dual motor version dropping to 280 miles thanks to its increased weight.
The federal EPA's test protocol for EV range is a bit harsher than the WLTP system, however, and we're figuring on a drop of at least 5 percent -and it could be more – to 295 miles or less for the single-motor and 265 or less for the dual-motor version on their U.S. window stickers.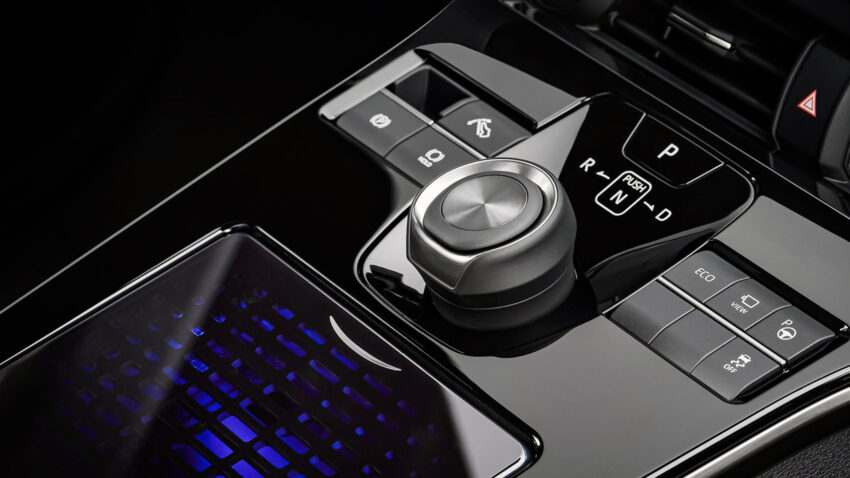 Don't expect powerful performance, ether. The 215-horsepower dual-motor bZ4X is rated by Toyota at a sedate 7.7 seconds for a 0-60 mph sprint. Things get even slower with the single-motor models. They'll cover the same distance in a sluggish 8.4 seconds.
Pricing and EPA ratings won't be available until closer to the bZ4X launch next year.
Charge It…
As is the norm with fully electric cars, the bZ4X will come equipped with an on-board charger capable of accepting both 120-volt, Lever 1, and 240-volt, Level 2 equipment.
For European models, a 6.6 kW charger will be the base and an 11-kW charger will be available on models built in late 2022. U.S. specs haven't been issued yet, but likely will be the same. At 6.6 kW, it would take around 9 hours to recharge a fully depleted battery. That would drop to around 6 hours at 11 kilowatts.
The bZ4X also will have DC fast-charge capability at up to 150 kilowatts – sufficient to take a depleted battery back to 80 percent capacity (probably from 90 percent discharged) in less than 30 minutes.
Toyota said it plans to also offer a n optional solar roof, which would trickle charge the batteries to extend range – slightly – between plug-ins. The solar roof in prime sunlight conditions could add up to 1,100 miles of range per year, the automaker said.
Battery life is a concern among EV shoppers and Toyota said the bZ4X pack will be liquid cooled to help slow degradation. The company expects the battery pack to retain at least 90 percent of capacity after 10 years of 15,000-miles-a-year operation.
The automaker doesn't yet have a battery warranty program for pure battery-electric vehicles – the bZ4X will be its first – but has been providing a 10-year, 150,000-mule warranty on its hybrid, plug-in hybrid and fuel-cell electric vehicle batteries since late in 2019.
External Power, Maybe?
It's not clear if the feature will be offered on U.S. models, but Japanese market versions of the bZ4X woll have a power take-off system that allows the vehicle's battery pack to be used to power appliances for outdoor use and even entire homes during power outages.
When used in conjunction with a home solar power system, batteries in the Japanese model can store solar electricity during the day and feed it back to the house at night.