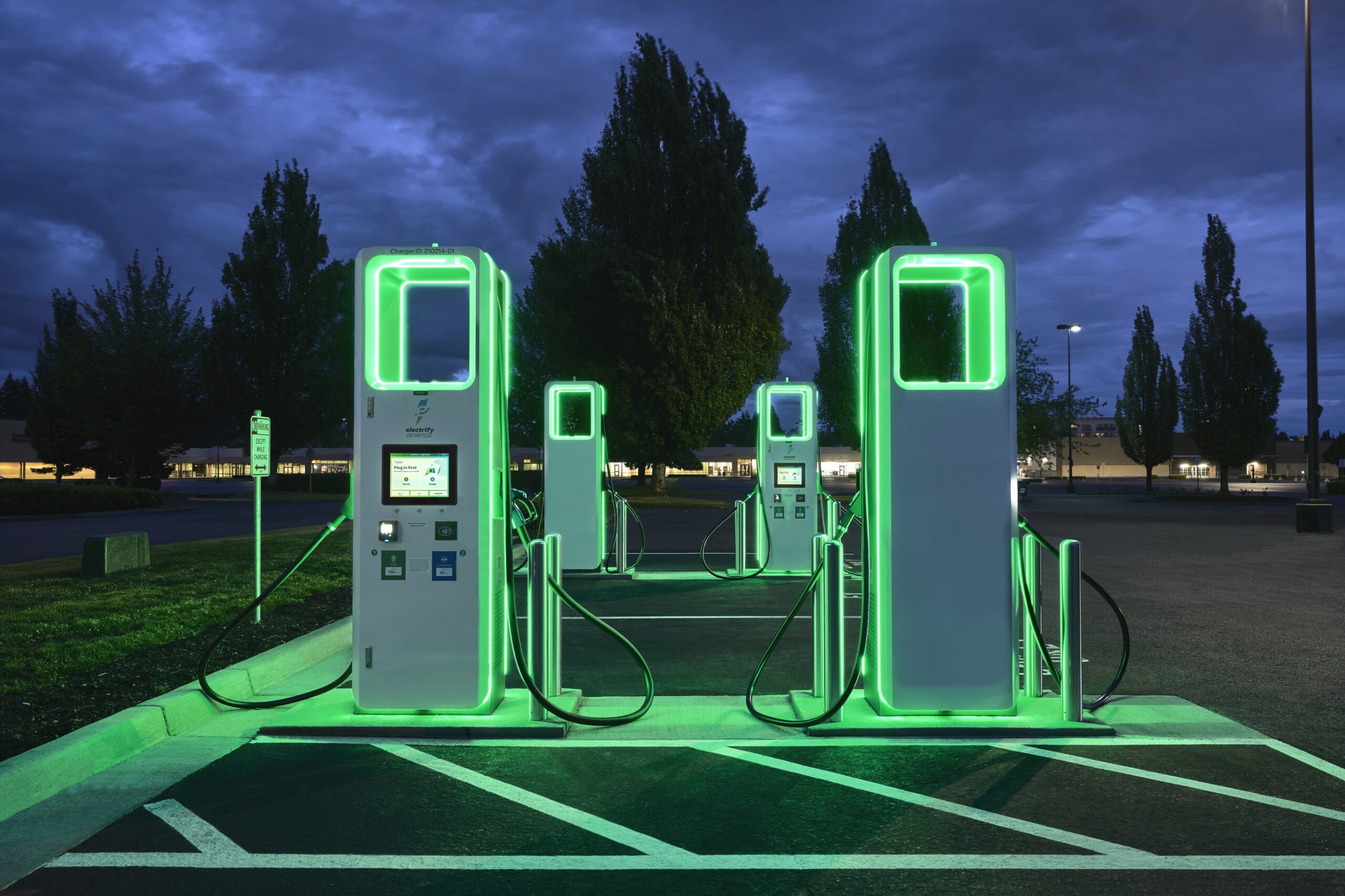 There's good news on the EV charging stations front this week.
Tesla has agreed to make 7,500 of its 28,500 U.S. chargers available to non-Tesla EVs, and the federal government's $5 billion nationwide charger network program has cleared its final hurdle and can now get under way.
First-time EV shoppers fear, and most EV owners know – that the public EV charging infrastructure for anyone but Tesla drivers is petty hit-and-miss.
Most EV charging stations are clumped around a few big metropolitan areas and while there are several national east-west corridors – with chargers along major highways close enough to each other to make long-distance travel possible – the middle of the country is a pretty barren landscape when it comes to charger availability and there's no reliable north-south corridor.
And – again except for Tesla's proprietary network, which seems to be pretty well-maintained – it's a 50-50 proposition when pulling into a fast charging station operated by one of the commercial network as to whether one or more of the chargers is broken or otherwise inoperable.
It is also, in areas where EV adoption has begun increasing, getting pretty common to have to wait for one or more EVs already in line to get their fills, prolonging what all the carmakers advertise as half-hour (or less) charging sessions into 60-to 90 minute waits.
Poor Past Planning
Gas stations are built to serve rush-hour traffic, so most pumps has two nozzles and sit idle much of the time, but lots are available when everyone stops to fill up in the mornings and evenings.
EV infrastructure development has been timid, though, and most fast-charge stations have no more than four "pumps" each capable of serving just one vehicles at a time.
Tesla again is the exception (and this is one reason Tesla sold two-thirds of all EVs in the U.S. last year) with healthy numbers of chargers in each of its stations, often 10 to 20 so there's very little wait time.
It's not uncommon for the driver of a non-Tesla EV out on a road trip to have to sit and wait for a charger to come free while across the parking lot a dozen Teslas are happily charging away and there still are a few empty chargers with the stylized "T" logo.
To date, with more than 3 million EVs on the road in the US, there are only 130,000 public chargers, according to a statement released this week by the White House. And that's a combination of Level 2, 240-volt chargers as well as the DC fast chargers needed to facilitate road trips and long-distance EV driving.
Half a Million New EV Charging stations
The Biden Administration set out to address that with the National Electric Vehicle Infrastructure (NEVI) Program, approved in 2021 as part of the Infrastructure Investment and Jobs Act. The measure calls for a $5 billion investment in public EV charging stations.
The Alliance for Automotive Innovation says that 652,000 new EVs have been put on the road since the beginning of 2022, but only 20,300 new chargers were added – or 1 pubic charging port for every 32 new vehicles – a slower pace than the existing ratio of one charger per 23 EVs.
The Biden Administration set out to address that with the National Electric Vehicle Infrastructure (NEVI) Program, approved in 2021 as part of the Infrastructure Investment and Jobs Act. The measure calls for a $5 billion investment in public EV charging.
NEVI calls for construction to build out a national network of 500,000 public chargers by 2030 to create cross country corridors with chargers no more than 50 miles apart.
But while the law was passed in 2021, it has taken until now for the Department of Transportation to finalize all of the rules and regulations into a NEVI "Formula."
EV advocacy groups generally applauded the action.
"These investments will electrify the interstate highway system and expand the network of public charging stations across the country. By laying a foundation of EV chargers along our nation's highways, more Americans can access zero-emission vehicles and support an industry that is creating thousands of American jobs and drawing significant manufacturing investments around the country," said Albert Gore, executive director of the Zero Emission Transportation Association.
Let the EV Charging Stations Building Begin
With the publication of that 144-page final rule this week, the construction programs now can get under way. The measure allocates funding to each state and the requirements are built around rules developed by the California Department of Transportation.
Among them, every new station has to have at least four charging ports compatible with the nearly universal CCS (combined charging system) charging equipment used by automakers.
The rules also recognize the problem of today's stations often slowing down when several chargers are in use simultaneously. They require that each new charger be capable of supplying at least 150 kilowatts per hour, even if all chargers at a station are in use at the same time.
The new chargers also will have to use a universally compatible payment system so drivers won't have to have multiple accounts and carry multiple charging cards and fobs.
Tesla Opens its Arms…Kinda
As part of the program, Tesla  has agreed to make at least 7,500 chargers available to non-Tesla EVs (and PHEVs, we imagine) by the end of 2024.Tesla chargers now use a connector nozzle that only fits the charging ports on Tesla vehicles.
The company hasn't said whether it will add CCS connectors to make some of its stations available to other EV brands, or will use some other type of adapter – but to qualify for federal subsidies to pay for the project, Tesla would have to use CCS connectors.
An unspecified number of the chargers will be slower Level 2 stations – the kind found at many hotels and restaurants – but at last 3,500 will be 250 kilowatt Tesla Supercharger stations.
Tesla has said it will charge more for electricity for non-Teslas at these stations than it will for Teslas.
Many More Players
For those eager to dive deeply into what's going on, the While House this week released a list of charger development partnerships and their plans:
· Hertz and bp intend to build out a national network of EV fast charging infrastructure at Hertz locations across the country. The charging hubs will serve rideshare and taxi drivers, car rental customers and the general public at high-demand location such as airports. A number of installations are expected to include large-scale charging hubs, known as "giga-hubs." Energy giant bp (formerly British Petroleum) intends to invest $1 billion in EV charging in the US by 2030. Hertz has said it want to make 25% of it rental fleet electric by the end of 2024.
· Pilot Company, General Motors, and EVgo have partnered to build a coast-to-coast network of 2,000 high power 350 kW fast chargers at Pilot and Flying J travel centers along U.S. highways. The network of up to 500 travel centers will facilitate long distance EV travel by connecting urban and rural communities. The first 200 chargers are expected to be available for use by drivers this year.
· TravelCenters of America and Electrify America will offer electric vehicle charging at select Travel Centers of America and Petro locations, and plan to install approximately 1,000 EV chargers at 200 locations along major highways through 2028..
· Electrify America has begun work on a 75 mega-watt solar project in San Bernardino County, CA to help provide renewable energy to its network of more than 800 DC fast charging stations nationwide.
· Mercedes-Benz, ChargePoint, and MN8 Energy plan on developing more than 400 charging hubs with more than 2,500 publicly accessible DC fast charging ports throughout the U.S. and Canada.
· ChargePoint, Volvo Cars, and Starbucks intend to install 60 DC fast chargers at up to 15 locations along a 1,350-mile route between Seattle and Denver, to be completed by summer 2023.
·  General Motors, in partnership with EV charging station developer FLO, has announced a collaborative effort with GM dealers to install up to 40,000 public Level 2 EV chargers in local communities by 2026. The new charging stations will be available to all EV drivers.
· Francis Energy, a Tulsa, Oklahoma-based EV charge point operator with a major presence in disadvantaged communities, is expanding into 40 states in 2023 and plans to install 50,000 EV charging ports by 2030 in partnership with various municipalities, auto dealers, Tribal Nations, and private businesses.
· Forum Mobility, a zero-emission trucking solutions provider, has made a $400 million commitment to deploy over 1,000 DC fast-chargers. The charging infrastructure will serve the thousands of heavy-duty electric trucks projected to begin operating at the San Pedro and Oakland ports in California over the next decade. The community charging depots will help spur electrification of port trucking operations to reduce harmful emissions at the ports and along freight corridors.
· Ford has committed to installing at least one public-facing DC Fast charger with two ports at 1,920 Ford dealerships – a minimum of 3,840 DC fast charger outlets, by January 2024.