And More EV News:
S-Class Plug-in
EVs by the Month, from Hyundai
Cheaper U.S.-Made Batteries, from Ford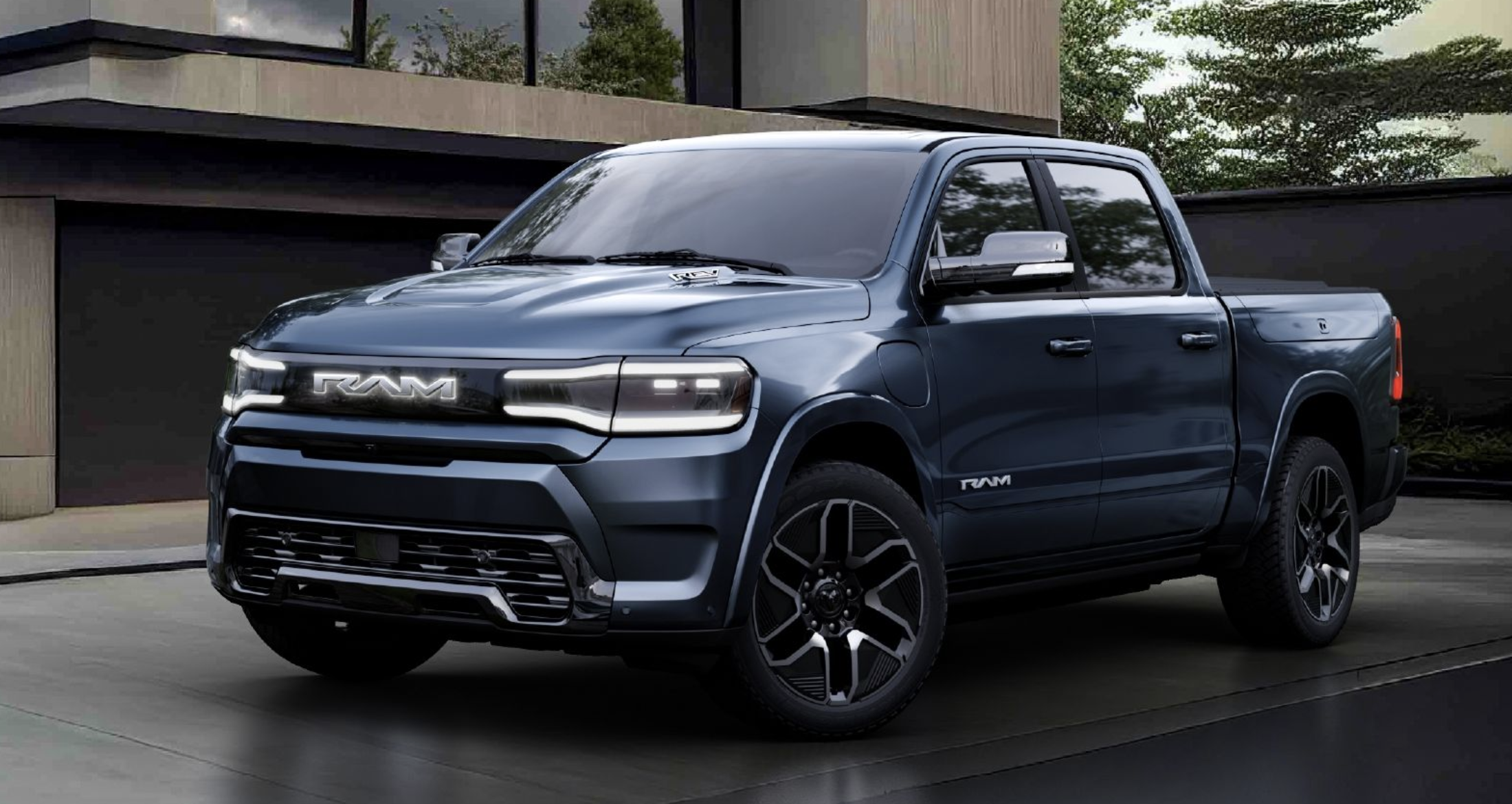 The newest electric pickup is the Ram 1500 REV from Stellantis. It debuted in a Superbowl ad and will hit the streets in at the end of 2024 or in early 2025. But Ram already is taking online orders.
The full-size pickup will compete with the Ford F150 Lightning and Rivian RT1 – already on sale – as well as GM's Chevrolet Silverado EV and GMC Sierra Denali electric pickups, due in late 2023 and early 2024, respectively., and Tesla's Cybertruck, due in late 2023 or, given its long history of delays (it was first slated to g on sale in 2021), whenever Tesla decides the time is right.
Specs for the Ram 1500 REV aren't out yet, but the company claims it will beat competitors in both range and towing capacity. Ram has set a goal of more than 500 miles range for at least one version, and more than 10,000 pounds of towing capacity for the beefiest of the 1500 REV models.
Ram has said the new electric pickup will use 800-volt charging architecture with ultra-quick DC fast charging capability – like the Hyundai Ioniq 5, Audi e-tron GT, GMC Hummer EV and a handful of other all-electric vehicles.
Car and Driver, which is pretty good at this stuff, is estimating a price range of $58,000 to $81,000 with rear-drive and all-wheel drive versions, including at least one with four-wheel steering.
S-Class PHEV
Mercedes-Benz says its revamped 2023 S-Class plug-in hybrid will start at $123,700.
The big sedan will have an all-electric range of somewhere in the neighborhood of 45 miles (it is about 62 miles on the European rating scale, but that test results in more generous range ratings than does the EPA test used for U.S. range estimates). Mercedes dealerships in the U.S. should start receiving the S-Class PHEV – formally the Mercedes-Benz S580e 4Matic PHEV – by the end of June, hen an official EPA range rating also will be available.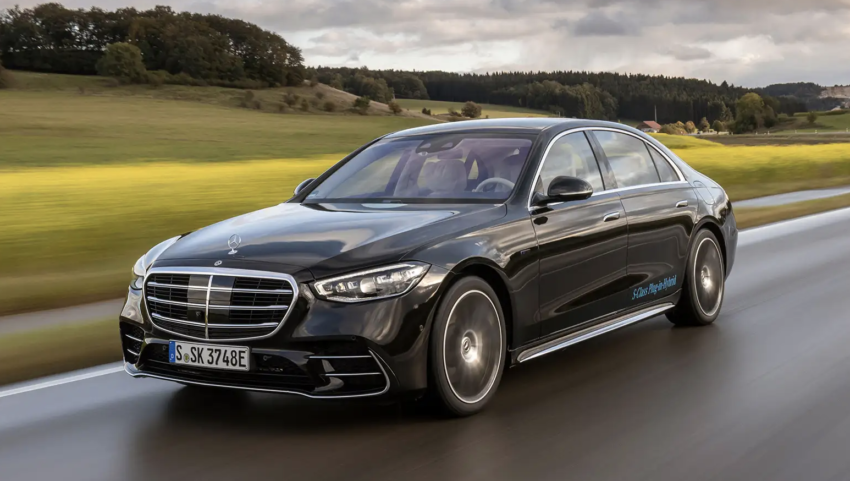 The S-Class PHEV's $8,000 premium over the base S500 mile hybrid – or $1,500 savings versus the V-8 powered S580 mild hybrid – gets you 510 horsepower and 530 lb.-ft. of peak torque, a top speed of 155 mpg in regular hybrid mode or 87 mph in all-electric mode, and a 21.5 kWh battery that can be charged on a DC fast charger in about 20 minutes.
DC fast charging is an option, though, so will probably add a few bucks to the price tag. Standard charging is Level 2 (240-volt) at a peak 9.6 kilowatts per hour.
Hyundai EV Subscription Plan
Hyundai is starting an EV subscription plan, Evolve+, that will offer monthly one-price-covers-all (except electricity) rates.
The company says it is aimed at the EV-curious, as well as travelers and EV fans who might be commitment adverse.
The plan now is fairly limited, available through a handful of Hyundai dealers in just six states – Colorado, Maryland, Massachusetts, New Jersey, Oregon, and South Carolina. But Hyundai said it plans to expand it nationally.
It will cover use of a car with insurance, maintenance, registration and road-side assistance for up to 1,000 miles a month for monthly payment that starts at $699 for a Kona EV and $899 for an Ioniq 5 EV. Subscribers can cancel any time during the monthly period or renew on a monthly basis.
To be eligible for the program, drivers must be at least 25 years old with a minimum of three years of ticket-free driving, and need a credit score of 650 or higher. Participants can use the Hyundai Evolve+ app to sign up and find available vehicles.
There's a $300 plan activation fee and a 28-day commitment and monthly pricing will depend on the equipment and features of a selected model A sample on-line reservation form shown by Hyundai indicates that prices can be lower for multi-month agreement
Michigan Made Batteries
Ford plans to spend $3.5 billion on a new EV battery plant in Michigan. The plant will manufacture batteries using a lithium iron phosphate (LFP) chemistry. The automaker said they have fewer high-cost materials than those using scarcer, high-demand metals such as nickel, manganese and cobalt.
The new plant, BlueOval Battery Park Michigan, initially will employ 2,500 workers, with production to begin in 2026.
The LFP batteries will be used in future Ford electric cars and trucks and will help Ford meet new federal tax credit eligibility requirements that demand batteries and battery minerals sourced in North America.
Ford will continue producing nickel cobalt manganese (NCM) batteries as well, and says using two distinctly different chemistries will give customers power, range and battery life options.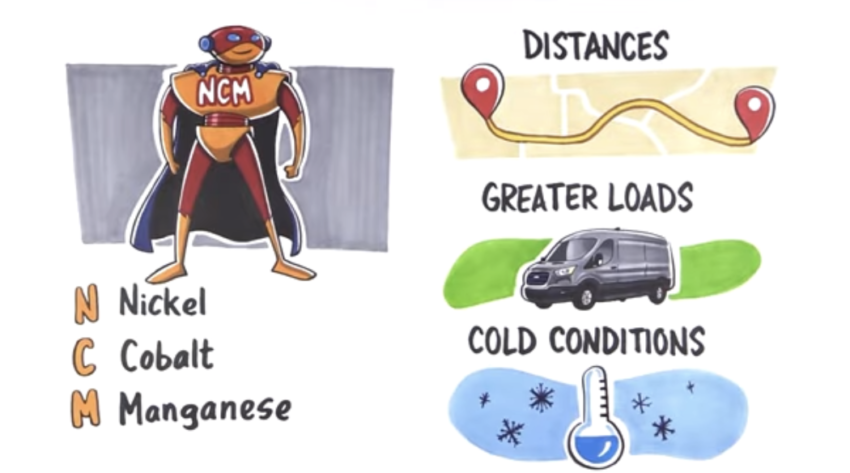 LFP batteries are cheaper to produce and have longer lifespans than NCM batteries, which are more powerful and energy dense and have slightly better cold weather performance. Another benefit of LFP batteries is that they can and can handle more frequent and faster charging with less degradation.
Ford said that even before its new plant starts production, it will introduce LFP batteries in versions of the Mustang Mach-E and F-150 Lightning as part of its effort to increase production capacity and reduce customer wait times.