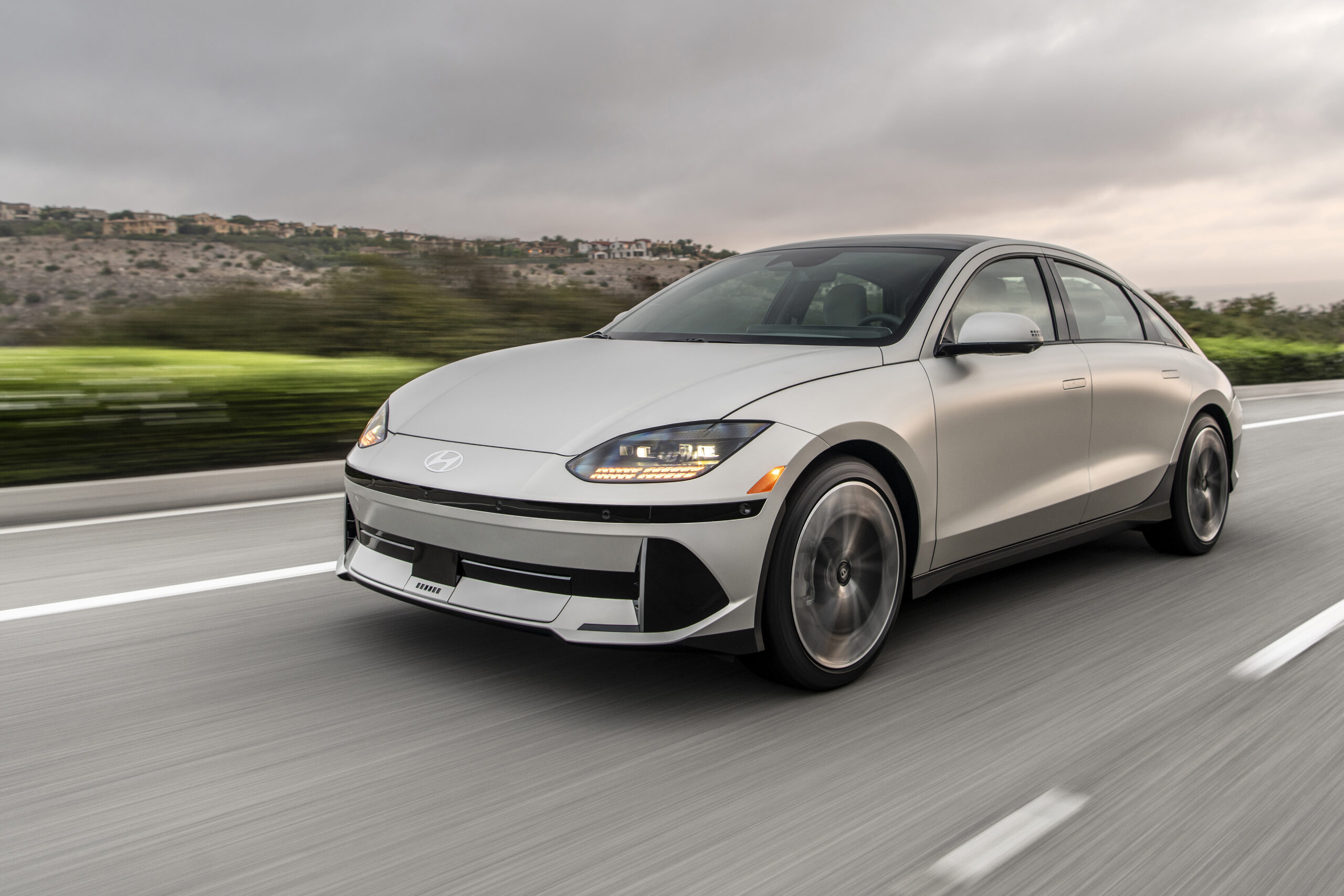 Hyundai says Ioniq 6 pricing will range from $42,785 to $57,215 when the streamlined electric sport sedan hits dealerships this spring.
It will be available in the same seven trims as the popular Ioniq 5 SUV with range just a bit higher and pricing just a few dollars lower across the board. The Ioniq 6 shares the same EV-specific platform and powertrains as the Hyundai Ioniq 5 SUV and its corporate siblings, the Kia EV6 and Genesis GV 60 crossovers.
As with the Ioniq 5, there here will be a standard range, rear-drive, single-motor SE as the base model, with a 53 kWh battery, while all other trims will use a 77.4 kWh battery and get "Long Range" designations. The long range SE, SEL and Limited will come in both rear-drive and all-wheel drive variants.
In addition to pricing, Hyundai announced range estimates for each trim variant, with the SE Standard Range at the bottom with 240 miles and the single-motor SE Long Range on top with 361 miles. The Ioniq 5, by comparison, delivers up to 220 miles in SE Standard Range trim and 303 miles in the single-motor SE Long Range trims.
The Ioniq 6 SEL and Limited trims all come with 20-inch alloys as standard equipment while in the Ioniq 5 lineup only the AWD Limited trim gets 20-inch alloys.
Their bigger rollers and heavier overall weight shave almost 50 miles of range miles of range from the Ioniq 6 SEL and Limited AWD variants versus the SE Long Range with all-wheel drive.
The Ioniq 6 will have the ultra-quick 350 kW DC fast charge capability of the Ioniq 5 and its corporate siblings.
Here's a look at Ioniq 6 pricing and trims.
Ioniq 6 Trim
Powertrain
Range
(mi.)
Price
(Incl. $1,115 dest. fee)
SE Standard Range Rear Drive
149 hp, single motor
240
$42,715
SE Long Range Rear Drive
225 hp, single motor
361
$46,615
SE Long Range All-Wheel Drive
320 hp, dual motor
316
$50,115
SEL Long Range RD
225 hp, single motor
305
$48,815
SEL Long Range AWD
320 hp, dual motor
270
$52,315
Limited Long Range RD
225 hp, single motor
305
$53,715
Limited Long Range AWD
320 hp, dual motor
270
$57,215