Faster
Less range
Roomier interior
More standard features
Hefty price difference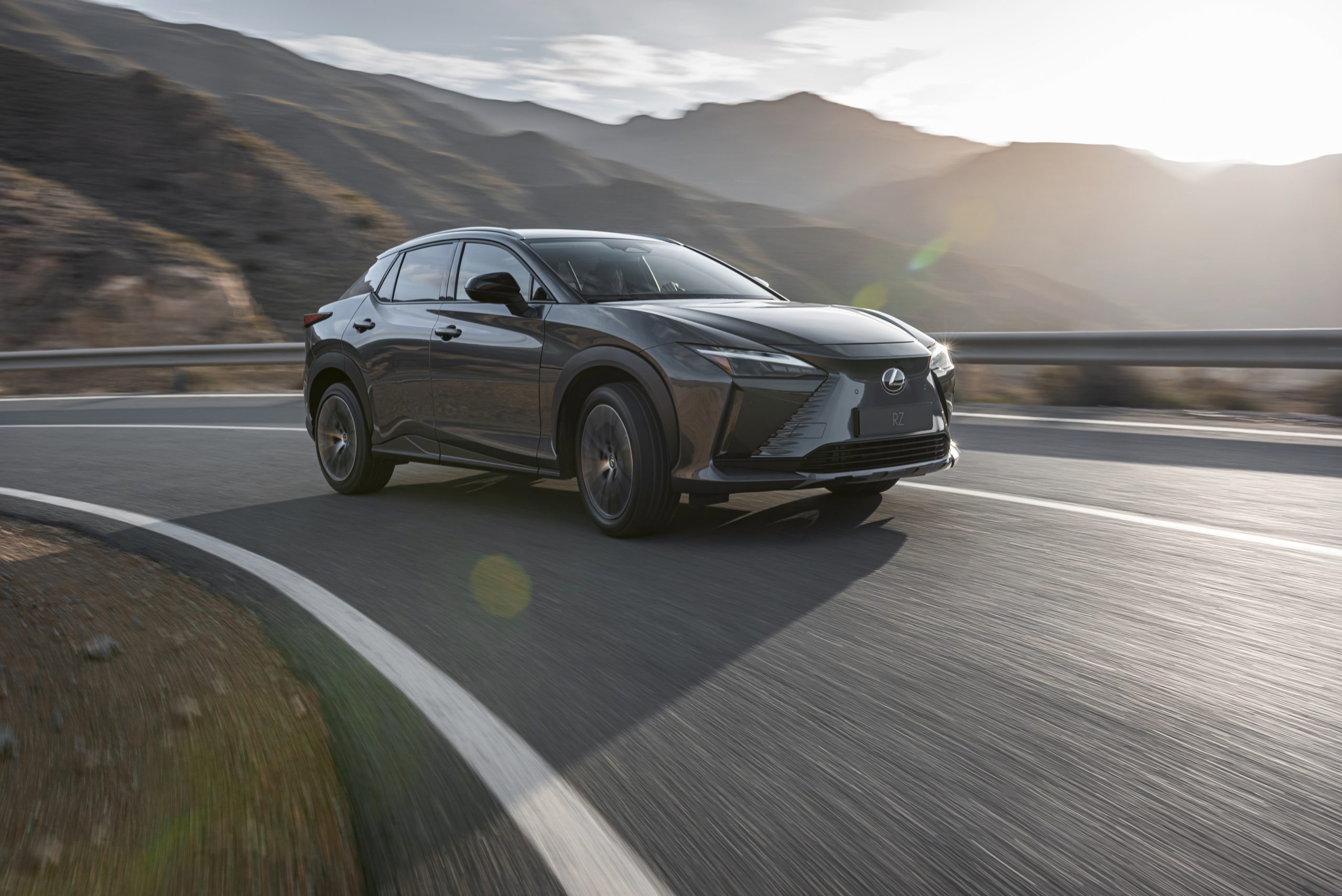 We know that Lexus shoppers are luxury shoppers and don't usually cross-shop Toyotas, but we thought it would be fun to look at some of the some of the basic differences between Lexus' first EV, the 2023 RZ 450e crossover, and its corporate cousin, the Toyota bZ4X EV, with which it shares a bit of mechanical equipment and some styling cues.
The Lexus, as benefits a Lexus, will come with almost 50% more power along with more head- and legroom, fancier features and, of course, a higher price tag.
The RZ 450e also will deliver slightly less range than the Toyota – thanks to its power increase and heavier weight.
Pricing
The RZ will be available in two trim levels with electronic all-wheel drive and a 14-inch infotainment touchscreen as standard equipment. The bZ4X comes in two front-drive trims, each with a 12.3-inch touchscreen and an electronic AWD option.
The base RZ 450e Premium trim with 18-inch alloys will start at $59,650 including the mandatory destination fee. The RZ 450e Premium with 20-inch alloys is $1,250 more.
The Limited, with 20-inch alloys standard, will start at $65,150.
All-wheel drive versions of the bZ4X are about $14,00 less for the base trim and $15,000 less for the top trim.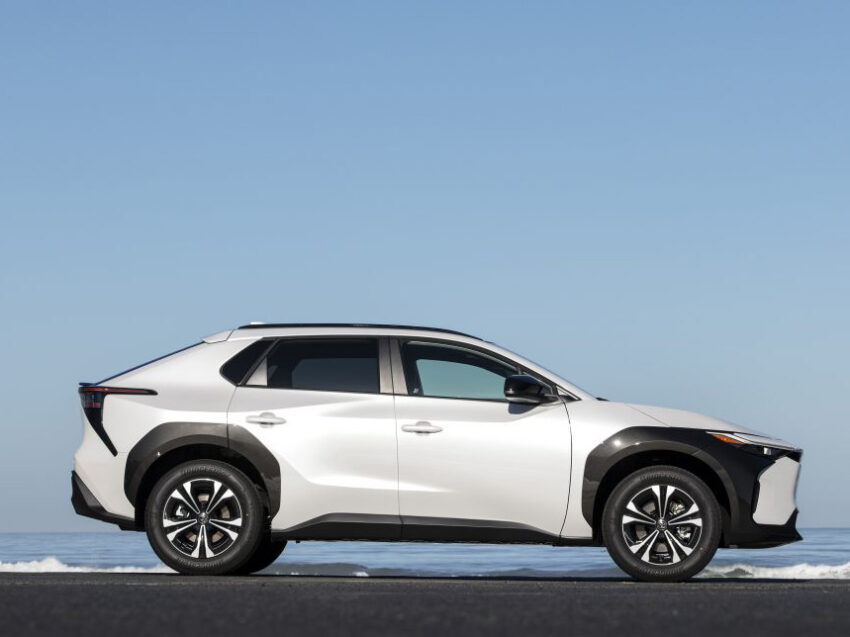 Power
Lexus is rating output for the RZ 450e's dual motor AWD system at 313 horsepower. Torque from the 150-kilowatt front motor is 196 pound-feet while the 80-kW rear motor provides a maximum of 124 lb.-ft.  Lexus says the RZ 540e can sprint to 60 mph from a standing start in 5 seconds flat.
AWD versions of the Toyota bZ4X use 80 kW motors front and rear for 214 peak horsepower and 124 lb.-ft.. of torque on each axle. Toyota says that's good for a zero-to-60 mph time of 6.4 seconds.
The Lexus is heavier than its Toyota cousin and uses a slightly smaller battery: 71.4 kWh vs 72.8 kWh for AWD versions of the Toyota.
Range
Those differences, along with the RZ's power increase and slightly heavier curb weight, give the Lexus EV an estimated 220 miles of range with 18-inch wheels and tires and 196 miles with 20-inch wheels.
The bZ4X is rated a 228 miles on 18-inch wheels and 222 miles with 20-inchers but consistently delivers less in real-world driving.
Room
Outside, the Lexus EV at 189.2 inches in length, is 4.5 inches longer than the Toyota. It also is 1.4 inch wider with a roof peak that's a little more than half an inch lower. Ground clearance is 7.87 inches, vs 8.1 inches for the bZ4X.
Inside, the Lexus offers almost 1.25 inches more front headroom at 39.88 inches, and 2.6 inches more rear headroom at 39.7 inches. Front legroom in both the RZ and the bZ is the same at 42.1 inches, but the Lexus claims 2.2 inches more rear legroom at 37.5 inches.
Cargo
Some of the RZ 450e's additional legroom apparently was claimed from the cargo bay, which offers 23.7 cubic feet with the rear seats in place, versus 27.7 cubic feet in the Toyota. That's about three extra grocery bags for the bZ4X.
Cargo area in both electric crossovers grows considerably when the rear seat backs are folded down. Lexus claims a total of 55.6 cubic feet in that case; Toyota doesn't provide a "seats down" measurement but it is likely to be about the same, adding an extra 30 to 32 cubic feet.
Stay Tuned
There's more to come as TheGreenCarGuy will have an opportunity soon to spend some time behind the wheel of the RZ 450e. Look for a First Drive report with standard equipment breakdowns for each trim by mid-March.
Meantime, suffice it to say the Premium trim will be extremely well equipped and the Limited will add a number of mostly luxury upgrades, such as fancier upholstery and a higher quality audio system. It is also likely that the Lexus' ride quality will be a bit more luxury-oriented than the Toyota's.