Lexus' First EV Has Lots to Offer but Misses On Range and Pricing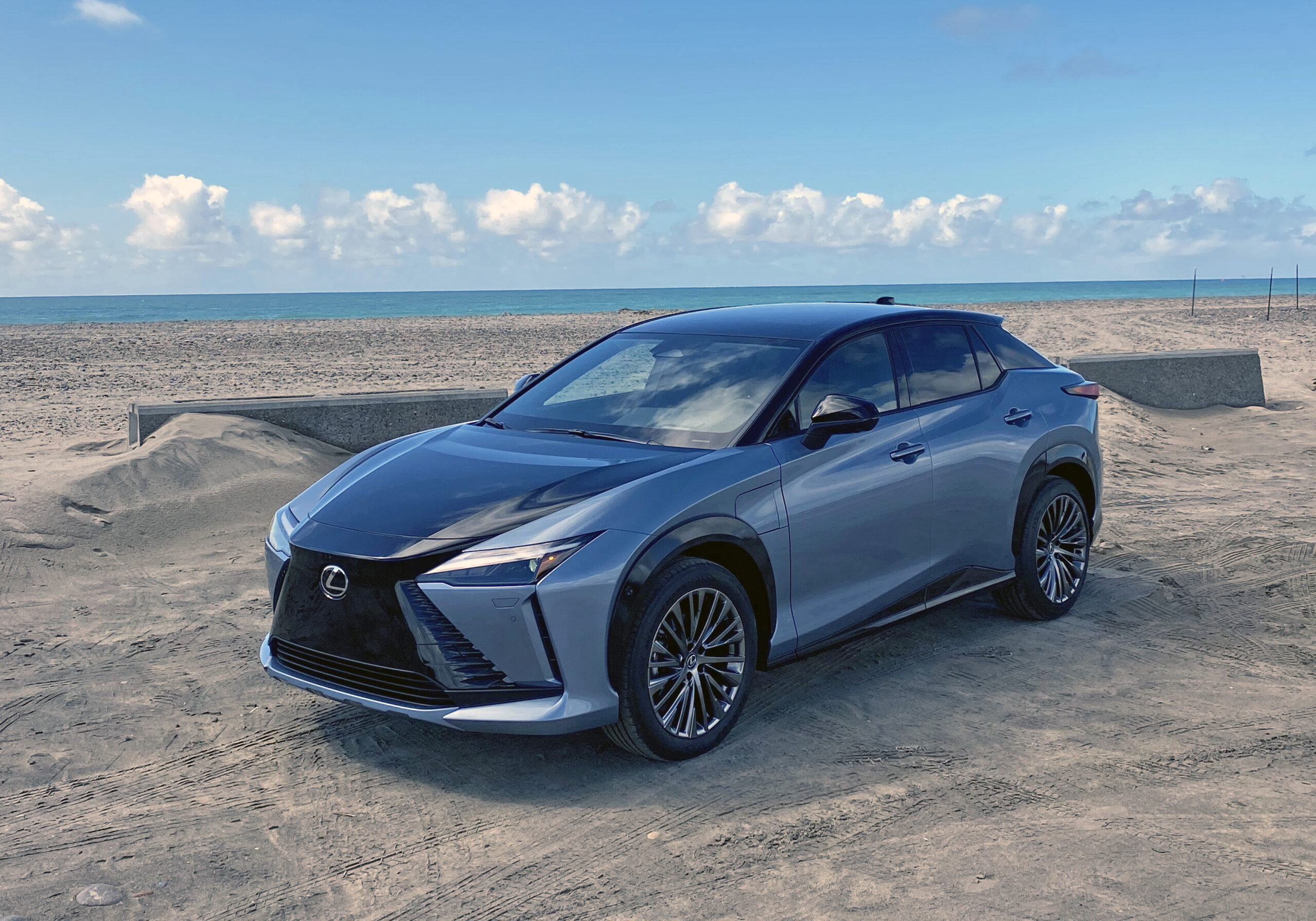 The first all-electric model from Lexus, the 2023 RZ 450e small luxury crossover, hits its mark most of the times, but disappoints in range and price versus its most likely competition.
Overall, it is a properly Lexus-like entry into the fast-growing crossover EV market, spearhead of the luxury brand's plan to go all-electric by 2030 as part of corporate parent Toyota's somewhat tardy decision to add battery-electric vehicles to a lineup top-heavy with gas-electric hybrids.
It's a short first step, though. Global material shortages, supply chain wrinkles and quite probably remnants of a fainthearted corporate acceptance of all-electric technology mean worldwide production for the 2023 model will be just 30,000 units, with a mere 4,900 destined for the U.S.
Tesla sells that many copies of its Model Y crossover, a likely RZ rival, every month.
A version of this review also appears on Forbes Wheels
The RZ 450e will be marketed nationally through Lexus' network of 244 dealers, with a heavy distribution bias to EV-friendly states such as California. It is expected to start showing up in dealerships in early spring.
The company is banking on the brand's reputation for an unparalleled dealership experience along with the RZ's traditional Lexus qualities and some new features including a steer-by-wire system that comes later in the model year to attract both existing Lexis fans and EV buyers new to the brand.
TheGreenCarGuy was able to participate recently in a short RZ drive program as Lexus prepares for the EV's national launch and found it to be a competitive addition to the luxury electric crossover segment for shoppers who aren't slave to the idea that EVs have to have 300 miles of range to be useful.
Price and Range Could Hurt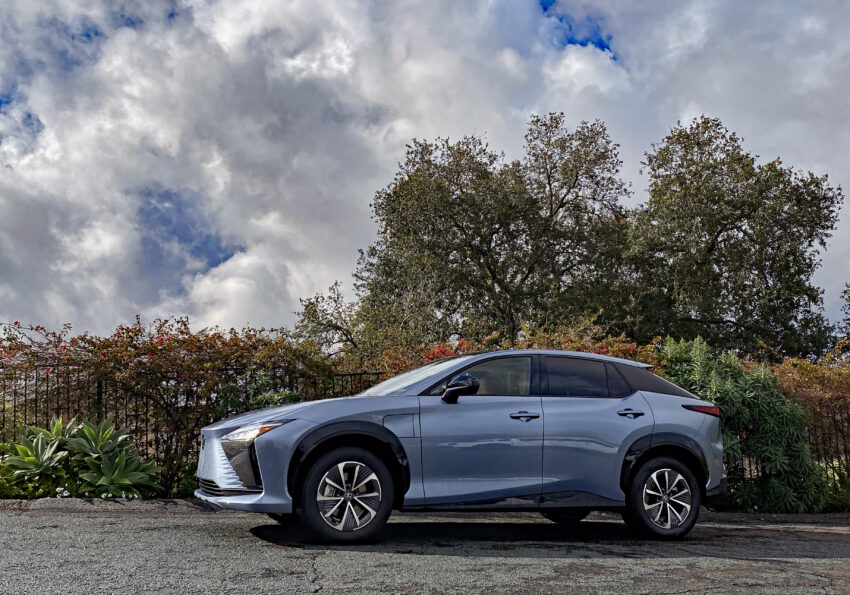 The two-row, five-passenger RZ comes in two trims, Premium and Luxury, both with electronic all-wheel drive, which increases weight. And weight increases battery drain. The decision to offer 20-inch wheels and tires in two trim variants doesn't help.
The big wheels cut 11% from the 220-mile estimate for the Premium trim with 18-inch rollers. That means 196 miles for the Premium with 20-inch alloys – a sub-variant of the base trim – and for the Luxury, which comes only with 20-inchers.
While relatively few drivers travel even 100 miles a day in normal times, Americans have come to expect their cars to take them wherever they want to go, whenever they want to make the trip. That tends to make EVs with less than 250 miles of range difficult to think of as the main vehicle for most households.
With its low range and a pricing scheme that starts at almost $60,000 and no eligibility for the buyer's $7,500 federal tax credit that can make a real bargain of rivals such as the Model Y and Cadillac Lyriq, the RZ could face a pretty steep uphill climb.
The 330-mile Model Y Long Range, for instance, now has a real cost of acquisition just under $50,000 – $10,000 less than the RZ after the federal incentive is applied. Most competitors without tax credit eligibility also are priced lower – though not by much. The Mercedes-Benz EQB, with 243 miles of range, starts $1,600 under the base RZ, and the Volvo C40 Recharge at $3,255 less.
To help overcome buyer concerns that the RZ won't be up to the annual family road trip, Lexus is providing owners 30 days of free rental of any other Lexus vehicle during the first three years of ownership.
It isn't offering much though, to ease the sting of the RZ's price tag – not even a few years of free DC fast charging, as some rivals offer.
Two (and a half) Trims
Lexus starts the RZ Premium trim, equipped with 18-inch alloys, at $59,650 including an $1,150 destination charge.
The Luxury trim, with 20-inch wheels, starts at $65,150.
In between, there's a separate Premium variant – with 20-inch wheels but no other changes, priced at $60,900.
Lexus took the unusual step of listing the big-wheel Premium as a separate model, rather than simply making the 20-inchers an option, out of a desire to be absolutely transparent about the impact the large wheels and tires have on range.
Most automakers would advertise the base model's maximum range and ignore the loss that comes with adding bigger wheels and tires that increase weight and rolling resistance. Lexus decided to make it very clear that while adding 20-inch alloys to the Premium might make it look spiffier, it also cuts 24 miles – 11% – from its range.
Power is Plentiful
While not a racer, the Lexus RZ 450e has plenty of power with a dual-motor AWD setup rated at 308 horsepower and 321 pound-feet of torque.
It shares its platform and a number of mechanical bits with the Toyota bZ4X and Subaru Solterra electric crossovers introduced in 2022, but the Lexus RZ is its own animal, especially in the powertrain and drivetrain departments.
Available only with all-wheel drive, the RZ 450e an electric motor on each axle, electronically connected to provide all-wheel drive when it is advantageous, and to send the appropriate amount of torque to each wheel. In normal driving, the system is biased to provide the handling and performance characterizes of real wheel drive.
At full throttle, Lexus says, the RZ can hit 60 mph from a standing start in in 5 seconds, versus 6.4 seconds for its Toyota and Subaru cousins.
It isn't as quick at a Model Y or the Volvo C-40 Recharge, but is plenty fast for passing, merging into freeway traffic or making it across the intersection first.
The RZ's suspension tuning is sportier than its cousins' and the result is a far more refined ride than the Toyota or Subaru. It offers a very comfortable ride, but not a cushy one. There's no noticeable bouncing on rough roads and very little roll or lean on curves and corners. The electronic AWD system is biased toward rear drive, and the front motor can disconnect while cruising to help maximize range.
Current Lexus driver getting into an RZ for the first time will feel right at home on the road, and will be surprised by the initial quickness the electric powertrain provides.
Electric Steering
Lexus hopes to increase the RZ's desirability by offering a model with a refined steer-by-wire system – no mechanical linkage between the steering column and the front wheels, just electronic signals. The system won't even have a conventional steering wheel.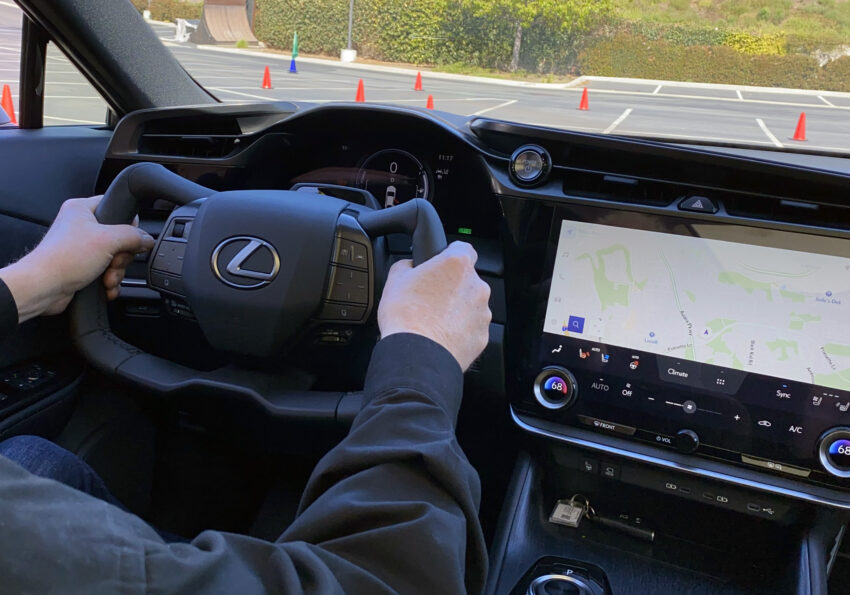 Drivers instead will grip an airplane-style yoke that uses some fairly complex algorithms to continually adapt input signals so it never rotates more than 300 degrees, lock to lock. The driver doesn't have to shuffle hand over hand to turn the RZ in a compete circle – indeed, to circle left the right hand stops in about the 4 o'clock position and the left hand at 10 o'clock.
We were allowed to test it on a zig-zag closed course that included a tight U-turn and got the hang of it pretty quickly. Whether it will be a big hit or appeal only to the relatively few who have to have the newest thing is up in the air. The electronic steering is pretty good, with reliable feedback and response, but the yoke might be a bit faddish and not very long lived.
In any event, it won't be available until "later," according to Lexus – probably in 2024 – and only on the Luxury trim, and will likely will add a few thousand to the price.
Improved Charging
The RZ uses a 6.6 kilowatt on-board charger for overnight home charging on a Level 2 (240-volt) system. For road trips, it has a CCS charging port allowing it to access DC fast-charge stations at speeds of up to 150 kW – enough to bring a battery from 20% up to 80% of capacity in about 30 minutes.
That's faster than the Toyota and Subaru cousins, which use batteries from a different supplier and charge a bit slower. But it is pretty much par for the course in the RZ's luxury segment. The outliers there are the Tesla Model Y and Genesis GV60, which can do DC fast-charging at much higher speeds. The Genesis leads the pack with an 18-minute top up – to 80% of capacity from 10% – on one of the new 350-kilowatt fast chargers.
It's a Lexus
Once past price and range issues, the RZ is an EV that lives up to Lexus' standards for comfort, luxury content, refined handing and good looks. Even the signature Lexus cow-catcher style grille is easier to look at on the R, thanks to an artful integration of the spindles into the front fascia.
While the RZ is close in size to the Lexus NX plug-in hybrid and RX standard hybrid crossovers, its roof peak is closer to the ground, its hood is longer and lower. Its windshield is more steeply raked and its profile shows off muscular, coupe-like haunches that, combined with the low, rearward curving roofline, give the RZ an almost coupe-like profile.
Inside, the RZ boasts a clean, modern luxury aesthetic. The center console spans an open storage bin that replaces the glovebox (more about that in a moment) and ties into a center stack dominated by an easy-to use, voice- and touch-controlled 14-inch infotainment screen.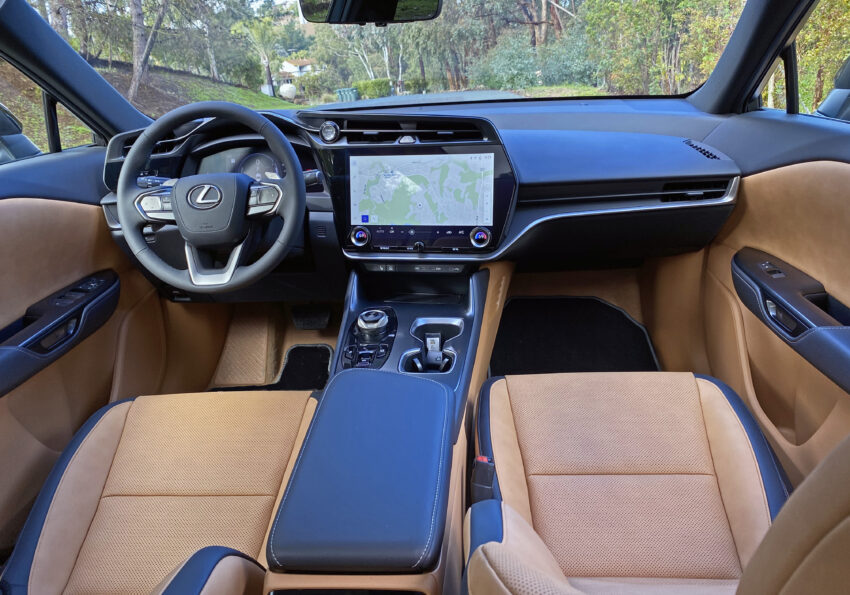 The base model gets a 10-speaker Lexus Premium Audio sound system, the top trim gets a 14-speaker Mark Levinson surround sound system. Wireless Apple CarPlay and Android Auto are standard, as is wireless phone charging. Cloud-based navigation, satellite radio and a Wi-Fi hotspot are available through various subscription services, most with a free trial period.
There's no wood trim (although the top grade gets a wood grain pattern etched into the console surface) no analog clock, and a minimum of bright-work and vent outlets to clutter up the dashboard. A lace-like light pattern is projected on the upper door panels to add visual interest at night – it isn't visible on sunny days – and both trims come with a panoramic glass roof. Instrumentation, including that big touchscreen, in nicely oriented toward the driver.
The space usually occupied by a glovebox is open to provide more legroom and to facilitate a radiant heating system embedded in the lower dash – standard on the Luxury trim, optional for the Premium – that warms the front occupants' lower extremities. There's a blower-type heating system, too, but the radiant heat and heated seats together means the main heating doesn't work as hard and consumes less of the battery's energy.
There's a decent amount of interior storage for keys, coffer cups and stuff, but with no glovebox, the booklets and paperwork many drivers store on board will end up tucked away under the cargo floor or in the covered cubby on the console, eating up a lot of that room.
There's lots of legroom front and rear, and despite the glass roof, loads of headroom thanks to an ultraviolet blocking glass that keeps heat from soaking the interior without use of a retractable sunshade that lowers the interior ceiling.
Safety
The RZ comes with a full complement of advanced safety and driver assist features bundled into Version 3.0 of the Lexus Safety System + package.
It includes full-range adaptive cruise control, forward collision mitigation with bicyclist, motorcycle and pedestrian detection, lane-keeping assist and an emergency stop system. Also standard are blind spot monitoring, a rear cross-traffic alert and parking assist with automatic braking and rear pedestrian detection. The top trim get a few additional bells and whistles including a head-up display, lane change assist and front cross-traffic alert.
The RZ hasn't been crash-tested by NHTSA or the independent Insurance Institute for Highway Safety, but it should do well when it is put through the paces. its platform mate, the Subaru Solterra, received a Top Safety Pick + rating for 2023 from the Insurance Institute after acing all of its crash tests and safety system and headlight assessments. The other platform mate, Toyota's Bz4X, aced all but one test, missing the IIHS top pick rating because its base trim's LED headlights were graded "poor" for side illumination.
Features
The base RZ Premium comes with 18-inch alloys and all-season tires, a two-panel panoramic glass roof, faux leather (NuLuxe is Lexus' brand name) upholstery, power adjustable front seats with driver seat memory, dual-zone climate control with separate controls and vents for the second row, single-color ambient interior lighting, LED headlight and taillights, heated and ventilated front seats and a heated steering wheel, wireless phone charging, a 10-speaker audio system and Google-based infotainment system with a 14-inch screen, wireless Apple CarPlay and Android Auto compatibility and five USB-C ports, three up front and two in the second-row.
There are three interior color scheme for the Premium trim: light gray, dark gray and cream, and "Palomino," – a deep caramel color – all with black trim.
The Premium variant with 20-inch wheels adds those large wheels but nothing else.
Options for the Premium trim include a $1,425 Technology Package that includes a head-up display, digital key system and Lexus' Advanced Park system. The radiant heat system that's standard on the Luxury trim is a $175 option for the Premium
The RZ Luxury trim gets 20-inch alloys with summer tires and a trim-level unique spoke design, acoustic side glass, a digital key, Ultrasuede trimmed upholstery, multi-color ambient interior lighting, radiant heating for the front row occupants and heated outboard seats in the rear, a 10-inch head-up-display, a 13-speaker Mark Levinson surround sound audio system and Lexus' Advanced Park system for autonomous parallel and perpendicular parking.
Interior colors for the Luxury are the same as for the Premium, but with charcoal gray rather than black trim.
There is a single standard color for either trim – black,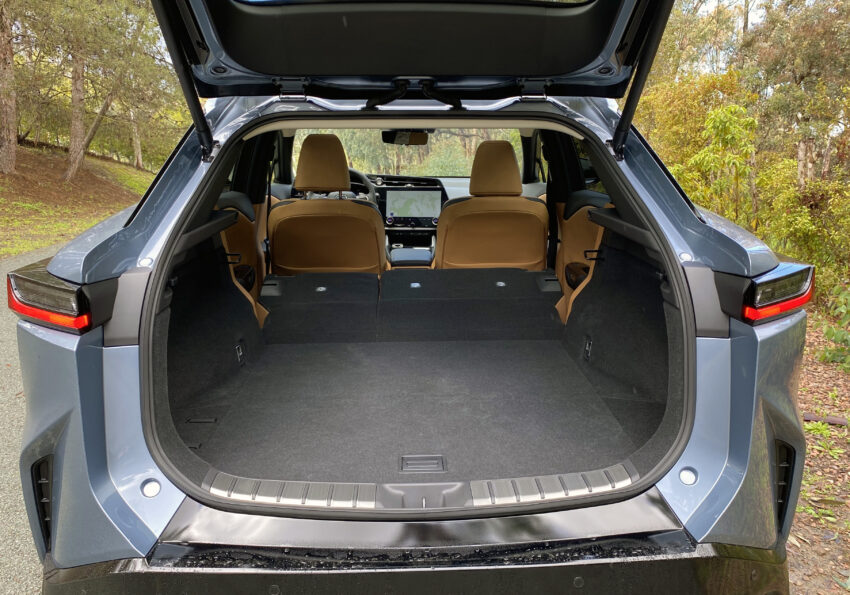 Options
Extra-cost exterior color choices for either trim are white pearl, light gray, charcoal gray and a grey-blue called "Ether," each for a $500 upcharge, as well as a pair of two-tone schemes, black over charcoal or black over Ether, for $1,200 extra.
A $200 cold weather package with headlamp washers and a windshield wiper deicer is available for both trims, as are an illuminated front badge and a digital rear view mirror, at $200 each.
For the Luxury trim only there's a dimming system for the panoramic glass roof, at $550.
Lexus provided lodging and meals at the event The GreenCarGuy attended in order to review the 2023 RZ 450e in a timely manner.