-First Drive Review
-A Winning EV from Cadillac
-1st Year Production Pre-Sold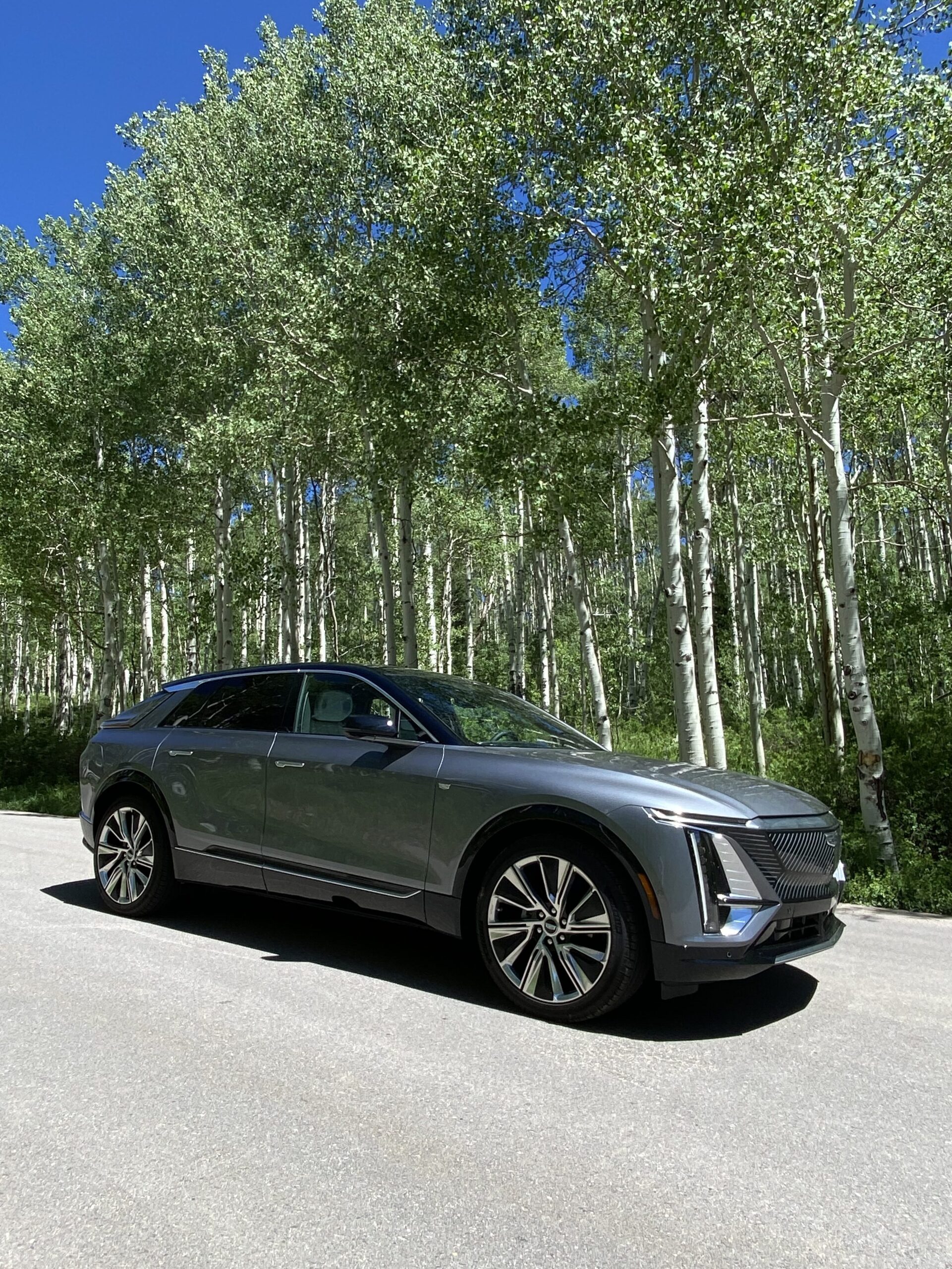 The 2023 Cadillac 2023 Lyriq gently steers GM's luxury brand into the age of electrification with cutting-edge technology, one of the industry's smartest electrical powertrain and battery systems and a new and elegant design language– all without losing the comfortable ride and posh interior Caddy customers expect.
It's a fine line to navigate, but if the first indications hold true, the Lyriq could lead the way to a healthy revival of the Caddy brand.
[A 10-min., 30-sec. read.]
When Cadillac asked last year for a show of interest in its all-electric crossover, more than 250,000 people signed up and about 10% are considered solid prospects who've let Caddy know they seriously intend to buy.
The numbers aren't huge – one industry watcher estimates that just 22,000 Lyriqs will be produced this year and next – with just 3,000 of that number rolling off the production line at Cadillac's plant in Spring Hill, Tenn., through the end of 2022.
Still, the Debut Edition of the Lyriq sold out in just 10 minutes after on-line ordering opened up last September; the remaining 2023 model year production sold out in a few hours when on-line ordering was resumed in May and the rest of the folks on the waiting list were recently told they are now waiting for the 2024 model, which won't start being delivered for almost a year.
[A version of this review also appears on ForbesWheels.com.]
And it's likely those first Lyriqs to be sold won't be the last. Cadillac says that the Lyriq is drawing younger buyers than have previous non-electric offerings and that almost three-quarters have never shopped Caddy before. It's an infusion of fresh faces that can pump new life into a brand with an aged and aging core buyer group
Those early buyers and hand-raisers have been enthusiastic about the 2023 Cadillac Lyriq based solely on its looks and what Cadillac has had to say about its performance. The first customer deliveries are just starting, so there's been no owner word-of-mouth to help generate enthusiasm.
We Drove It
Well, TheGreenCarGuy can report that buying sight-unseen, in this case, isn't likely to disappoint.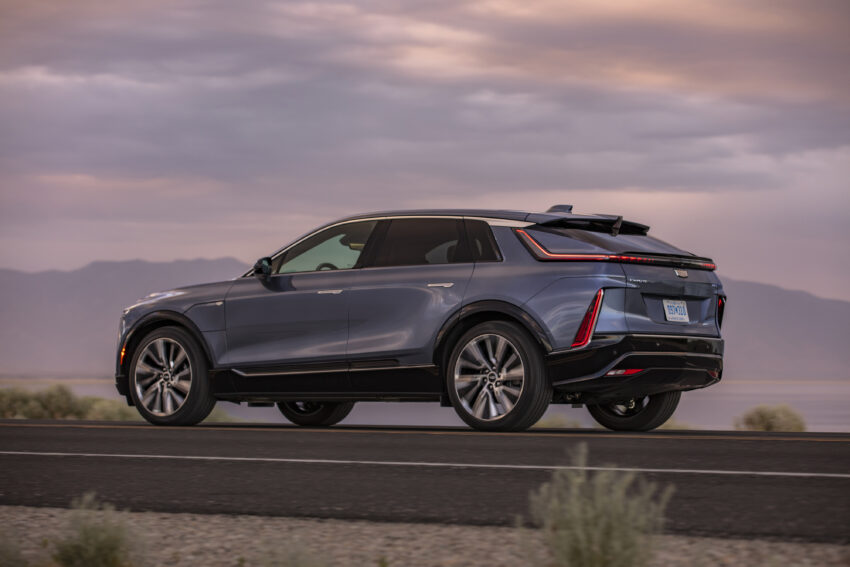 The Lyriq is engineered for comfortable cruising with a modest bias toward sporty handling. We were able to put it through some of its paces on the roads around Park City, Utah. Unfortunately, local and tourist traffic, throttled-back speed limits (one long mountaintop stretch was limited to 15 mph) and copious police patrols made it difficult to pass 50 on the digital speedometer readout.
Still, it was easy to tell that unfettered, the 340-horsepower, 325 lb.-ft., rear-drive Lyriq will be quite quick enough – and the upcoming 500 hp all-wheel drive version (end of the year deliveries) will be even quicker. Lyriq's chief engineer, Jamie Brewer, said that the rear drive version can hit 60 mph from a standing start in just under 6 seconds. That's the slowest time in the small but growing luxury electric midsize crossover segment – most competitors boast sub 5-second 0-60 times.
But most Caddy buyers aren't after drag-strip quality sprints anyhow. More important than beating that Tesla Model Y to the next stoplight is that the Lyriq is incredibly quiet on all kinds of road surfaces and also is also extremely comfortable, with a ride that's firm but not jolting, and seats that cushion and support without feeling like grandma's overstuffed couch.
Self-tuning dampers and five-link suspension front and rear help smooth out the ride and improve handling, as do the very low center of gravity and the Lyriq's nearly 50/50 front-to-rear weight distribution. Push it, though, and the rear-drive 2023 Cadillac Lyriq lets you know it is no sports car. At normal speeds, though, it corners well, although with a bit of body roll that shouldn't be unexpected in a SUV-styled crossover. Steering, while tight and responsive, doesn't offer much feedback – a lack that's common with electric power steering systems.
Overall, this is a roomy midsize crossover that's great for everyday driving and also is likely to be the favorite road trip conveyance in a multi-car garage.
Range and Charging
On road trips, while official EPA range and efficiency numbers haven't been posted yet, Cadillac estimates that the Lyriq's battery pack, with 102 kilowatt-hours of usable capacity, can deliver 312 miles of range.
In a segment that includes the Audi e-Tron and e-tron Sportback, the Jaguar i-Pace, the BMW iX and the Model Y, the rear-drive Lyriq's range positions it in the middle of the pack, well ahead of the 222-mile e-tron and 253-mile i-Pace but less – although not by much – than the Model Y, at 318 miles, and the iX, at 324 miles.
All the competition, however, is all-wheel drive only, and Cadillac has not yet released a range estimate for upcoming AWD Lyriq, which likely will drop to just blow 300 miles.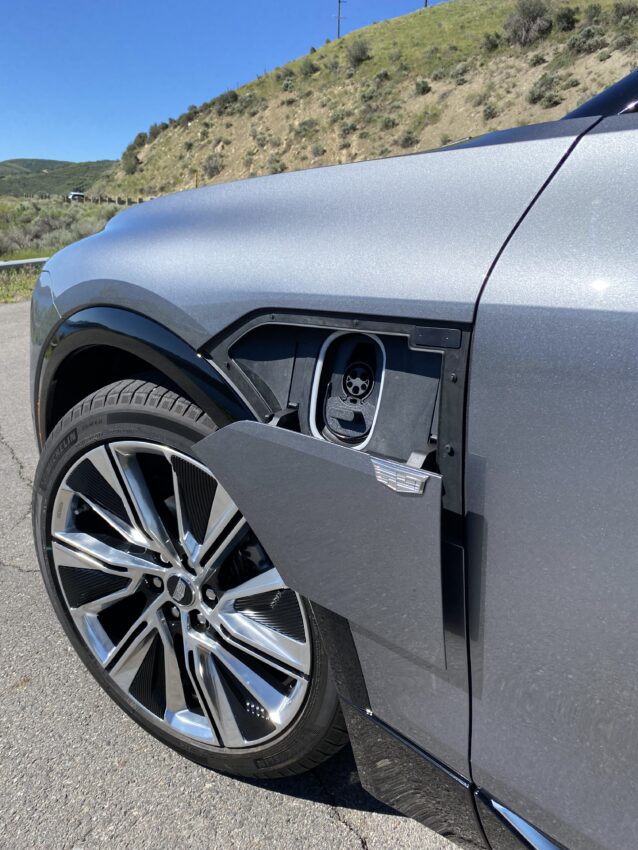 Figure the rear-drive Lyriq will deliver only 85% of its 312 miles of estimated range at highway speeds while hauling several occupants and their gear: That's still more than four hours of highway driving before recharging time rolls around.
With its 400-volt charging system, the Lyriq can use DC fast-chargers at up to 190 kilowatts, good for pumping electrons at a rate that will restore 76 miles of range in just 10 minutes, taking a 90% depleted battery back up to 80% of capacity in just 30 minutes.
On a trip with a lunchtime top-up stop and a full recharge overnight, 500 miles a day is eminently doable in the 2023 Lyriq.
For home or emergency charging when a DC fast charge station can't be found – or isn't working – the Lyriq comes from the factory with a dual level 120/240-volt charging cord set that can refill a 90% depleted battery in about 13 hours on a Level 2, 240-volt outlet. That's an average of 21 miles of range per hour.
For more powerful Level 2 home charging, which most drivers will want, the 2023 rear-drive Lyriq comes with a 19.2 kw charger that can add 52 miles an hour for a roughly 6-hour refill. The AWD version will have 11.5 kW Level 2 charging capacity, good for 31 miles per hour or about 10 hours for a full recharge.
Cadillac also is providing Lyriq buyers with the choice of a $1,500 credit toward home charger installation, or two years of unlimited fast-charging on the EVgo network.
Efficiency
Cadillac estimates the Lyriq's overall fuel efficiency to be the equivalent of a same-sized internal combustion crossover delivering 105 mpg.
Presuming the EPA agrees, then among other electric midsize luxury crossovers only the Tesla Model Y, at 125 mpg-equivalent, beats the Lyriq's fuel efficiency.
Stylish Design
The 2023 Cadillac Lyriq is big but racy looking, with a rearward sloping roofline that flows back from a long hood and steeply canted windshield. The body is slab-sided, but the slabs are broken up by bulging wheel arches and strong character lines.
The short, steeply slanted rear window gives the Lyriq a fast-back appearance, and a split spoiler on the trailing edge of the roof is angled to sweep air down across the glass, eliminating the need for a rear window wiper.
The roof is black glass, which makes three of the four color schemes two-tone, with steel gray, a rich blue or a bright white body under the black roof. The fourth exterior color is black, and because of production constraints, only it and the steel gray are available on the 2023 models.
The only design flaw is the wide C-pillar, which can block the driver's rear side-view when backing or changing lanes (yes, there are camera views and electronic warnings to compensate, but some drivers prefer their own eyes when possible).
Lyriq Light Show
The Lyriq's front end and front light treatment are particularly striking and probably helped sell more than a few of the 2023 models.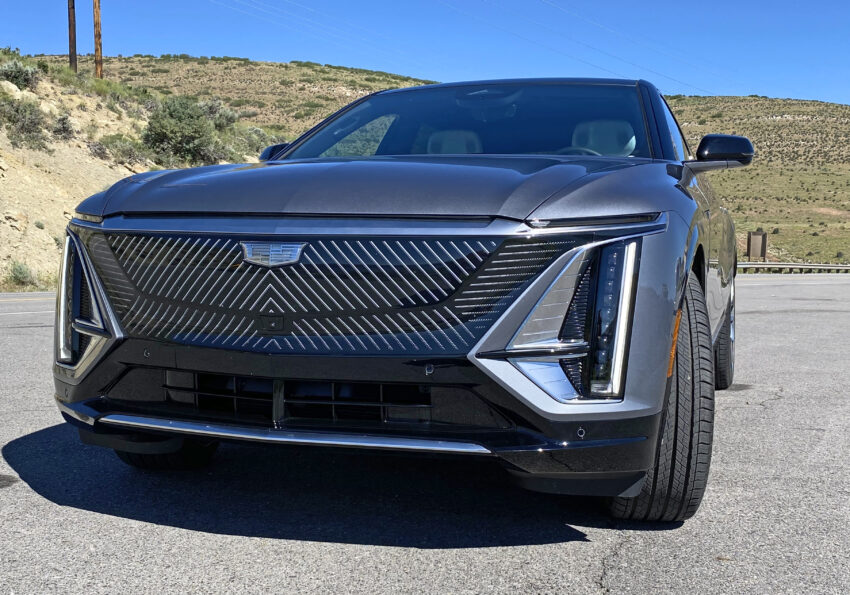 Drivers are welcomed as thy approach the Lyriq, electronic key in hand (or pocket, or purse) with a choreographed light show that uses the back-lit grille and the all-LED front lighting, illuminating in sequence.
The rear lights don't dance, but their design repeats the strong vertical layout of the front lights. The taillights carry up to the D-pillar area above the beltline, with an "L" shaped strip on each side that runs down the pillar from the roof and then wraps horizontally around the liftgate.
Comfort and Convenience
The Lyriq slots into the medium-large crossover category and boasts plenty of head and leg room front and rear, although it's not the segment leader in any of those categories.
At 196.7 inches overall, it is the longest of the five electric crossovers in the segment, and it has the longest wheel-base. That, along with a flat floor – because there's no central driveshaft – opens up the interior floor space.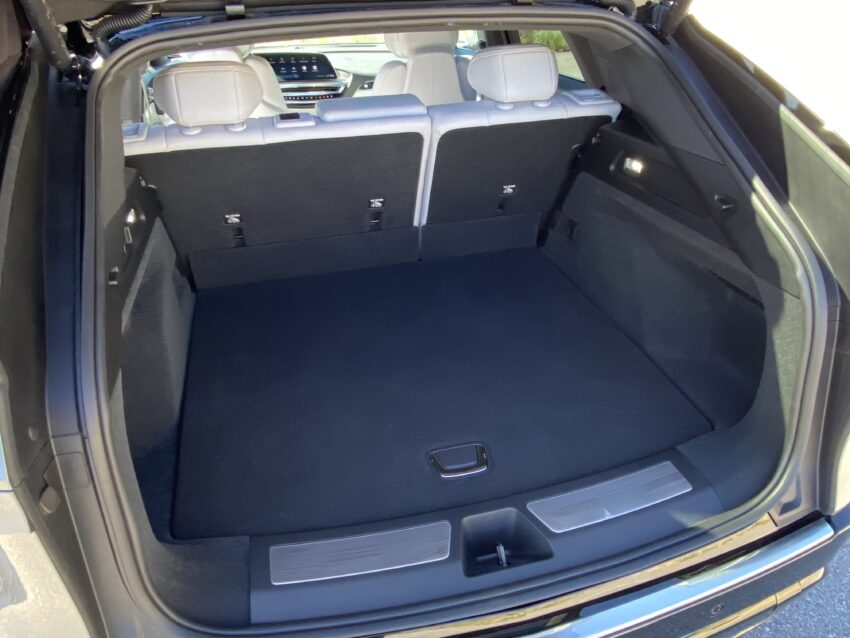 Cargo capacity – 28 cubic feet behind the seats and 60.8 cubes with the split rear seats folded flat – is mid-pack. There's no front-trunk, or frunk, but there is a deep well under the cargo area floor that does the same job.
An array of climate control system switches is lined up in the lower center portion of the dash, and a giant 33-inch digital display screen in a gently curved housing dominates all. It is a mono-screen – not divided into several smaller displays as other wide screens are – and many of its elements can be juggled around to suit a driver's preferences.
The right half is set up for maps, vehicle settings and audio and other infotainment stuff, the left half for driver-oriented information. Infotainment is android-based and the "Hey Google" voice controls work well. Apple CarPlay and Android Auto are supported, but not wirelessly.
There's a cantilevered two-level center console with an open bin on the bottom. The top piece is home to cupholders, a wireless phone charger slot, a covered cubby, a thumb-wheel for the audio system volume control, and the infotainment system's rotary controller. The 19-speaker premium audio system can be controlled by voice, from the steering wheel or via the touchscreen.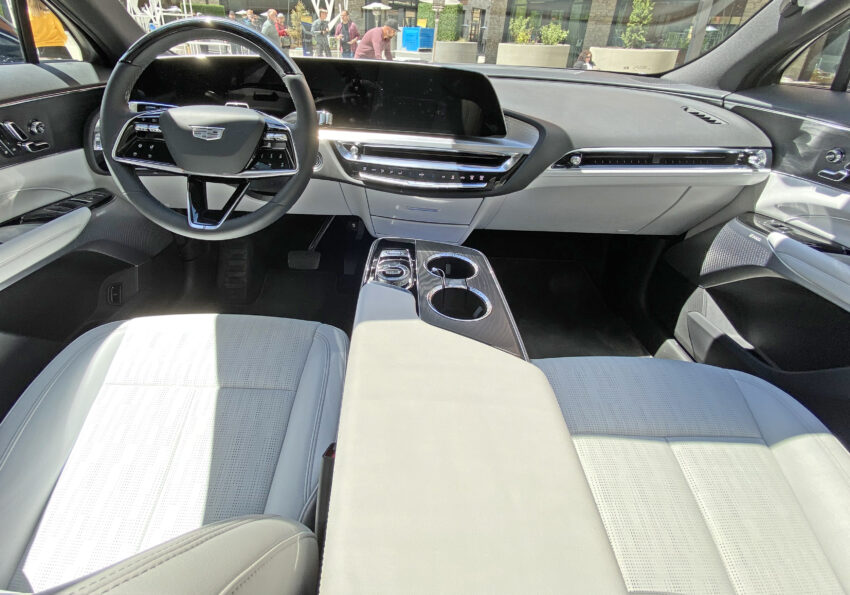 The 2023 Cadillac Lyriq was designed to accommodate over-the-air software updates for many infotainment and vehicle settings functions, and some things omitted in the push to begin production nine months earlier than initially planned will be added later.
GM's hands-free SuperCruise highway driving assist system is an example. The hardware's on the 2023 models, but the Lyriq-specific software won't be ready until closer to the end of the year, when it will be added as an "OTA" retrofit.
One downside of the rush to production in a plant addition at Spring Hill designed for EV assembly is that at least one nice-to-have feature, a head-up display – won't be available on 2023 models because the hardware wasn't ready and can't be retrofitted
Competitive Pricing
The Lyriq's modern good looks, boatload of features and luxurious cabin with its sweeping 33-inch digital display certainly helped drive its advance sales.
But pricing certainly didn't hurt. Caddy's strategy situates the Lyriq as the least expensive choice among other luxury midsize electric crossovers.
The rear-drive version, which started at just $59,000 for the Debut Edition, jumped to $62,900, including destination, for the rest of the 2023 production – the Launch Edition Lyriq.  There's only one trim level for the first year and the only option is 22-inch wheels and tires. The electronic all-wheel drive version, not slated for delivery until the end of the year, starts at $64,900.
Competitors, which come only with all-wheel drive start thousands of dollars higher than the AWD Lyriq. The iX tops the list with a starting MSRP of $83,200.
That Name
Cadillac spells the name of its new EV in all caps – LYRIQ – but we'll stick with Lyriq. The name, the automaker says, is tribute to the fact that Cadillac is the most mentioned brand name in song lyrics stretching from jazz and R&B up through country, pop, rock and into rap and hip-hop.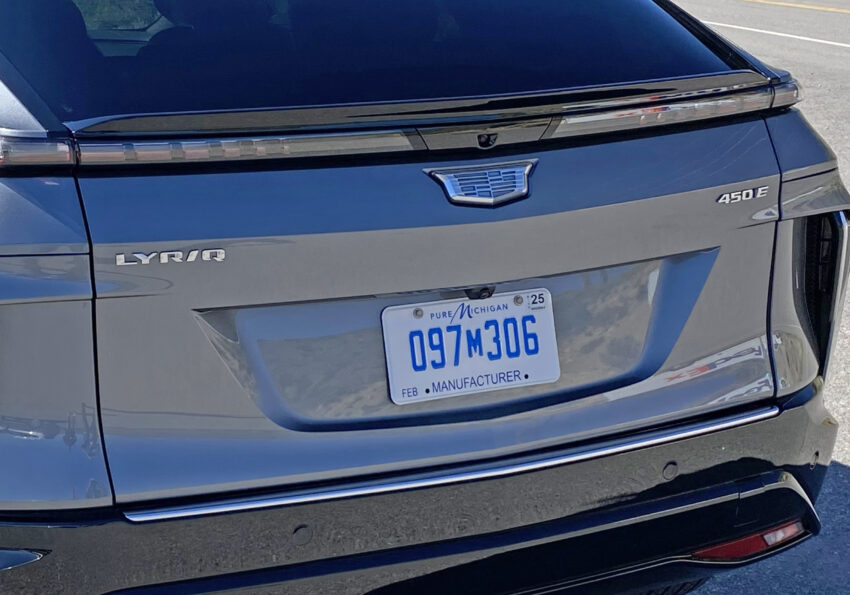 The "iq" ending is part of Caddy's new naming system and the "ick/eek" sound is supposed to convey a modern, electronic image for the brand, which intends to be all-electric by 2030. Next up is the hand-built Cadillac Celestiq electric sedan, due to debut this summer with a late 2023 production start and a price tag many pundits are guessing will top the $300,000 mark. It will go on sale as a 2025 model
A numeric badge on the rear represents the metric measurement of the Lyriq's 441 Newton meters of torque, rounded up because "450" looks better than "441." The "E" stands for "electric." In an American garage, 441 Nm equals 325 pound-feet of torque.
The upcoming all-wheel drive version likely will get a different numerical rating because it will get a second motor, rated at 160 hp (for a total of 500 hp), to drive the front axle and thus will have more torque – Caddy hasn't yet released figures. Maybe the Lyriq 600?