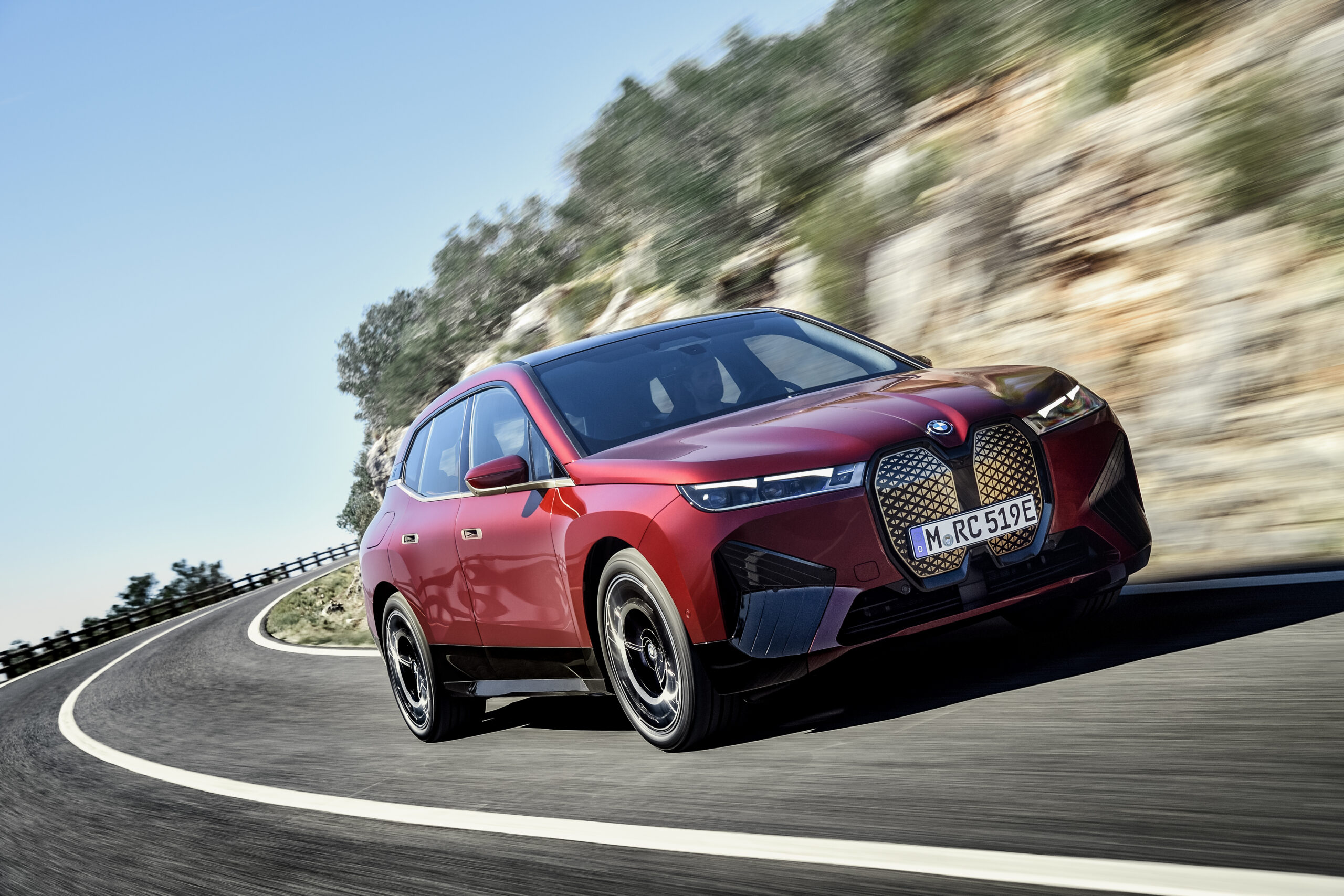 BMW's 2022 iX, a full-size electric SUV, will hit U.S. shores early next year. The i4 grand touring EV also is on the way, although timing isn't as certain.
[A 2.5-min. read]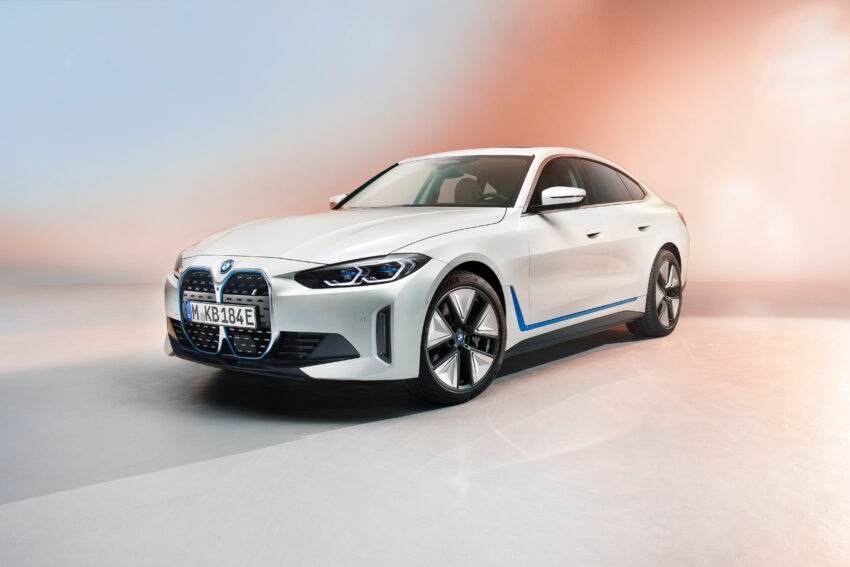 BMW provided a photo (right), but scant info on the i4 during its annual corporate conference, at which the iX also was introduced.
What we do know about the i4 is that it, like the iX, is part of a BMW electrification drive and will get that new oversize BMW grille. There will be an M4 performance variant as well as other trims, with up to 530 horsepower (the M variant, apparently) and ranges of up to 300 miles. Nothing about ordering, pricing or the on-sale schedule was disclosed.
iX Revealed
Bimmer's big electric SUV, whose competition will include the Audi e-Tron, Tesla's Model X, and the Mercedes-Benz EQC, is expected to start at about $85,000 before incentives. BMW said that U.S. dealers will begin taking orders in June.
The iX 50 – full name BMW iX xDrive 50 – will be an all-wheel drive model, with dual electric motors delivering "around" 500 horsepower, the automaker said.
BMW said there will be a less powerful iX xDrive40 variant, with a smaller, 70 kWh battery and 250 miles of range. The company but didn't hint at pricing or say whether it would be marketed in the U.S. alongside the iX 50.
Long Range, Lots of Power
Range for the iX 50 is expected to hit or exceed 300 miles, with power drawn from a battery with total energy capacity BMW describes only as "over 100 kWh." How much of that will be usable hasn't been disclosed.
Improved battery chemistry and design has enabled a 20 percent increase in the liquid-cooled battery pack's energy density, for more range and less weight.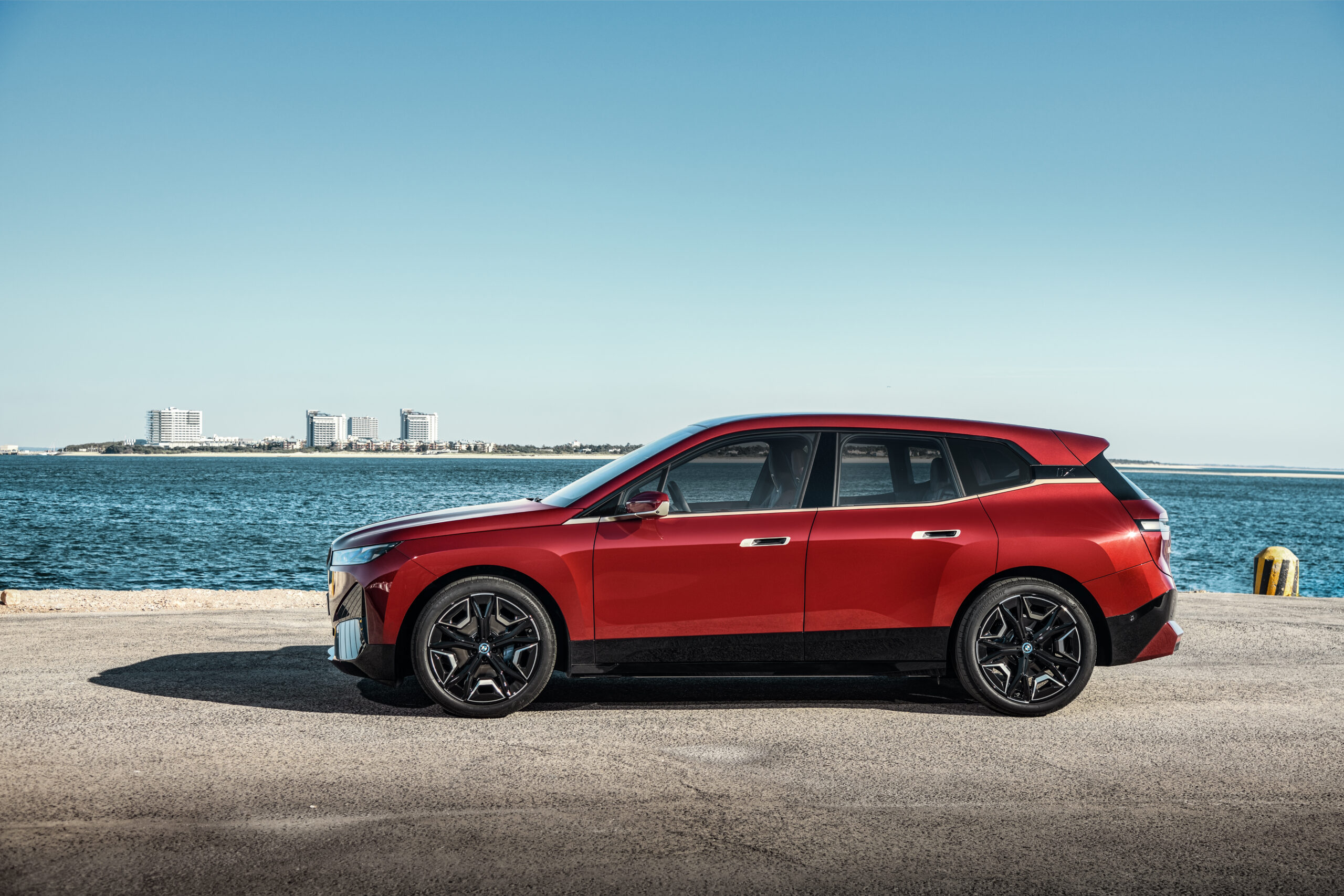 The iX will be built using BMW's fifth generation EV architecture, which bundles electric motor, power electronics and transmission in a single housing (there are two such integrated packages for AWD models). The design provides for 30 percent greater power density than in the company's earlier electric drive systems, reducing weight and mass.
The electric motors, according to BMW, are 93 percent efficient at delivering power to the wheels and feature an advanced design that enables full torque to be delivered at higher speeds than in the past. An issue some have had with EVs' performance is that while most are very quick off the line because electric motors deliver full torque instantly, that torque drops off more rapidly with electric motors than with internal combustion engines.
The iX xDrive50 is capable of a 0-62 mpg sprint in under 5 seconds, the automaker said. Top speed is electronically limited to 124 mph.
Faster Charging
The electric SUV's charging technology also has been updated from previous BMW EVs. It will be able to charge on Level 2 (home-style) equipment at up to 11 kilowatts per hour – total charging time for a depleted battery would be 11 hours.
It can also use DC quick charging equipment at up to 200 kilowatts. That would take an iX 50's 90 percent depleted battery back up to 80 percent capacity in just under 40 minutes, or add 75 miles of range fin jut 10 minutes.
Greener, Too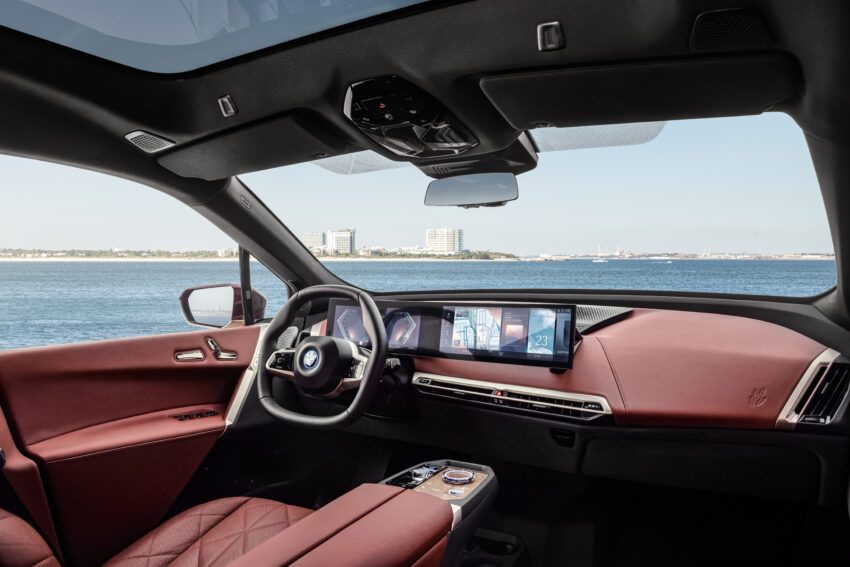 As part of its corporate sustainability effort, BMW has begun using aluminum made using solar power. the company said the plant at which the iX is built uses only hydroelectric power. A significant portion (BMW says "up to" half) of the aluminum castings used in the iX are made of recycled aluminum.
Additionally, the iX electric motors use electromagnets, which don't contain rare earth materials that often are mined at great damage to the environment.
Inside, much of the interior is made with recycled and sustainable materials, including lots of recycled plastic for various plastic bits, and natural wool and recycled nylon for carpets, floor mats and cloth trim.
The recycled nylon, the company said, comes from waste material including old fishing nets recovered from the ocean floor. Likewise, leather for the seats is tanned using non-toxic natural olive extract from leaves "gathered following the annual pruning of the trees in European olive groves."