A Dive into Kia's First Dedicated EV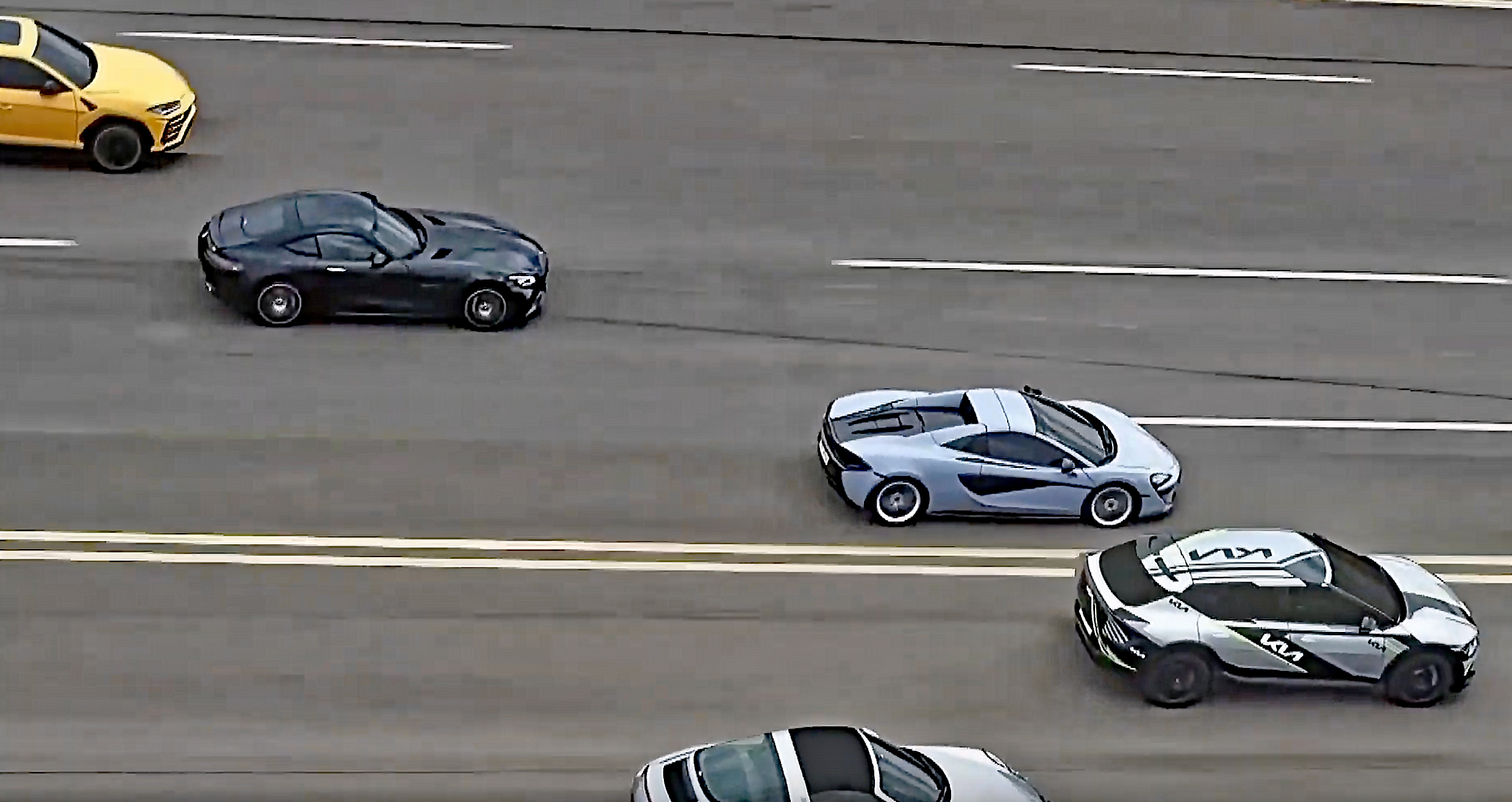 Kia will position a super-fast, 576-horsepower, all-wheel drive model of its upcoming EV6 electric crossover at the top of a three-trim lineup that's full of powertrain options for prospective buyers.
The 2022 EV6 will hit U.S. dealerships early next year after a launch in Korea and Europe that starts this summer.
[A 5-min. read.]
There will be three trims, each available in rear-wheel or all-wheel drive. Kia also will offer two battery choices, a "standard range" with 58 kWh capacity, and a 77.4-kWh "long range" pack. The automaker hasn't said yet whether both will be available in the U.S.
Kia's corporate stablemate, Hyundai Motor, has a new EV, the Ioniq 5, that's built on the same platform and shares many of the same powertrain elements including the two available battery pack sizes. But Hyundai is only offering the long-range version on its U.S. models.
Kia is likely to follow suit as EVs with less than 200 miles of range, likely for a 58 kWh battery pack, can kindle severe range anxiety in most prospective EV shoppers in the U.S.
EPA range estimates aren't available yet, but Kia has estimated that the base and mid-level EV6 trims with a long-range battery will be capable of around 270 miles per charge. Expected range in the top trim EV6 GT drops to 230 miles.
Pricing hasn't been announced, nor has Kia released a complete list of features and equipment for the EV6, which features a handsome modern design and roomy interior.
But the automaker has let loose of some details, and here they are:
Trims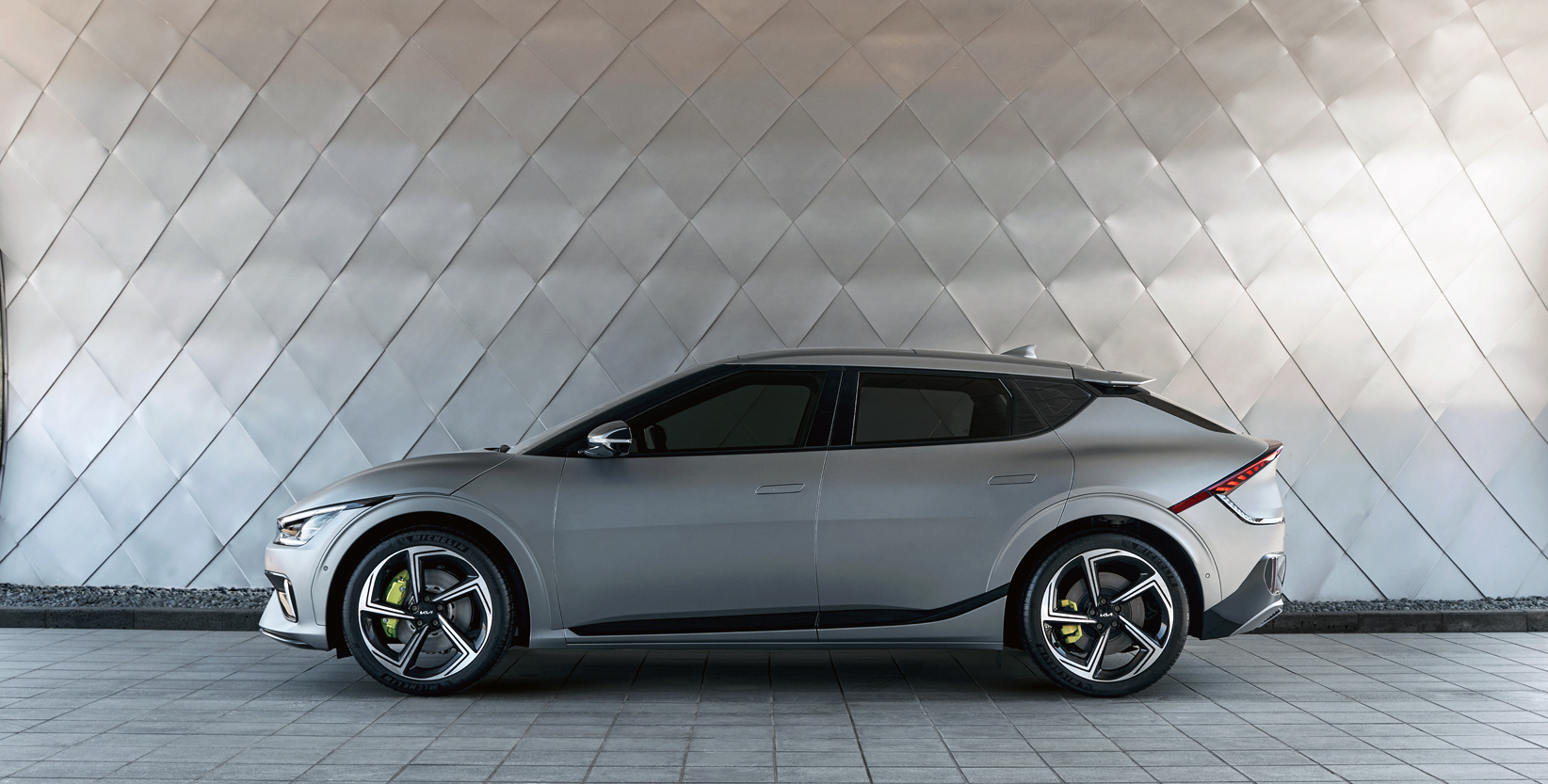 There will be three models, the base EV6, the mid-level EV6 GT-Line, and the EV6 GT.
The GT will come only with the long-range battery and all-wheel drive. The others will be available with either rear-wheel or all-wheel drive and with the 58 kWh battery option if Kia offers it on U.S. models.
Powertrains
The EV6 GT will have dual motors – one for each axle – with a combined output of 576 horsepower and 546 pound-feet of torque. The 77.4-kWh battery pack is standard. An electronic limited-slip differential will be available.
Top speed in the GT version is 160 miles and Kia says it will cover a 0-60 mph sprint in 3.2 seconds.
To illustrate its torque-y take-off and overall speed, Kia staged a drag race pitting the EV6 GT against five high-powered internal combustion sports cars. The Kia led most of the way but was overtaken in the final stretch by a 572-horsepower McLaren 570S that beat it by a little more than one car length. Left behind were a 641-horsepower Lamborghini Urus SUV, a 523-horsepower Mercedes-Benz AMG GT coupe, a 443-horsepower Porsche 911 Targa 4 and a 553-horsepower Ferrari California T.
The other EV6 trim levels don't get the GT's power, but their numbers aren't anything to be ashamed of.
Rear-wheel drive, long-range battery versions of the EV6 and EV6 GT-Line will produce 225 horsepower and 258 pound-feet of torque.
The same trims with all-wheel drive are boosted to 320 horsepower and 446 pound-feet.
The 58 kWh battery pack variants will offer 167 horsepower and 258 pound-feet for rear-wheel drive models, and 232 horsepower and 446 pound-feet with all-wheel drive.
Design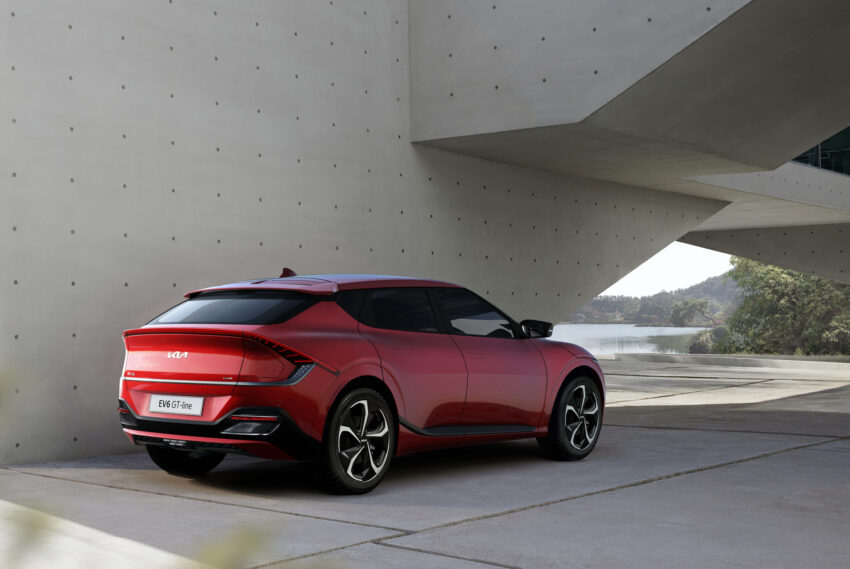 Visually, the EV6 abandons traditional upright SUV styling in favor of an almost wagon-like silhouette that's calls to mind the Jaguar iPace EV or perhaps a sleeker, sexier version of the second-generation Nissan Leaf.
Think of it as a crossover with a lot of sporty touring car DNA.
It is meant to show off Kia's new design language and to underscore the automaker's intent to use design to further separate its vehicles from Hyundai's.
Major Features
While the full list of features and equipment for the EV 6 hasn't been released yet, Kia has said that safety technology and driver assistance systems will include Kia's Highway Driving Assist 2 package bundling full-range adaptive cruise control with lane keeping and lane centering assist. It also enables the car to automatically change lanes when prompted by a flick of the turn signal stalk, as long as the driver's hands remain on the wheel.
An augmented reality head-up display that superimposes information such as navigation directions, current speeds and speed limits and road sign information on the driver's view of the road.
Paddle shifters on the steering wheel let the driver chose from several levels of regenerative braking to help recover kinetic energy as the car slows.
The highest level, or i-Pedal, enables so-called one-pedal driving in which regenerative and mechanical braking are computer managed to bring the car to a complete stop when the driver's foot is removed from the accelerator so that, in many cases, the brake pedal doesn't need to be used.
The EV6 will sound an audible alarm sounds if a roadside door is opened when the car is parked and the sensors pick up an approaching vehicle.
Remote parking assist is also available. It uses cameras and sensors to enable the EV6 to park or pull out of parking spaces while the driver is outside the vehicle.
There's a 14-speaker premium sound system, the center console floats above an open storage bin and isn't connected to the dash, giving the front compartment are wide-open feel.
The front seats are mounted on very thin frames to increase space in the rear-seating compartment. The look is modern and the seats feature a "zero gravity" recline.
Because there's no physical drive shaft, the floor is completely flat, further increasing interior room.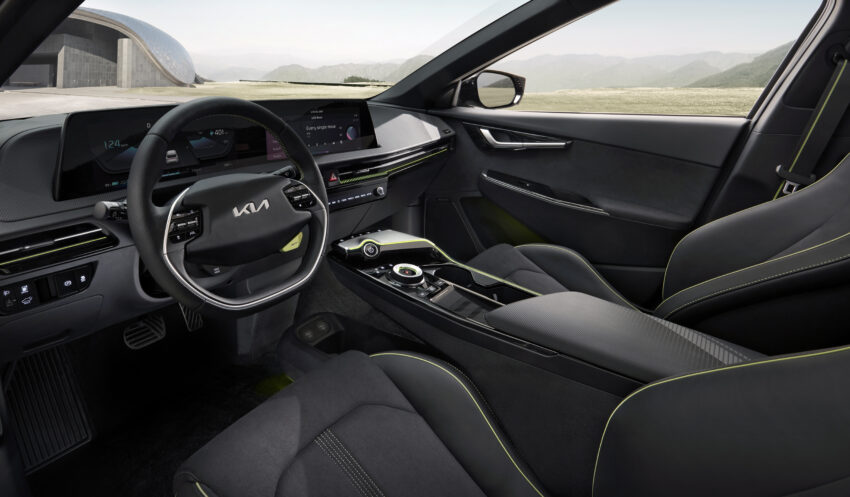 A massive, curved glass screen dominates the dash.
It houses a pair of 12-inch displays – one for driver information and the other the infotainment system display and touchscreen controls.
A slim panel hanging off the bottom center of the dash houses controls for the climate system.
It Tows, Too!
Cargo capacity is competitive in the compact crossover segment, although slightly less than in the Ioniq 5, thanks to the EV6's sleeker exterior and lower roof line.
The EV6 provides an 18.4 cubic-foot cargo bay behind the second-row seats and when those seat backs are folded down, total interior cargo area expands to 45.9 cubic feet. There's also a 0.7 cubic-foot front storage area – or "frunk" – under the hood.
If more stuff needs to be hauled, the EV6 will be able to tow a small trailer – total weight 990 pounds – when the battery's charge is at 35% of capacity or more.
Power Exporter
The Kia EV6 will be able to use its battery pack to run electrical equipment – tools, outdoor lights, audio systems and other appliances – via a pair of 120-volt receptacles.
Plugging-in those appliances, however, will have a cost in terms of diminished range.
Kia and Hyundai both call it the V2L feature, descriptive of the path the power takes from "vehicle to load."
Fast Charger
Kia hasn't provided information about the EV6's naïve charging capacity – how quickly it can replenish its batteries using 240-volt, Level 2 equipment or trickle charging from a 120-volt household circuit.
But the standard for the newest EVs is around 7.6 kilowatts per hour. That's sufficient to refill a fully depleted 77.4 kWh battery in about 12 hours or to add back about 20 miles of range per hour.
(Learn all about EV charging.)
If a recharge is necessary to complete a long trip, the EV6 is equipped with DC fast-charging capability at up to 350 kilowatts. That would take a long-range battery with only 10 percent of its charge remaining back up to 80 percent under 30 minutes.