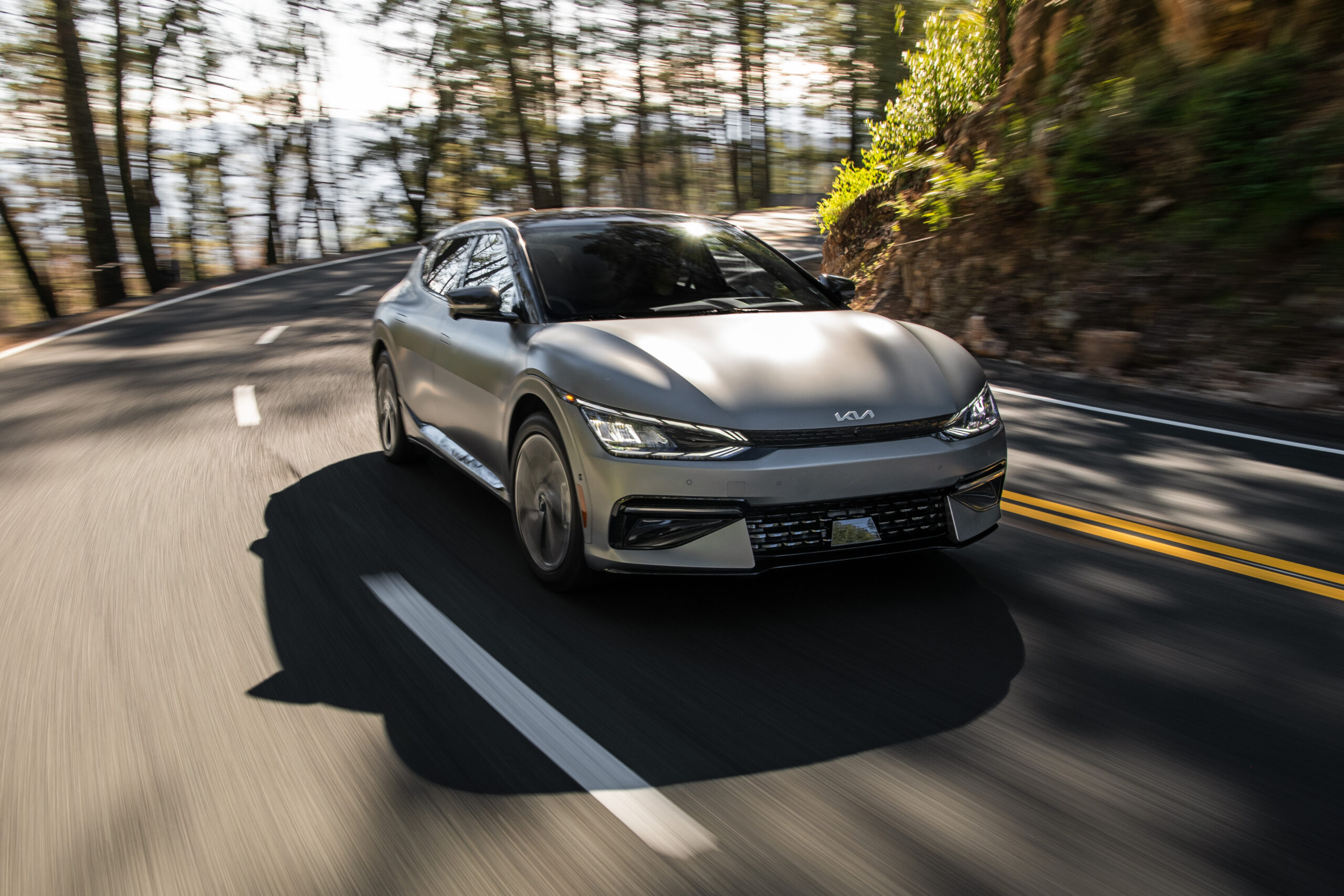 We'll get the necessary comparison out of the way immediately: Kia's 2022 EV6, while built on the same platform and sharing the same electric powertrain as the Hyundai Ioniq 5, is not the same car with a different name.
For one thing, while both EVs are fun to drive and handle well, the EV6 is just a tad more fun and seems a wee more controlled on fast, tight curves.
[An 8 min., 30 sec. read.]
And speaking of curves, the EV6 is a sporty small crossover that uses a lot of them in its exterior design, which is more a tall hatchback or sport wagon than the more traditionally SUV-shaped Hyundai, which is all planes and angles.
Diversity's a Good Thing
The 2022 EV6 has different suspension and steering tuning and its slippery shape lets it deliver a few more miles of range in each configuration than the boxier Ioniq 5.
Both share a lot of interior pieces including the dual-screen dashboard layout and the whole infotainment and instrumentation system. Oddly, though, the thoroughly modern-looking Kia's cabin and dash design leans a bit toward conventionally European premium while the more conventionally styled Hyundai's is pure modern minimalist.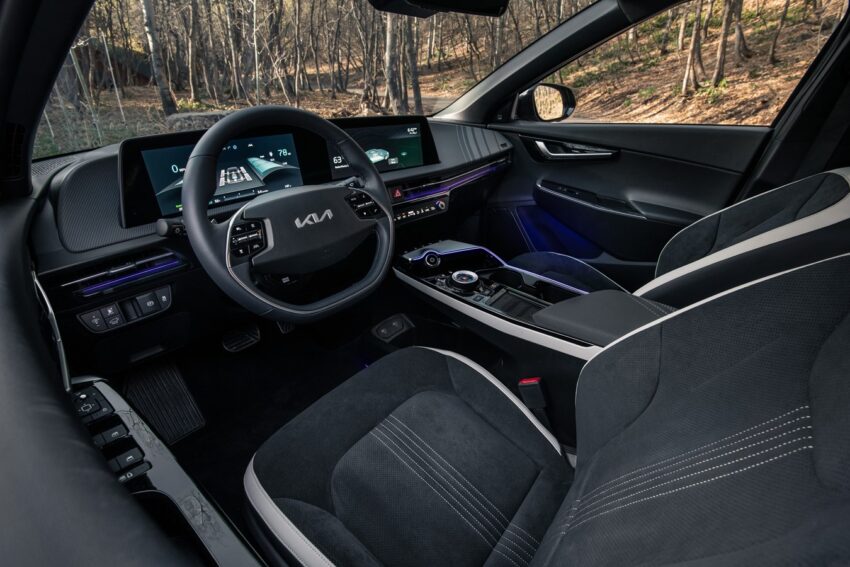 The EV6's design and interior layout costs it some storage space, headroom and front legroom versus the Ioniq 5, but there's still plenty.
The EV6 also is priced, on average, about $1,000 more than the Ioniq 5 in each trim level – but comes with a bit more standard equipment.
Overall, though, the differences aren't so big as to be overwhelmingly meaningful and if budget isn't an issue it all boils down, ultimately, to that most objective of criteria: Which one moves you most.
Unfortunately, that's not a question TheGreenCarGuy can answer for you.
After spending time with each, my best answer is the one I liked most was whichever I was with at the time (apologies to Stephen Stills). I'd pick the Ioniq 5 if cargo space and price were the most important items on my check list; the EV6 if modern design and driving fun were paramount.
What's the Competition?
Kia doesn't list the Ioniq 5 as a competitor, but Hyundai includes the 2022 EV6 in its competitive set.
Kia says that it benchmarked Tesla's Model Y, even though the cheapest Y now available– the $58,990 dual motor, all-wheel drive Long Range trim – is $1,875 more than the most expensive EV6 and no longer qualifies for the $7,500 federal tax credit that EV 6 buyers can get to help take a big chunk out of their actual cost.
The idea wasn't to beat the Tesla or to steal away tons of Tesla owners but to offer a package that would catch first-time EV shoppers' attention and reroute them from the Tesla path, Kia America's marketing VP, Russell Wager, told TheGreenCarGuy.
Kia knows that the Ioniq 5 logically would seem to be its biggest competitor, but doesn't see it as a serious threat to EV6 sales, despite the similarities.
Kia is chasing "a younger, more affluent audience" than Hyundai, Wager said.
Smart shoppers will take time to compare the two and also to look at non-GT versions of the Ford Mustang Mach-E as well as the Tesla Model Y Long Range, Volkswagen ID.4 and, as they hit the market, upcoming small electric crossovers such as such as the Audi Q4 e-tron, Nissan Ariya and the Toyota bZ4X–Subaru Solterra near-twins.
Of note: The EV6 is sold at almost all Kia dealerships around the country. Some new EVs – the Ioniq 5 included – have limited launches with cars going to dealers in the states that have adopted California's zero emission vehicle requirements or are otherwise considered EV friendly.
Charge It
The 2022 EV6 gets the same high-speed, 800-volt/40-volt charging format as the Ioniq 5.
On road trips, when lengthy sessions at the charging station aren't welcome, a Level 3 DC fast charger rated at 350 kilowatts can deliver an 80% recharge, or more than 200 miles of range, in 18 minutes. That time doubles on a more commonly found 150 kilowatt fast charger and if you're unlucky enough to be stuck with a 50-kilowatt DC system, well, use the reclining seats for an hour-long nap.
At home or work, with Level 2, 240-volt charging, the EV6's on-board 10.9 kilowatt charger will replenish a depleted battery in about 7 hours.
Power, Performance, Range
TGCG's review of the all-wheel drive Ioniq 5 found it to be the equal of any of that batch of competitors and better than some.
From a driver's standpoint, the EV6 in all-wheel drive format just slightly edges out its Hyundai counterpart, at least on twisting country and mountain roads; the rear-drive, single motor versions are about equal.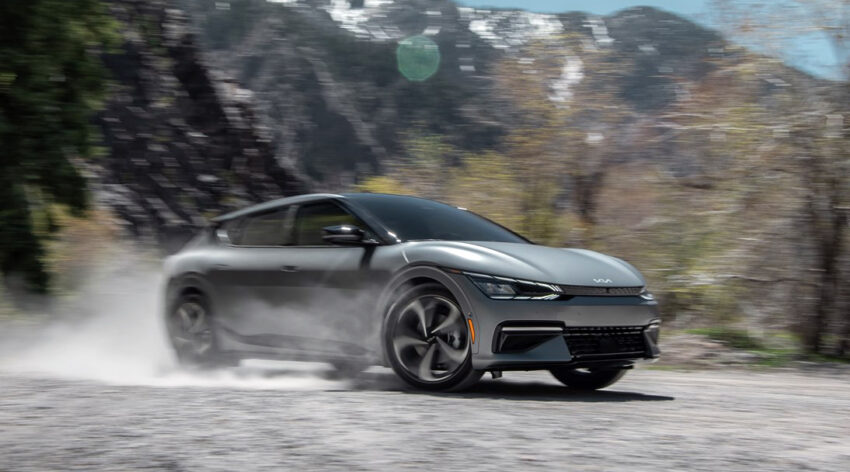 There are two battery choices with one trim available only with the 58 kilowatt-hour pact and the rest only with the 77.4 kWh pack.
The small pack EV6 Light comes with a single motor and rear drive and is rated at 167 horsepower and 258 pound-feet of torque. Kia said it can cover up to 232 miles per charge and accomplish a zero to 60 mph acceleration in in 8.0 seconds, on par with other small-batter rear-drive EVs.
Single-motor, rear-drive trims with the large battery pack are rated at 225 horsepower and 258 pound-feet of torque and up to 310 miles of range. Foot-to-the-floor acceleration is 7.2 seconds from standstill to 60 mph.
The dual-motor all-wheel drive variants deliver 320 horsepower and 446 pound-feet. That system adds weight, though, so range drops to 274 miles. Acceleration, however, improves substantially – to a mere 4.6 seconds from zero to 60 mph. That's quicker than anything else in its competitive set.
If it's not quick enough, though, there's a 576-horsepower, 3.2-second EV6-GT coming either late in 2022 or early 2023 that should do the trick. Neither pricing nor specifications and features have yet been divulged.
TheGreenCarGuy spent half a day in the 2022 EV6 – both single- and dual-motor versions – and found that both have fairly comfortable suspension tuning but with a bias toward sporty-comfort. Seats are well-bolstered and while the 12-3-inch infotainment touchscreen must be used for most functions, it's a fairly easy system to master and the audio and climate control systems have redundant capacitive controls on a thin panel at the bottom of the dash – just above the leading lip of the dual-level floating center console.
There's a rotary gear shifter. start button, parking system switches and touch controls for the heated seats and steering wheel (an option) on the top level of the console, along with a wireless charging pad that fits most phones.
There's no wiper control for the rear window because the vented rear spoiler on the roof forces airflow down and over the glass to sweep it clean. It worked fine on a dewy morning, but we didn't get a chance to see how it works in heavy rain or with a muddied rear window.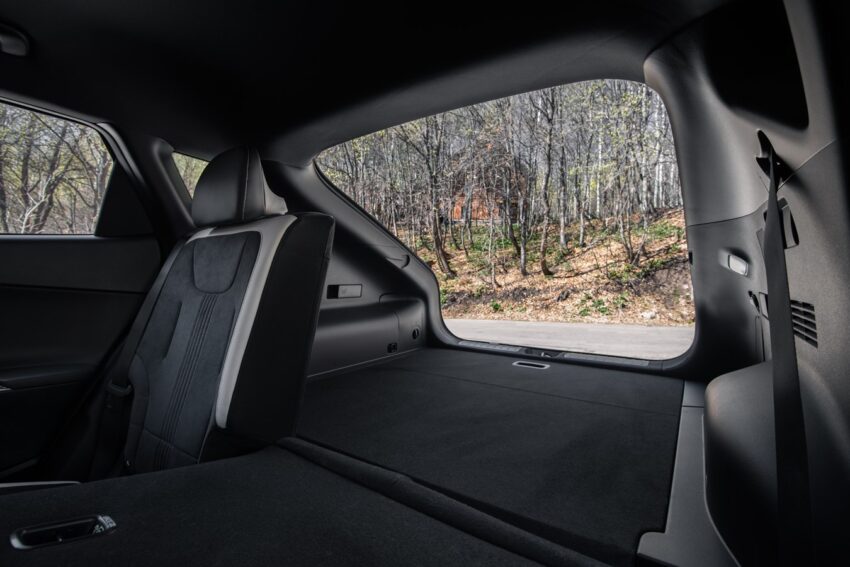 Although space isn't class-lading, there is lots of front and rear legroom and the flat floor makes the interior seem even more spacious. Forward and side vision is unobstructed, but the thick rear pillars create blind spots that make the GT-Line trim's standard surround-view camera a welcome feature.
At speed, the single-motor version tends to break loose its rear end when diving hard into tight curves – but steering is responsive and well-weighted with adequate feedback, so the rear is easy to control. The all-wheel drive version just stays stuck to the asphalt.
Braking is linear and firm and regenerative braking can be tuned by the driver using paddles on the steering wheel. There are five levels – no regeneration through very aggressive one-pedal mode that can bring the EV6 to a full stop without use of the brake pedal.
The default except in the all-wheel drive versions' Snow mode is mildly aggressive regenerative braking. Drivers who want anything else will have to set it each time they start off; there's no memory.
Snow is the only one of four driving modes – also driver selectable – that's reserved for the AWD variants. It boosts traction to reduce the possibility of wheel spin on slippery surfaces and also sets regenerative braking to the lowest level.
The other modes are universal, with Eco the choice when conserving energy is important: It dampens accelerator response and cuts down on climate control performance. Normal is for cruising and efficiency while Sport tightens steering response and makes both brake and accelerator penal responses faster.
Trims, Pricing and Features
The 2022 EV6 comes in three trim levels.
The base model is the small-battery EV6 Light. It starts at $42,115 – including the $1,215 destination fee. Standard features include 19-inch alloys, front and rear LED lighting, power windows and door locks, keyless ignition, cloth upholstery, heated front seats, a power-adjustable driver's seat with two-position memory, dual-zone temperature control, a 6-speaker audio system and a full suite of driver assistance and active safety systems.
The EV6 Wind starts at $48,215 for the single-motor, rear-drive configuration and $52,115 for the dual-motor, all-wheel drive version. Both variants use only the larger 77.4 kilowatt-hour battery, for more range and power. With either powertrain, the Wind trim adds faux-leather upholstery, power adjustment for the front passenger seat, a 14-speaker Meridian premium audio system and a vehicle-to-load system so the battery can be used to power 12-volt tools and appliances or to provide a Level 1 charge to another EV.
There's a $1,500 Technology Package for the Wind trims that adds remote parking assist and parking collision avoidance assist, a surround-view and blind-spot view cameras and monitors.
The EV6 GT-Line rear-drive starts at $52,415 while the all-wheel drive starts at $57,115. Added features are mostly deluxe touches, including a power sunroof, door handles that automatically extend when the key holder approaches, auto up-down function for the power passenger-side window, and a color head-up display with augmented reality. The GT-Line also gets all of the goodies in the tech package and the AWD variant gets 20-inch alloys and tires.
We asked why the Light and Wind trims weren't followed by Fire trim to keep the whole nature theme going, and were reminded that "Fire" isn't a great name for a battery powered car.