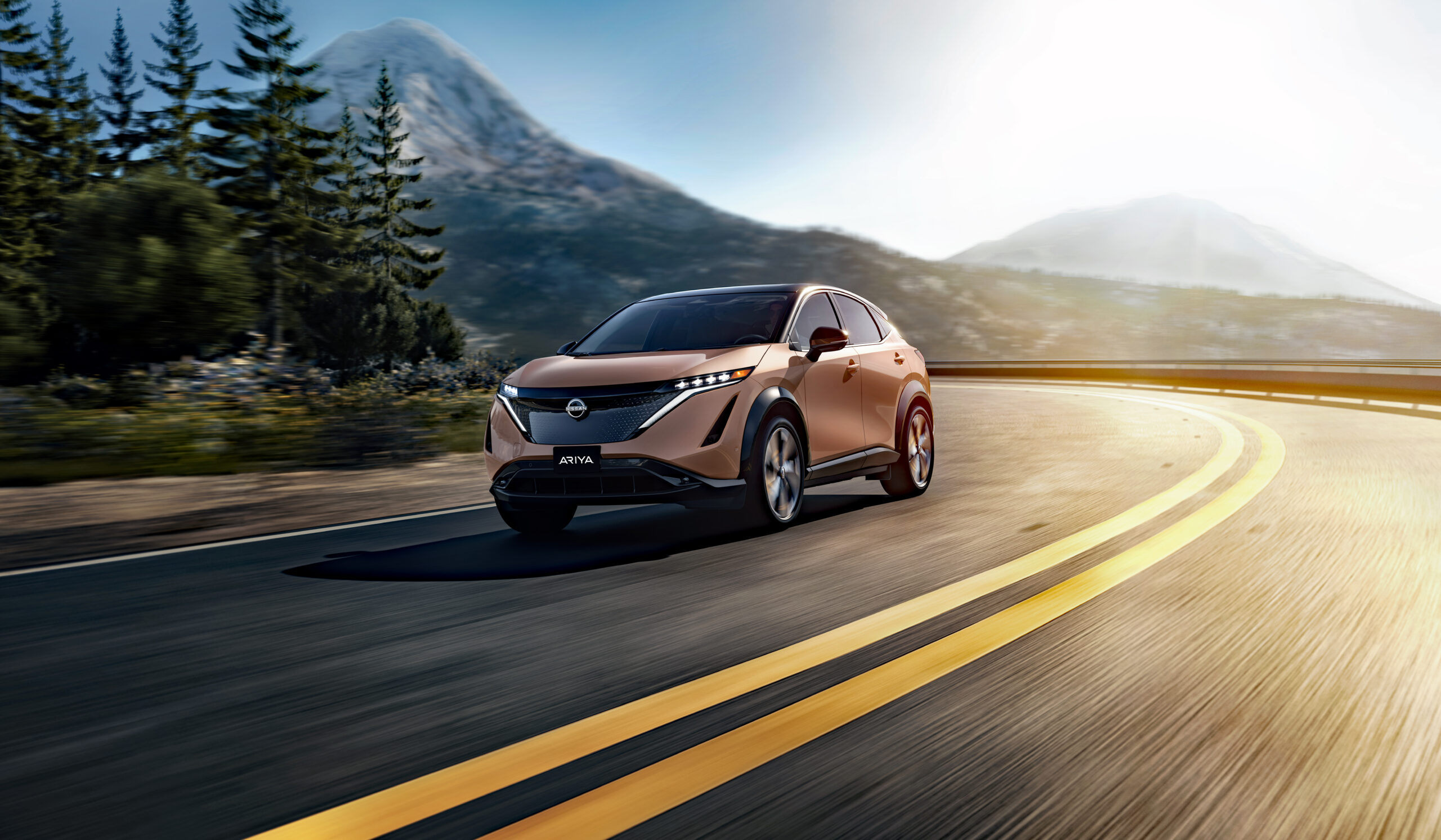 Being first isn't always a recipe for success, so more than a decade after it launched the first mass-produced modern EV, Nissan will try again to restore luster to its electric vehicle image with the 2023 Ariya crossover.
It's first effort, the Nissan Leaf, has struggled against the competition in recent years thanks to a lack of attention as Nissan fought other battles including internal turmoil that threatened to shred its alliance with Renault and Mitsubishi. Dramatic price cuts a few years ago have helped keep Leaf sales figures looking okay. But with just 9,534 sales, 2020 was the Leaf's worst year in the U.S. – down from a high of 30,200 in 2014 – and 2021 is looking only slightly better.
The first Leaf, introduced in December 2010 as a 2011 model, offered a then-impressive 73 miles of range. A decade later, as most new EVs are at 225 miles and climbing, the best the base 2021 Leaf can do is 150 miles. The longer-range Leaf Plus delivers 226 miles, per its EPA range estimate, but that still lags much of the competition.
Enter the Ariya. It is a five-seat compact crossover approaching premium segment levels of equipage and tailoring and offering from 265 miles to 300 miles of range, depending on the trim level.
Ambitious
The Ariya is the first product of an $18 billion "Ambition 2030" program that Nissan says will see 23 electrified vehicles – 15 of them fully electric – added to its global portfolio by 2030.
The automaker's drive to develop solid state batteries – lighter, more energy dense and faster charging than the liquid electrolyte batteries in use today – is a cornerstone of the program. Nissan isn't alone in its pursuit – almost all major automakers and their battery partners are working on solid state batteries.
Nissan plans to open its first solid state battery plant in 2024 and to have production cars with solid state batteries in dealerships by 2028. Volume production will get the price down to around $65 per kilowatt-hour of installed battery pack, about half of today's median cost of $135 per kWH. At $65 per kWh, most automakers agree, EVs can be price competitive with internal combustion vehicles and won't have to rely on government incentives.
If the stars align, 40 percent or more of Nissan's U.S. sales by 2030 will be hybrid or all-electric vehicles, the company said.
Four Choices
Nissan says the 2023 Ariya will hit dealerships in mid-2022 in four trims, all using Nissan's new liquid-cooled long-range lithium-ion battery pack. Additional trim levels, likely with smaller batteries and less range to go along with lower prices, will come later – which could be later in 2022 or in 2023 as '24 models.
Pricing for the initial 2023 Ariya trims will start at $47,125 before incentives for the Venture Plus, and top out at $60,125 for the all-wheel drive, dual-motor Platinum Plus e-4orce.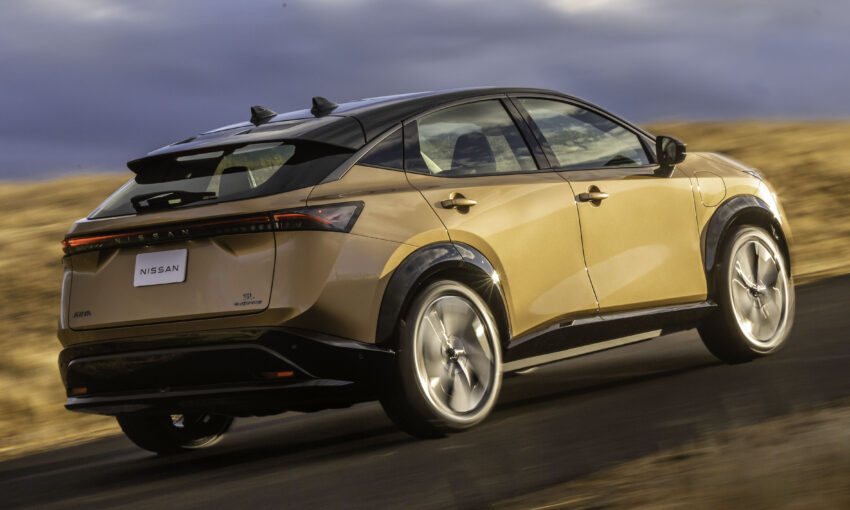 In between are the $50,125 Ariya Evolve Plus and $54,625 Ariya Premiere. The latter is available only through on-line order on Nissan's website.
Applying the base federal tax credit incentive of $7,500 brings the real acquisition cost down to just under $40,000 for the entry-level "long-range" Venture Plus trim and lets Nissan claim, if it feels the need, that it is honoring its early promise of a new EV for around $40,000.
Range Depends
All of the long-range Ariyas will use the same 90-kilowatt-hour battery pack, so range will vary by trim. Models with lower levels of heavyweight electronic equipment and less power will have the most range.
The base Venture Plus will deliver up to 300 miles per charge while the $50,125 Ariya Evolve Plus and $54,625 Ariya Premiere trims can deliver up to 285 miles on a full charge. For the 2023 model year, all three trims will come only as front-wheel drive models with a single electric motor rated at 238 horsepower and 221 pound-feet of torque.
The numbers for Aryia single-motor trims match or beat those of likely competitors – a list that includes most single motor versions of the Ford Mustang Mach-E as well as those of the the upcoming Kia EV6 and Hyundai Ioniq 5 EVs.
The top-of-line Platinum Plus e-4orce all-wheel-drive trim uses two motors, one for each axle, and is the heaviest of the four models. It will be able to deliver up to 265 miles per charge and deliver 389 hp and 442 lb-ft.according to in-house estimates.
That keeps it in play with other two-motor electric crossovers, such as the Audi Q4 e-tron and Volkswagen ID.4 all-wheel drive models.
Charging
The first four 2023 Ariya trims all will use Nissan's 90-kWh under-the-floor lithium-ion battery pack, rated at with 87 kWh of usable power. The automaker also has a 65-kWh pack – 63 kWh of usable power – that likely will be used for its second wave of lower-priced Ariyas in the U.S.
In a first for Nissan, the batteries are liquid-cooled and have heaters for prolonged life and increased range in extreme heat and cold.
A 7.7-kilowatt onboard charger is standard and can refill a fully depleted battery in about 12 hours when used with a properly sized 240-volt home charging system. DC fast-charging is also standard and will be able to charge at a speed of up to 130 kW, quick enough for an 80% recharge in less than 45 minutes.
Inside
Inside, the Ariya features a minimalist design – de rigueur for most new EVs these days – featuring a pair of horizontally-oriented 12.3-inch screens and a fabric-padded dash that, at first glance, is almost empty of visible knobs and switches. A volume knob for the stereo sits at bottom center of the touchscreen and row of touch-sensitive, or capacitive, switches for the climate control system is hidden under a trim strip along the dash bottom.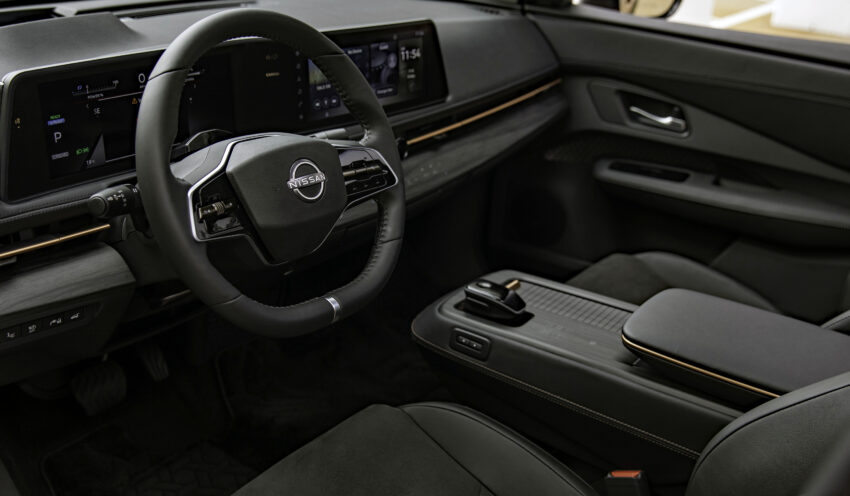 Those switches are visible in daylight only because they are labeled. At night they light up. It will be interesting to see how long the dash labels last: If the printing wears off from repeated use, the switches will be truly invisible during the day.
Most functions are controlled via the center-mounted 12.3 inch infotainment touchscreen or by touch controls on the flat-bottomed steering wheel. The other 12.3-inch screen, mounted behind the wheel, serves as a digital instrument panel and delivers other information the driver needs to know.
The center console stops short of the dash and there's no center stack. A small shift lever is the only thing that breaks the console's smooth top surface.
Seat coverings are cloth with leather available in the Platinum trim.
Behind the rear seats, the Ariya will offer 22.8 cubic-feet of storage space. Flip the rear seats backs down and that grows to almost 60 cubic feet. The "crossover coupe" shape (think BMW X6) helps the Ariya's looks, but probably eats into cargo space just a bit, although it remains competitive in the segment – which includes Volkswagen's ID.4, the Chevrolet Bolt EUV and many versions of the Mustang Mach-E.
Safety and Assist Equipment
Nissan's ProPilot suite of driver assistance and advanced safety systems is standard on all Ariya trim levels. It includes full-range adaptive cruise control, lane departure warning with lane keeping assist, forward and rear automatic emergency braking, blind spot monitoring and rear cross traffic alert.
The Evolve Plus and higher trims also get a 360-degree camera-based monitor system.
Nissan provides its updated ProPilot 2.0 system on the Premiere and Platinum Plus e-4orce trims. It includes all of the base ProPilot systems and adds automated highway driving capability and automatic parking assist.
Outside
The Ariya uses a new EV-exclusive platform from Nissan that enables a longer wheelbase and more interior space that the present Leaf. By packaging the batteries under the floor, the platform gets rid of transmission tunnels and permits interiors with flat floors. Removing the internal combustion engine allows designers to shorten hoods and rethink front fascia – which no longer need open grilles to gulp air for the engine.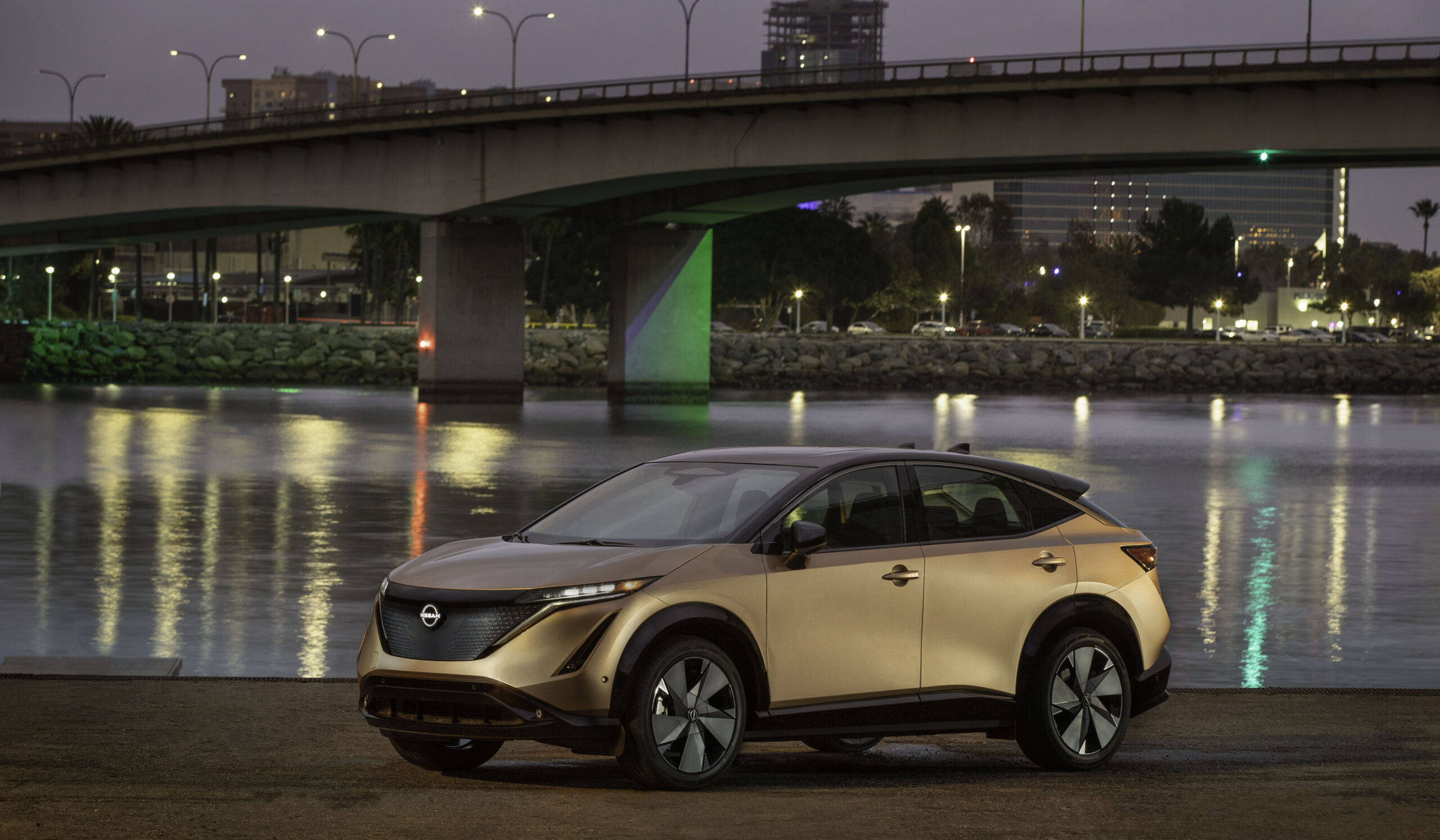 Thus the Ariya has a shorter nose than most conventional Nissan models along with interior space rivaling that of most of the competitive SUV-styled crossovers.
A translucent "shield" takes the place of a traditional grille and serves as a weatherproof cover for the ProPilot system's camera and radar and sonar sensors.
The LED headlights are mere thin strips beneath the edges of the hood and LED lights also illuminate the Nissan logo and provide soft back lighting for the shield.