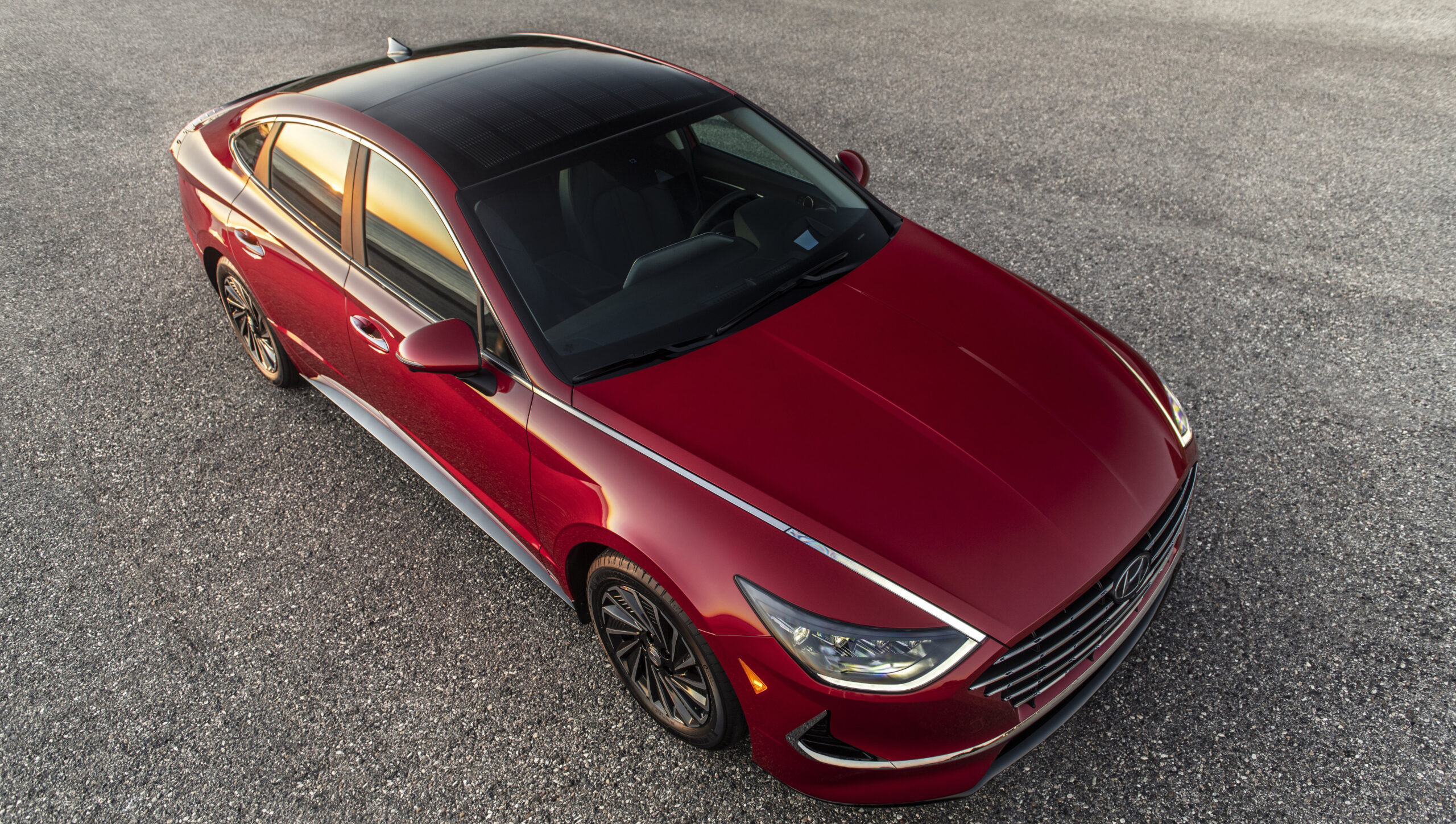 (Updated 5/21/20 to include Hyundai's base pricing for each trim.)
Hyundai redesigned the Sonata for 2020 and introduced the standard gas-only models late last year. Now it's time for the 2020 Sonata Hybrid, which keeps the segment-leading upscale interior appointments of the gas-burner and adds stellar fuel efficiency.
Driving cars for review in the time of Covid-9 leaves a bit to be desired. Long trips can be difficult because of the natural limits on human drivers' ability to stay inside the car and avoid public places – like restrooms.
But we managed to put 200 miles on the 2020 Sonata Hybrid that Hyundai loaned us for this review. They were mixed miles that included about 50 percent freeway driving, 30 percent standard around-town driving and 20 percent pushing it through the twisties in Southern California's foothill country.
[Estimated Reading Time: 9 min.]
The midsize 5-seat sedan performed well and while we didn't achieve anything close to its EPA-suggested 54 mpg on the highway and 47 mpg combined, we managed a respectable 44 mpg overall and 51 mpg on one leg of our freeway segment.
Not bad considering we don't drive solely to achieve great efficiency numbers but rather to see how the car performs in normal day-to-day use. A driver with a much lighter touch on the accelerator and nothing but flat terrain to travel could quite likely meet or even beat the EPA estimates.
While all midsize sedan sales are down for the first quarter this year – thanks in no little part of Covid-19 lockdowns and unemployment – Sonata sales are off more than most. Introduction of the hybrid, which should happen in June, just as some of the nationwide pandemic restrictions likely will be lifting, could help Hyundai reverse that trend.
How's it Perform?
The 2020 Sonata Hybrid's 192 horsepower gas-electric powertrain easily holds its own but lacks the oomph of competitors such as the Accord and Camry hybrids.
Still, most hybrid sedans aren't sold because they'll give you whiplash when you stomp on the accelerator.
Overall, the Sonata hybrid is a graceful, well-mannered car that can even be a bit fun in the hills if you don't mind sacrificing fuel economy. Engage the "sport" mode and start using the six-speed automatic's standard paddle shifters and you won't feel like you're driving a mom-and-dad family hauler.
The ride is a bit on the firm side, and if you really throw it into a tight curve you'll get a noticeable amount of body roll, but the Sonata Hybrid is taut enough – and responsive enough – that it will satisfy most of its target audience.
For maximum fuel efficiency, there's an "Eco" mode, and for those who find the dulled throttle response a little too dull, there's a "Smart" mode that seems to put accelerator and transmission response somewhere in the middle while still emphasizing fuel efficiency.
Although some reviewers have complained of jerky brakes and noticeable shifts and gas-to-electric transitions, none of that was apparent in the Limited edition we were loaned. The Honda Accord Hybrid has an edge in handling.
Perhaps TheGreenCarGuy's senses have dulled with age – or maybe it's that we didn't start out expecting an Audi- or BMW-like driving experience. In any event, the 2020 Sonata Hybrid seems a perfectly capable, and comfortable, member of the midsize hybrid sedan segment.
Of particular importance, Hyundai's full-range adaptive cruise control worked seamlessly, allowing the car to follow another all the way down to a full stop and then to smoothly start up again and accelerate along with the "target" car it was following.
That functionality is handy on a long highway trip and can be a real lifesaver when normal traffic patterns resume – presuming they ever do – and urban rush hour commuting becomes a painful exercise in stop-and-go silliness.
Inside the 2020 Sonata Hybrid
We had the Limited, which is top of the line for the Sonata, and found it to have an excellent interior.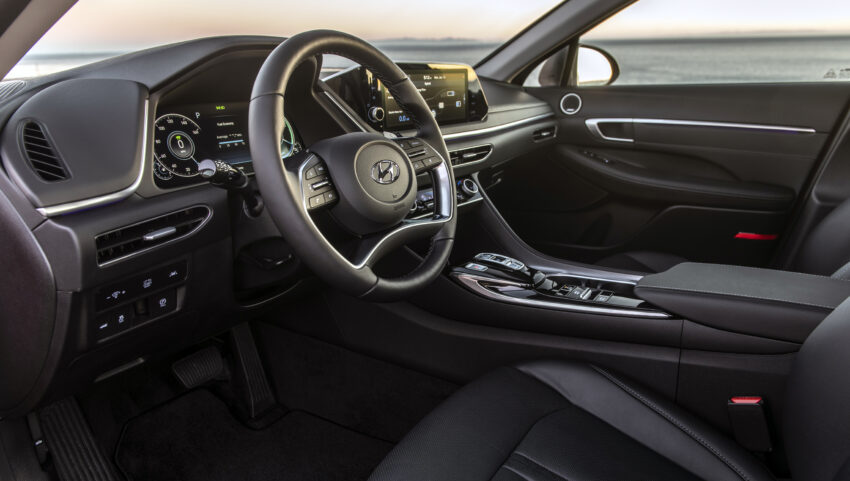 There's no reason to think the other trims suffer much by comparison: The Limited's big difference is leather upholstery and larger infotainment and diver information screens.
Fit and finish was as good as it gets in a non-luxury model, the seats were comfortable and supportive, and the controls were fairly intuitive – we didn't need to read the thick instruction manual before starting up and taking off (although it did come in handy for figuring out how to set various driver-selectable options for things such as lighting, alert tones, seat memory and information display).
Outward visibility is good and the Limited trim's surround view camera system makes getting in and out of tight parking spaces, narrow alleyways and the like a whole lot easier.
Interior space is excellent – like the Accord, the Sonata, with 105 cubic feet of interior space, is actually classed as a "large" car by the feds. While it has a lot less leg room in the rear seating area than the Accord or Camry, it has more front-seat headroom and leg space. And even the tighter rear seating area provides plenty of room for all but the tallest passengers.
Outside
Hyundai redesigned the Sonata for 2020 and the hybrid shares the same well-received sporty exterior as the gas model.
To set it apart, Hyundai has given the Sonata Hybrid its own grille, wheels and rear deck spoiler, along with "Hybrid" badging.
Trims and Features
The 2020 Sonata Hybrid is being issued in three trim levels: SEL and Limited, both rated at 47 mpg combined city-highway, and a super-efficient Blue, rated at 52 mpg combined.
Blue trim models come with 16-inch alloys; LED headlights, taillights and daytime running lights; automatic high beam assist; power folding outside mirrors; cloth upholstery; manually adjustable front seats; 60/40 split folding rear seats; and 8-inch color touchscreen infotainment monitor with rearview camera display and Apple CarPlay and Android Auto integration; a six-speaker audio system with satellite compatibility, MP3 input, iPod jacks and a USB port; dual zone automatic climate control; tilt and telescope steering with paddle shifters and integrated cruise, audio and phone controls; power windows and door locks with remote keyless entry, and a hands-free trunk opening system.
The SEL trim adds 17-inch alloys; LED rear turn signals and interior lighting; heated outside mirrors; gloss black rocker panel covers; power adjustable and heated front seats; a rear center armrest; wireless device charging; rear USB port; a Bose 12-speaker audio system; rear seating area vents for the climate control system, and a leather-wrapped steering wheel. SEL and Limited trims also get Hyundai's digital key, which allows Android-based smartphones to remotely start and stop the engine, lock and unlock the doors and pen or close the trunk.
Limited trim buyers also will get matrix-type LED headlights; front and rear parking sensors; a color heads-up display; a solar glass roof (for additional charging for both the 12-volt and hybrid batteries; leather upholstery; heated steering wheel; auto-dimming rearview mirror with Homelink; rain-sensing windshield wipers; driver's seat and side-mirror memory system, and a 10.5-inchcolor touchscreen with navigation.
A navigation system for the SEL is the only option offered for the various Sonata Hybrid trims.
Safety
A plethora of driver assistance and safety features are standard on all 2020 Sonata Hybrid trims.
They include smart cruise control with full stop-and-go capability; lane keeping assist; lane following assist; a driver attention monitor and warning; blind-spot and rear cross-traffic monitor and alarm; forward collision avoidance assist with pedestrian detection and a rear seat occupant alert.
The Limited trim adds a blind spot view monitor; rear parking collision-avoidance assist; highway driving assist; a 360-degree "around view" monitor, and front and rear parking sensors.
A "Highway Driving Assist" feature on the Limited trim helps keep the car centered in its lane while following another car at a safe distance.
The 2020 Sonata Hybrid recently was awarded an overall 5-star safety rating from NHTSA – the National Highway Traffic Safety Administration.
Powertrain
All three trim levels get a 2-liter direct injection engine rated at 150 horsepower and 139-pound-feet of torque. That's the smallest gas engine in the segment.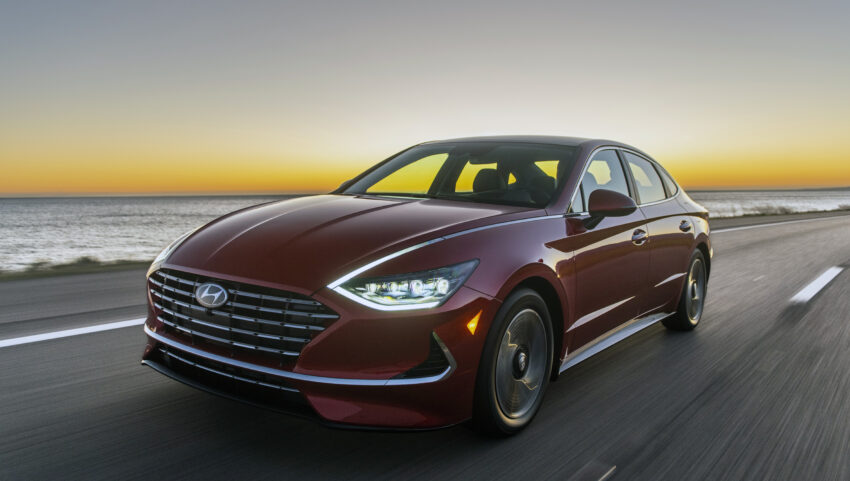 It is teamed with a 51 horsepower (30 kilowatt) electric motor rated at 151 lb-ft. A 1.6 kWh lithium-ion battery stores juice for the electric motor.
At maximum output, the system provides 192 hp. That's slightly less than the 208-hp Toyota Camry and 212-hp Honda Accord hybrids but more powerful than the 180 hp gas-only Sonata.
Power is delivered to the wheels via Hyundai's 6-speed electronic automatic with manual shift mode. Most other hybrid sedans use a CVT.
Fuel Efficiency
The 2020 Sonata Hybrid is available in two fuel economy levels, both of them very efficient for a largish midsize sedan.
SEL and Limited trims get an EPA rating of 45 mpg in city driving and 51 mpg highway, for 47 mpg overall.
The Blue trim, which is lighter (less standard equipment) and has smaller wheels and tires, gets a 50-mpg city, 54-mpg highway, 52-mpg overall rating.
In both economy levels, the Sonata Hybrid's highway mileage rating is a segment best. The Blue trim's 52-mpg combined rating ties with the 2020 Toyota Camry Hybrid for best in the segment.
The 2020 Sonata Hybrid's improved fuel efficiency (the 2019 Sonata Hybrid is rated 42 mpg combined, almost 11 percent less than the 2020 SEL and Limited hybrids) comes from improved engine tuning and aerodynamics. Upper and lower active air flaps in the grille, a rear deck lip spoiler and extended underbody covering help make the new Sonata Hybrid more aerodynamic than the 2020 Camry and Accord hybrids. Its 0.24 coefficient of drag even bests the gas-only 2020 Sonata.
In the Limited tri, the solar roof can supply enough power to the battery after six hours of sunlight to add 2 miles of all added electric range. Hyundai's advertising will tout more than 700 free miles of driving per a year.
The solar panels also help keep the 12-volt battery charged to reduce the chances of battery drainage from on-board electronics that draw power even when the car is shut down.
Cargo
Thanks to a redesigned gas tank and a new location for the hybrid battery, all three trims boast an 18 percent increase in trunk space (plus 2.5 cubic feet) versus the 2019 models.
The 2002 Sonata Hybrid's 16 cubic-foot truck is one of the largest in the segment, trailing only the Accord Hybrid's 16.7 cubes.
The Sonata's rear seat backs fold down to add even more cargo space when needed – and lowering them is easy thanks to release handles accessible from the trunk.
Like most hybrid sedans, the Sonata Hybrid isn't rated for towing.
Pricing
Hyundai hasn't announced pricing for the 2020 Sonata Hybrid, which doesn't hit showrooms until June.
But there's a roughly $3,000 gap between hybrid and gas-only models of the 2019 Sonata. If that holds true for the 2020 hybrids, which have a bit more standard equipment than the 2019s, expect pricing to start at around $28,000 for the Blue trim, $32,000 for the SEL and $36,000 for the Limited.
(Update 5/21/20. Hyundai's announced pricing for the Sonata Hybrid starts at $28,725 for the Blue trim, $30,875 for the SEL and $36,275 for the Limited – prices include the automaker's mandatory $975 delivery fee.)
That pricing looks to be competitive with similarly equipped 2020 Camry and Accord hybrids. The Hyundai Sonata Hybrid Limited starts a bit higher than the top-of-line competitors, but the others don't have that solar roof.