The Honda Clarity EV, second of the  Clarity family of electrified vehicles, has begun arriving at select dealerships in California and Oregon.
The five-seat sedan, whose relatively short 89-mile range is aimed at urbanites,  is available by lease only, The $269-per-month lease requires a $1,999 initial down and Clarity EV lease terms include 20,000 miles per year for 36 months, with 24/7 roadside protection.
[Estimated Reading Time: 1 minute, 15 seconds.]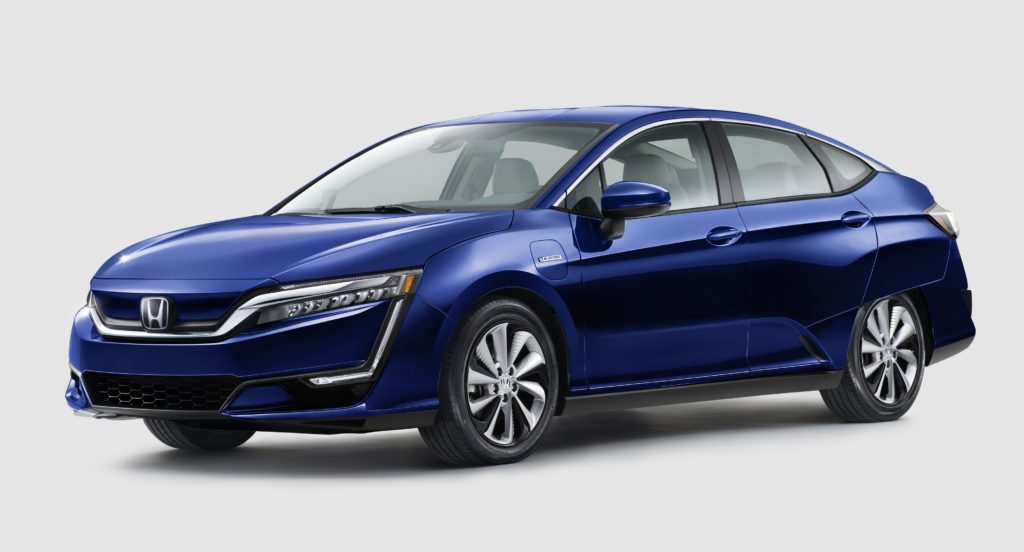 The Clarity EV, officially called the Clarity Electric,  follows the Clarity fuel-cell electric or FCEV, which debuted in December 2016.
A Clarity plug-in hybrid is due later this year as a 2018 model and Honda says it will be sold in all 50 states.
The Clarity Electric is available initially only in select areas of California and Oregon. Honda has authorized 31 dealers in Southern California, 25 in Northern California and four in Oregon to lease and service the cars.
The Honda Clarity EV is rated at 121 horsepower and 221-lb ft of torque. It gets its power via a 25.5 kWh lithium-ion battery pack that can be recharged in just under three hours with the properly sized Level 2 system. It will take an 80 percent recharge from a commercial DC rapid-charge station in about 30 minutes.
Read: What You Need to Know About PEV Charging
The EPA has rated the Honda Clarity EV at 114 mpg-e combined (126 city/103 highway), with range estimated at up to 89 miles on a full charge.
Interested shoppers can find a list of dealers – and see whether you live in an area that qualifies you to lease a Clarity EV – by visiting Honda's Clarity Electric website.