Plug-in and hybrid-electric cars and crossovers, including a "long-range" luxury EV intended to compete with the Tesla Model S, will form the backbone of the Hyundai green car strategy in coming years, South Korean auto giant Hyundai Motor Group said this week.
Hyundai is not giving up on fuel-cell electric technology it has helped pioneer, but is turning to battery-electrics (as have Toyota and Honda – the other big players in early-stage fuel-cell development) in part because the hydrogen fueling infrastructure necessary to support fuel-cell electric vehicles has been slow to develop.
[Estimated Rading Time: 2 minutes, 15 seconds.]
The first of the company's new plug-in vehicles, an all-electric version of the Hyundai Kona crossover, is slated to hit the market in 2018. The subcompact utility vehicle could deliver up to 200 miles of range. Two more EVs and a fuel-cell electric crossover are among the Hyundai green car vehicles that will follow.
By 2020, Hyundai and its Kia stablemate plan to have eight battery-electric and two fuel-cell electric vehicles in the market globally, part of a Hyundai green car plan for  31 vehicles that will include a number internal combustion-electric hybrids.
As part of the green car plan, Hyundai said it is developing a dedicated architecture (what used to be called a platform) for EVs, which will enable it to optimize battery and electric drive component placement for increased roominess, weight savings and longer range. A dedicated architecture also will make it easier for the car maker to develop numerous electrified models for both the Hyundai and Kia nameplates.
Hyundai Green Car Plan for the U.S.
The Kona EV, to be released as a 2018 model, will be followed in 2021 by  another battery-electric car, reportedly with up to 300 miles of range.
After that, at an undisclosed interval, Hyundai promises a "long-range" EV, from the Genesis luxury brand, capable of delivering perhaps as much as 35o miles of range.
Hyundai's present U.S. offerings in the plug-in and electric segment include the Ioniq EV sedan and the Tucson FCEV fuel-cell electric crossover. Hyundai also offers conventional and plug-in hybrid versions of the Ioniq as well as the Sonata sedan.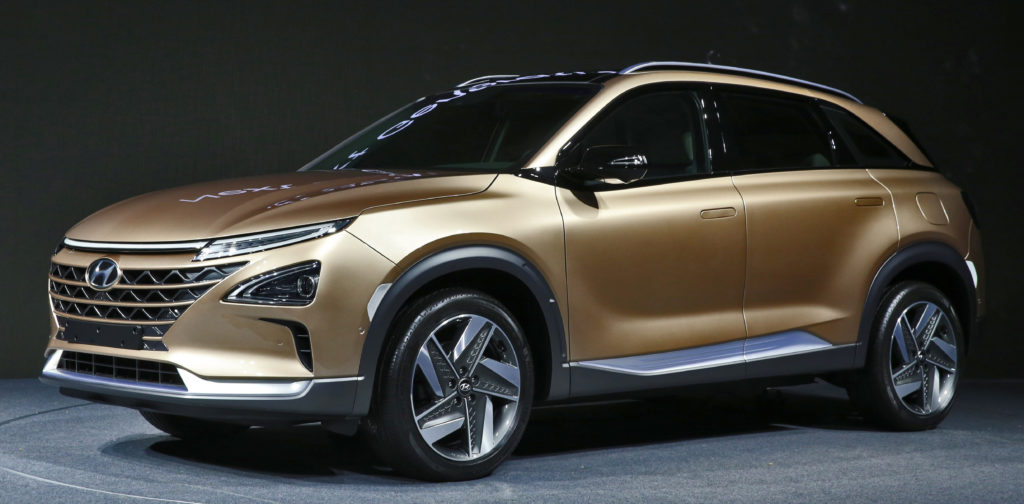 Hyundai's new fuel-cell electric crossover, shown at the recent Shanghai auto show, is slated for the U.S. sometime after its 2018 debut in Korea. It will replace the aging Tucson FCEV.
The new fuel-cell electric will be shown by Hyundai at the 2018 CES (Consumer Electronics Show) this January in Las Vegas. Hyundai plans to announce the vehicle's model name at the show.
It will use the fourth generation of Hyundai's hydrogen fuel-cell powerplant, with about 300-325 miles of range on a fill-up of compressed hydrogen.
Kia Green Offerings
Kia at present offers U.S. customers hybrid and plug-in hybrid versions of its Optima midsize sedan (a close cousin to the Hyundai Sonata), the new Niro hybrid crossover and the Soul EV "wagon."
A battery-electric version of the recently introduced Niro is rumored, possibly as a replacement for the Soul EV. A plug-in hybrid Niro is slated for introduction in the U.S. later this year.