It's always good advice to read the fine print, especially in automotive advertising, where hyperbole usually rules. In Hyundai's new Ioniq commercial touting the Ioniq Hybrid as "the most fuel-efficient car in America," the fine print says the claim excludes plug-in hybrid and electric cars.
[Estimated Reading Time: 1 min., 45 seconds.]
The TV commercial is about the Ioniq hybrid, but the voice-over at the end – as well as the type that's displayed above a picture of an Ioniq – doesn't spell out that the claims are only about the conventional hybrid model in its most efficient, or Ioniq Blue, trim (there also are two other conventional hybrid models, an Ioniq plug-in hybrid and an all-electric Ioniq; there are no internal combustion-only models). You have to look at the fine print or intuit things from the labeling on the platform under the car to see that the fuel efficiency claim refers specifically to the Hyundai Ioniq Blue.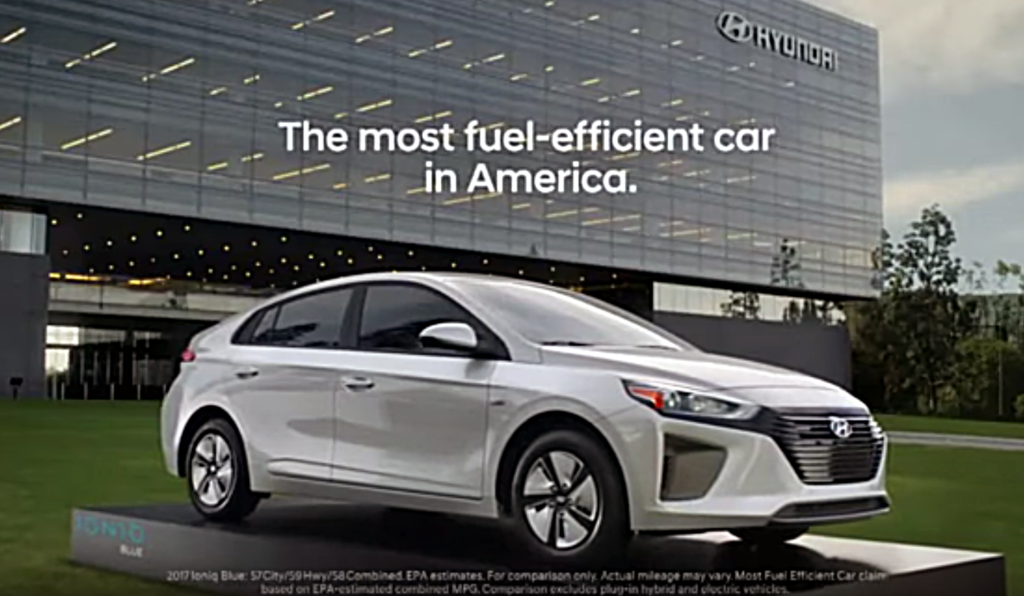 That said, there really is no hyperbole. The Ioniq Blue is EPA rated at 58 mpg for combined city and highway driving (57 city, 59 highway), and that is the best overall rating in the U.S. for a passenger car without a plug.
There also are other Ioniq hybrid trim levels, but they are rated at a still-impressive but lesser 55 mpg combined (55 city/54 highway). That's a hybrid car fuel efficiency rating bested by one other non-Hyundai model, the Prius Eco, which gets an EPA combined rating of 56 mpg.
Hyundai could argue that it was actually a bit too cautious in its Ioniq commercial fine print by excluding electrics. The all-electric Ionic EV has an EPA combined rating of 136 mpg-equivalent (156 city/122 highway), making it the nation' most fuel-efficient EV as well as the most efficient mass produced car of any propulsion type, period.
What complicated things is that the middle-model, the Ioniq PHEV, or plug-in hybrid, will fall a bit short of being the most efficient PHEV when it is released this fall. EPA numbers for the Ioniq PHEV haven't been released. Hyundai insiders say that while the car won't be best it will be among the top plug-in hybrids for efficiency.
(Check out The GreenCarGuy's review of the Hyundai Ioniq hybrid and Ioniq EV.)