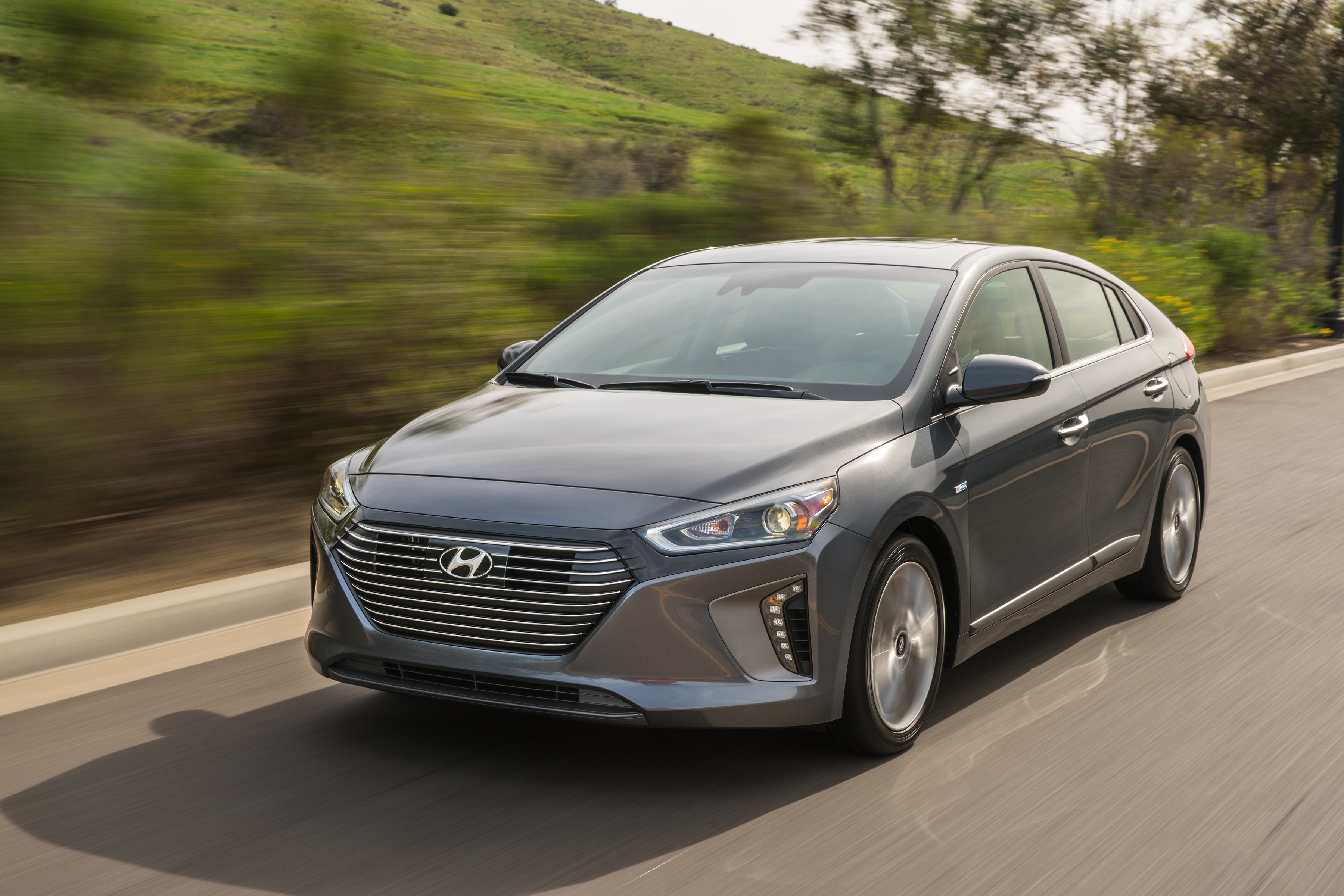 (Updated Aug. 2. 2018, to add link to Ioniq PHEV review.)
The smartly styled, high-efficiency Hyundai Ioniq it isn't just a single car, it's a model lineup with three very different electrified powertrains: Conventional hybrid, plug-in hybrid and battery-electric. Fortunately, each looks to be a top contender in its segment. Unfortunately, that means Hyundai shoppers looking for a really efficient, roomy, fun-to-drive, value priced car could have a tough time deciding which of the three models to take home.
[Estimated Reading Time: 9 minutes.]
All three are segment leaders in overall fuel efficiency, and the standard (no plug) hybrid version beats competing Prius models in overall MPG as well.
The plug-in versions aren't tops in all-electric range, the Chevrolet Volt PHEV, for instance, offers 53 miles of all electric range to the upcoming Ioniq PHEV's estimated 27-30 miles, and the Chevy Bolt EV's 238 mile range dwarf's the Ionic Electric's 124 miles.
But each Hyundai Ioniq variant offers best in-class energy consumption. And Hyundai's value proposition – all variants are priced well below the competition – will go a long way with many plug-in vehicle shoppers to overcome range differences. Those extra miles the Bolt delivers come at a $7,000 premium to the Ioniq Electric's starting price.
On the hybrid side, the Ioniq's value proposition is outstanding. It is aimed directly at the 2017 Toyota Prius and in both the super-efficient and standard versions, the Ioniq is priced less and delivers better overall fuel economy than the Prius.
The 58 mpg (EPA combined rating) Ioniq Hybrid Blue starts at $3,105 less than the 56 mpg Prius Two Eco. The 55 mpg Ioniq Hybrid SEL starts at $2,350 less than the 52 mpg Prius Three.
Add the Ioniq's highly competitive driving dynamics, its well-furnished interior and long list of standard equipment and Hyundai's stated desire to be a world-class player in the electrified car market appears to be a wish fulfilled.
Availability:
The Hyundai Ioniq Hybrid began showing up on dealer lots in mid-February and is available in all 50 states.
The Ioniq Electric will be released in April and initially will be marketed only in California, with a gradual roll-out to other states that have adopted California's zero-emission vehicles requirements.
The Ioniq PHEV won't be available until late this year, as a 2018 model. We sampled a pre-production prototype and were impressed, but won't offer a review until we've tried a market-ready version.
Hyundai says that any customer in any state can order any Hyundai model, including the Ioniq Electric, but in states without an active Ioniq Electric marketing program it would be wise before ordering to make sure the dealership can provide maintenance and repair services.
Trim Levels, Special Packages and Pricing:
The Ioniq Hybrid is available in three trim levels. The base Hybrid Blue starts at $23,035; the SEL starts at $24,785 and there's an SEL Tech Package that bumps up to $25,785; the Limited starts at $28,335, and the Limited with Ultimate Package starts at $31,335.
The Ioniq EV is offered in two trims. The base Electric starts at $30,335, and the Limited starts at $33,335 with an available Ultimate Package that bumps it to $36,835.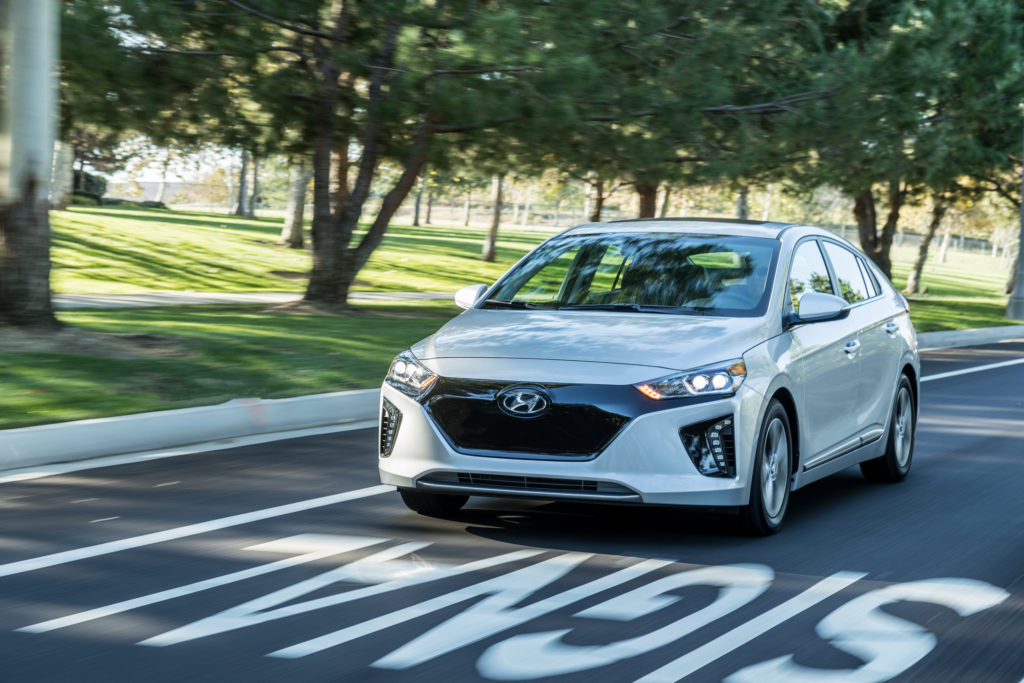 (See how the Ioniq stands up to its competitors.)
Incentives:
The Ioniq Electric qualifies for the maximum federal EV tax credit of up to $7,500, as well as for various state and local credits and rebates.
(Check our incentives article for the ins and outs of federal and state green car credits and rebates.)
Fuel Efficiency:
The EPA has rated the Hyundai Ioniq Hybrid Blue at 58 miles per gallon, combined (57 city, 59 highway), or 1.7 gallons per 100 miles. The other Ioniq Hybrid trims are rated at 55 mpg combined (55 city, 54 highway) or 1.8 gallons per 100 miles.
The Ioniq Electric is EPA-rated at 136 mpg-equivalent, with a per-charge range of 124 miles, or 25 kiloWatt-hours per 100 miles.
Charging Time:
Hyundai outfitted the Ioniq Electric with a 6.6 kiloWatt charger, capable of replenishing the 28 kWh battery in 4 hours at Level 2, 240-volt charging. The Electric also has a standard DC fast charge port and can receive an 80 percent recharge in 30 minutes.
(Learn all about electric car charging with our step-by-step guide.)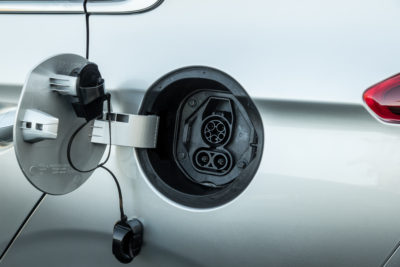 Safety:
The Hyundai Ioniq is a new platform as has not yet been safety-tested in the U.S. Based on its own tests and computer simulations, Hyundai expects it to receive the top federal rating of 5 stars, and to be named a "Top Pick" by the Insurance Institute for Highway Safety.
Engine, Transmission:
The Ioniq Hybrid is powered by a four-cylinder, 1.6-liter, gasoline direct injection engine rated at 104 horsepower and 109 lb.-ft. of torque. It is mated to a 6-speed, dual clutch automatic transmission. Hyundai says the engine achieves a 40 percent thermal efficiency rating – the amount of energy that's actually put to work moving the wheels. That's a rate rarely achieved by gas engines, which nowadays average around 30 percent thermal efficiency.
Hybrid System:
A 32 kW, 43-horsepower electric motor that draws power from a 1.56 kWh lithium-ion battery pack is the heart of the Hyundai Ioniq's hybrid drive system. It is strong enough to propel the car to speeds of 20-25 mph before the gas engine kicks in and after that assists the gas engine at varying levels, depending on power demand and/or the driver-selected efficiency mode.
Power:
Maximum output for the Ioniq Hybrid, with gas engine and electric motor working together, is 139 horsepower and 195 lb.-ft. of torque.
EV System:
A grid-charged, 28 kWh lithium-ion battery pack feeds power to the Ioniq Electric's 88 kw electric motor, which delivers up to 118 horsepower and 215 lb.-ft. of torque. Power is transmitted to the wheels through a single-speed transmission.
Equipment: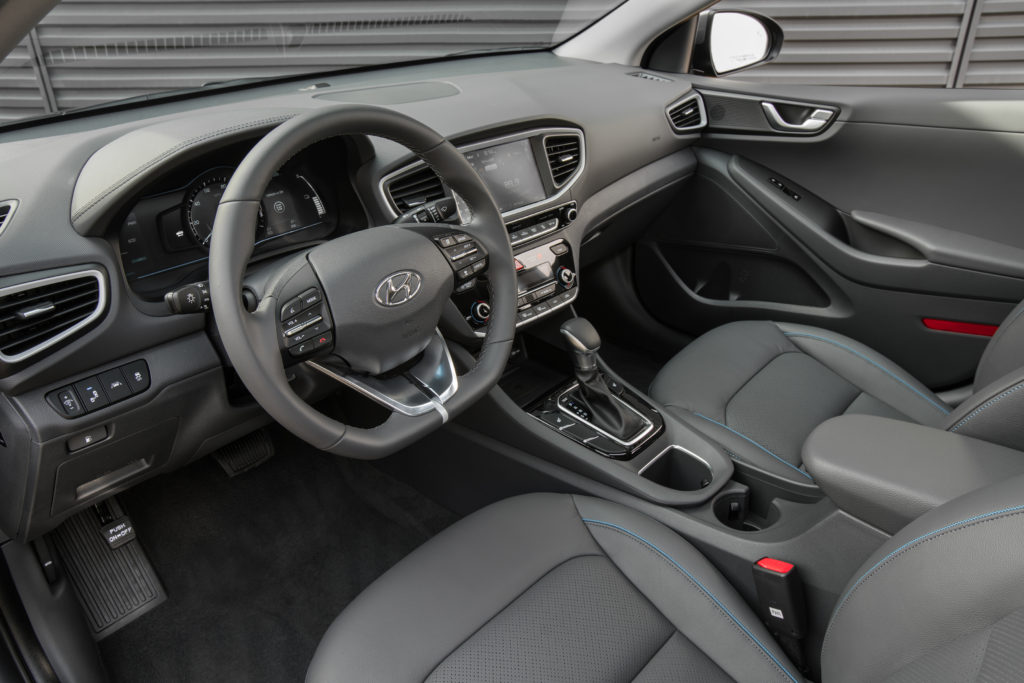 Hybrid
Standard equipment on the base Ioniq Hybrid Blue model includes 15-inch alloy wheels, anti-lock brakes, brake assist with pedestrian detection, traction and stability control, front and rear side- curtain and driver's knee airbags, active grille shutters, automatic headlamps, 4.2-inch LCD instrument and hybrid information display, tilting and telescoping steering wheel with integrated audio and cruise control, auto up/down driver's window, door handle approach lights, keyless entry, push-button start, a six-way adjustable manual driver's seat, 60/40 split rear seats, dual-zone automatic climate control and satellite audio with 7-inch color touchscreen, USB, iPod and auxiliary jacks, Bluetooth, Apple CarPlay and Android Auto smartphone connectivity.
The Ioniq Hybrid SEL trim adds a 7-inch LCD instrument cluster, blind spot detection with rear cross-traffic alert, LED daytime running lights and taillights, turn signals in side mirrors, heated side mirrors, power driver's seat, heated front seats, rear center armrest with cup holders and chrome window and interior door handle trim.
An available Tech Package adds automatic emergency braking, smart cruise control and a lane departure warning system.
The Ioniq Hybrid Limited adds a power sunroof, 17-inch alloy wheels and tires, chrome exterior door handles, leather seating, an auto-dimming rearview mirror with HomeLink and compass, LED interior lighting, an automatic up/down front passenger-side window and Hyundai Blue Link telematics.
An available Ultimate Package adds all of the Tech Package features plus rear parking sensors, curve-following dynamic headlights, an 8-inch color touchscreen with navigation system, driver seat memory, rear-cabin air vents, Qi wireless device charging, an 8-speaker Infinity audio system and a cargo cover.
Electric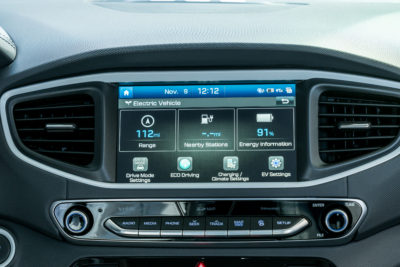 Standard equipment for the Ioniq Electric includes all of the Hybrid Blue standard equipment plus an EV-specific front grill, unique 16-inch alloy wheels and low-rolling-resistance tires, lower door side molding, aero windshield wiper blades, heated side mirrors, automatic single-zone temperature control, steering-wheel mounted regenerative brake control paddles, push-button gear selector, driving mode selector, electronic parking brake, leather-wrapped steering wheel, 7-inch LCD instrument cluster, heated front seats, rear center armrest with cup holders, chrome interior door handles, a cargo cover, Hyundai Blue Link telematics and smartphone app, and a three-year trail subscription for Blue Link Connected Car services with remote charging access.
The Ioniq Electric Limited trim adds all of the Hybrid SEL and Limited equipment (except sunroof and LED interior lighting) plus LED headlamps, power folding side mirrors with integrated puddle lamps and turn signals, driver's seat memory, and console-mounted rear cabin air vents.
An available Ultimate Package adds the Hybrid Tech package safety assist features plus a power sunroof, HID headlamps, LED interior lighting, an 8-inch color touchscreen with navigation system, Qi wireless device charging and an 8-speaker Infinity audio system.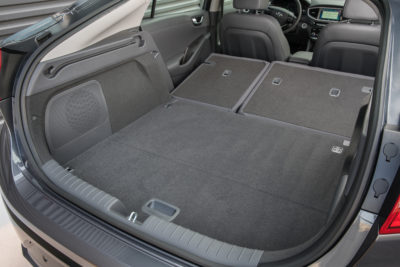 Cargo:
The Hyundai Ioniq is a hatchback with a cargo area (rear seats folded down) rated at 26.5 cubic feet for the Hybrid models. The battery in all models is positioned beneath the rear seat.
In the Electric models the battery extends beneath the cargo floor, cutting measured space to 23.8 cubic feet.
The cargo floor isn't completely flat with rear seats folded, and the sloping roofline limits the height of things than can be carried, but for most uses the Ioniq's cargo space, rear seats up or down, will be more than adequate – and it is larger than what's found in most competing hybrids and EVs.
Comfort:
With a generous 96.2 cubic foot passenger cabin, the Hyundai Ioniq beats most competition in roominess. Its a compact on the outside, but inside the look and feel is more mid-size. Hyundai accomplished this in part by making the Ioniq wider than most of the competition (the Ioniq is almost 2.5 inches wider than the Prius, 2 inches wider than the Nissan Leaf and Chevrolet Bolt, half an inch wider than the Chevy Volt and just 0.3 inches narrower than the Ford C-Max).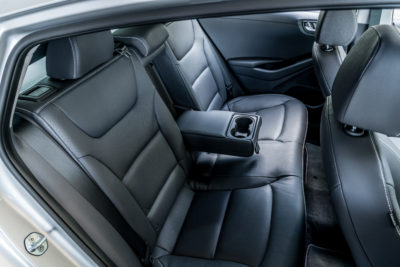 The result is a car with plenty of elbow room, and loads of front-legroom. The back seats are spacious for two if a bit tight for three, but legroom is cramped if the driver or front passenger seats are pushed way back. Headroom in the rear, as with most sloping-roofed hatchbacks, can be a bit tight for the tallest passengers. The seats themselves are comfortable and supportive, and while our time in the Ioniq was limited, we can't see long road trips presenting any seat comfort issues.
On the Road:
The Hyundai Ioniq – in all versions – is peppy and well-mannered, with taut, responsive steering that gets even tighter in sport mode, and decent road-holding ability. Suspension tuning is biased toward comfort, and as a result the Ioniq Hybrid felt a bit bouncy on washboard stretches of country road. In the Ioniq Electric, however, the extra battery weight keeps the car glued to the pavement regardless of the quality of the road surface.
Braking in all models is very smooth and there's little if any body roll on hard corners.
The Ioniq Hybrid's six-speed transmission and extra torque provided by the electric motor make the most of its humble 139 horsepower, and while not the quickest gas-electric car off the line, the Ioniq Hybrid offers impressive hill climbing ability, is quite agile through the corners and has loads of passing power in the 50-70 mpg range. The Hybrid's transmission operates in both fully automatic and auto-manual modes. Hybrid drivers can also select among Eco, Normal and Sport modes for increased fuel efficiency or sportier performance.
The Ioniq Electric is a bit less nimble on corners – although nothing problematic – and provides the off-the-line oomph all EV drivers rave about. The weight of its battery pack gives it a high level of sure-footedness on curvy roads as well as on rough road surfaces. As with most electrics, however, power starts fading around the 60 mph mark. A pair of steering-wheel paddle "shifters" let the driver order up and switch among any of four levels of regenerative braking force. At peak Level 4, the regenerative braking function enables the car in many situations to come to an almost complete stop without use of the manual brakes.
Overall, the Hyundai Ioniq, with any of its three powertrains, should stand up well against competitors, and it outstrips them all if efficiency is your primary focus.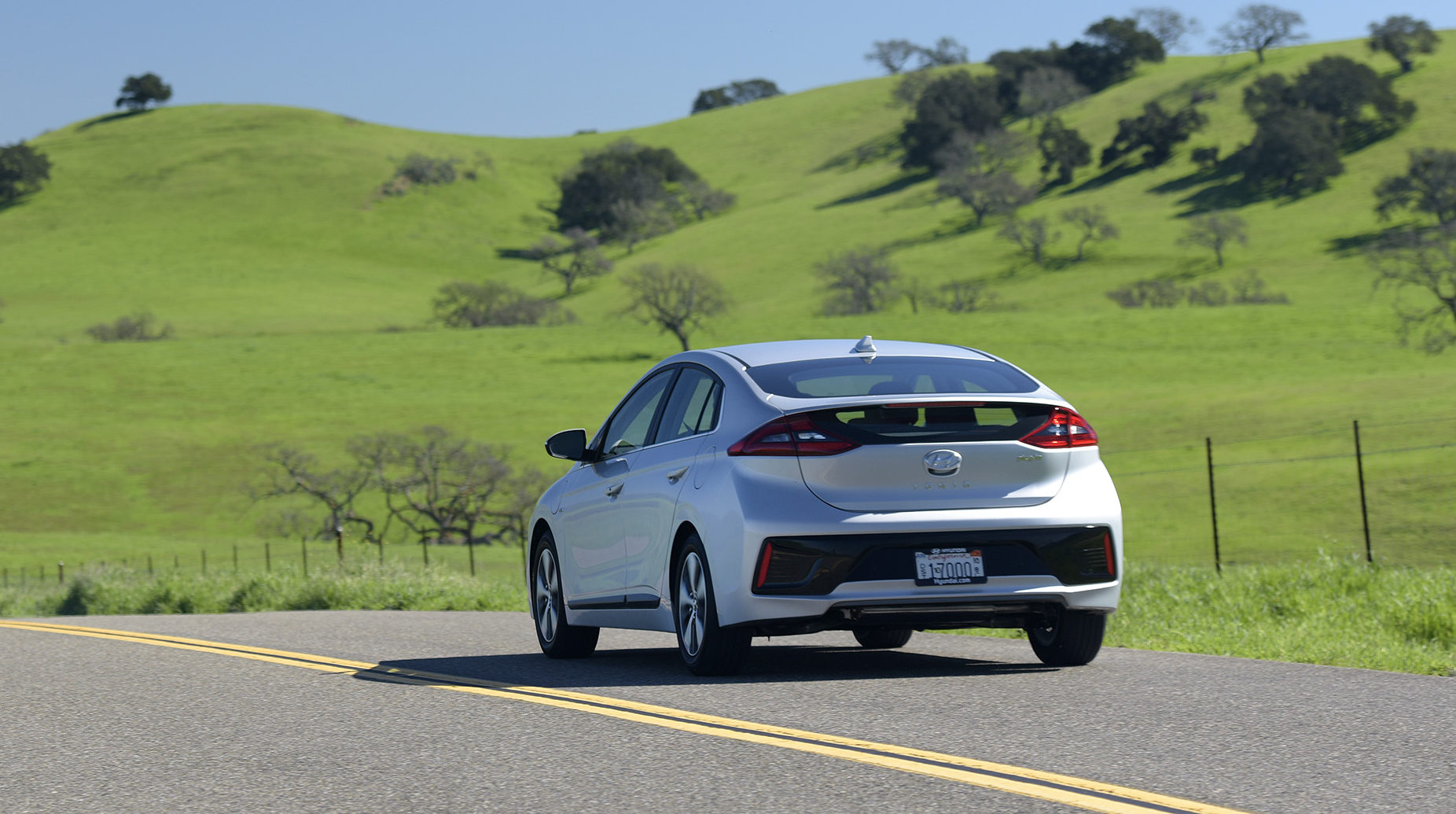 ___________________________________
Photos courtesy of Hyundai Motor America
To prepare this report, TheGreenCarGuy attended a media event for which Hyundai provided transportation, meals and housing.