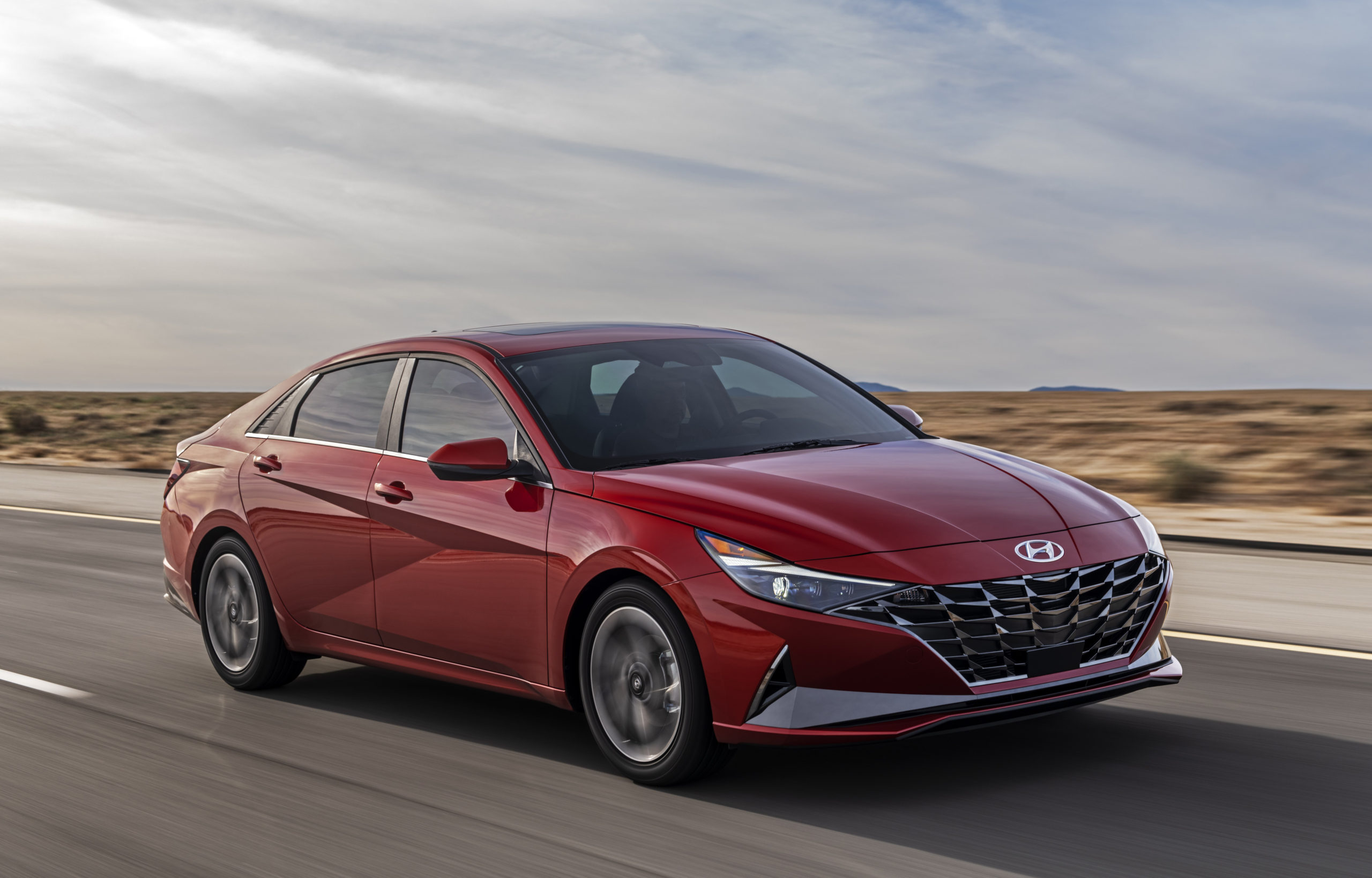 (Updated 12/19/20 to include Hybrid pricing.)
Hyundai's 2021 Elantra hits showrooms this fall with a bold new design and the first Elantra Hybrid in the lineup.
The South Korean automaker is on a quest to supplant Toyota as the top import brand among the non-luxury set, and as the brand with the most electrified powertrains.
The 2021 Elantra Hybrid – a 50-mpg-plus compact sedan – will give Hyundai seven electrified models in its lineup: The Elantra and Sonata sedan and Ioniq hatchback conventional hybrids, Ioniq plug-in hybrid. Ioniq and Kona small crossover EVs and the lease-only Nexo fuel cell electric crossover.
[Estimated Reading Time: 3 min.]
Toyota, with the launch of the RAV4 plug-in hybrid, has nine including six conventional hybrids, two PHEVs and one fuel cell electric sedan.
In addition to up to 54 mpg combined city and highway mileage (for the hybrid), the redesigned Elantra is packed with standard and optional tech features.
A Bigger Compact
It also has grown. With 2.2 inches more length and an inch more width than the 2020 model, the seventh-generation Elantra is one of the compact segment's largest sedans.
The extra length let Hyundai increase rear seat legroom – always a good thing in a compact – and keep the same headroom as last year's model while adding a much swoopier roofline and dropping overall height by almost an inch.
New Looks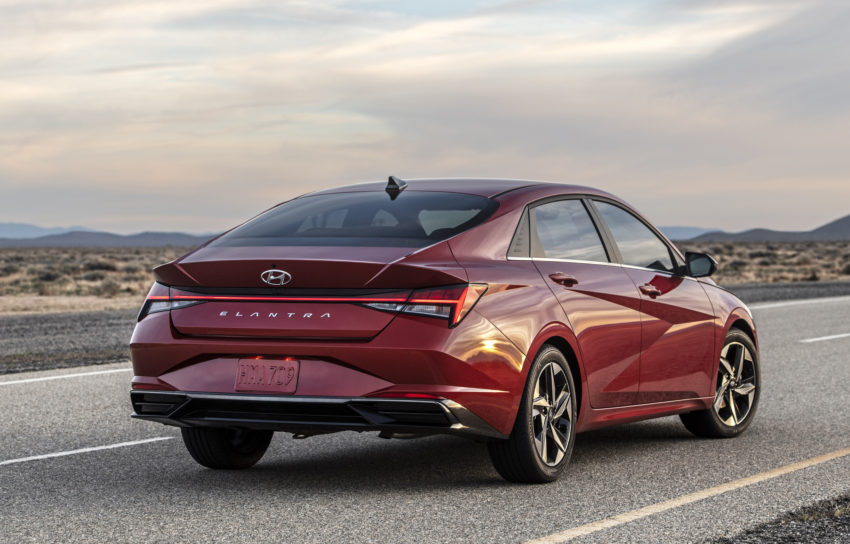 The Sonata is likely to compete for shoppers' intention with the Toyota Corolla and Honda Insight hybrids. Hyundai gave it an eye-popping modern exterior to make sure it stands out in the crowd.
A wide grille, new LED headlights and an integrated chin spoiler set off the front end. Sharp character lines and deeply creased sheet metal on the doors define the profile.
In the rear, full-width taillights are set in a deeply incised fascia.
The Elantra hybrid will come with 16-inch alloys standard.
Tech, Tech, Tech
Hyundai hasn't let the automotive press inside the new car – coronavirus caution shut down a planned media introduction earlier this week – but the interior appears modern, upscale and very, very techy.
The driver gets a digital display behind the wheel and an 8-inch color touchscreen is standard for the infotainment system.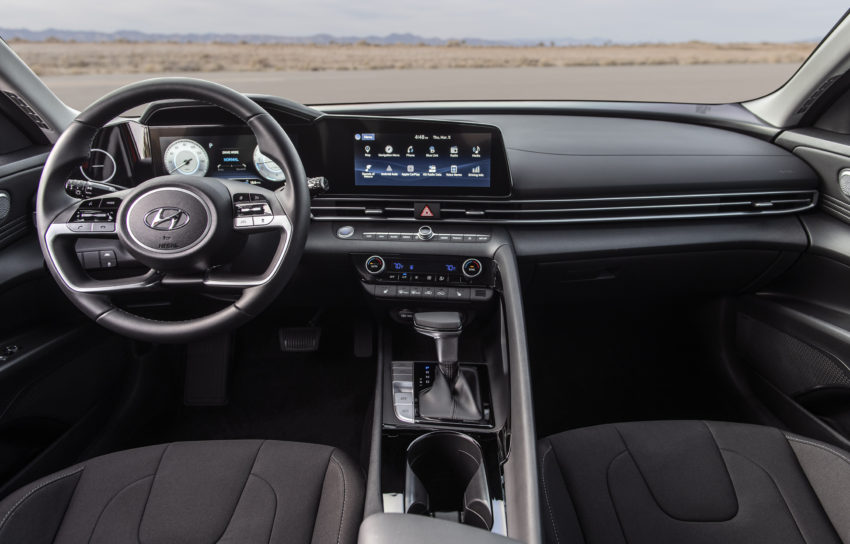 Also standard – wireless Apply CarPlay and Android Auto connectivity.
An optional feature mounts side-by-side horizontal 10.25-inch digital screens – driver's display and infotainment and navigation – behind a single sheet of glass.
Interestingly, those who opt for the fancy big-screen layout will have to give up wireless connectivity and go back to a cord to use smartphone apps.
Other optional tech features include a digital key system that uses smartphone or NFC card instead of a physical key, voice controlled climate control system, wireless smartphone charging and a premium Bose audio system.
Safety
Hyundai's basic SmartSense suite is standard on the 2021 Elantra Hybrid.
It includes forward collision warning and automatic emergency braking with pedestrian detection; lane keeping assist and lane centering assist, and automatic high beams.
Options include blind spot and rear cross traffic warning; full-range adaptable cruise control and reverse parking collision avoidance with emergency braking.
Powertrain
The 2010 Elantra Hybrid uses a 1.6-cylinder gas engine augmented with a 32 kilowatt (43 hp) electric motor that draws its power from a 1.32-kWh lithium-ion battery mounted under the rear seats.
Peak system output is 139 horsepower and 195 pound-feet of torque.
Hyundai eschews the constantly variable transmissions (CVTs) used by most hybrids in favor of a six-speed, dual-clutch transmission for the Elantra Hybrid.
The hybrid system is capable of short-distance, low-speed electric-only driving.
Pricing and Trims
The 2021 Elantra Hybrid comes in two trim levels. The base SEL starts at $21,545 while the Limited begins at $29,095 – prices include Hyundai's $995 destinaion charge. The non-hybrid will be available in SE, SEL and Limited trims.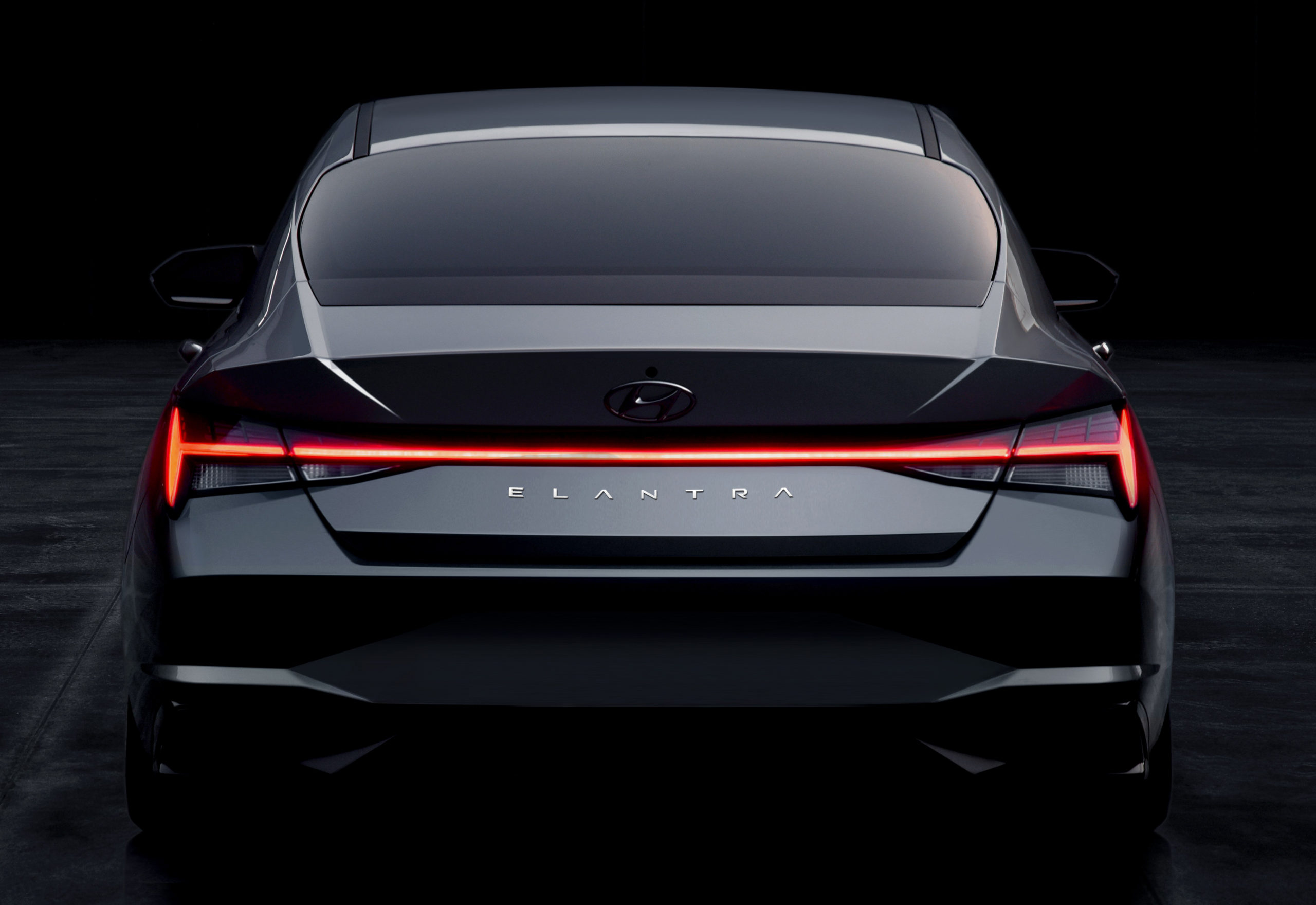 Photos courtesy Hyundai Motor America.