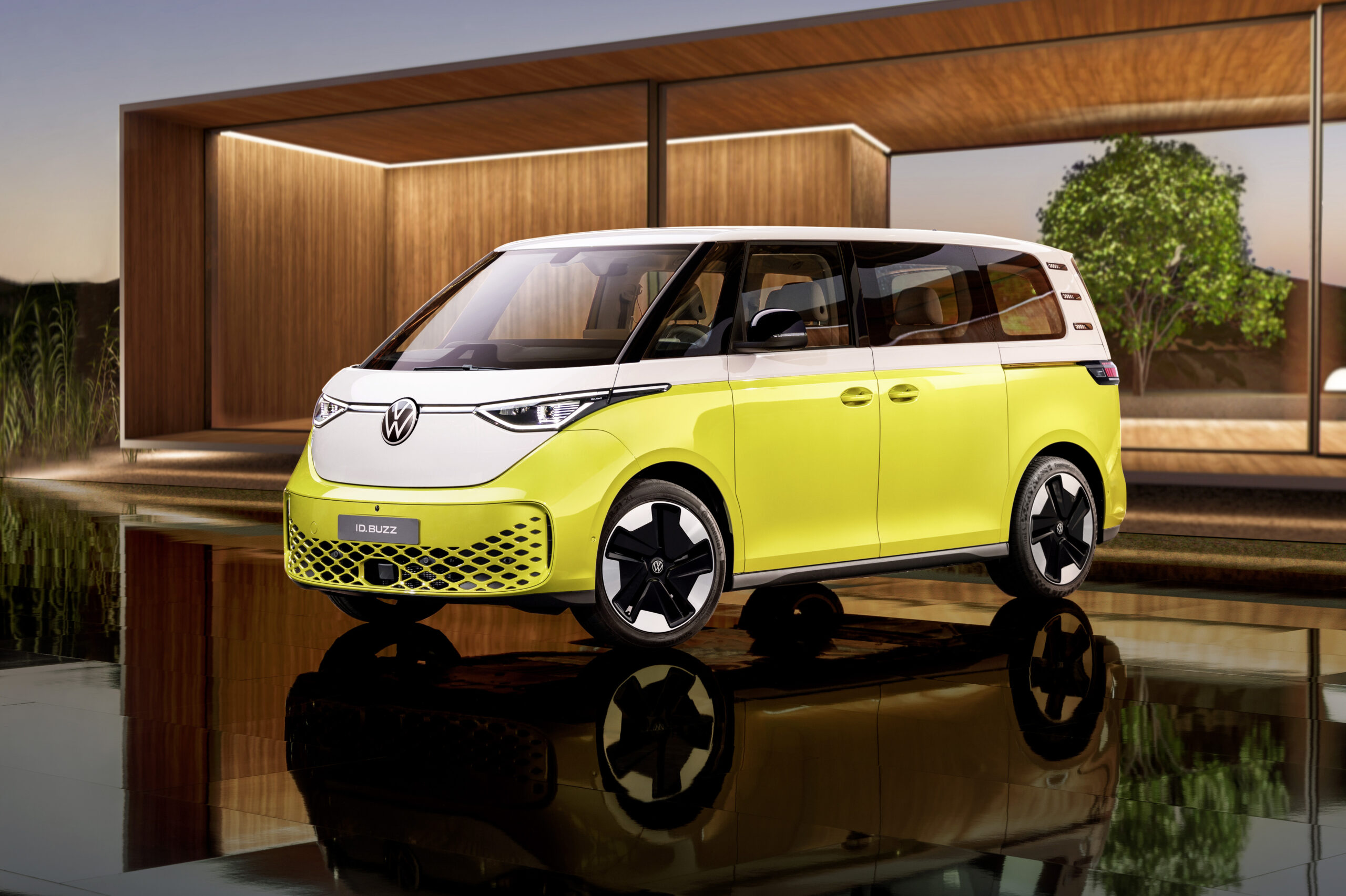 Volkswagen's eagerly awaited ID. Buzz electric microvan won't go on sale in the U.S. until 2024, but VW has unveiled the European production version, so we though we'd share a few pix and some data to get the juices flowing.
[A 2.5-min. read.]
Pictures first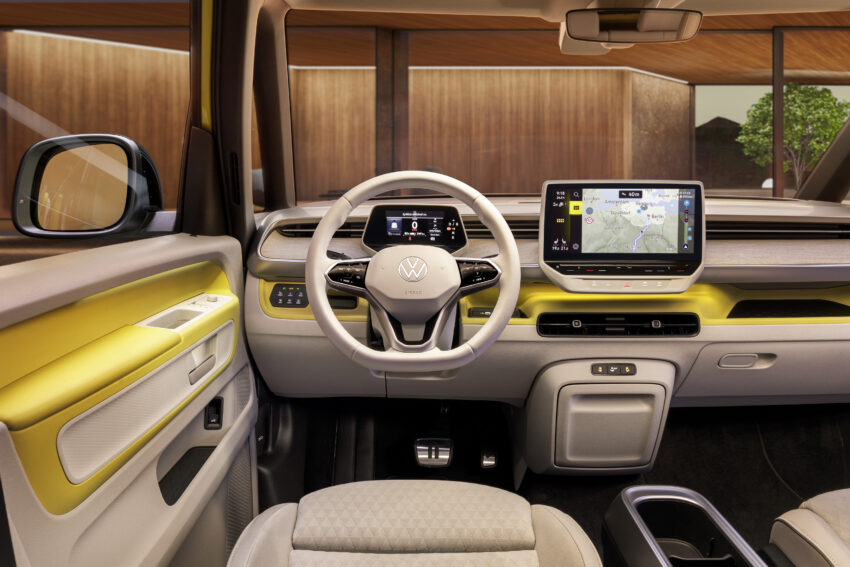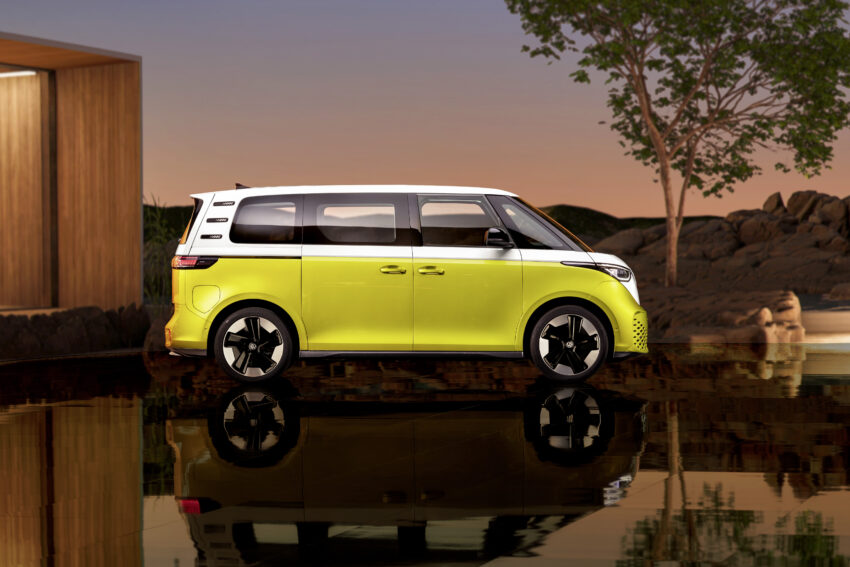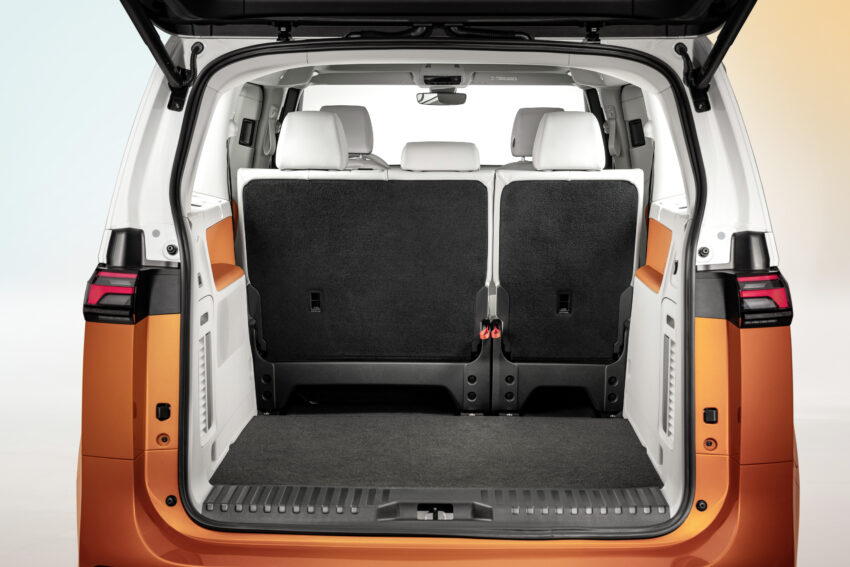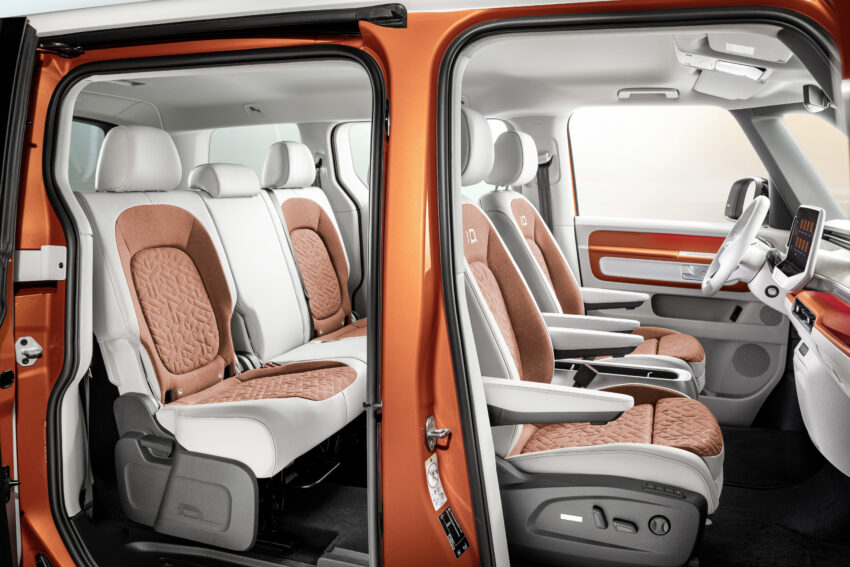 Some Data
The U.S, will get the long wheelbase version of the ID.Buzz, but measurements aren't yet available. It will be longer, though, than the short wheelbase version that goes on sale in Germany and a few other European countries in the third quarter this year – with more European and Asian markets to be added in 2023.
The Buzz – a play on the word "Bus" – was initially shown as a concept at the Detroit auto show in early 2017. about six months after VW launched its ID (Intelligent Design) sub-brand for electrics at the 2016 Paris international Auto Show. It was confirmed for production later in 2017. At the time, VW was aiming for a 2022 launch, but Covid, microchip shortages and stuff got in the way.
This first version – we'll call it the short Buzz – will have an 88 kilowatt-hour (77 kWh usable) lithium-ion battery pack. It will have a single-motor, rear-drive layout with 201 horsepower and299 pound-feet of torque. Top speed will be limited to 90 mph.
The initial models will be the ID.Buzz and ID.Buzz Cargo. The commercial van will have three seats in the front row and a wide open interior behind them.
Other ID.Buzz versions with bigger batteries, all-wheel drive and more power will launch in 2023.
The I.D.Buzz "short" will charge at up to 11 kW on Level 2, 240-volt equipment and up to 170 kW on DC fast-charge (Level 3) equipment. At that speed, the 88 kWh battery can be recharged to 80 percent of capacity from 5 percent in a out 30 minutes. The same charging capacities are likely to be standard on the U.S. version. (All about EV charging.)
The short will be 185.5 inches long, 78.1 inches wide and 76.3 inches high, with a 117.6-inch wheelbase. That's about the same total length as a Porsche Macan, Chevrolet Equinox or Mitsubishi Outlander but with a much longer wheelbase than any of those crossovers. The new Hyundai ioniq 5 EV, at 182.5 inches overall length and 118.5-inch wheelbase is a fairly close match.
All exterior lighting is LED and 18-inch steel wheels will be standard, with alloys ranging from 18 to 21 inches available as options.
For the European version there will be seven single-color exteriors – white, silver, black, yellow, orange, green and blue (VW has much fancier names for each shade) and four two-tone schemes – white over yellow, orange, green or blue.
What's Inside the ID.Buzz?
The base interior will be in a grey tone, with two-tone schemes available for the versions with two-tone exteriors.
Inside, the passenger version is a five-seater, with adjustable, sliding (9.6 inches of travel) front captains chairs and a folding rear seat with a 60/40 split and up to 5.9 inches of travel. Top trims will have electricly adjustable front seats with memory and massage functions – that latter a real delight for anyone who's has spent much time in an original microbus.
A two-row, six seat version of the short is coming later, and the long wheelbase version will be configured with three rows for up to seven passengers in a 2-3-2 configuration. There are fold-down tables built into the backs of the front seats.
The 39.6-cubic-foot rear cargo area has an optional raised floor, which reduces total cargo area but make the floor level with the folded-down seat backs for easier loading and carrying of long pieces of cargo.
Instrumentation includes a pair of 10-inch screens – one for driver info and one for the infotainment system, and a12-inch infotainment screen with navigation is available. The initial versions will have a pair of USB-C ports and a wireless charging pad in a shelf to the right of the steering wheel. There are more USB-C ports in the center console, on the driver's door, in each of the two sliding doors and up near the rear-view mirror to facilitate dash cam installation.
There's a "shifter" stalk on the steering column, but as is the case with most EVs, the ID.Buzz has a single-speed gearbox, so it's just twist the end of the stalk forward to go from neutral to drive and rearward for neutral to reverse.
The center console is a big box with lots of room for stuff and there's an optional removable center console that latches into place and has storage bins, a drawer for laptops and tablets and a flip-top bin for water battles.
Much of the interior is trimmed, covered or upholstered in recycled or otherwise sustainable material and there won't be any leather options. The exterior paints are organically base, the battery chemistry don't include cobalt and Volkswagen intends to have a plant ready to recycle its EV batteries for a second use – such as stationary energy storage – when their automotive life is done (they are guaranteed for 8 years or 100,000 miles and expected to last longer).
We'll be checking in again as soon as VW starts releasing info specific to the U.S.model.