Company Favors Plugless 'Range-Extended' Technology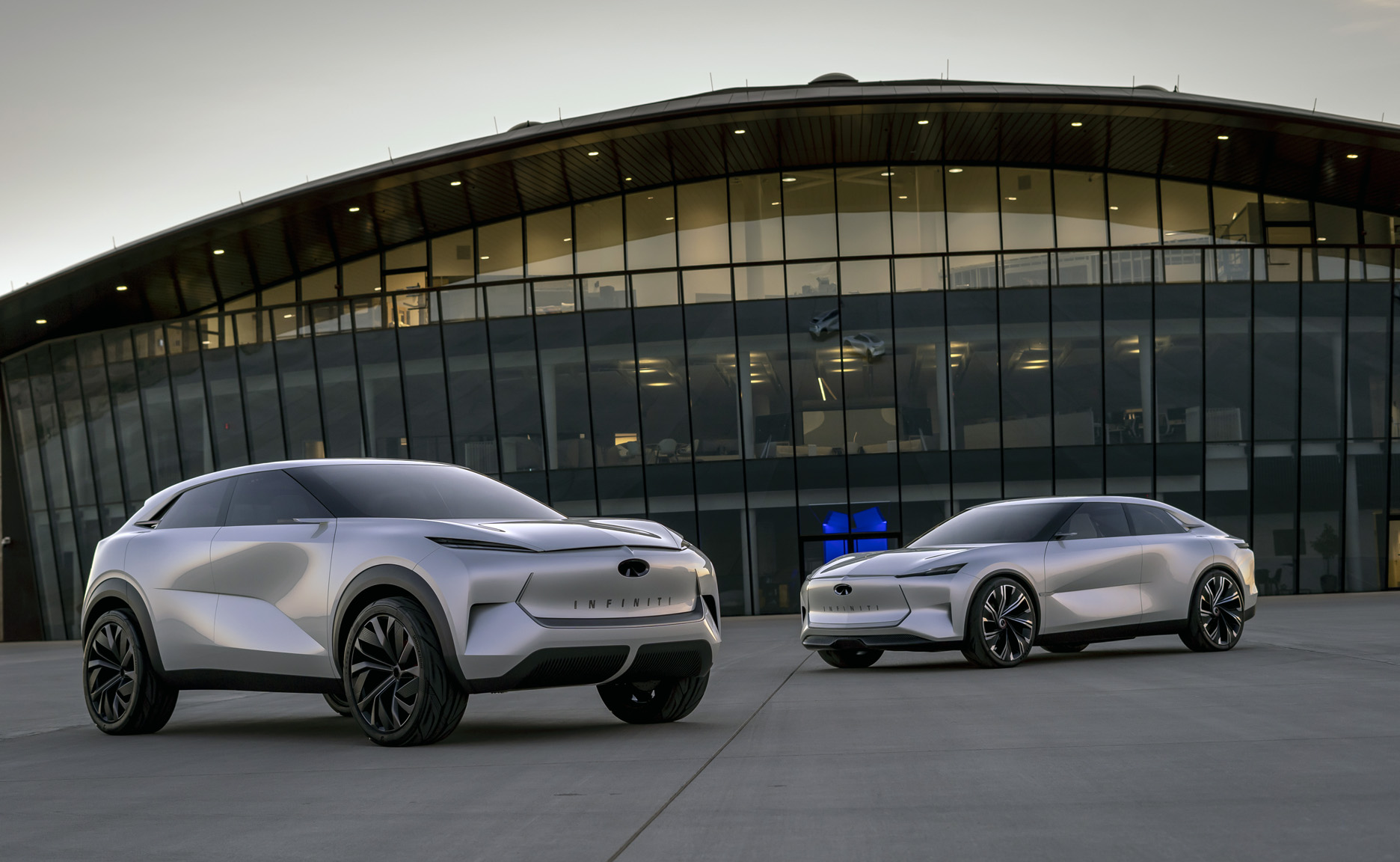 Infiniti is finally embracing electrification, with the first of a line of Infiniti EVs likely due within two years.
The decision to start moving away from gasoline comes almost a decade after Infiniti's parent and stablemate, Nissan, helped launch the modern EV with the 2011 Leaf.
Infiniti has five models in its present lineup, all powered by internal combustion. It plans to introduce five new models in the next three years, several of them electrified. After 2022, almost all new Infiniti models will be electric, the company has said.
[Estimated Reading Time: 2 min., 30 sec.]
Nissan's luxury brand intends to offer both battery EVs and plugless series hybrids – the automotive version of a diesel locomotive in which an internal combustion generator makes the power needed by the electric drive motors.
Favoring Plugless
Infiniti intends to lean heavily toward the plugless, "gas-generated" electric powertrain, said Jeff Pope, group vice president for Infiniti Americas.
That's Infiniti's version of the e-Power system Nissan introduced in 2016 in Japan.
Underpinning the Infiniti EVs will be a new dual-purpose platform that can accommodate either battery- or generator-dependent EV power systems, Pope told TheGreenCarGuy at an event promoting Infiniti's upcoming (Nov. 8) 30th anniversary.
The company believes the gas-generated EV system will be a hit because it offers electric vehicle performance without range anxiety as there is no need to plug-in to charge the batteries.
Drivers will have to stop occasionally to purchase gasoline for the generator, though. And there won't be any claims of zero tailpipe emissions.
Series hybrids aren't new. Besides powering most modern locomotives, the system has been used in notably the Chevrolet Volt (discontinued this year), BMW i3 REx and the original Fisker Karma and its successor, the Karma Revero. But while those cars all had grid-chargeable battery packs, the "gas-generated" Infiniti models will rely solely on power from the on-board generator.
Electric Age Design
Infiniti didn't show us an EV at the media event it held last week. But the brand's recent Qs and QX "Inspiration" concept vehicles provide clues to the direction Infiniti EV design will take as it enters the electric age.
If that's the case, then grilles will be gone, a la Tesla: Electric cars don't need them. Instead the vehicles' noses will be flanked by large air intakes to provide cooling air.
There's no need to house an engine, transmission and drive-shaft, so hoods will be shorter and cabins roomier with flat floors.
Driver assistance and active safety systems will abound, as will connectivity offerings such as on-board Wi-Fi hotspots.
And befitting a new age, interiors will be simpler, following Japanese minimalist tradition, but still packed with quality features as befits Infiniti's luxury image.
Dual Motors
The first Infiniti EVs apparently will have dual motors – one for each axle – to provide electric all-wheel drive.
The company said the motors can be tuned, depending on the vehicle model, to produce 248 to 429 horsepower.
Lithium-ion battery packs ranging from about 3 kWh to just over 5 kWh will be mounted under the floor between the axles.
Vague Timing
Infiniti hasn't yet said which vehicles will get the new electric powertrains. Nor has it gone beyond "the early 2020s," to let us know when they will start appearing.
"Electrified" is an all-inclusive term that that can include conventional hybrids, plug-in hybrids and fuel cell vehicles as well as battery- and generator-powered EVs.