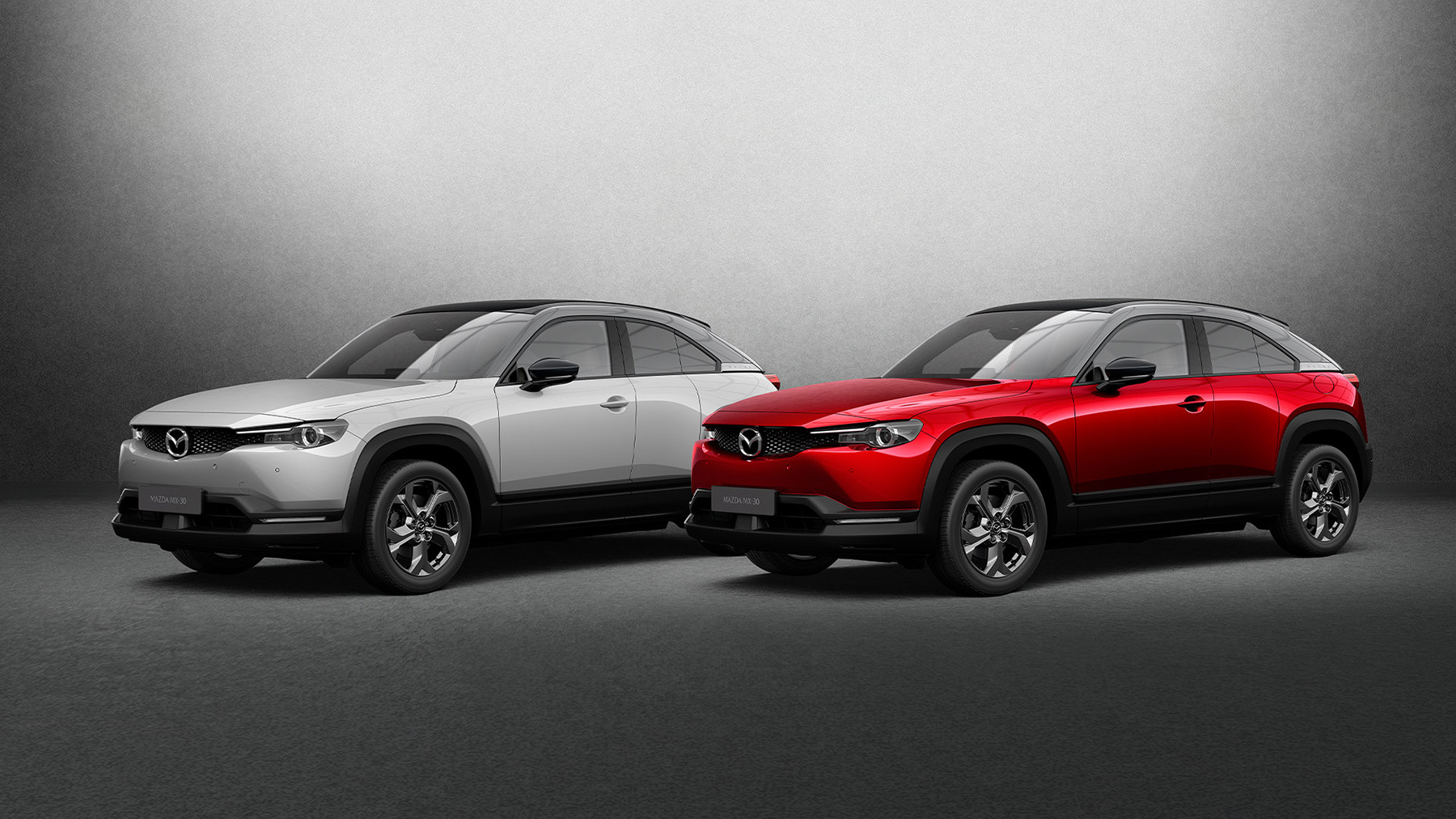 Mazda is finally applying its sporty styling and considerable engineering talents to the electric vehicle segment, with the 2022 MX-30 EV as the result. It hits California. dealerships this fall with expansion into other states planned if there is demand.
Unfortunately, Mazda decided to keep its first EV adventure small in scope. In addition to its sales being limited at first to California, the MX-30 is a subcompact five-seater and there apparently wasn't much room for batteries.
[A 3-min., 30-sec. read.]
Officials numbers will come closer to the start of sales, but the MX-30 EV appears able to deliver only about 100 miles of range per U.S. testing standards, making it one of the lowest-range new EVs in the market and greatly limiting its appeal in a nation where most EV shoppers believe more is always better.
There's a range-extended version coming later next year that uses a gasoline rotary engine – gearheads will know it as a Wankel engine – as an on-board generator to keep the EV supplied with juice after its grid-charged battery pack is depleted. Mazda's calling it the MX-30 PHEV, and it likely will outsell the pure EV because it has that gas tank and generator for backup power. And on longer trips it can be gassed-up, over and over if necessary, to keep going without the need for a lengthy charging stop.
Mazda said it also is developing a larger plug-in hybrid vehicle and a conventional hybrid crossover aimed directly at the U.S. market – likely to compete with the likes of the Toyota RAV4, Honda CR-V and Hyundai Tucson hybrids.
Meantime, though, the MX-30 EV is what Mazda will be offering.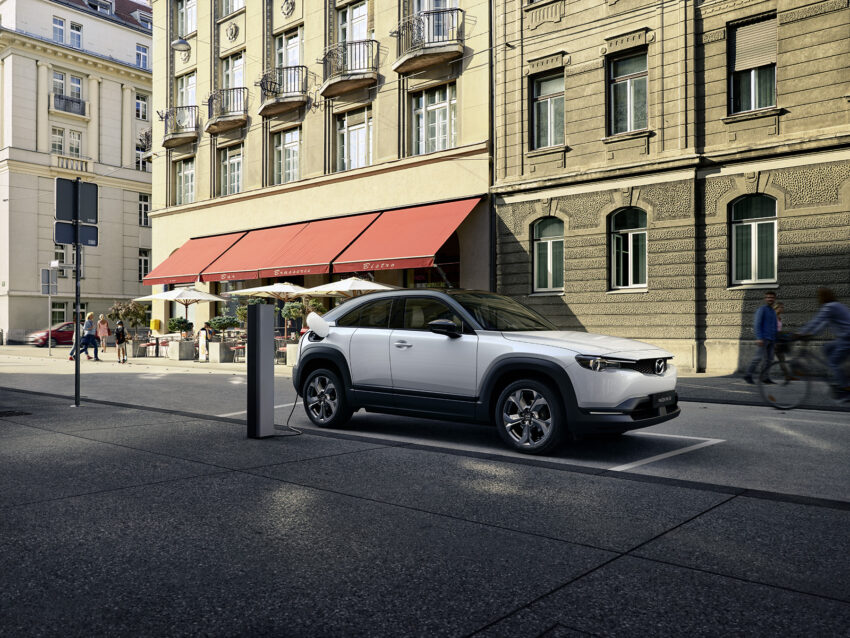 If the range doesn't bother you – and there are plenty of studies showing that †he average American drives much less than 100 miles a day – then it looks like a pretty good addition to the small EV segment.
It uses its 35.5 kWh battery pack to provide power for a front-mounted, 144-horseower electric motor that produces 200 pound-feet of torque.
In such a small package, that ought to make for a pretty peppy ride.
Likely competitors – in size and range – are the $45,500 BMW i3, with 153 miles of range, and the $31,000 Mini Cooper SE, with 110 miles of range. Mazda hasn't provided pricing yet for the MX-30 SE, but the range on gasoline-burning models is $23,000-$35,000, so we'd expect the EV version to start at or slightly over $30,000.
The MX-30 EV is built on the CX-30 platform but has a sportier, less SUV-ish look with a coupe-like roofline and lots of rubber cladding below the beltline. It borrows the rear-hinged rear half-doors from the company's previous rotary engine vehicle, the RX 8 (discontinued in 2012).
Mazda didn't eschew the traditional grille for its EV, as have Tesla, Hyundai, Kia and a few others. But because EV's don't need big grilles to scoop in air to feed a combustion engine, the MX-30 has a small grille in an otherwise flat nose.
The charging port is on the right rear flank, where a gas-burner might have its filler cap. For the upcoming range-extended version, the gasoline filler cap in on the left flank.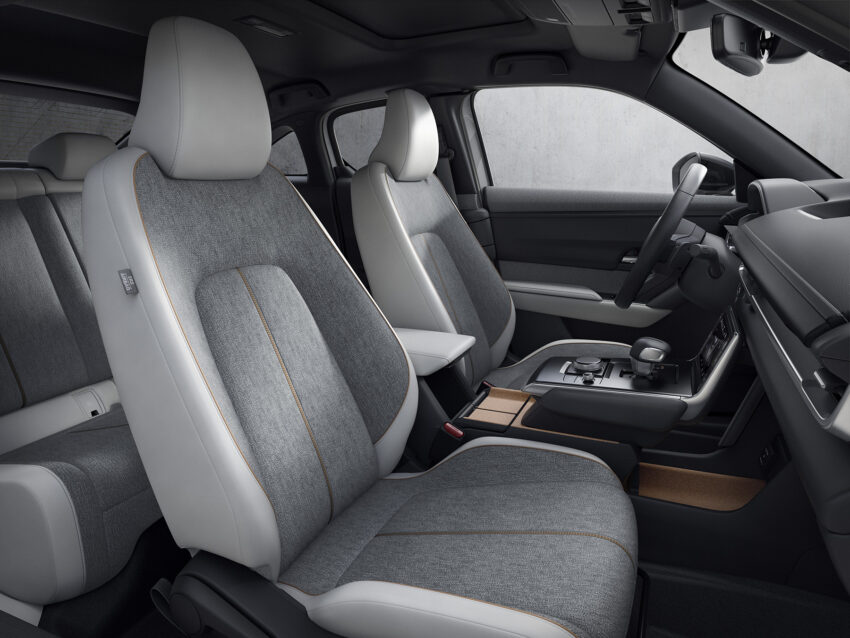 Inside, Mazda uses materials like upholstery fabric made from recycled plastic bottles and cork door grips and linings for the center console trays (Mazda got started as a cork company in 1920).
The MX-30's dash is, in the tradition of most modern EVs, pretty minimalist. A driver's  information screen sits high up top and an infotainment center touchscreen is mounted below, bridging the gap between the center console and the dash.
The MX-30 will come with DC fast-charging capability and Mazda said the battery pack can be taken to 80 percent of capacity in 35 minutes on a 50-kilowatt fast charger.
If the 6.6 kW Level 2 charging capacity used for the European model is kept for the U.S., the MX-30 should easily fully recharge from empty in under 7 hours on home or workplace 240-volt chargers.
If it offered more range, the MX-30 EV would be a real contender in the small EV segment in the U.S.
As things stand, it seems to be a European- and Japanese-market car dropped into the U.S. to comply with California's zero emission vehicle rules and rack up a few ZEV credits for Mazda while the company develops a bigger electric crossover that can better meet U.S. buyers' demand for 300-miles-plus of range from their EVs.