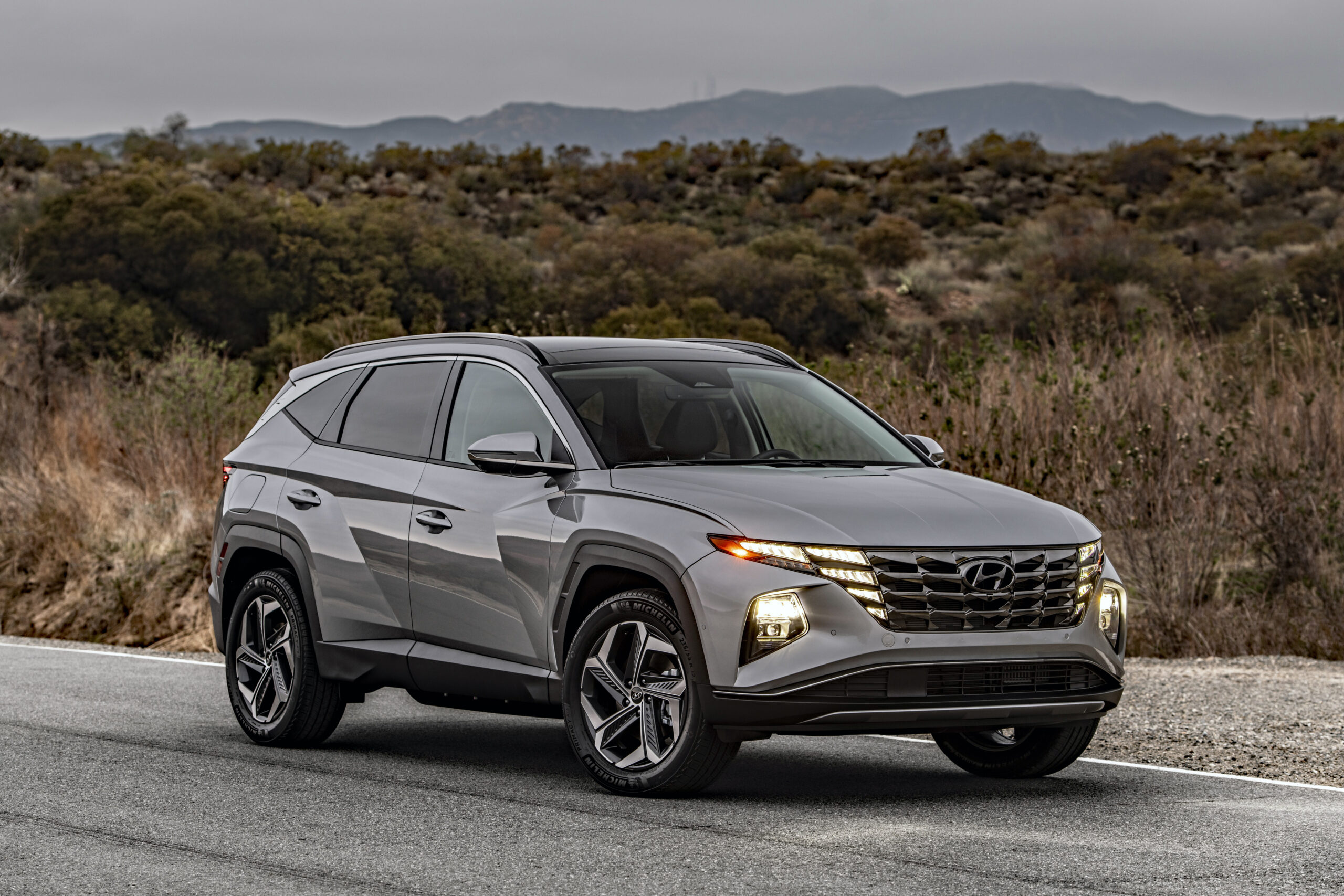 Hyundai is adding two new players to the increasingly competitive small "green" SUV segment with introductions this year of the hybrid and plug-in hybrid versions of the redesigned 2022 Tucson crossover.
Both come standard as all-wheel drive models and the hybrid is rated at 37 mpg in combined city and highway driving and the PHEV will deliver up to 32 miles of all-electric range, before reverting to standard hybrid mode, the automaker said.
Hyundai disclosed a variety of specifications for the Tucson's two hybrid versions this week at a U.S. media showing of the redesigned compact – almost six months after initially revealing the new design in Seoul.
[A 6-min. read.]
The conventional hybrid will go on sale in the U.S. this spring alongside the gasoline-burning Tucson, while the plug-in hybrid will launch in the summer.
Both hybrids use a turbocharged, 180 horsepower, 1.6-liter, direct-injection gas engine. It will be paired with a 44.2 kilowatt (59 horsepower) electric motor on the conventional hybrid and with a 66.9 kilowatt (90 hp) motor in the PHEV. That's essentially the same system as used in the larger Hyundai Santa Fe Hybrid and PHEV models.
Hyundai said that like the Santa Fe, the Tucson Hybrid system will be rated at 226 horsepower and 258 pound-feet of torque while the PHEV jumps to a manufacturer-estimated 261 hp. Gas-burning '22 Tucsons claim 187 hp and 178 lb.-ft. of torque.
The hybrid will use a 1.49 kWh lithium-ion battery while the PHEV gets a 13.8 kWh battery pack to support its all-electric driving capability. Hyundai has equipped the Tucson PHEV with 7.2 kilowatt Level 2 charging capacity, so a depleted battery can be fully recharged in about two hours.
In both variants, Hyundai's HTRAC electronically controlled all-wheel drive system is standard and a six-speed automatic transmission transmits power to the wheels.
Trims and Pricing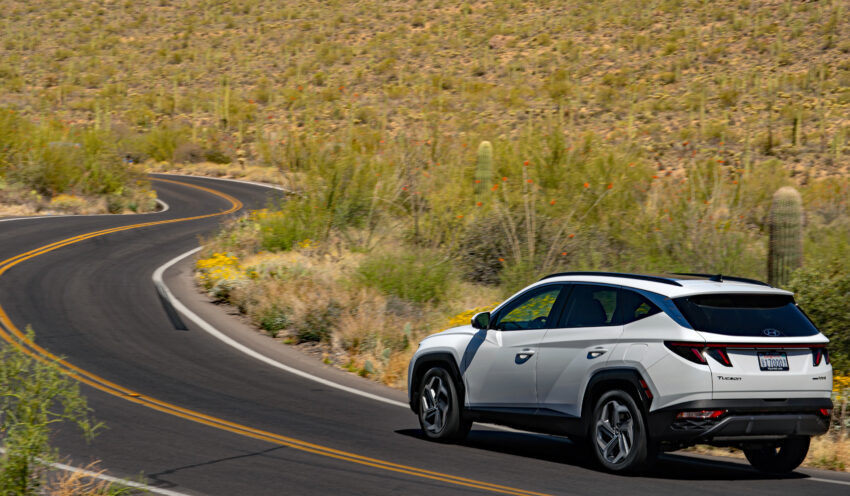 The 2022 Tucson Hybrid will come in three trim levels. The base Blue will start at $30,235; the SEL Convenience will start at $32,835 and the Limited will start at $38,535. Prices include Hyundai's $1,185 destination fee.
The Tucson PHEV will come in two trims – SEL and Limited. Pricing for the PHEVs hasn't yet been released.
Tucson Hybrids vs the Competition
Among likely competitors for shoppers' attention, the Toyota RAV4 Hybrid and RAV4 Prime PHEV both come standard with all-wheel drive, as do the Tucson hybrids. AWD is an option with the 2021 Ford Escape Hybrid and isn't offered on the Escape PHEV. The Honda CR-V Hybrid gets AWD as standard equipment, and isn't offered in a PHEV variant.
The Tucson PHEV's 261 horsepower and 32 miles of all-electric range is mid-pack compared to the 302-horsepower Toyota RAV4 Prime plug-in hybrid, rated at up to 42 miles of all-electric range, and the upcoming Ford Escape PHEV, rated at 212 horsepower and 37 miles of all-electric range.
The 226 hp, 258 lb.-ft. Tucson Hybrid will compete with conventional hybrid versions of those two compact crossovers as well with the Honda CR-V Hybrid, and is the most powerful of the pack. The RAV4 Hybrid is rated at 219 hp and 276 pound-feet of torque, the CR-V Hybrid at 212 hp and 232 lb.-ft., and the Escape Hybrid finishes fourth in the pack at 200 hp and 155 lb.-ft. of torque.
Fuel efficiency numbers for the Tucson PHEV haven't been released yet, but the standard hybrid is rated at 37 mpg in the city, 36 mpg on the highway and 37 mpg combined. The PHEV's combined rating should be close. But unless it can claim a big pricing advantage, it's 32 miles of all-electric, or EV, range may be a handicap compared to the RAV4 Prime's 42 miles and the Escape PHEV's 37 miles.
Over at Toyota, the RAV4 Hybrid gets a combined fuel efficiency estimate of 40 mpg while the Prime is rated at 38 mpg in standard hybrid operating mode. The AWD Escape Hybrid also gets an EPA rating of 40 mpg combined while the front-wheel drive Escape PHEV gets a 41-mpg combined rating. The AWD CR-V Hybrid's city-highway rating is 38 mpg.
Cargo and Towing Comparisons
The U.S. version of the new Tucson gets a long wheelbase platform and is longer, wider and taller than previous Tucson models.
That gives it increased volume in both the passenger cabin and cargo bay – although the large PHEV battery eats up most of the cargo area gain in the plug-in hybrid variant.
The 2022 Tucson Hybrid boasts 38.8 cubic feet of cargo area with the rear seats in position, 74.5 cubic feet with the seat backs folded down.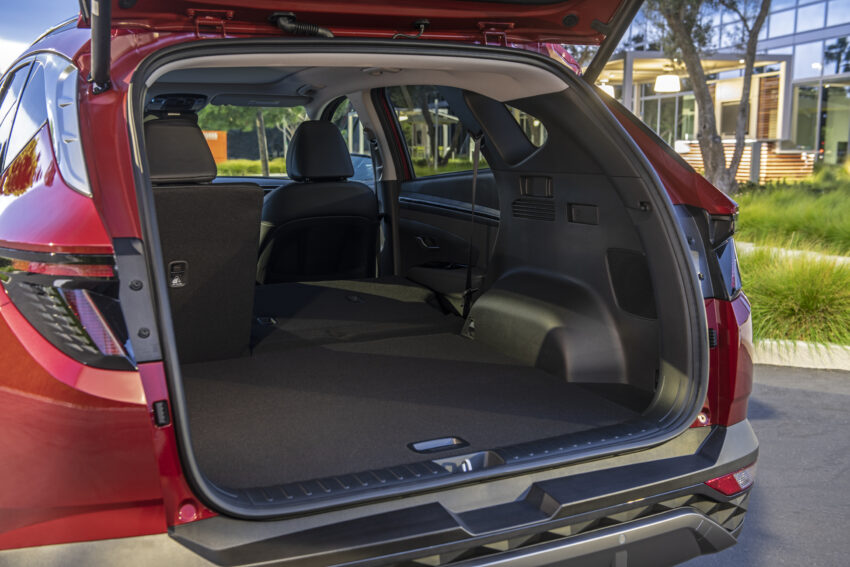 The RAV-4 Hybrid's cargo bay lags slightly at 37.5 cubic feet with seats up and 69.8 cu. ft. with seat backs down.
The CR-V Hybrid offers just 33.2 cu. ft. of cargo space with the back seats in place, but that swells to a segment-leading 75.8 cu. ft. with the rear seat backs stowed away.
The Escape Hybrid finishes last in the segment with just 30.1 cu. ft. with the rear seats up (34.4. cu. ft. when the sliding rear seats are moved forward to maximize cargo at the expense of passenger legroom) and 60.8 cu. ft. with the seat backs folded down.
The 2022 Tucson PHEV's cargo capacity shrinks to 31.9 cubic feet with the rear seats in place and 66.3 cubic feet with the seat backs folded down.
The RAV4 Prime has slightly more space – 33.5 cu. ft. – with the rear seats up, but loses its advantage and falls to 63.2 cu. ft. of cargo space with the rear backs are folded down. The Escape PHEV has the same cargo capacities as the conventional hybrid model: 30.1 cu. ft. expanding to 34.4 cu. ft., with the rear seat backs up and 60.8 cu. ft. with the seat backs down.
For towing, both hybrid variants of the Tucson are rated at a maximum of 2,0000 pounds with trailer brakes and 1,650 without.
The RAV 4 Hybrid has a maximum tow rating of 1,750 pounds, the RAV4 Prime's maximum is 2,00 pounds. The Escape Hybrid and PHEV both are tow-rated at a maximum of 1,500 pounds. The CR-V Hybrid isn't rated for towing.
Tech Talk
The new Tucson's infotainment system supports Apple CarPlay and Android Auto, can connect two smartphones at once and offers voice-recognition for the navigation system. A digital key system first available in the Hyundai Sonata will allow a user's smartphone to function as the key in the Limited trims.
An 8-inch color touchscreen for the infotainment system is standard on all but the Limited trim, which gets a 10.25-inch screen for the navigation system.
Safety Systems
Driver assistance and safety technologies will include forward collision avoidance assist with pedestrian and cyclist detection, lane keeping and lane following assist, blind spot monitoring and collision avoidance assist, full-range adaptive cruise control.
The Limited trims also get Hyundai's highway driving assist system, reverse parking collision avoidance assist, a surround-view camera, remote self-parking assist and navigation system based intelligent cruise control with curve control.
Standard Equipment-Hybrid
The Hybrid Blue trim comes with 17-inch alloys; LED headlights, tail lamps and daylight running lamps; cloth upholstery; tilt and telescope steering wheel with integrated audio, cruise and phone controls; remote keyless entry; a 4.2-inch driver information display; dual zone climate control with rear passenger area vents; a 6-speaker audio system with satellite radio and an 8-inch color touchscreen; dual USB outlets in the front and second-row seating areas; power adjustable driver's seat; heated front seats, and a panoramic sunroof.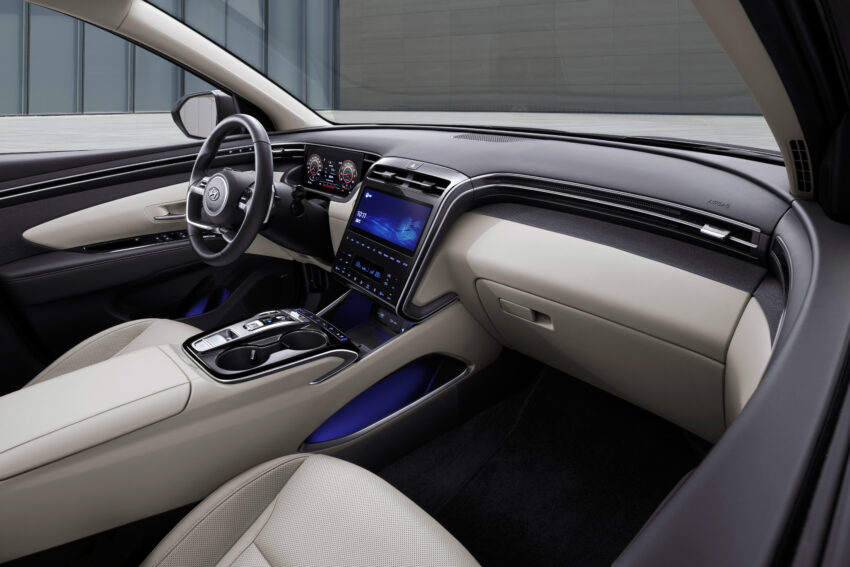 The SEL Convenience trim adds 19" alloys; a 10.25-inch driver information display; Hyundai's smartphone-based digital key system; wireless device charging; an auto-dimming rearview mirror with HomeLink; leather-wrapped steering wheel and shift knob.
The Limited trim gets leather upholstery; ventilated front seats and heated rear seats; a driver's seat memory system; power adjustable front passenger seat; a heated steering wheel; an 8-speaker Bose audio system with navigation and a 10.25-inch color touchscreen; paddle shifters; rain-sensing wipers; a dark chrome grille and exterior trim; gloss black "B' and "C" pillars, and front and rear skid plates;
Standard Equipment – PHEV
Hyundai is waiting until closer to launch tome to release equipment details about the 2022 Tucson PHEV trims – although they should line up closely with the conventional hybrid trims.