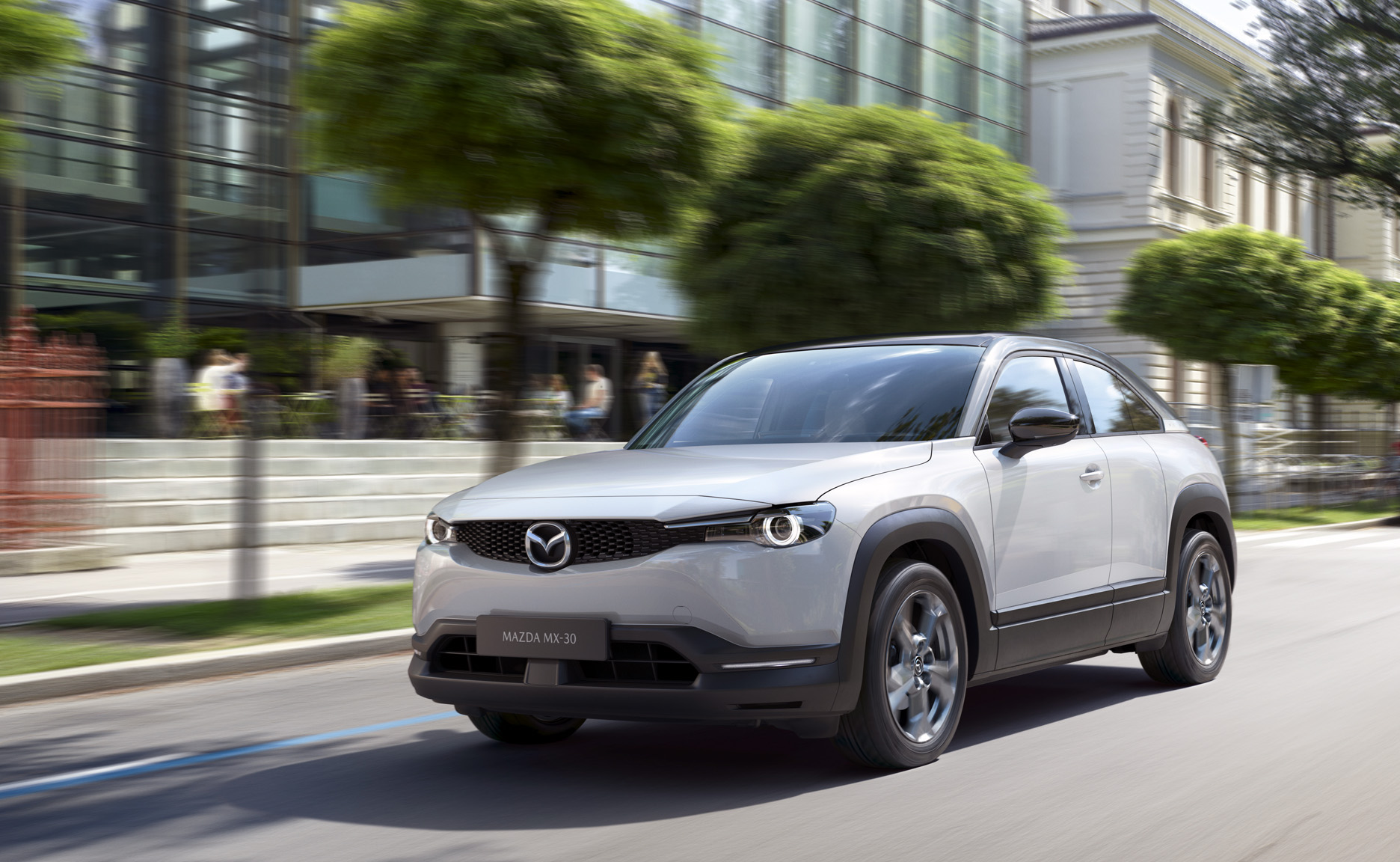 Mazda is finally entering the EV market with the MX-30, a five-seat crossover-styled hatchback that launches next year in Japan and Europe with a U.S. variant to follow.
The sporty EV debuted at the Tokyo auto show this week.
Mazda has released information about the European specification model, but hasn't said how a U.S. version would differ.
[Estimated Reading Time: 3 min., 45 sec.]
Battery size might be one area, as U.S. buyers seem to believe that at least 300 miles of range is necessary to achieve EV happiness. Mazda hasn't released range estimates, but said the Euro-spec model will have a 35.5 kWh lithium-ion battery. Unless the company has a revolutionary new battery chemistry, that's good for 150 miles or less between charging sessions.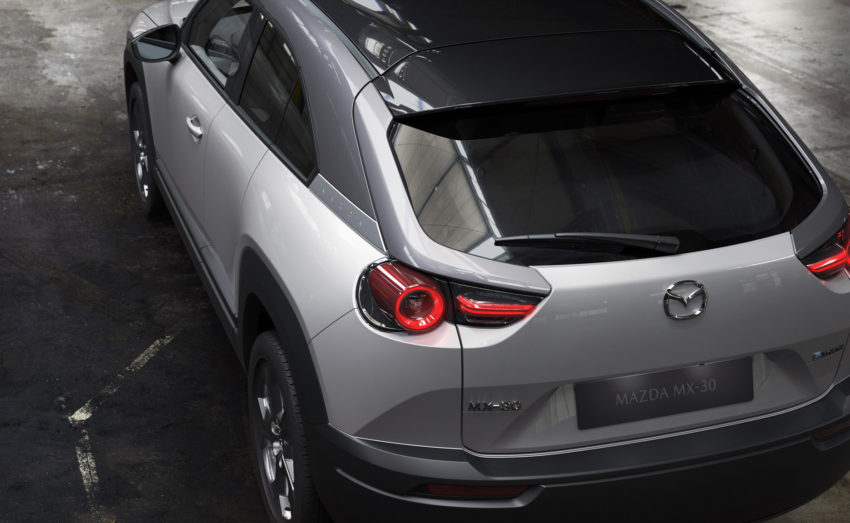 Equipping the U.S. model with a range-extending on-board generator could solve the range issue. Mazda has said it is planning a version of the MX-30 using a small rotary engine for such a task.
Zoom-Zoom
One feature that might make U.S. buyers happy is Mazda's decision to give the new EV a voice.
It carries a digital sound system that mimics a combustion engine. Mazda engineers said the company believes drivers enjoy, and key their behind-the wheel behavior to, the sounds of a combustion engine.
So, while other EVs emit high-pitched whines as their electric motors spin, the MX-30 will growl like a gas-burner.
Perhaps in keeping with the theory that an EV should copy a gas-burner, acceleration apparently lacks the immediate full-torque kick of most EVs.
An MX-30 prototype review in Britain's Auto Express earlier this year said performance "feels more on a par with that of a conventional 1.6-litre turbocharged diesel" but that "power delivery is silky smooth and there's sufficient performance on tap for daily commuting."
Powertrain
The MX-30 will use a single electric motor to drive the front wheels.
Output is rated by Mazda at 139 horsepower and 195 pound-feet of torque.
Top speed and 0-60 mph acceleration times haven't been released.
Battery and Charging
The MX-30's liquid-cooled battery pack is mounted below the seats and the case is joined to the body for increased stiffness.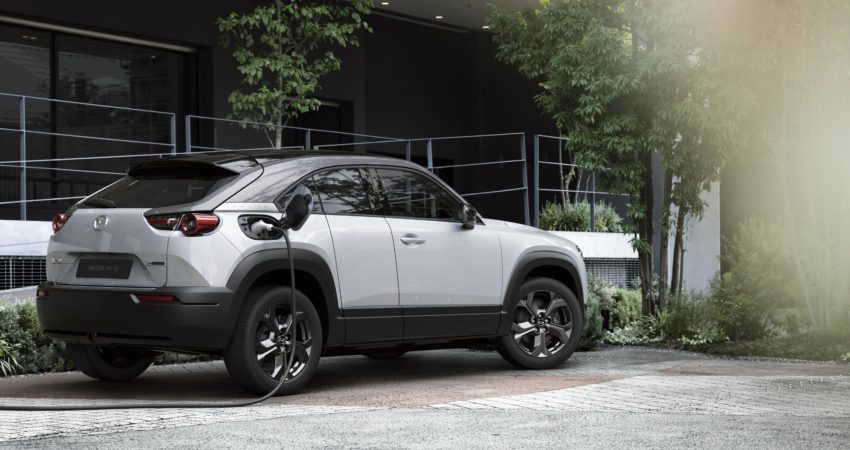 Mazda has outfitted the EV with both Level 2, 240-volt charging and direct current (DC) rapid-charge capability. European and North American models will come with SAE Combo charging ports.
The Level 2 charging system, typically used for home and workplace charging, is capable of taking on up to 6.6 kilowatts per hour. That's a roughly 5-hour charging time for a fully depleted battery.
Inside and Out
As shown in Tokyo, the MX-30 brings back the so-called suicide doors that Mazda last used on the RX-8 sports car. They feature a full-size front door and a half-size rear door. Each pair opens from the center – like barn doors – to permit unfettered access to the rear seating area.
The interior is very Mazda-like, meaning it is driver-oriented, well laid-out and uncomplicated. A 7-inch touchscreen tops the floating center console and operates the infotainment and climate system. There's a standard-looking shifter, even though electric cars typically have only one forward speed. Cork – a sustainable product and a nod to Mazda's origin in 1920 as a cork company – is used to line the console's storage trays.
Outside, the MX-30 is identifiably a Mazda. Its name is a bit of a mystery, though. It is not a sporty coupe or sedan – cars that usually get the "MX" designation (like the MX-5 Miata). It is a hatchback with crossover styling and while crossovers get Mazda's CX designation, the company already has a CX-30.
In fact, the MX-30s looks borrow heavily from the CX-30, but it has a lower, more swept-back roofline and a forward slanting rear hatch instead of a more upright tailgate.
The suicide doors, with no visible handle on the narrow rear doors, give it a slightly choppy look in profile.
The grille is much narrower than on current Mazda crossovers, but still carries the familiar stylized "flying M" logo.
Seats are covered in a fabric apparently made from recycled materials – Mazda hasn't offered specifics beyond saying the interior is composed of "environmentally friendly materials." The company did say, though, that the upper door trim is a soft-touch fabric made from recycled plastic bottles.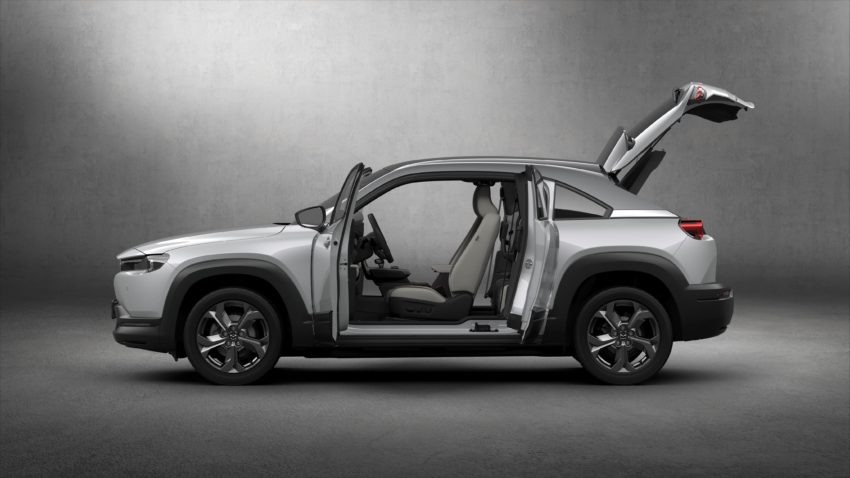 Assist Features
All MX-30 models will come with Mazda's full suite of a driver assistance and safety systems, bundled as Mazda i-Activesense.
Its features include new technologies such as Road Keep Assist, which helps keep the vehicle centered in the absence of lane markings, and Emergency Lane Keeping with Blind Spot Assist, to help drivers avoid dangerous lane changes.
A new feature on the pedestrian and bicycle detection system enables it to work – and to apply braking if necessary – while making left turns.